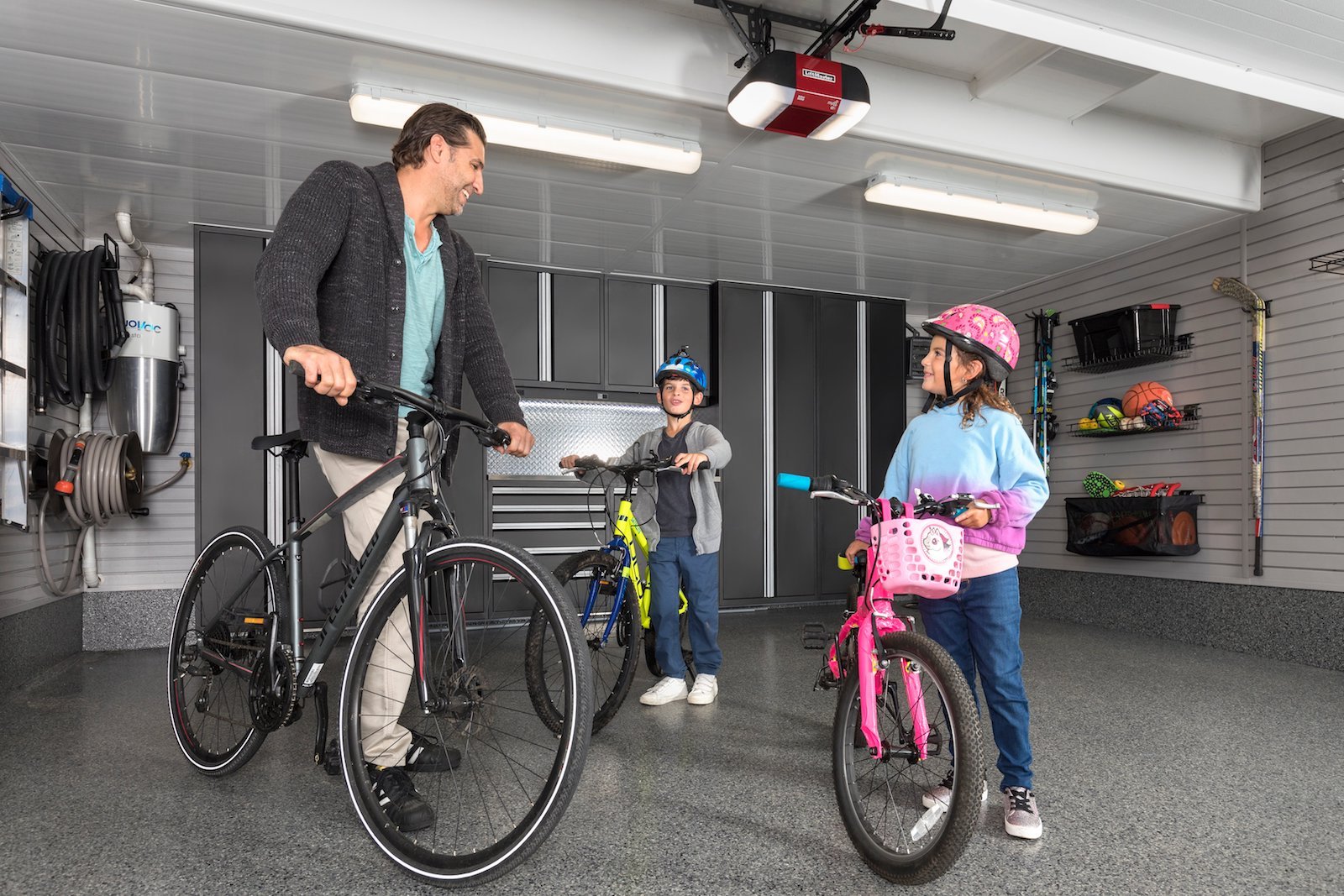 The most popular outdoor activities for North Americans are hiking, camping, fishing, golfing, and cycling.
Research shows the average American household has 2.6 bikes. The Outdoor Industry Association's recent Outdoor Participation Trends Report shows that cycling was the most popular outdoor activity among kids ages 6-17.
Here's why it's no surprise that cycling is an ever-popular activity:
cycling offers benefits to our physical and mental health
it's eco-friendly
people of all ages and fitness levels can enjoy cycling
it caters to our sense of adventure
cycling is a relatively inexpensive hobby
Households with a growing collection of bikes will find themselves in need of some effective garage bike storage solutions to help keep the room organized and functional.
Garage bike storage solution priorities
The awkward shapes of bikes, along with the facts they roll and can tip, make them a little tricky to store safely in garages. Fortunately, there are numerous garage bike storage options available to suit your needs, available space, and budget.
Here are six things to prioritize when you're choosing a garage bike storage system:
Safety: bikes should be stored securely to prevent injuries and damage to vehicles.
Organization

: stored bikes should look orderly and not impede garage functionality.

Convenience: the easier

bikes are to access, the more likely you'll be to use them.
Bike protection: buy storage systems that won't scratch and damage your bikes.
Durability: choose high-quality storage products that are built to last.
Aesthetics: a bike storage system shouldn't detract from your garage's aesthetics.
We'll be looking at the most common methods people use for garage bike storage. The solutions we're covering utilize a garage's 3 main foundational features: the floor, walls, and ceiling.
These garage bike storage ideas are meant primarily for traditional bikes. However, they may also be useful for anyone looking for storage ideas for e-bikes (electric bikes), cargo bikes, and other less conventional bike types.
Should you hang a bike by the wheel?
One of the most popular ways to store bikes at home is to hang them from one wheel on a hook or bracket that is attached to a wall or the ceiling.
Despite how commonplace this storage method is, a lot of people are still unsure about whether or not this is safe or good for a bike. If you Google "should you hang a bike by its wheel", you'll get 24 million search results on the topic.
Hanging a bike by one wheel is perfectly fine for most bikes. It won't damage their frame, rims, or hardware if you hang them properly.
There are at least a couple of exceptions, however. It's not recommended to hang bikes with hydraulic brakes upside down (and vertically with some similar bike models) because it can cause damage to their brake system. Bikes with certain types of carbon rims may also get damaged if they're hung by a wheel.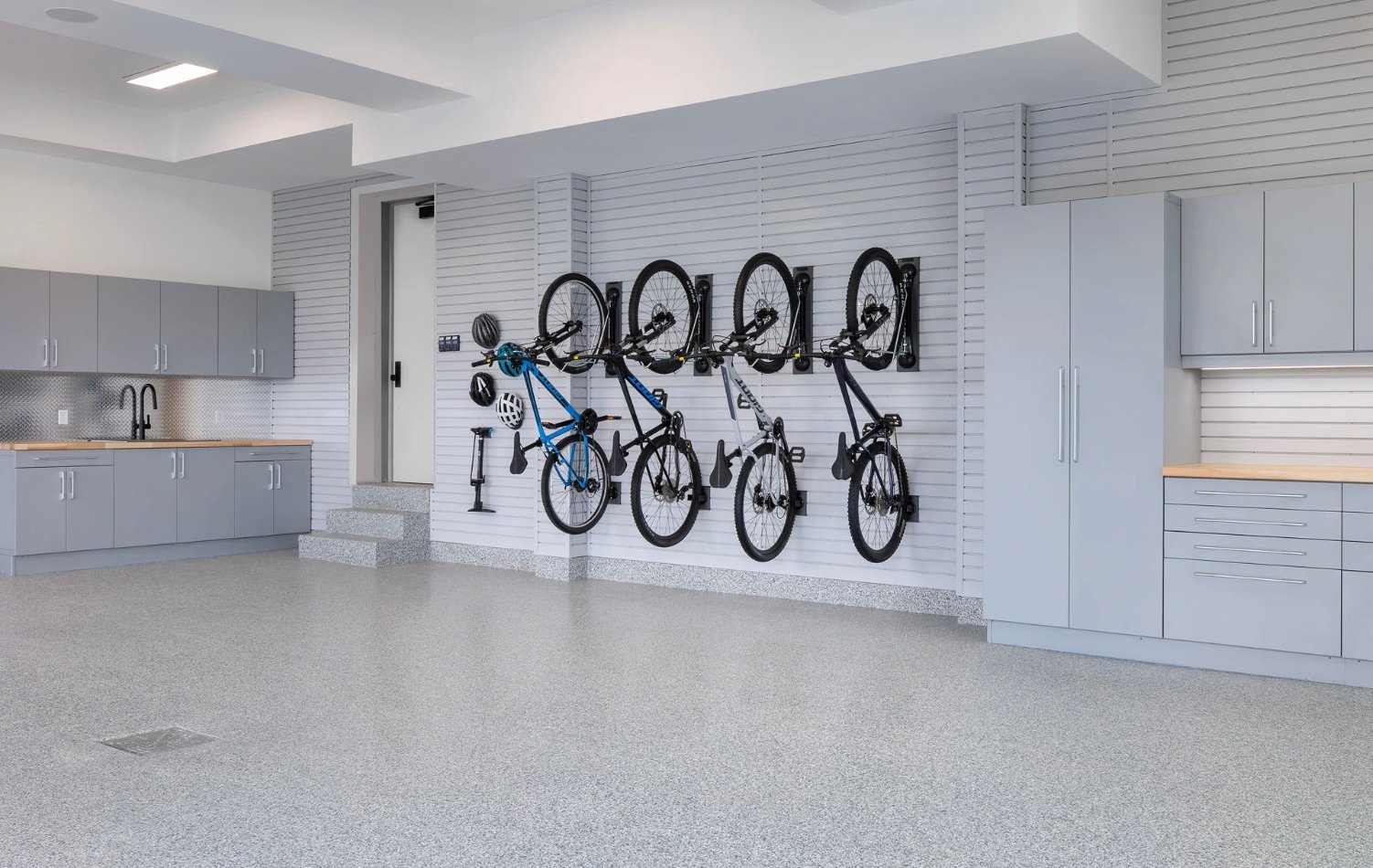 Why hanging garage bike storage is so practical
Leaning bikes against a garage wall, leaving them on their side on the floor, or upright with their kickstands engaged isn't ideal.
Storing bikes like this without proper garage bike storage systems can cause the following safety and damage issues:
unsecured bikes can cause an injury if they fall over
falling bikes could damage vehicles
they're a tripping hazard
bikes are more vulnerable to damage from moving vehicles
Four of the six garage bike storage ideas we're looking at make space for storing bikes and their accessories off the garage floor. The biggest benefit of hanging bikes in a garage is that it eliminates floor clutter and saves space. That frees up valuable garage floor space that is more needed for vehicle parking.
One of the ways Garage Living maximizes a garage's storage space is to utilize the room's wall space better with slatwall panels. Most garages typically don't use their vertical wall and ceiling space to its full storage potential.
Garages can be home storage workhorses – even small garages. They just need to be set up properly. The wealth of hanging space that comes with using a garage's wall and ceiling areas more effciently is a huge part of making that happen.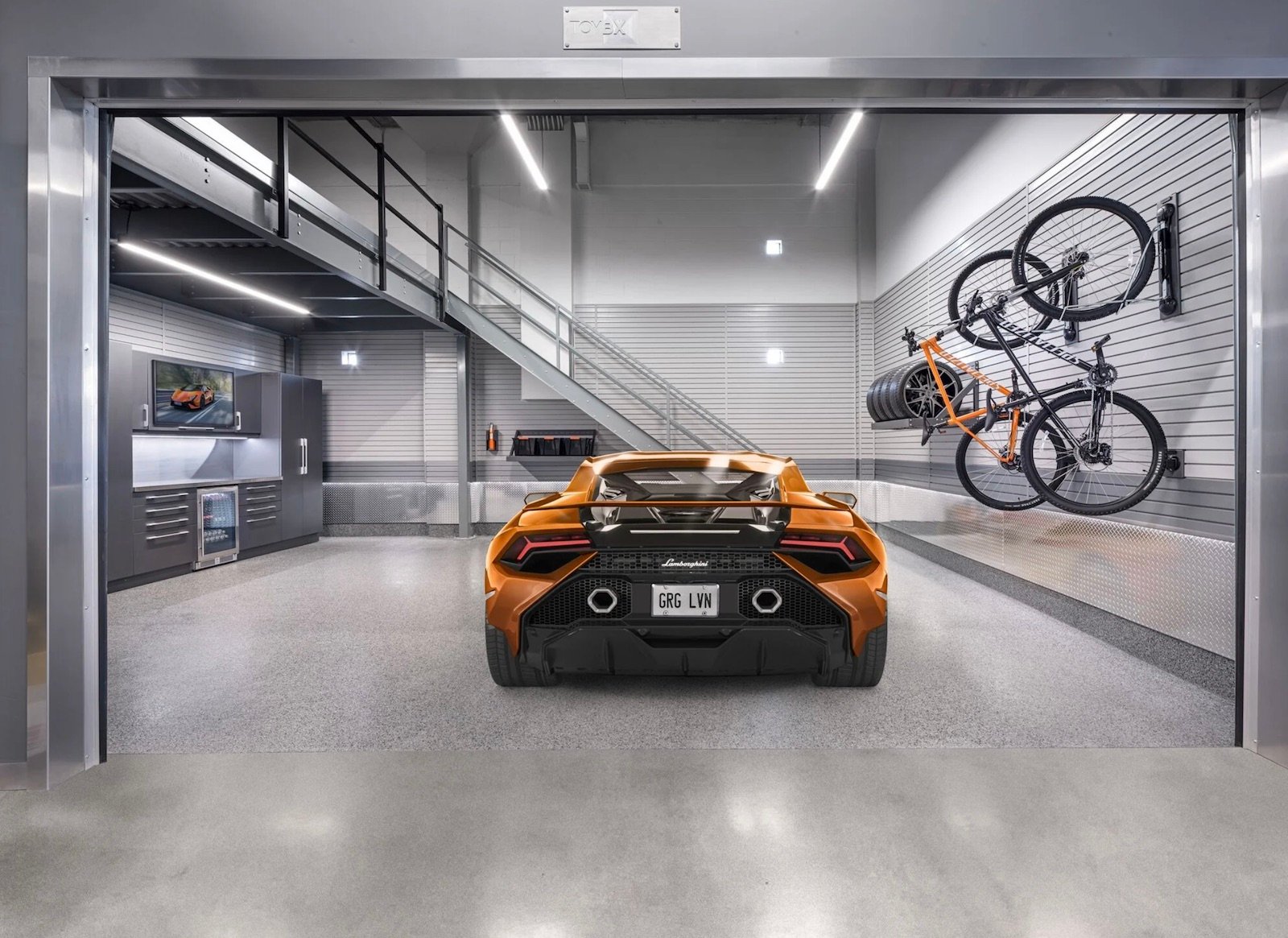 6 practical garage bike storage ideas
From the casual cyclist who rides once a week to the serious cyclist who is always looking for their next two-wheeled adventure, there's a bike storage system available to accommodate your needs.
Here are six ways to keep your garage organized with the best bike storage options out there.
1. Wall-mounted bike storage racks
Bike storage against a wall either vertically or horizontally is likely the most popular way bicycles are stored in garages nowadays. Hanging brackets or racks are one way this is done.
Typically, the brackets or racks are affixed to a wall-mounted storage panel like slatwall, pegboard, or a wall track system. Bike rack systems that can be installed on studs with screws are also available.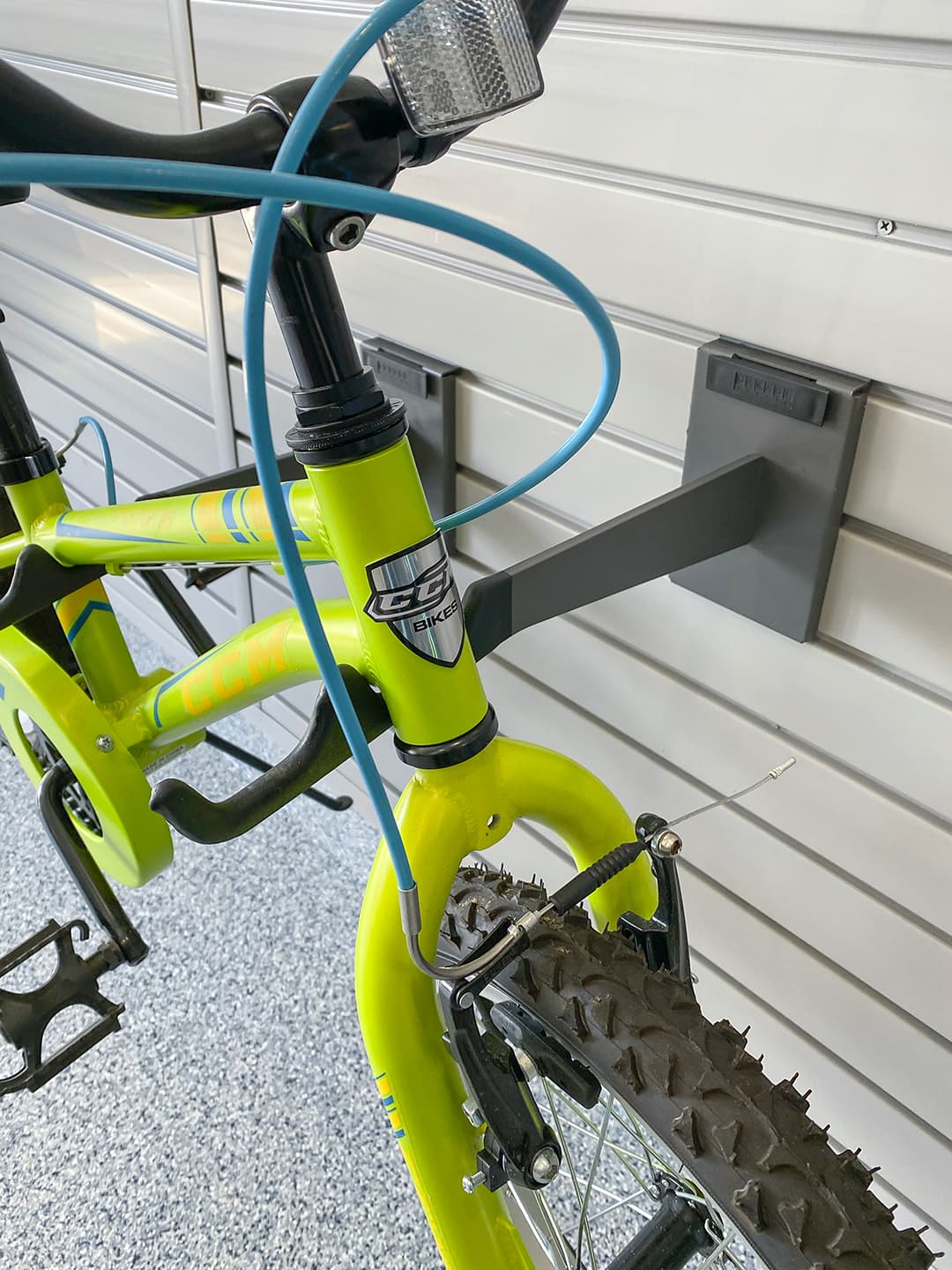 The latter solution is less ideal. It doesn't look as nice and its permanent nature means you don't get the storage flexibility that slatwall and other wall systems provide.
Slatwall is the most versatile wall storage system available for garages. Wall storage can be configured in a multitude of ways with hanging accessories that securely rest in the horizontal grooves of the slatwall panels. Changing the wall setup to adapt to your changing storage needs is quick and easy, too.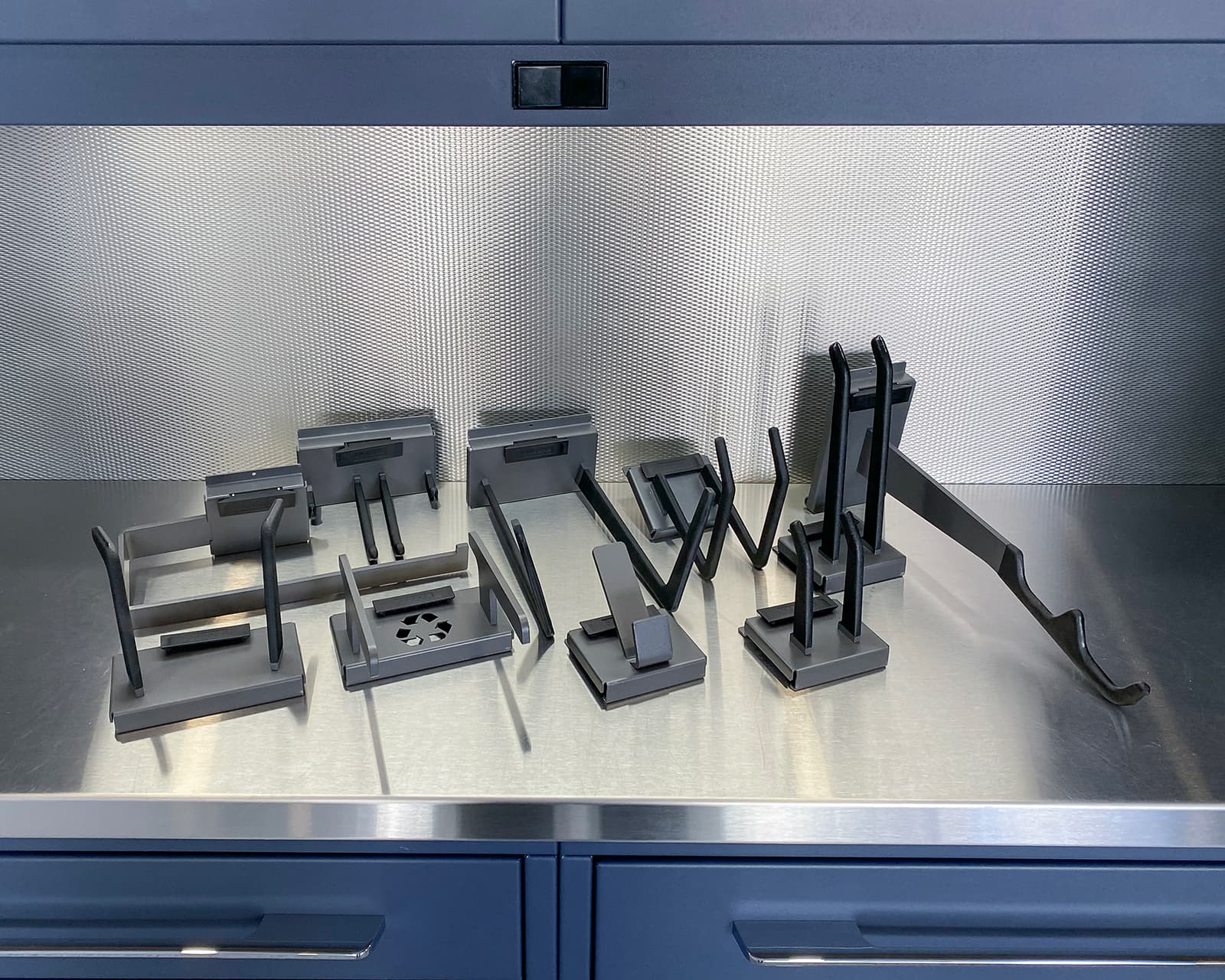 Get a premium garage bike storage solution
Garage Living's LINEA line of specialty garage storage products includes two types of premium bike racks:
Universal Bike Rack: this horizontal rack securely holds all bike frame sizes from child to adult and styles from racing to mountain bikes. The bracket the bike rests on has a strong rubber coating to protect it from scratching and provides extra grip.
ClassicBike, FatBike, FenderBike, and MountainBike bike racks: these vertical bike racks use a two-part adapter to hang a bike from the front wheel, off the wall, while supporting the back wheel in alignment.
LINEA bike racks include a locking system for extra stability, which is important for bikes being stored on a wall. LINEA accessories also have a sleek, stylish look and a powder-coated finish for extra durability.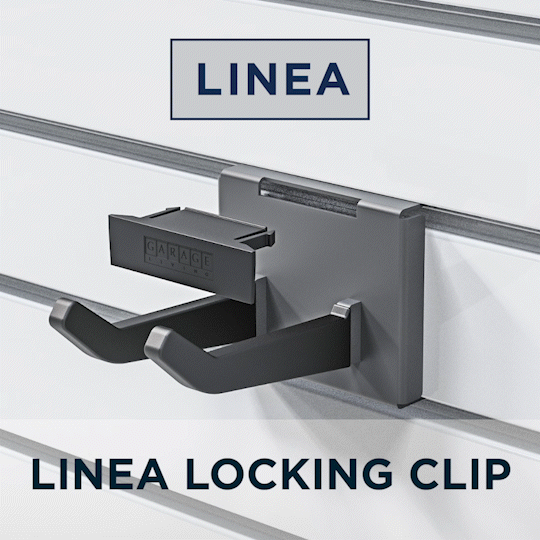 2. Wall bike storage hooks and hangers
Like wall-mounted bike racks, bike storage hooks and hangers are attached to a wall storage panel or stud. They also allow bikes to be stored horizontally and vertically.
The orientation you choose for hanging a bike on the wall comes down to a few things:
what you prefer aesthetically
how much wall storage space you need
what you're more physically comfortable with when moving the bike
how big your garage is to accommodate the stored bike's footprint
Bikes stored vertically on hooks hang in a perpendicular position (at a right angle instead of flat against the wall). While that uses up less wall space, they do "stick out" from the wall more than bikes stored horizontally.
Garage Living offers more than 40 types of slatwall hanging accessories, including hooks, bins, baskets, shelves, and multiple storage solutions for bikes.
One high-quality, heavy-duty vertical bike hook should safely hold most types of bicycles by their front wheel. Avoid cheap bike hooks, which may lack the proper weight capacity for the job.
If you prefer a horizontal storage setup, two horizontal bike hooks are needed to hang a bike from its frame. Make sure the bike hooks or hangers you buy have a durable rubber or vinyl coating to prevent the bike frame from getting scratched.
Keep in mind that the walls you're storing your bikes on will occasionally get dirty from mud that's left on a bike's tires. Durable PVC slatwall is super-easy to clean and won't show scuffs, scratches, and dents as easily as drywall will.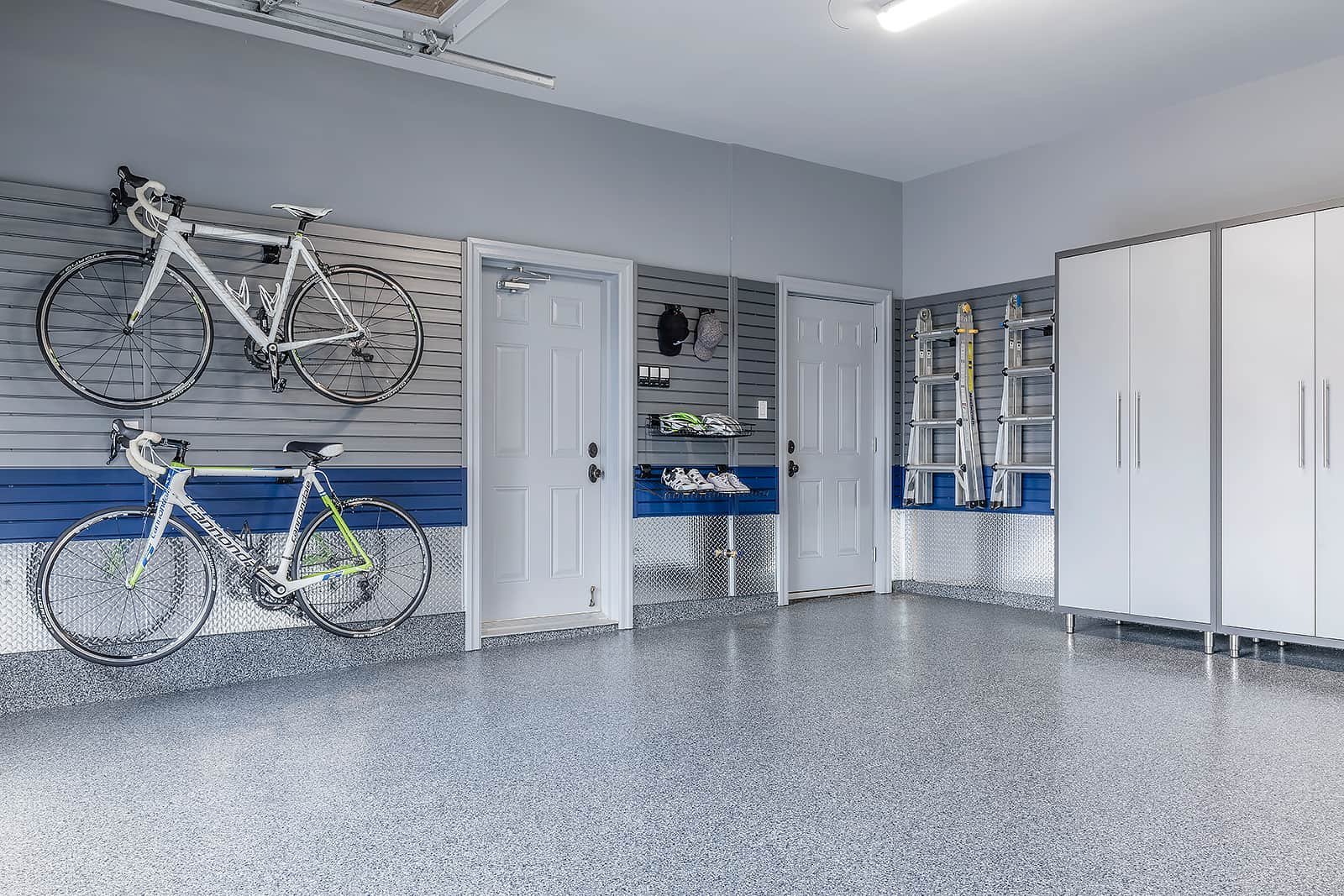 3. Ceiling bike storage hooks and hangers
Let's stick with bike hooks but turn our attention upwards, to the garage ceiling area. Once again, hooks and hangers can be used for off-the-ground horizontal or vertical bike storage (the latter is more common).
The best thing about using this garage bike storage method is that it leaves a lot more room on the walls for storage. Bikes can use up a lot of wall storage space, especially if you own several of them.
However, there are some drawbacks to using ceiling hooks for bike storage. Here are a few of them:
it's only practical for garages with lower ceilings
injuries and property damage from a bike that's fallen from a high area can be worse
retrieving and putting away bikes stored up high is more challenging than using wall storage

it's not practical for storing heavier bikes
Because of the increased safety risks associated with this type of storage, it's essential to ensure your hooks or hangers are securely anchored on a ceiling joist.
4. Bike hoist storage systems
Another way to store bikes in a garage's ceiling area is with a hoist or pulley storage system. These systems raise and lower bikes using a hoist that is operated manually or with a motor. Typically, the bikes get hooked to a lift bar. Single-bike and multi-bike hoist systems are available.
Hoist storage systems are also used to get bulky, hard-to-store items like kayaks, canoes, and car roof cargo carriers off garage floors. Some hoist system manufacturers also sell flat platform lifts, which are like a mobile version of our permanently anchored overhead storage racks.
For garages with higher ceilings, this can be a very practical way to use all of that unused high vertical space. There will be plenty of room below your hoisted storage items for parking and other traditional garage functionality.
The downside is that hoist storage is the least convenient of these garage bike storage solutions to use. Cyclists who ride regularly probably want to have their bikes more accessible. Because of the safety risk of operating the system, kids won't be able to use the storage system, either. That means a parent or older sibling will need to get their bike down whenever they want to cycle with friends.
The extra time it takes to safely store and raise or lower a hoist system makes it more practical for off-season bike storage.
5. Floor bike storage racks
So far, we've looked at four space-saving garage bike storage ideas that keep bikes off the floor. There are several reasons why you may prefer to store your bikes on the garage floor with one or more freestanding bike racks:
you want your family's bikes to be as accessible as possible
you have a large garage where having available floor space isn't a concern
some of your bikes are too heavy to regularly lift and take down from up high
you have back issues that make lifting a bike difficult
Although they aren't the most space-saving way to store bikes, floor racks do leave your bikes more accessible than other storage systems. And if you do have to park your bikes at ground level, racks keep them safely stored.
Various floor bike rack sizes are available, from single racks for a smaller footprint to multi-bike racks for large families with a small fleet of bikes. Some vertical racks are designed so that you can store bikes standing upright, which allows you to save a little floor space.
Some bikes that are larger and heavier will be harder to lift onto a wall or ceiling hook. Two examples are cargo bikes (which are designed to carry two or more riders) and motorized e-bikes, which typically weigh anywhere from 35-80 lbs. Bikes like these are ideal for a floor rack.
Make sure any bike floor rack you buy is sturdy and heavy enough to safely stay in place on the floor. Some models have rubber feet to prevent a rack from moving around. Bike tires come in a variety of widths, so a floor rack should have adjustable upright slats or rails to accommodate a range of tire sizes.
6. Bike accessory storage ideas
Bike owners won't just have to store their two-wheelers at home, they'll also need space for storing the many different types of accessories and gear cyclists use such as:
helmets, gloves, and other types of apparel
maintenance equipment like an air pump and tools
maintenance supplies like chain oil and tire repair kits
replacement parts like spare tires and inner tubes
Slatwall's versatility allows any cycling accessories you have to be stored on the wall. But what if you want a storage option that keeps things out of sight?
Cabinets work well in tandem with slatwall as an effective garage storage solution and keep your cycling accessories hidden and free from garage dust and debris. Our custom cabinet systems can be designed with vented doors that provide air circulation so sweaty stored gear can dry out.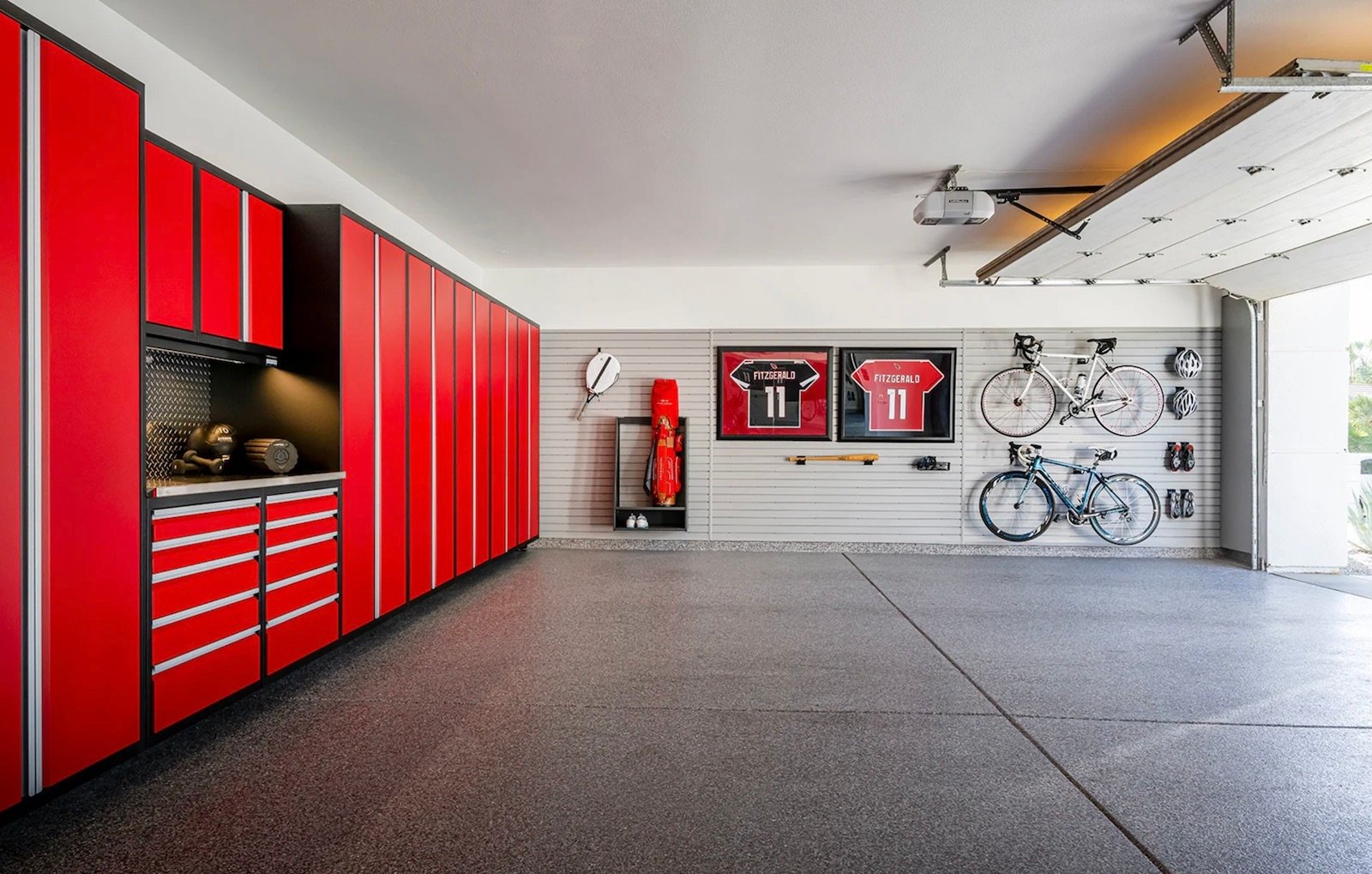 Stay organized with the best garage bike storage solutions
There's no reason a family's collection of bikes should get in the way of having an organized, functional garage.
Garage Living doesn't just have some of the best bike storage solutions available, we have the expertise and products to handle storing anything else you want in your garage. And we'll give your garage a stylish, aesthetic upgrade in the process.
Schedule a free design consultation with us.
Please share this post if you found it useful.
See also: