The parents of kids who keep active with sports know the struggle of trying to keep their garage floors free from the untidiness that sports gear can cause.
Leaning bikes, loose balls, discarded elbow and knee pads, athletic cleats scattered across the floor…it never ends.
It's unfortunate because garages are the perfect room in your home for all of your sports equipment storage needs.
The garage is commonly the last part of the house you're in before driving your kids off to their game or practice.
And it provides a spacious, centralized storage area for all of your family's athletic gear, which is better than having it scattered throughout the house.

Are you struggling with your sports equipment storage?
The main reason many garages can't manage both their sports gear storage needs and general storage needs is simple – they're using the wrong storage systems.
Or, even worse, there are no practical storage systems being used.
An average family that stays active with recreational and organized sports can accumulate dozens of pieces of athletic gear of all sizes.
Take the above photo, for example. Between balls, rackets, bikes, baseball and tennis gear, and winter sports gear, a garage can quickly get overwhelmed by all of the things a family uses for their sports.
Smart, efficient storage systems are essential to help you keep everything organized, easy to find, and clean.
If your garage floor is not exactly a "sports gear-free" zone, here's a complete guide explaining the do's and don'ts of sports equipment storage for your garage.
Ditch or donate outgrown and worn-out sports gear
It's common sense and a simple, fundamental organizing principle that having less things to store makes organization easier.
Garages across North America contain a lot of worn-out athletic gear that isn't getting used. Kids will sometimes outgrow their sports gear in less than a year.
These things aren't just needlessly occupying valuable garage space, they could be of great use to someone else, including the less fortunate.
Start your cleanup effort by donating old items that still have some life left in them to any charity that recycles old sports gear.
Another option is to sell your old gear to a used sporting goods retailer like Play It Again Sports.
Add a slatwall storage system
Once you've pared down your collection of sports equipment, it's time to choose the best way to store everything.
The choice is actually quite simple – nothing else matches what a slatwall storage system offers. The key to keeping a garage floor clutter-free is to make use of the available storage space on your walls.
Slatwall panels accomplish this by giving you wall-to-wall storage possibilities using a variety of hanging accessories. Set up zones that keep your sports gear, yard tools, and other items separated and tidy.
This maximizes storage space, keeps things securely in place, and optimizes your garage's organization capabilities so everything is easy to find.
Garage Living carries many types of slatwall accessories to accommodate your garage storage needs, including our LINEA line of premium garage wall organization accessories.
The storage versatility of slatwall
The beauty of slatwall storage is that its versatility enables your wall panels to essentially be blank canvasses with a limitless number of storage configurations.
Having an ample amount of storage versatility means that you'll enjoy lots of freedom when hanging your items. Adjusting and moving things around as your storage needs change is no issue.
For example, when one sport is done for the season, its gear can be moved to a less accessible area and replaced with easier to reach equipment for whatever sport is in-season.
Making your storage systems as convenient to use as possible can save you hours of time that would otherwise be wasted searching for misplaced items over the course of a year.
Add cabinetry and overhead racks
Supplementing your garage wall storage with a couple of other storage systems will set your garage up as a highly functional space for storing sports gear and a lot more.
A cabinet system can be incorporated into your garage design in order to give you more storage options.
Cabinets can be used to store sports equipment, tools, and valuables or hazardous materials that you need locked up. Visual clutter is eliminated because everything is hidden in drawers and behind cabinetry doors.
Using overhead racking also expands your ability to store things in the garage and, like slatwall, takes advantage of an underutilized part of the garage.
The drawbacks of DIY sports equipment storage
Plenty of garages rely on DIY storage systems to store their athletic gear. That may be cost-effective, but also has some drawbacks.
First and foremost is the aesthetic downgrade most DIY storage systems add to a garage space.
Very few of the DIY storage ideas you'll find in garages actually look very good. In fact, many of them look downright terrible.
While looking online, this writer came across one garage that had a beat-up wooden pallet standing upright and fastened to the wall, with a couple of the pallet's bottom slats pulled off to allow yard tools to be stored.
Then there was the hammock I saw that was hanging in a garage corner to hold balls and baseball gloves. Needless to say, neither were aesthetically impressive. DIY storage projects also tend to have an inconsistent level of functionality and durability issues.
Aim for something higher than just hammering nails into exposed wall studs for hanging things, or storing yard tools between the studs and nailing a 1 x 3 furring strip to hold everything in.
Slatwall storage doesn't just allow you to store more efficiently, it makes your garage look better while doing so. Durable PVC slatwall panels add a professional-looking finish to your garage interior.
Color-matched screws and finishing trim, along with powder-coated metal hanging accessories that are all the same color create a clean, consistent appearance.
Now that we've established which sports equipment storage systems are most ideal for the garage, let's address storing specific types of athletic and outdoor activity gear.
Essential bike storage solutions
Leaving bikes leaning against the garage wall or with their kickstands engaged in a corner aren't ideal storage methods.
They're taking up floor space, can fall over, and are more vulnerable to damage from vehicles entering and exiting the garage.
Instead, use horizontal or vertical wall storage to keep your floor clear and your bikes safer. Two horizontal bike hooks on your slatwall will store one bike flat against the wall. This means they'll protrude less into the garage space, but take up more of the slatwall space.
Garage Living has two types of vertical bike hanging systems. The regular vertical hook involves hanging the bike's front wheel from a single hook. This creates a larger profile, as the bike hangs perpendicular to the wall. You'll have more slatwall hanging space at your disposal, however.
Our two-part LINEA STEADYRACK vertical bike storage system uses a top bracket that hangs a bike's front wheel and a lower bracket supports the back wheel. The racks, which can hold bikes of all sizes and styles, pivots from side to side up to 160 degrees. LINEA's locking system keeps the brackets securely in place.
All of your biking accessories like water bottles, helmets, gloves, tire pumps and pressure gauges, spare tires, and repair tools can be kept organized and right beside your hanging bikes on the slatwall.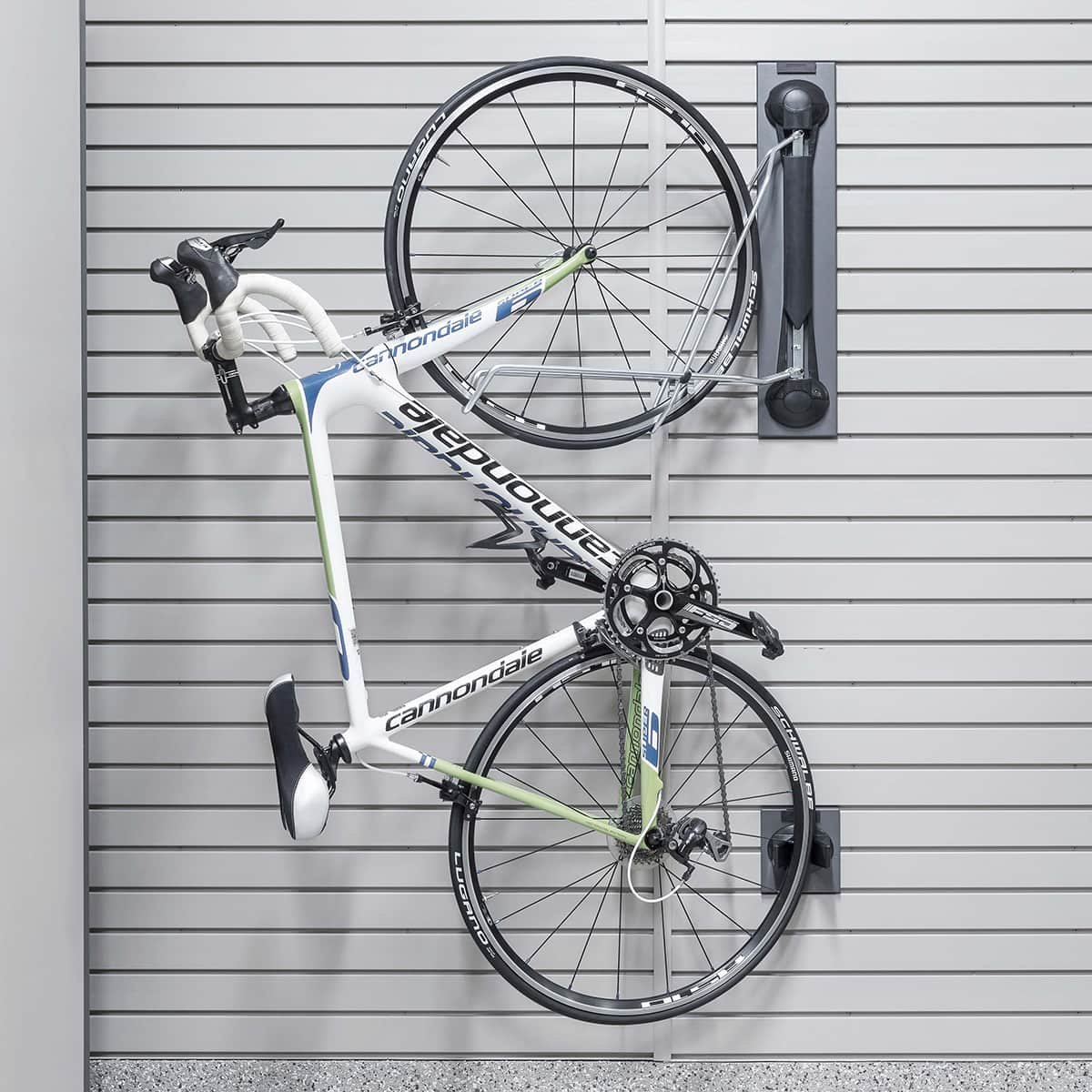 The LINEA STEADYRACK is a premium bike storage system for bicycles of all sizes and styles.
Storing football and hockey gear + other sports apparel
For storing equipment from sports that use a lot of padding (like football and hockey), designate a zone on a slatwall panel to keep everything together.
Use a combination of hooks, baskets, shelving, and a dedicated hanger (like our hockey hanger, which can also be used for football gear and jerseys) for the job.
Other miscellaneous sporting accessories like helmets, elbow and knee pads, skipping ropes, and frisbees can be contained neatly inside a mesh basket or individually hung on hooks.
For storing sports apparel or general outdoor apparel like boots, raincoats, and your gardening shoes, angled shoe shelves, and garment hooks can be easily hung wherever you need on the slatwall.
Corral those bats and balls
Along with bikes, those pesky loose balls your kids use for their sports are one of the most common garage floor clutter culprits.
Hanging mesh baskets can hold a bunch of your balls together in one place. Garage Living's mesh baskets are deep so they can hold more and the see-through design makes finding balls easier.
Sports equipment storage isn't the only thing hanging baskets can be used for. Gardening accessories and tools, cleaning products, and automotive supplies can also be stored in them.
Another option for storing balls is to use a hanging ball rack that's conveniently adjustable for balls of various sizes.
Baseball bats are another tripping hazard that don't belong on the floor. Keep your Louisville Sluggers stored safely with wall hooks.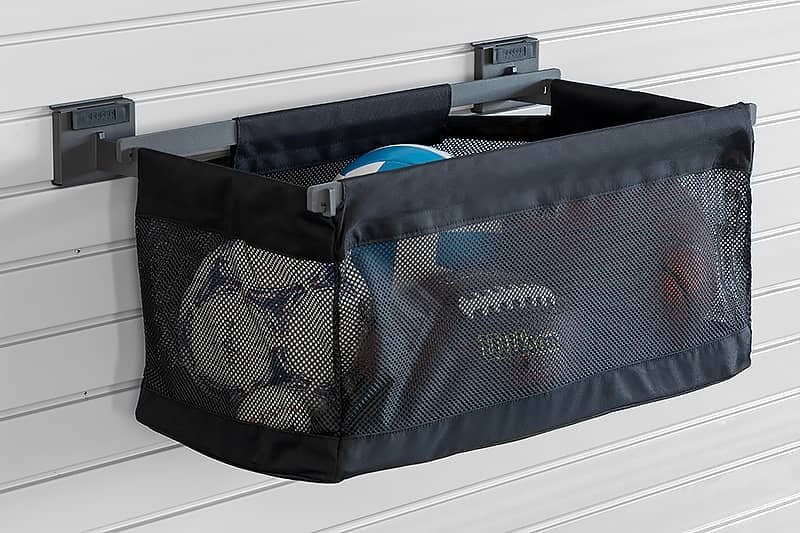 The garage floor is no place for loose balls. Corral those footballs, basketballs, baseballs, and soccer balls in a slatwall-mounted deep mesh basket.
Racket (and racquet) storage
It's one of the many oddities of the English language that the main piece of equipment used in tennis is typically spelled "racket", while "racquet" is used for most of the other, well, racquet sports. But I digress…
Instead of hanging your rackets/racquets on a nail (which isn't recommended because it stretches the strings), opt for a dedicated tennis racket holder for the wall.
Double hooks can also be utilized for securely hanging your badminton, tennis, racquetball, and squash rackets/racquets in the garage.
The perfect golf gear storage solution
Sure, after finishing playing 18 holes you could just leave your golf bag in your car trunk – but that comes at the expense of leaving trunk space for groceries or other storage needs.
And since most golf bags nowadays stand upright on a floor just fine, you might also wonder why not simply storing it standing up in a garage corner won't work.
That's an option, but it comes down to (once again) looking for ways to not take up garage floor space and protecting your investment.
A new golf bag and set of clubs can get pricey. We don't like their chances when matched against a vehicle that's backing into a garage if they're in the blind spot of the driver.
The golf rack pictured below is the perfect golf gear storage solution. There's room for a couple of golf bags and two pairs of golf shoes.
Cabinetry could also be used by storing your golf bag and equipment behind one of the system's taller locker-style doors.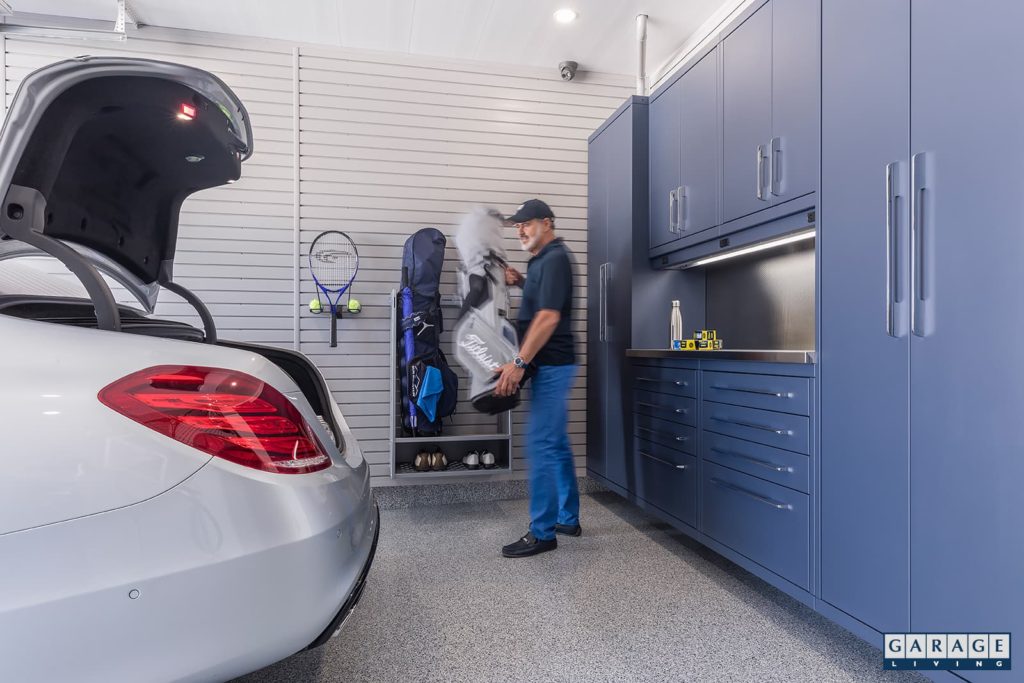 Protect your golf equipment from an encounter with one of your cars by storing your golf bags and shoes safely on the wall.
Skateboards, roller blades, and scooters
Another rolling floor hazard are skateboards, roller blades, and scooters.
Any number of slatwall hooks can be used to keep them safely out of the way such as J hooks, double hooks, or utility hooks. Hanging shelves could also be used.
For a larger and heavier scooter, a couple of horizontal bike hooks will capably support the extra weight.
Fishing equipment
Any serious angler can accumulate a fair amount of rods and fishing accessories that become difficult to keep organized.
Fishing outerwear like jackets, vests, hats, and waders can be stored on hooks, shelving, or tucked away inside a section of cabinets.
Cabinets could also be used for fishing rod storage and are the best spot in your garage for all of those lures, baits, hooks, floats, fishing line, and other easy-to-misplace small fishing accessories. Garage Living's LINEA fishing rod holder is also ideal for storing your fishing rods.
Camping gear
Overhead storage racks were made for things like camping gear.
Your camping equipment can even be kept in overhead racking year-round since it tends to be bulkier and some items can be a little trickier to store.
Tents can be stored there separately while cookware, utensils, plates, cups, and camping tools can be kept in labeled storage bins. Because garage cabinets have such storage versatility, your camping gear could also be stored inside of them.
It's advisable to keep first-aid kits or survival kits stored inside your home, as some of the medical supplies inside them are sensitive to heat and cold.
Sleeping bags should also be stored inside, where they'll be safe from potential mold caused by excess moisture and pests that may be in the garage.
Cleaning your camping gear and storing it properly will ensure your equipment lasts much longer.
Fitness equipment
Setting up a section of your garage as a workout space makes a lot of sense if you have the room. You'll save on gym fees and it's a lot more convenient using the garage to work out than it is to drive to the gym.
As you can see in the picture below, this garage corner is set up as an easy-to-use workout space and can accommodate all of this homeowners' sports equipment storage needs.
Learn more about using your garage as an exercise space by viewing our Fitness Room Garage gallery.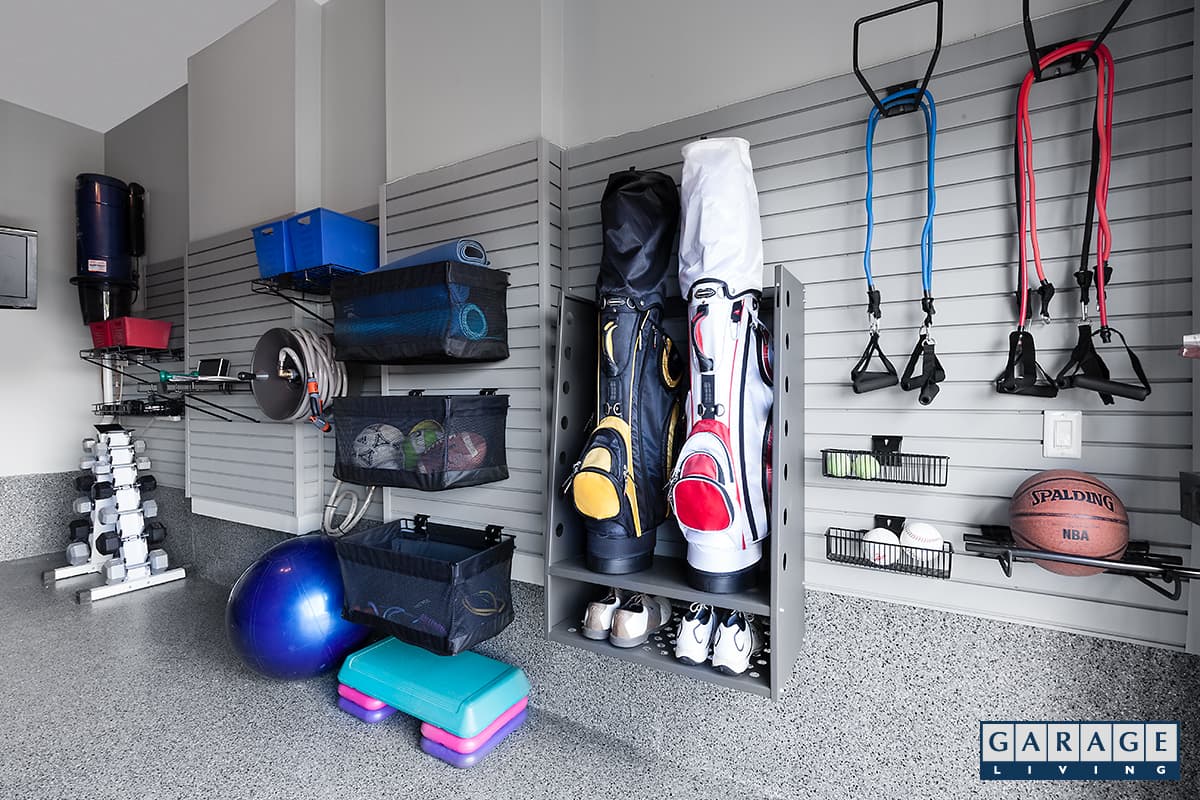 An organized, stylish garage like this creates space and more comfort for your hobbies.
Water sports and winter sports equipment storage
Winter sports equipment and water sports gear may be used at completely opposite times of the year weather-wise, but they're actually quite interchangeable when it comes to storing them in the garage.
Using a variety of hooks and shelves to store your gear works, as will cabinets. Double hooks, J hooks, and utility hooks have so many uses, whether you're storing a long item like a rake or a canoe paddle.
Skis, sleds, and snowboards are just as easy to store in your garage as a kayak, water skis, and your pool and boating gear.
Don't forget to dry out your athletic gear
Allowing your family's sweaty athletic gear to dry out after being worn is essential for hygiene reasons and to prolong the life of the equipment.
No one wants their kid to be the one on the team other players avoid because their equipment smells so funky!
A standalone equipment drying rack in the garage will work, but using specialized wall hanging accessories will keep your garage floor free for car parking and other uses.
A mudroom is another ideal space for some of your sports equipment storage and drying-out needs.
Don't hesitate to use a fan to speed up the drying process if items are particularly damp and need to be worn again the next day.
Take care of your sports equipment storage needs
Being the parents of kids who are active in sports is a significant time commitment.
Why not save yourself from the wasted time that comes from looking for lost items by outfitting your garage with better storage systems?
You'll appreciate the increased functionality that an organized garage provides and it just may make it a little easier to get your kids to their practices and games on time!
Garage Living will get your garage set up to handle any of your sports equipment storage needs.
All you need to do to get started is to schedule your free design consultation with us.
Please share this post if you found it useful.
See also: