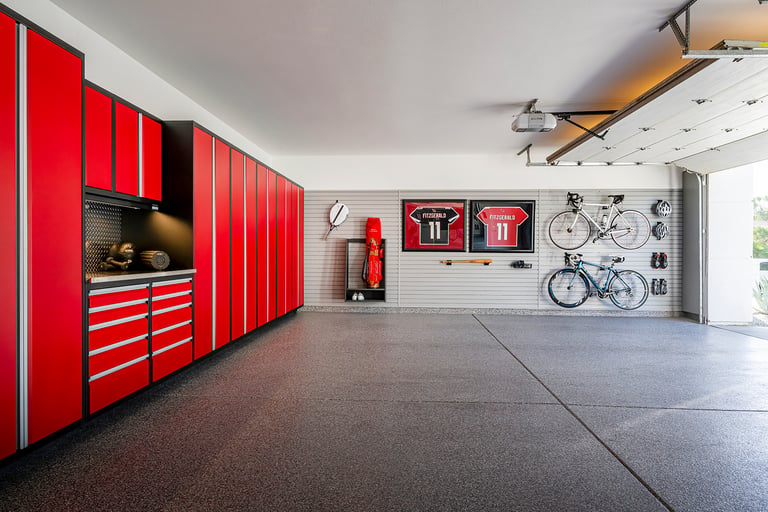 Any time you renovate, choosing the right paint colors should be an important part of your design. Choosing garage paint colors shouldn't be any different.
Well-chosen garage paint colors will have the following positive effects on your space:
it adds visual appeal
you can highlight any improvements made to your garage's interior and exterior
it creates a more inviting environment that increases your family's comfort level
you can reflect your personality
the garage's décor can complement the rest of your home's décor and boost your curb appeal
it adds value to your home
Get your garage paint color choices right the first time
As with any room that is being painted for the first time or repainted, it's important to get your color choices right the first time. It's a terrible feeling when you're staring at a freshly painted room and instantly regretting the colors you chose for the project, followed by the dread of having to redo the project.
When choosing your garage paint colors, follow these five simple guidelines.
1. Choose garage paint colors that complement each other
A top-to-bottom garage makeover will include the addition of a number of features that allow for custom colors to be chosen.
Typically, homeowners will make upgrades to their garage by adding a new floor coating, cabinets, slatwall, and possibly new garage doors.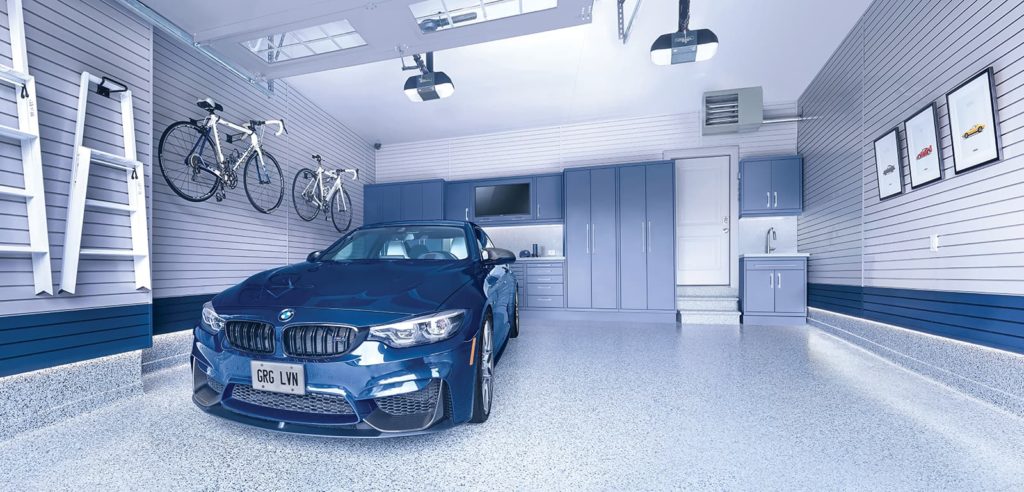 The Harbor Designer Series garage theme features blue and grey colors that evoke a calming harbor setting. The lower slatwall panel color perfectly complements the vehicle's color.
Choosing the right colors that lets these features effectively complement each other is essential. The right combination of garage paint colors will make your space even more striking and an area of your home you'll be proud to show off to your neighbors.
You can even use pops of color to make your space more inviting. Inject some personality by adding a bold color to your garage cabinetry. Add a brighter paint shade to your garage's interior door leading to your home.
Garage Living Designer Series
Garage Living's popular Designer Series is a great solution to help you maximize your garage's design potential. It includes a variety of dynamic décor themes with carefully chosen garage paint colors that complement each other beautifully.
The color palette for the Harbor Designer Series theme is shown below. The blue and grey colors draw inspiration from the cool, calming colors in a harbor setting.
In each Designer Series garage, we provide a list of curated Benjamin Moore paint colors to complement the cabinetry, flooring, and slatwall materials. The palette below includes: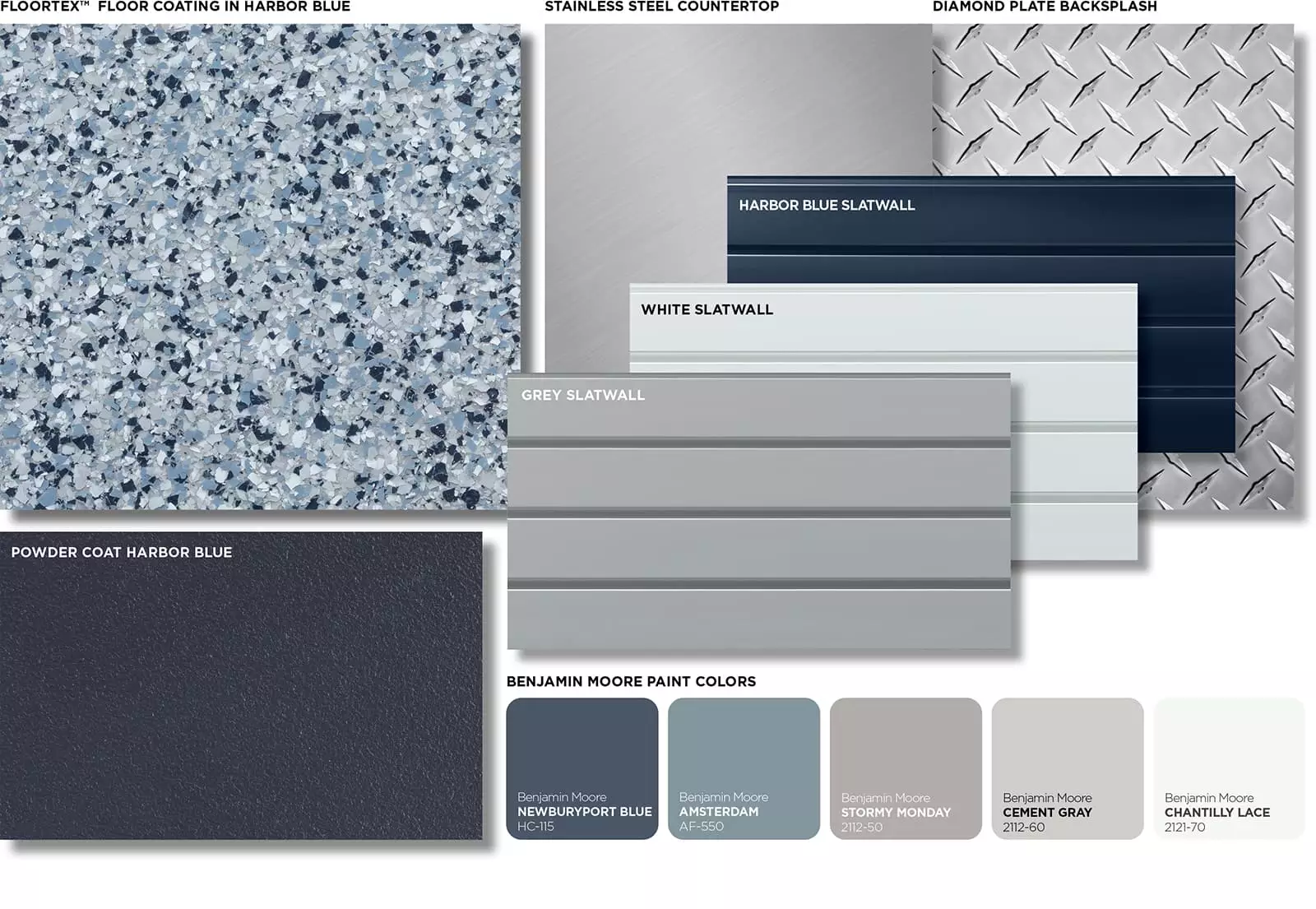 The exclusive Designer Series themes reduce planning and decision-making time by streamlining the design process and helping you visualize your new garage space.
2. Getting the right garage floor color
All visually appealing garages have one thing in common – attractive floor surfaces.
A durable, high-quality polyaspartic floor coating is the better choice when compared to epoxy coatings and floor paints. Garage Living's Floortex™ floor coatings have numerous attractive colors to choose from.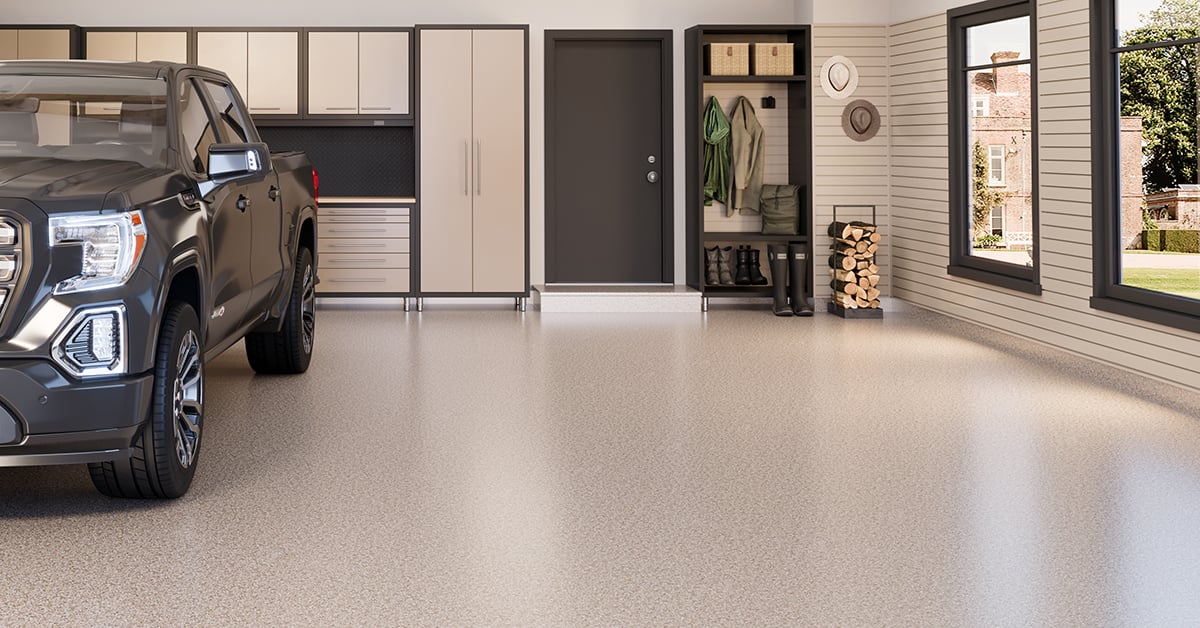 The UpCOUNTRY Designer Series theme incorporates neutral colors like taupe and brown to give garages a warm, relaxed design aesthetic.
With colors that range from the natural look of Creek Bed to the bolder aesthetic of Orbit, you can pick whatever fits with your décor's needs. You can use some of the colors from the accents in your speckled flooring to help tie the whole room together.
Remember that giving yourself as many color choices as possible when planning your garage remodel will result in a finished project that fully meets your design aspirations.
Any Floortex™ floor coating color you pick will be easy to maintain, too. The garage floor coating's textured look from the decorative flakes sprinkled during the application process is very effective at hiding dirt and dust.
3. How to pick a garage wall paint color
A fresh coat of paint on your garage's walls and ceiling with the right color can transform the room's appearance. A lighter color can greatly improve the space's lighting conditions. Upgrading your garage lighting will illuminate the space even more effectively as well.
That's an important factor in an area where you'll be parking vehicles, regularly searching for items, and be using tools for repairs and building projects.
A lighter garage wall and ceiling paint color will reflect light better. You have to be mindful, however, that a lighter shade will reveal dirt and grime more easily.
If a lighter shade is preferred, a semi-gloss paint is a wise choice. Semi-gloss paint makes dirt less evident and is better for cleaning without showing any wear. If you have garage condensation issues, a more resilient exterior paint might be more ideal.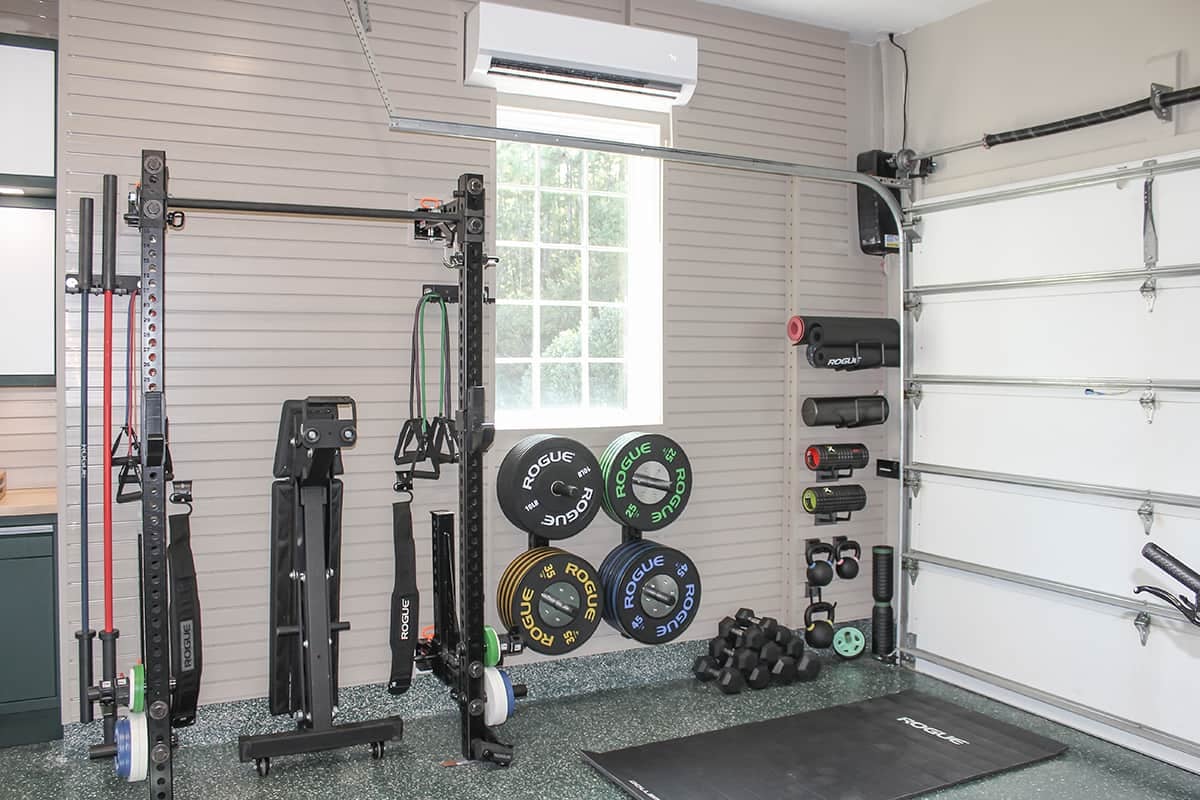 Lighter wall paint and slatwall colors contrast nicely with a darker floor color in this stylish, comfortable garage gym space.
Neutral colors like grey, beige, or tan will be easier to clean and maintain than a white shade and give you more design flexibility, too. To make the garage feel more relaxing, soothing tones such as blue, green, and grey can be used as one of your primary colors.

A great alternative to simply painting your drywall is to have slatwall panels hung. In addition to providing plenty of versatile wall storage space, they give your garage's interior a more modern, finished look and are easy to clean. You'll have a range of slatwall colors to choose from in order to complement your garage's décor. Custom color slatwall options are also available.
4. Picking the ideal garage cabinet color
Another important part of many garage makeovers is the addition of garage cabinets. Their primary function is for storage, naturally, but they can also make a garage's interior aesthetic more appealing.
Numerous aspects of a cabinet system's design and color scheme need to be considered. What cabinet trim and primary door and drawer color work best within your space?
Which type of cabinet countertop and door pulls make the most sense for your cabinet system's color scheme?
Perhaps you have one or two luxury vehicles you love. Choosing certain colors for your cabinets, flooring, and walls that nicely complement the vehicles can make them stand out even more.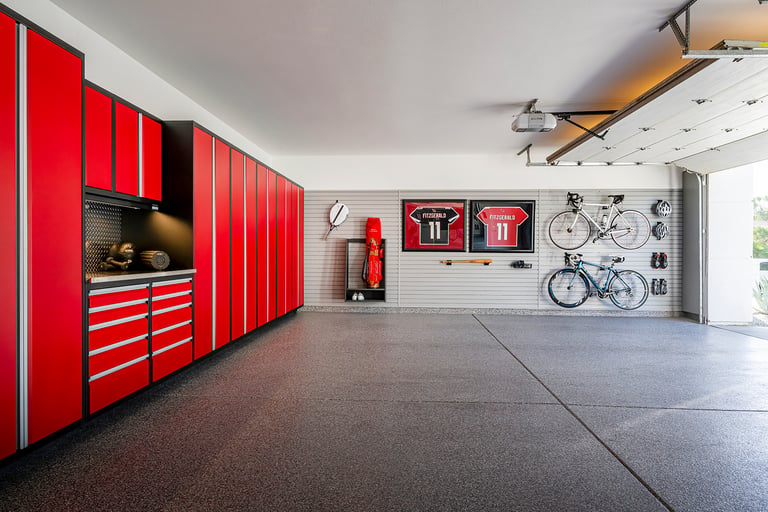 5. Choosing your garage door paint color
Typically, two-car garages can make up 30% of a home's front facade, so choosing the right color and design for your garage doors is quite important.
There are differing opinions on the ideal color schemes for a house's exterior, but here are some generally agreed-upon guidelines to follow when choosing a garage door paint color:
your front door should be your home's focal point, so pick a garage door color that doesn't take attention away from it (and avoid having them the same color)
refrain from using loud primary colors
also consider the colors of your home's brick, siding, and roofing and pick a color that complements them
Get expert help when choosing your garage paint colors
A garage is a frequently used part of your home and deserves to look its best. You can achieve that by following these simple guidelines when choosing your garage paint colors and relying on the expertise of a garage makeover professional.
Visit one of Garage Living's showrooms for some inspirational ideas to get you started or book a free consultation with one of our designers.
See also: