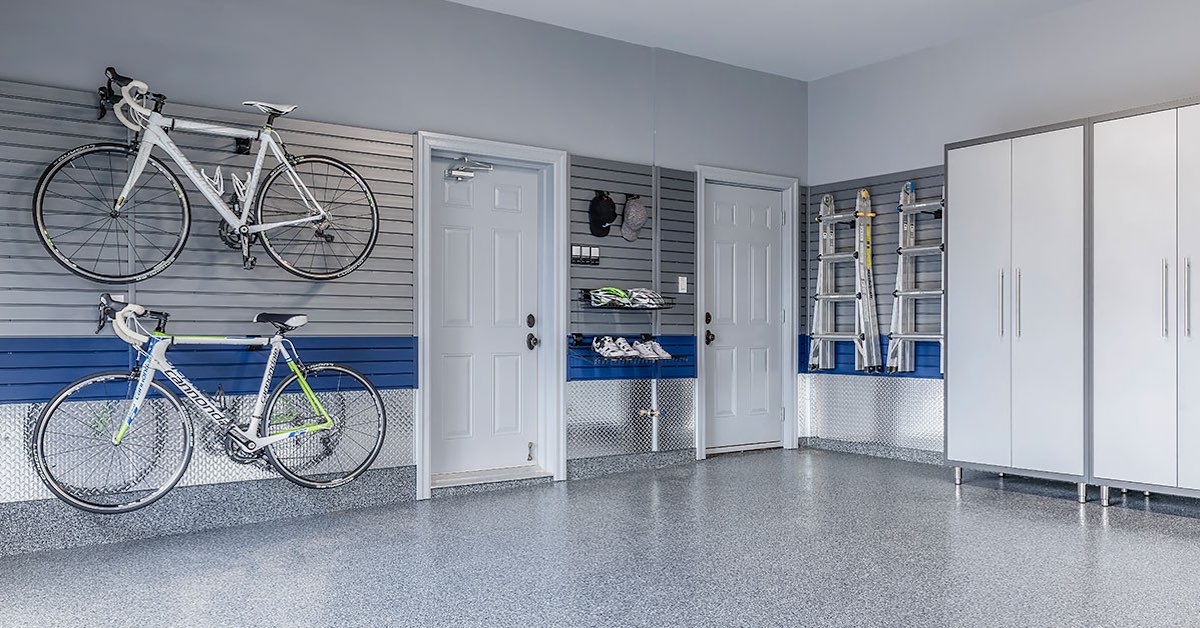 After years of looking at your unfinished garage walls, you've decided that it's finally time to consider some garage wall ideas to make improvements.
Along with a grey concrete floor, dim lighting, and an unfinished ceiling, those unattractive walls are a nagging reminder that your garage doesn't look all that different from how it looked when the builder completed work on the home.
And if your garage lacks any decent storage systems there's probably floor clutter to contend with, which only hurts the garage's appearance even more.
Try these 17 garage wall ideas
The walls in most garages have a vast amount of untapped storage potential. And just as they're underutilized for storage, homeowners don't take advantage of this sizable amount of square footage to give their garage a more modern aesthetic.
Giving your garage walls some TLC with some wise upgrades can dramatically impact the entire room's functionality and appearance.
When you're contemplating how to reinvent your garage wall space as part of a remodeling project, you could look at the walls as a blank canvas. With the right design choices, those walls can transform into something beautiful and unique that also reflects your personality.
Let's look at 17 popular garage wall ideas that cover everything to do with storage, finishing, and decorating the walls in a garage.
1. Add garage wall insulation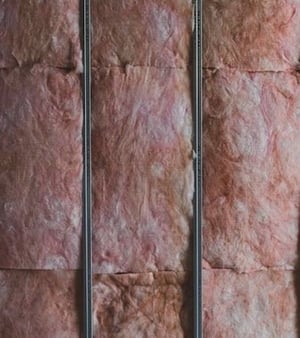 Your first step with the walls in a garage should be to add insulation to improve your home's energy efficiency.
Without garage insulation, your home loses a lot of heat when it's colder outside and makes your air conditioner work harder when the weather is hot. Don't forget about making sure your garage doors and ceiling are properly insulated, too.
The most common types of insulation for garage walls are fiberglass batts (pictured to the right), spray foam insulation, and blow-in cellulose insulation.
If your garage already has insulation installed, have a professional inspect it to determine whether an upgrade is warranted. Was it properly installed? Is it the right R-value? Does the insulation have water damage? The latter issue can lead to mold problems and make the insulation less effective.
Wall and ceiling insulation is even more important if you're someone who enjoys spending a lot of time in the garage with a hobby. If you have a heater or some type of cooling system in the garage, insulation helps make the room easier to keep at a comfortable temperature.
Insulation also has soundproofing benefits. That can limit the noise that is audible in the rest of the home from, say, a power tool being used in the garage.
2. Drywall the garage
Insulation for the garage is a great investment, but the sight of exposed insulation and framing studs isn't exactly visually appealing.
Get the garage one step closer to having a more finished look by hanging drywall. In addition to covering up a garage's unattractive construction features and things like electrical wiring and a central vac system's piping, here are three more reasons to install drywall in a garage:
drywall is cost-effective
it improves a home's energy efficiency
drywall gives you more flexibility when it comes to decorating your garage walls and adding storage systems
Hanging drywall isn't rocket science, but it is physically demanding and there is a definite skill to installing it correctly so that the wall has a seamless look without joints, tape, and screws showing.
Two other garage wall covering alternatives to drywall are fiberglass reinforced panels (FRP) and wallboard panels. Keep in mind that these products are used only for covering and finishing walls and aren't designed to accommodate hanging storage systems.
3. Paint the garage walls
Once your garage drywall is hung, you'll want to dress it up with a fresh coat of paint. This is where the decor of the garage can really start to take shape.
If you're doing a top-to-bottom remodel with a garage makeover professional, the paint color chosen for the walls will be influenced by the colors picked for a new floor coating, slatwall, and cabinetry. Even the colors of your vehicles can be factored into your garage color choices to visually complement them better.
Many homeowners choose lighter garage wall paint colors because they reflect light better, make the room look bigger, and make us feel more comfortable. Neutral colors like beige, tan, and grey are also popular.
If it's done tastefully, pops of bolder colors on a garage wall (whether it's from paint or the color of a cabinet system, for example) can add visual interest as well.
4. Have a slatwall storage system installed
With a garage's walls being invaluable for storage and interior design upgrades, wouldn't it be nice if there was a product that took care of both those needs?
There is such a product and it's called slatwall. Our slatwall panels and hanging accessories are the best wall-mounted garage storage solution available and give garages a clean, finished look.
This complete wall hanging system involves installing PVC slatwall panels in your garage that are sturdy, easy to clean, and waterproof.
Using a wide variety of hooks, racks, baskets, bins, and shelves, this wall hanging system helps to keep your garage organized and maximize its storage space. Rearranging your stored items is easier with slatwall than it is with other types of wall storage systems, such as pegboard.
Eight slatwall colors are available that allow you to customize your garage's design. There are several more ways that slatwall can be used as a decorative garage wall feature:
it can cover the entire garage wall and be used in corners and awkward spaces
slatwall can be combined with open drywall space
another slatwall color can be incorporated into the wall design for decorative effect (like the blue slatwall strip below the grey slatwall in the first photo)
ribbon lighting installed on the slatwall creates a unique, more inviting look
5. Add garage wall hooks or track rail storage kits
Perhaps the most common type of garage wall storage system are hooks that are screwed into the wall studs or drywall.
Wall-mounted track rail storage kits are also popular and involve installing thin rails a few feet long horizontally on the wall and hanging up items using the included accessories.
The benefits of these two types of garage wall organizer products is that they're cheap and easy to install yourself.
They do have some drawbacks, however. Unlike slatwall or pegboard storage, you're unable to change their location since they're permanently anchored in the wall.
That creates problems when your storage needs change and you want to rearrange where your things are hung. Sure, you can just remove the storage systems from the wall and reinstall them in another spot, but then you're left with holes and repair work.
Different brands, styles, colors, and brands of these products also tend to get bought over time. That results in a patchwork of storage accessories attached to the garage walls that don't have a cohesive look and add to the room's visual clutter.
6. Install garage wall shelving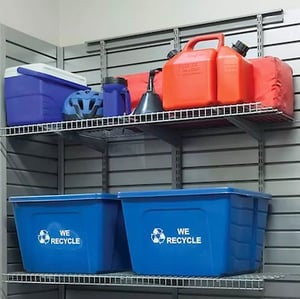 One of the garage wall ideas commonly used for storage is built-in shelving or freestanding shelving units. Often, these two storage systems are of the DIY variety and made with wood.
While they are functional, most DIY garage storage systems don't look very good. Painting or staining the shelves (and frame if it's a freestanding unit) can help, but unless you're a carpentry expert, these projects usually end up with that low-end DIY look.
If you do want to use a freestanding shelving rack, spend a little more to get a sturdier product that looks more professional and can hold more weight than one of those flimsy plastic shelving units.
Another option for your shelving needs is wire shelving that can be mounted to the walls of the garage.
7. Add tire racks
If you live in a northern climate that gets enough snow to warrant having snow tires, tire racks are a smart buy.
A spare set of tires stored on your garage floor, even if they're all stacked on top of one another, takes up space that could be put to better use. And if you have multiple vehicles with a second set of tires, that space they're occupying adds up.
Wall-mounted tire racks provide a dedicated space where an off-season set of tires can be kept, freeing up more room on the floor
If you store your spare tire sets at your local garage or a tire specialist store, the fees you're paying could be invested in tire racks that would pay for themselves in a short amount of time.
8. Use pegboard wall storage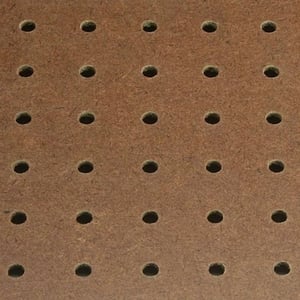 For years, when people thought of garage wall ideas, pegboard would be one of the first things to come to mind.
Pegboard storage was originally used for merchandising in the retail industry and someone eventually came up with the logical idea that the product could be useful for keeping residential garages more organized.
The design of pegboard (a hardwood sheet with evenly spaced holes) made it ideal for giving home owners more flexibility for how they stored their belongings on the garage wall. It was particularly useful for storing tools in a garage workshop with a variety of hooks and hangers.
Pegboard now looks somewhat dated, however, and has been surpassed by slatwall as a product that gives you a nicer aesthetic, more storage versatility, and the ability to handle higher weight capacities.
For a more durable pegboard product, you could spend a little more to get pegboard made with galvanized steel.
9. Invest in a custom cabinet system
Storage cabinets are another smart way to make better use of your garage walls. It's worth it to spend a bit more for a premium cabinet system that can be customized to match the rest of your interior decor.
The cabinet system pictured above was customized to make it completely wall-mounted, which gives it a "floating" look that really stands out. Garage Living also customized the design by adding drawers below the lockers on the left.
High-quality cabinet systems will last longer, are built with a higher grade construction materials, and simply give a garage a more impressive, professional appearance than any of the low-cost cabinets you'll find online or in a big-box store.
Cabinets afford you more garage storage options and provide space to keep things organized, hidden, and locked up. Hand tools, power tools, cleaning supplies, car care products, and gardening supplies are ideal for cabinet storage.
And custom cabinets can do more for your garage than just give you more storage room. They can be used for a garage workshop and include specialty options like adding a sink or mounted TV.
10. Hang metallic trim or sheets
For garage wall ideas that have functional and decorative uses, some homeowners favor hanging metallic trim or sheets on their walls.
These products are made with aluminum or stainless steel and commonly have a rugged diamond plate design. The trim can be installed in any number of locations around the perimeter of a garage.
Some people cover their entire garage walls with decorative metal sheeting or may opt for a more subdued look and just add a strip of the trim in the middle of their walls.
Others choose to add metal trim with different styles to the top of their walls as a crown molding or use it for a wall base.
The eye-catching trim adds visual interest to a garage's walls, which is why the material also works so well as a backsplash in a cabinet system's design.
Metal corner guards are another way the material can be used on a garage's walls. The guards are decorative and also help keep corners protected from scratches and scuffs.
11. Add garage baseboard
Let's get a little deeper into the benefits of a garage baseboard and some additional wall base options. Installing a high-quality wall base in the garage:
covers up the gap between the wall and floor for a seamless wall-to-floor transition
provides an extra decorative touch that helps complete the look of the room
keeps drywall protected from water damage
cuts down on drafts
helps to keep out pests
You'll want to stay away from using wood or polystyrene wall moldings because of the excess moisture levels found in most garages. The water that collects on a garage floor from rain and melted snow is another reason to use a more resilient type of wall base.
Vinyl and rubber wall bases are often used, which are sometimes referred to as cove base molding. They typically come in rolls with an adhesive backing. Although this type of wall base product is affordable and easy to install yourself, they don't necessarily give you all the benefits listed above.
Garage Living offers a premium wall base solution by applying a Floortex™ baseboard coating to your wall base for striking, unique look.
The baseboard coating is the exact same mix that we use on your garage floor, which takes the concept of a seamless transition between the floor and wall to a whole new level!
Because Floortex™ coatings completely seal the base of a wall, you get a superior level of protection from pests, drafts, and water damage. Our versatile coatings can also be applied to the steps in a garage.
12. Install wall lighting
Wall lighting in the garage traditionally hasn't been very commonplace. That's something that is slowly changing as more homeowners evolve their thinking and embrace the fact that the garage deserves to look as nice as the rest of their home.
Adding lighting to the garage walls can help supplement your main overhead lighting, but will more likely be used for decorative effect and to make the room look more inviting.
Some of Garage Living's remodeling projects have included adding LED ribbon lighting below slatwall panels to give the wall an even more distinct and appealing appearance. The lighting turns on when the garage door opens and can also be activated with a remote switch.
A number of other wall lighting ideas could include installing sconces to give the room more ambiance and a different look.
13. Create a mini workspace with a folding workbench
A wall-mounted folding workbench can be useful for a few reasons:
if your garage is small and you don't have the room to set up a larger workspace
maybe you will only use a workspace occasionally and don't want to dedicate too much space to one
if your budget can't accommodate buying a new cabinet system with a work countertop
A workbench that stays folded against the wall until it's needed gives a garage some extra functionality without having much of a footprint in the room.
Be sure to invest in a reliable product that is sturdy enough for your needs, has secure safety mechanisms to prevent the workbench from being lowered unintentionally, and provides you with enough surface space to work.
14. Protect your car doors with wall bumpers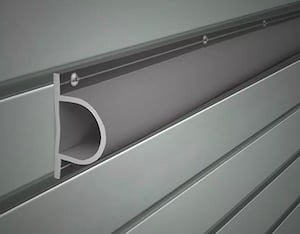 We all know how expensive it is to get any sort of auto body repair or touch-up work done, so wall bumpers may be a smart addition to your garage walls.
Wall bumpers will help protect vehicle doors from dings and scratches that occur when entering or exiting your car or truck.
They're very practical for small garages, especially some older single car garages that are so narrow you wonder how in the world they fit the huge cars made during the 60s, 70s, and 80s.
The protective bumpers are ideal even for larger garages that have several vehicles being parked in the space.
15. Have overhead storage racks installed
Most of the space in the upper areas of garages is underutilized. To maximize the room's storage capabilities, you need to take advantage of every possible part of the room, including the upper walls and ceiling space.
Overhead storage racks take care of this. They're installed on the wall studs and ceiling joists and provide convenient room to store:
bulky items
things you don't use regularly (like storage bins with holiday decorations)
out-of-season items you don't want taking up floor space
Our adjustable overhead storage racks are made with heavy gauge steel that can safely support up to 600 lbs and have a powder coated paint finish, so they're built to last a long time.
16. Hang garage wall art
If you're going to the time and expense to have your garage remodelled, you'll want it to reflect your personality.
This can be accomplished a number of ways by adding framed photos or some other type of artwork that reflects one of your passions, whether it's a car brand, a favorite sports team, or anything else.
For example, the garage pictured above utilizes the Performance theme from Garage Living's Designer Series. The homeowner drives Ferraris and has a deep passion for the auto brand.
The Ferrari images on the wall, along with the red wall paint and red and black cabinet colors, gives the garage a bold look that beautifully complements the owner's luxury cars and shows off their love for the automaker.
The key is to not overdo it with your garage wall artwork. You don't want the wall to look too busy with a bunch of photos hung up, as that can make the room feel visually cluttered.
17. Add a wall-mounted hose reel
Wall-mounted hose reels are the last of our garage wall ideas. If you have a water connection in the garage, a hose reel installed on the wall is the best way to:
keep garden hoses organized
extend the life of your hoses
keep hoses off the garage floor where they're a tripping hazard
Invest in a high-quality hose reel, such as the rust-proof aluminum alloy hose reel sold by Garage Living that comes with a 10 year warranty.
This versatile hose reel can be mounted either perpendicular to the wall or parallel to your wall and is the only hose reel on the market specifically designed to allow for either left or right-hand rewinding.
Transform your garage walls and interior
We've been making garage interiors across North America look beautiful for a decade-and-a-half and can transform your space with many of these garage wall ideas.
Garage Living will work with you to design a one-of-a-kind garage that looks incredible, operates more efficiently, and improves your home's comfort level.
Schedule a free design consultation with us today.
Please share this post if you found it useful.
See also: