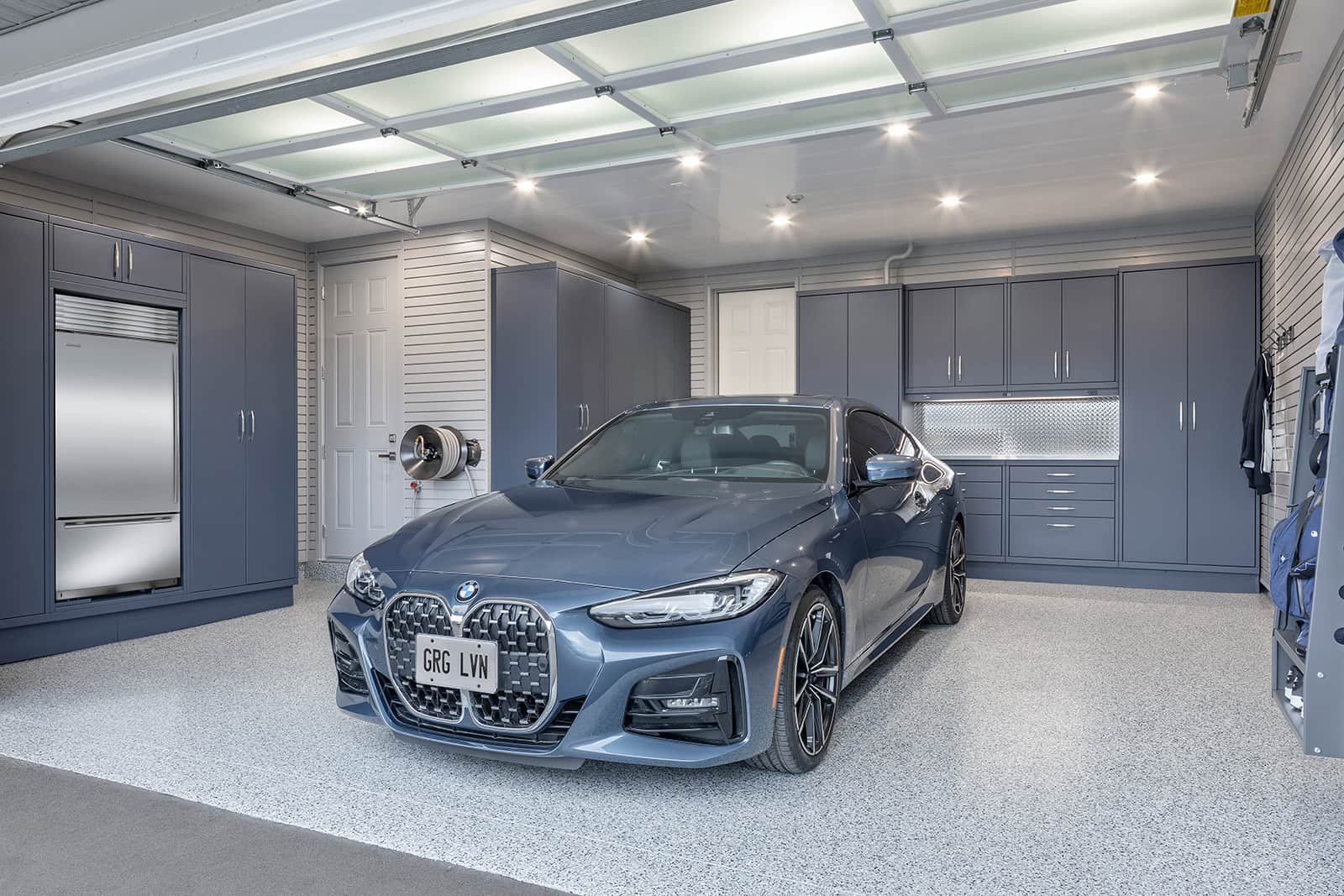 A LiftMaster survey found that more than half of American homeowners are frustrated with the amount of storage space they have.
79% of homeowners named the garage as the room they'd most like to have more storage space in. That ranked higher than any other room, including the basement.
Home organization surveys consistently find that the garage is the most cluttered room in the house or among the most cluttered home spaces.
The garage is the most valuable and useful storage space in the home – if you follow two simple rules. First, you should invest in the best garage storage systems available. And second, you need to maintain the space by occasionally decluttering and organizing it.
Learn more about how to transform the functionality of your garage with our comprehensive guide to the best garage storage systems.
3 reasons garages get disorganized
Garages become clutter magnets and untidy for three reasons:
Organizing and cleaning the garage isn't done often enough. 59% of homeowners admit to spending little or no time organizing their garage, according to the LiftMaster survey.
Effective garage storage systems aren't being used (if any proper storage systems are being used at all).
The garage is usually the largest room in a house, which makes it more likely to become the "home dumping ground". Most people think their living room is the biggest room in the house, but they have an average size of 16' x 20' (320 square feet). A typical 2-car garage, however, is about 22' x 24' (528 square feet).
How to start organizing a garage
U.S. Census Bureau data shows that the average amount of square footage in new single-family homes has increased 55% between 1970 and 2020. The abundance of storage space most of our homes have can either be underutilized, wasted, or used efficiently and wisely.
Using better storage systems certainly helps you make the most of a home's storage space. They can't be as effective, however, if you're trying to keep too many things organized.
One of the takeaways from that LiftMaster survey is that a lot of homeowners are unsure of how to start getting a messy garage organized.
The logical first step is to eliminate as much garage clutter as possible. Freeing up as much garage space as you can gives you more room to function. It also creates more easy-to-access storage space for the things you actually need and use. Decluttering also helps you better assess what your storage needs are.
How to choose the best garage storage systems
The next step is to choose the best garage storage systems to maximize your storage space.
There are more garage storage products available to buy than ever, as an increasing number of homeowners realize how valuable their garages are as a storage space.
A study published in 2021 by market industry research company The Freedonia Group found that garage organization product sales increased from $1.41 billion in 2010 to $2.93 billion in 2020.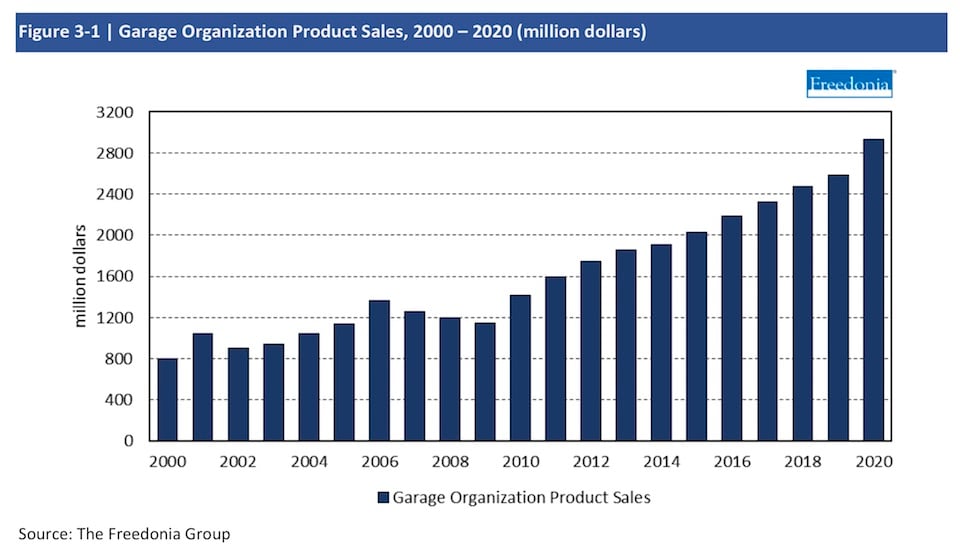 Garage organization product sales have more than doubled over the past decade. (research and bar chart from The Freedonia Group)
Any consumers who have contributed to that big increase in garage storage and organization product sales know that not all storage products are created equal. Here are six things to prioritize for the garage organization systems you buy:
1. Buy products made with high-quality, durable materials
There are an abundance of cheap garage storage products made with flimsy materials that aren't built to last. Buy the highest-quality storage products for your garage and you won't regret your investment.
2. Choose products that maximize your storage space
Where your storage products are installed will factor into how efficiently your storage space is used, as will the way they're designed to be used.
3. Buy products with high weight capacities
Many items that are being stored in a garage are heavy, so choose sturdy products you can rely on to hold your items safely.
4. Don't overlook garage storage product aesthetics
The best garage storage products aren't just highly functional - they look good, too. Choose products with impressive craftsmanship and visual appeal that add to the room's décor, not detract from it. A great example of this is Garage Living's LINEA line of premium slatwall accessories.
5. Choose products that provide storage versatility
The contents of a garage can change dramatically over the course of a few years. Use products that make it easier to adapt to your ever-changing storage needs.
6. Buy storage products that are easy to use
Fiddling around with wobbly wall hangers that require a couple of attempts to hang something on waste your time and are frustrating to use. That's one reason well-designed, higher-quality storage products are worth the extra cost.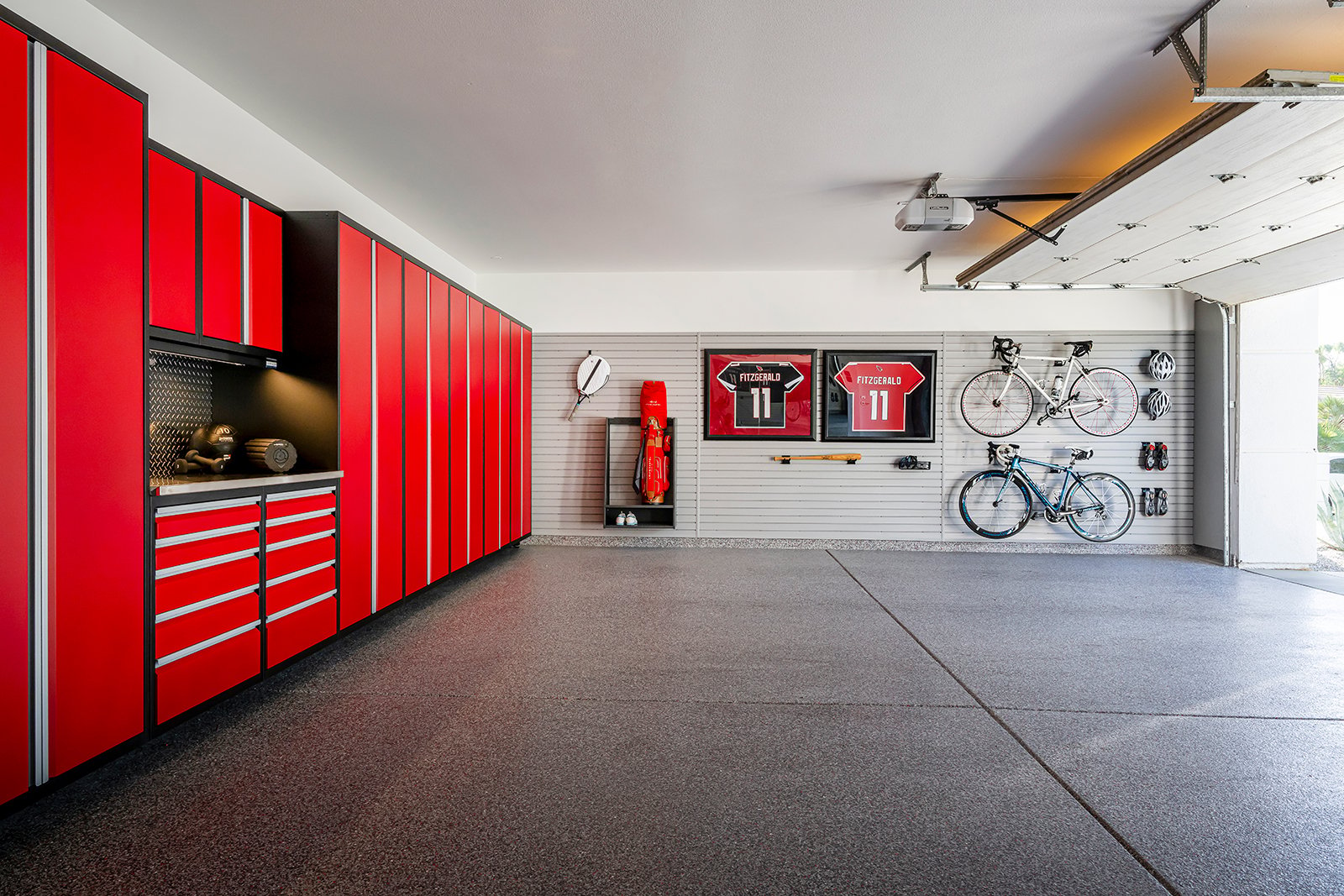 Not all garage storage products are created equal. Buying high-quality garage storage products is well worth the investment.
The best garage wall storage system
One of the keys to keeping garage floors clutter-free is to use off-the-floor wall storage systems, especially in small garages where floor space is at a premium.
Storing items on the garage wall is smart for a few reasons:
it maximizes your storage space
floor clutter and tripping hazards are eliminated or minimized
items are easier to find and more accessible
your items are less prone to damage from vehicles and premature rusting (caused by leaving them on a damp garage floor)
Wall storage systems take advantage of the commonly underused wall space in a garage and are a better option than using freestanding racks for your long-handled tools.
Garage wall storage systems come in a variety of forms. The most common types are slatwall, pegboard, permanently anchored hangers and hooks, and wall-mounted track systems.
Slatwall is the best garage storage system for your walls. Like pegboard, it comes with a variety of hanging accessories like hooks, hangers, bins, baskets, and racks to hold everything from sports equipment to cleaning supplies to tools.
Slatwall's rows of horizontal slats provide a virtually limitless number of storage configurations, as do the many holes in pegboard panels. This provides much more storage room per square foot of wall space than any other garage wall storage system.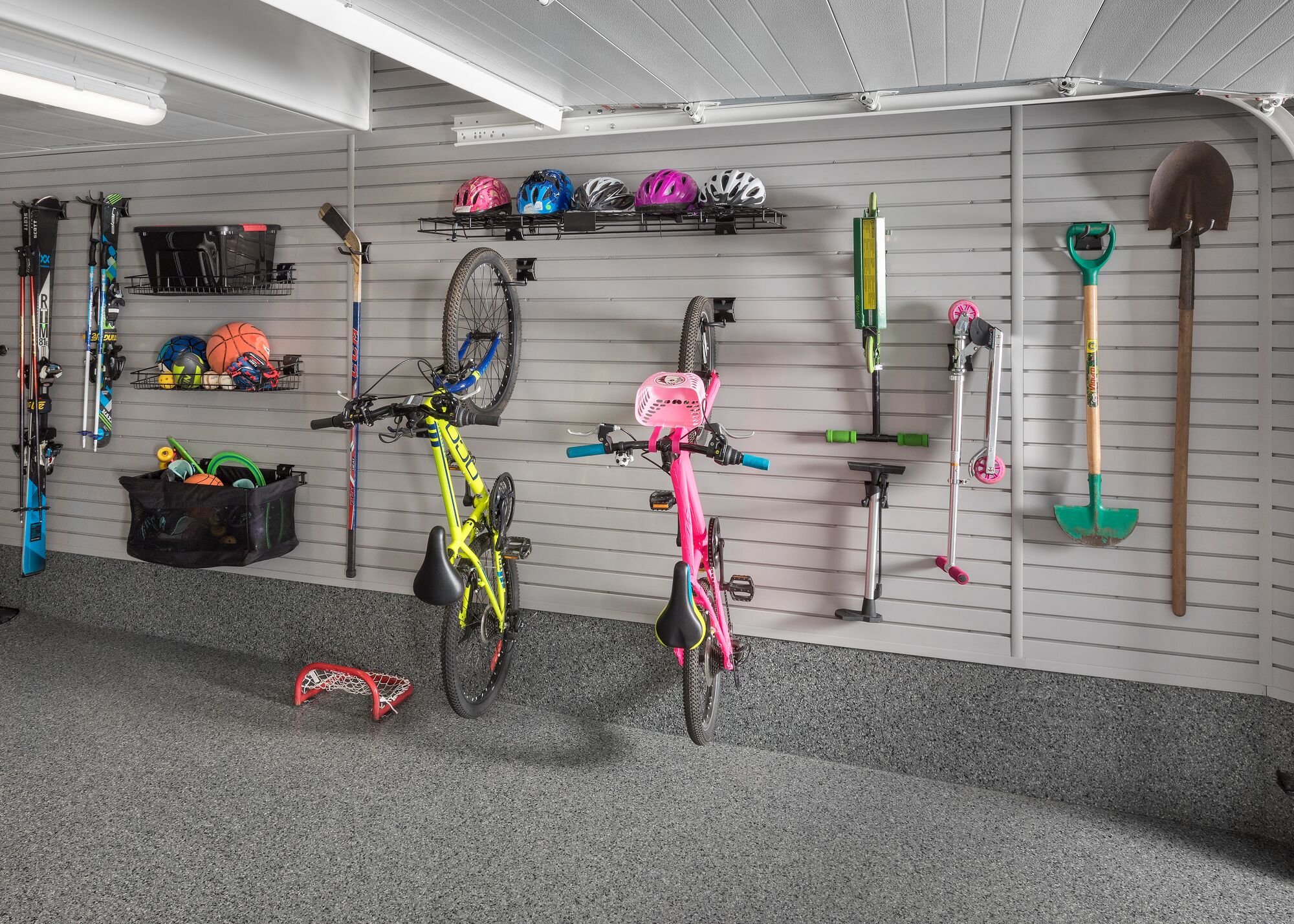 Slatwall maximizes a garage wall's storage space, can be used to store many types of items, and provides garages with a clean, finished look.
6 reasons slatwall is superior to pegboard
Although slatwall and pegboard have similarities, slatwall storage systems are superior in several ways:
1. Aesthetics: Slatwall looks nicer than pegboard and gives garages a more finished look.
2. Storage versatility: It's faster and easier to reconfigure the storage layout on an area of slatwall than it is pegboard.
3. Durability: High-quality slatwall panels like Garage Living's are made with durable cellular foam PVC. Some pegboard panels are made with metal, but many are made with flimsy particleboard.
4. Decorative impact: While a slatwall panel's grooves are primarily functional, the horizontal lines also make the room feel bigger and add decorative appeal by drawing people's eyes. Garage Living can also style up a slatwall storage system by adding panels with a tastefully contrasting color, aluminum diamond plates, and LED ribbon lights.
5. Weight capacity: Slatwall's design gives its hanging accessories more anchoring stability than pegboard hanging accessories. That lets slatwall systems safely hold heavier items like bikes, ladders, and golf bags.
6. Maintenance level: Garages get quite dusty. A garage wall that is covered with panels that have long, horizontal grooves is far easier to clean than a pegboard-covered wall with hundreds (if not thousands) of small holes.
The best garage storage cabinets
It's a misconception that garage cabinetry is only practical for people who are the handy type with a workshop set up in their garage. Cabinets are an invaluable storage system for anyone with a garage, regardless of how skilled they are with a hammer. Here's why:
cabinets give you more garage storage options
cabinets with locks can safely store hazardous materials and tools that are expensive and dangerous
hidden storage eliminates visual clutter
an enclosed storage system keeps items dust-free (an important consideration in a room where debris and

dust can be a problem

)
cabinets can store items that are too awkward or heavy to hang on a wall
And if you are someone who enjoys tinkering and working with tools, garage cabinetry is tailor-made to accommodate your hobby. Your tool collection and all of those small, easy-to-lose mechanical fasteners like screws, nails, and bolts can be organized to your liking. Plus, the cabinet system provides a sturdy wood or metal countertop to work on.
Cabinets sold online and at home improvement stores have a modular design that involves assembling individual components to create a larger cabinet system.
Garage Living carries both modular and custom-fit cabinets that are of much higher quality than most of the cabinet products offered at those retailers. Although they do cost more, customized cabinets take your garage's exact dimensions into account to make better use of your space. Our cabinets also offer more color and design options to provide garages with more decorative appeal.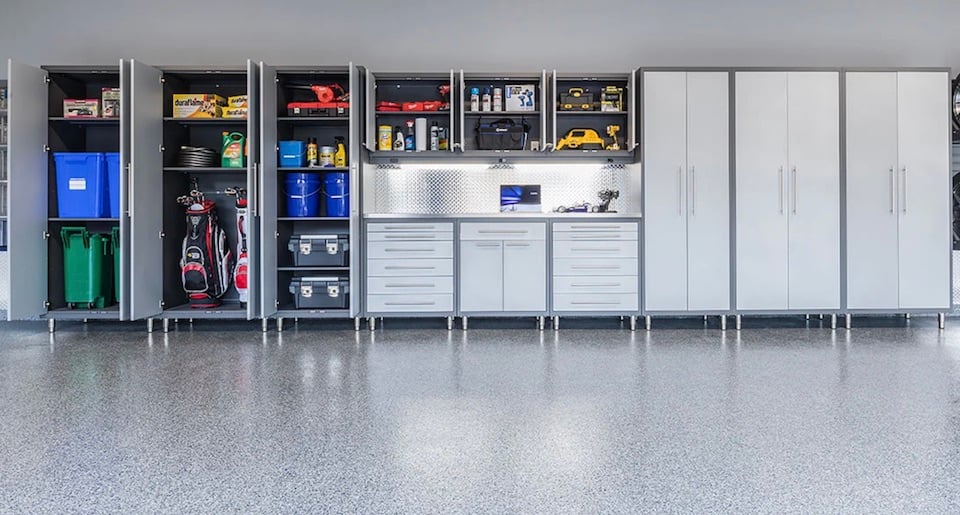 Don't waste your money on cheap, flimsy garage cabinets that rust quickly. Spend a little more to get durable, well-made cabinets that are designed to fit your space and complement the room's décor.
4 essential factors for garage cabinets you're buying
A couple of the main concerns of someone buying garage cabinets is how much cabinet storage space they'll need and what color they should be. While important, these factors should actually be less of a consideration than what the cabinets are made with and how they're put together. Pay close attention to the following product details when you're shopping for cabinets:
1. Material type: The type of materials cabinets are made with can be the difference between them lasting a few years or a couple of decades. Most cabinet products are constructed with steel, which is the best choice. Cabinets made with aluminum and composite woods are also widely available, but their shortcomings (such as less durability and few customization options) are reflected in their lower prices.
2. Steel quality: The quality of steel that cabinets are made with varies. Steel made overseas is often heavily recycled and more prone to rusting than the higher-quality steel made in the U.S. and Canada that Garage Living uses in our cabinets. Try to buy cabinets with a powder-coated finish, which provides added protection against rusting and scratching.
3. Steel gauge: Gauge is used to measure the thickness of sheet metal and is another detail to be aware of. The lower the gauge number is, the thicker a sheet of metal is. Because sturdiness and durability are so important for garage cabinets, be leery of cabinets with steel gauges of 22 and higher. Garage Living's cabinet models are made with sturdy 16 and 18 gauge steel.
4. Craftsmanship: Cheap cabinets are inexpensive because low-quality materials and parts are being used. Shortcuts are also taken with the craftsmanship and how the cabinets are constructed. An example of sub-par craftsmanship are cabinets that are poorly welded together and doors and drawers that don't open and close smoothly.
The best garage overhead storage system
Like the walls of a garage, the ceiling space is also typically underused and ideal for creating valuable storage space. Your garage ceiling has to be high enough to make installing an overhead storage system practical, however.
Overhead racks are the most common type of garage ceiling storage system. Ceiling-mounted tracks or rails that you slide storage bins in and out of are another type of system that uses a garage's vertical space for storage. Some homeowners also use storage systems that manually or electronically hoist and lower items with a rope or wire pulley system.
Any overhead storage system that keeps things off a garage floor is useful, but the best garage storage system for the room's ceiling area are overhead racks. A big reason is that overhead racks are the easiest overhead storage system to use in a garage to store bulky and out-of-season items.
Ceiling-mounted track storage systems involve reaching up to the highest height in the garage to retrieve or put back a storage bin. Sometimes you have to remove several storage bins just to get to the one you want. Overhead racks provide an open storage space that allows you to ∂access and put away items a lot easier compared to hoist and ceiling-mounted track storage systems.
When you're buying an overhead storage system, choose heavy-duty racks with a high weight capacity (Garage Living's racks can safely support up to 600 pounds). Racks with a heavy gauge steel construction are ideal. Because the racks themselves are so heavy and they'll be holding so much weight, it's critical that they're properly installed on the wall and ceiling. If necessary, hire a professional to ensure they're safely installed.
High-quality storage racks have a powder-coated finish to prevent rusting and ensure a longer life. Another product feature to look for is whether or not the racks you're considering buying are adjustable and, if so, how much adjustability they have.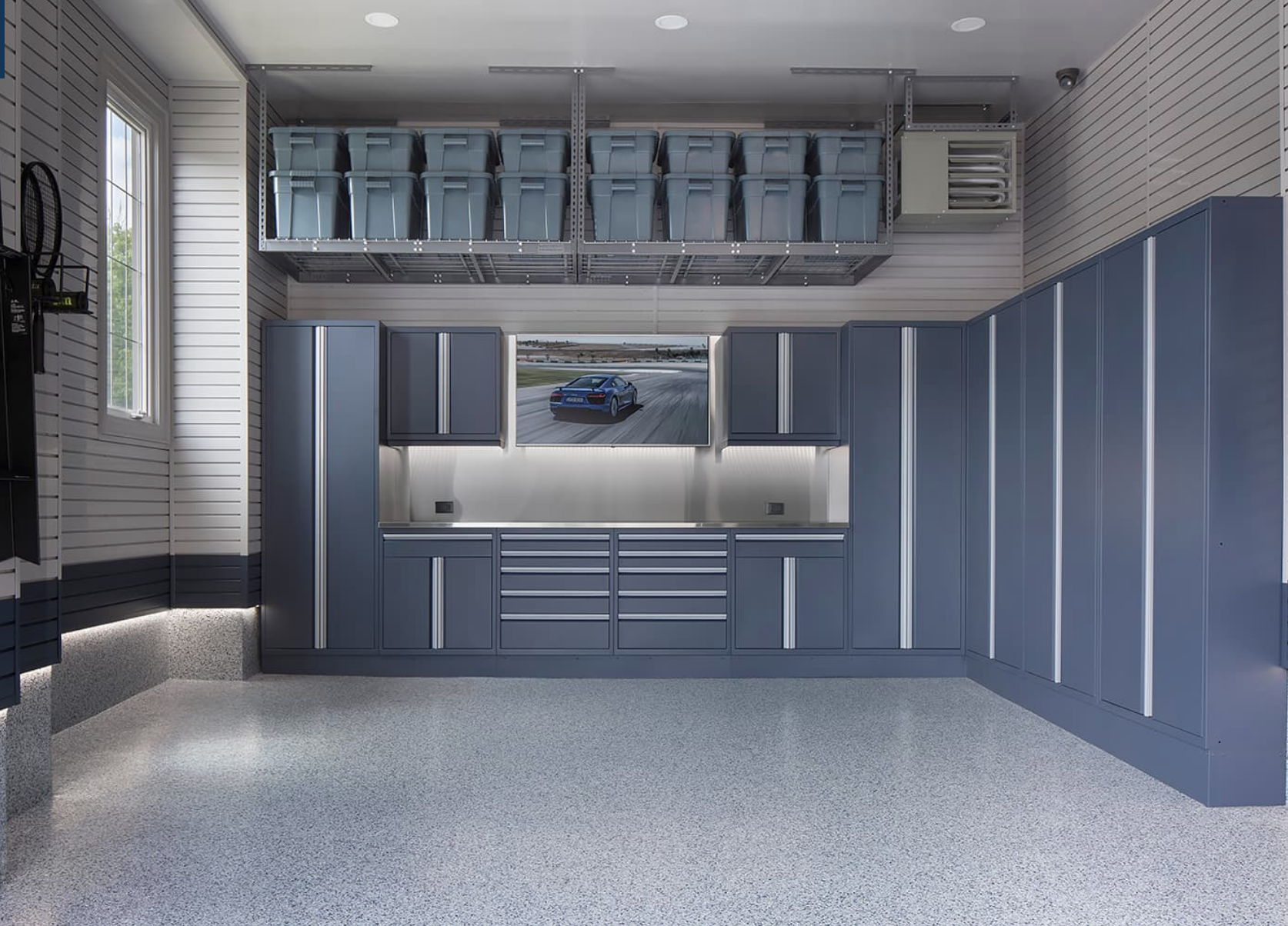 A heavy-duty garage overhead storage rack helps keep clutter off the floor and can hold hundreds of pounds of stored items.
The best garage shelving system
Freestanding shelving units are often used in garages. Although they do take up floor space, at least they provide space to get things up off the floor and keep things a little more organized.
Some freestanding garage shelving systems can be eyesores. Old wood bookcases and metal shelving units that were once used somewhere else in the house are frequently repurposed for garage use. DIY shelving units are also commonly used. While they may get the storage job done, they do have some drawbacks:
they don't look very good and coordinate with your other storage systems and garage décor
they may be made with less sturdy materials (like particle board or plastic) that can't hold a lot of weight
you'll be hard-pressed to get a long life from them in a rugged garage environment
storing things on shelves contributes to visual clutter
the shelves are usually unadjustable
It's best to invest in a heavy-duty garage shelving unit with a high weight capacity and durable materials. Opt for a product made with industrial-grade steel or any other type of rust-resistant material. A product with a powder-coated finish, which prevents rusting, is even better. A shelving unit with one or more of these features is far superior to a cheap shelving unit made with plastic or a high-strength resin.
Wall-mounted shelving is also commonly used in garages. Most shelving of this type is useful, but usually has the drawback of being permanently affixed to your walls. Our LINEA line of slatwall shelf accessories provides more storage versatility because the shelves can be moved around at any time.
If you are using permanent or moveable wall shelving, try to use shelves that are made with metal. They'll last longer and are easier to clean than wood shelves, which can become unsightly with stains and grime over time.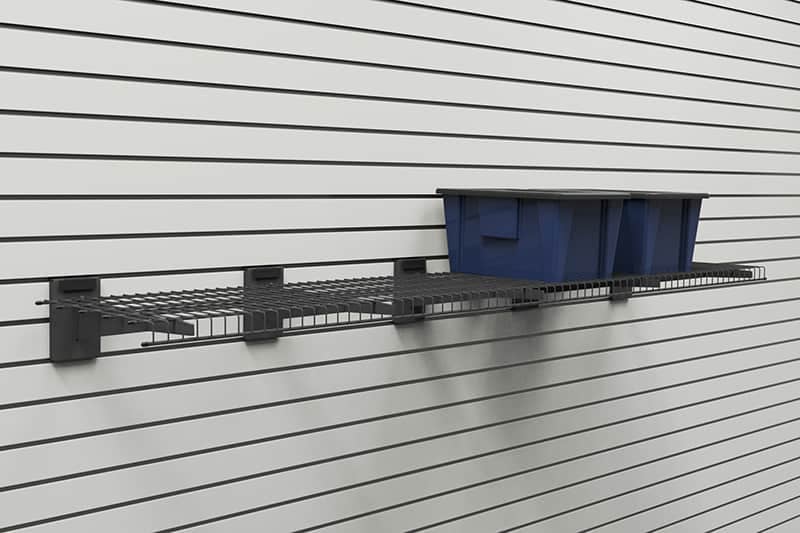 Most garage wall shelving is permanently installed on the wall. Our premium slatwall-mounted LINEA metal shelves can be moved around at any time.
The best solution for more garage parking space
One of the biggest benefits of using the best garage storage systems is that you'll have more room to park your vehicles indoors.
Even with a super-organized garage, some homeowners may still need more parking space, however. This could be because there are simply more vehicles in the family than there are garage parking spots or perhaps you're an avid car collector with a growing collection. Maybe you have a nice sports car that is only driven for half the year because you live in a northern location, yet it's taking up a valuable garage parking spot year-round.
Car lifts are the perfect solution to create more garage parking space. A car lift allows two vehicles to be stored in one parking space. They're a more cost-effective option than undergoing a garage expansion project to make your garage large enough to accommodate all of the vehicles you own.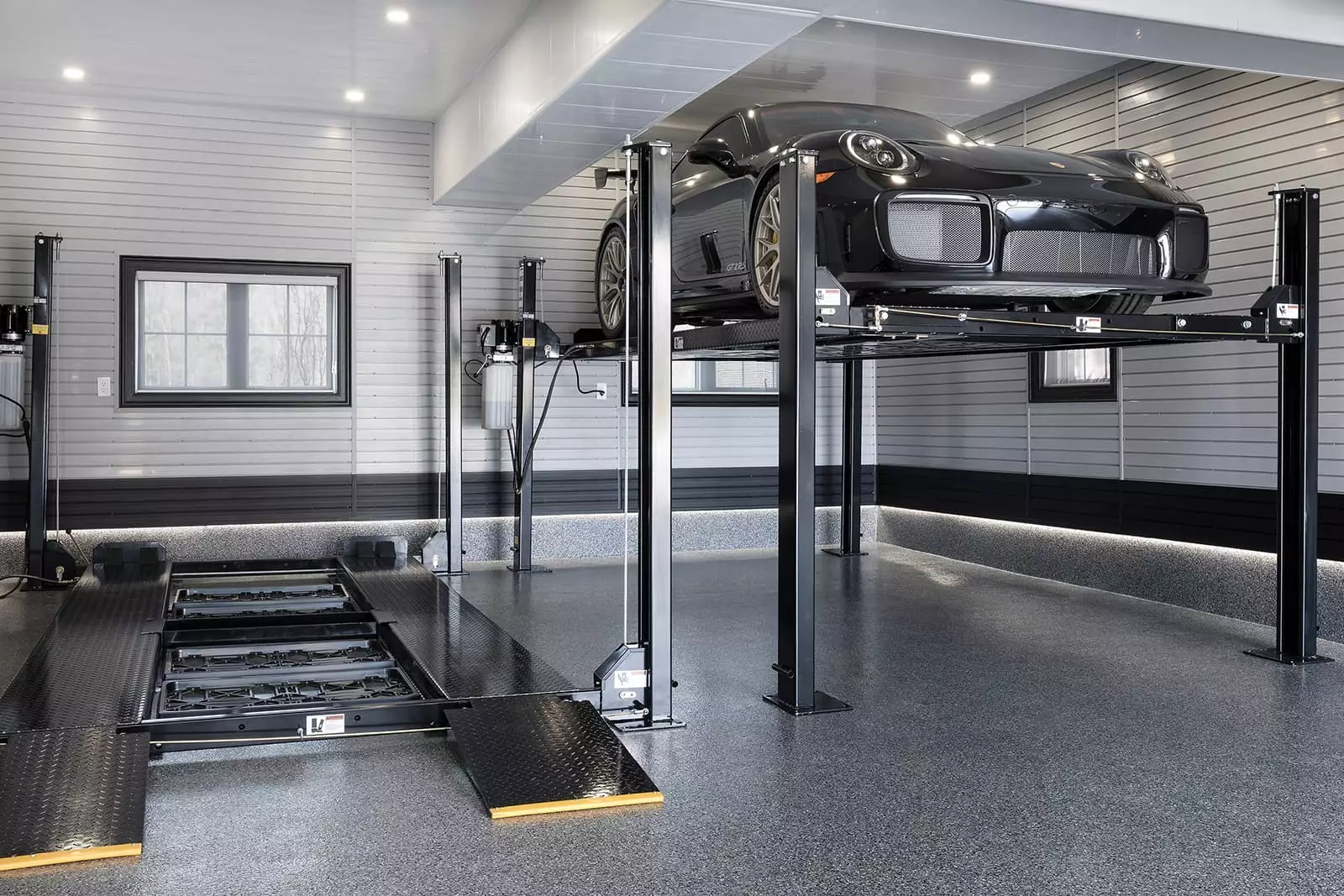 Installing one or more car lifts in a garage increases your available parking space.
How to choose the best garage storage container
Plastic storage bins are frequently used to store things in the garage, but don't just go buying any totes you see in your local stores. Once again, it pays to do a little research and buy the best storage product available.
Wirecutter, the New York Times' product review website, tested 32 storage container products for the home. The Rubbermaid Brute Tote was found to be the best all-purpose storage container for the garage, attic, and basement.
When you're buying totes to store items in the garage, choose a sturdy storage bin product that includes the following features:
made with temperature-resistant, durable high-density polyethylene plastic
a lid design that allows containers to be safely stacked
a snug lid that keeps the container's contents 100% waterproof
handles that are comfortable to use
suitably sized so that it's not too difficult to hoist full containers up to an elevated storage area
For aesthetic reasons, it's best to stick with one storage container color. If your containers can't all be the same color, try to at least choose colors that complement each other.
Enjoy the benefits of an organized garage
Keeping the garage tidy shouldn't be the type of home task that gets shoved aside until things reach a breaking point. Good home organization should start in the garage so the room can be used as an effective storage space and for vehicle parking.
Using the best garage storage options to stay organized means spending less time having to reorganize the room every few months or dealing with a big cleanup project every few years.

Because an organized garage is a more functional garage, that means anyone using it will be more functional, too. Finding things becomes effortless and frustration-free because all of your possessions have a proper home you can instantly locate. That eliminates all of the time that gets wasted every year searching for misplaced items.
Also, consider that the garage is the first interior part of the home most people see when they return to their house. It makes perfect sense to spruce up this primary home access point to look more warm, inviting, and tidy. Clutter is literally bad for your mental health, so who wants to get stressed out every time they enter their messy garage?
Having an organized, remodeled garage also makes the space more comfortable and expands the capabilities of the room to accommodate your lifestyle.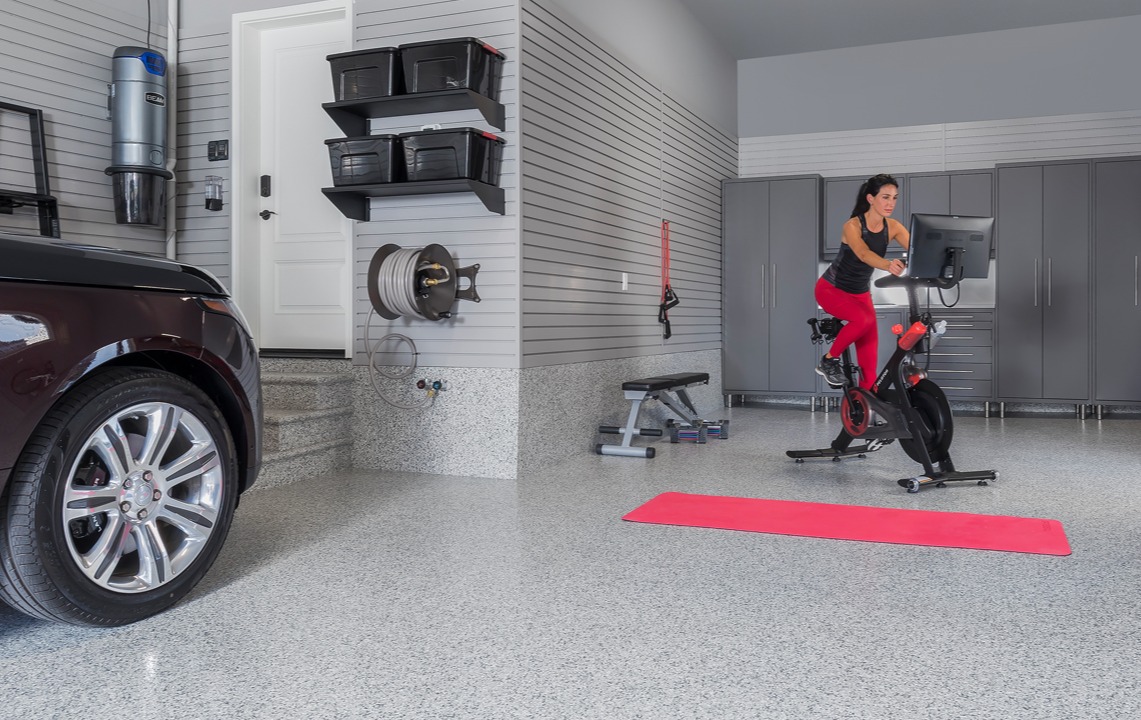 An organized, modern-looking garage can be used as an extension of your living space for your hobbies.
Have a garage you're proud of, not embarrassed by
The simple fact that having a tidy garage means you don't have to be embarrassed by how it looks to neighbors shouldn't be overlooked, either.
In that LiftMaster survey, 40% of the homeowners said they'd be embarrassed if anyone saw their messy garage. Another study by the Thompson's Company (makers of Thompson's WaterSeal) found that 52% of homeowners want to have a garage their neighbors envy.
Stay organized with the best garage storage solutions
Stop settling for having a messy garage that is primarily used as a catch-all space for home clutter while your vehicles sit parked in the driveway.
Garage Living can transform your garage into a stylish, highly functional room that feels more like an inclusive part of your home's living space.
Schedule a free design consultation with us to start improving your home with the best garage storage and décor solutions.
Please share this post if you found it useful.
See also: