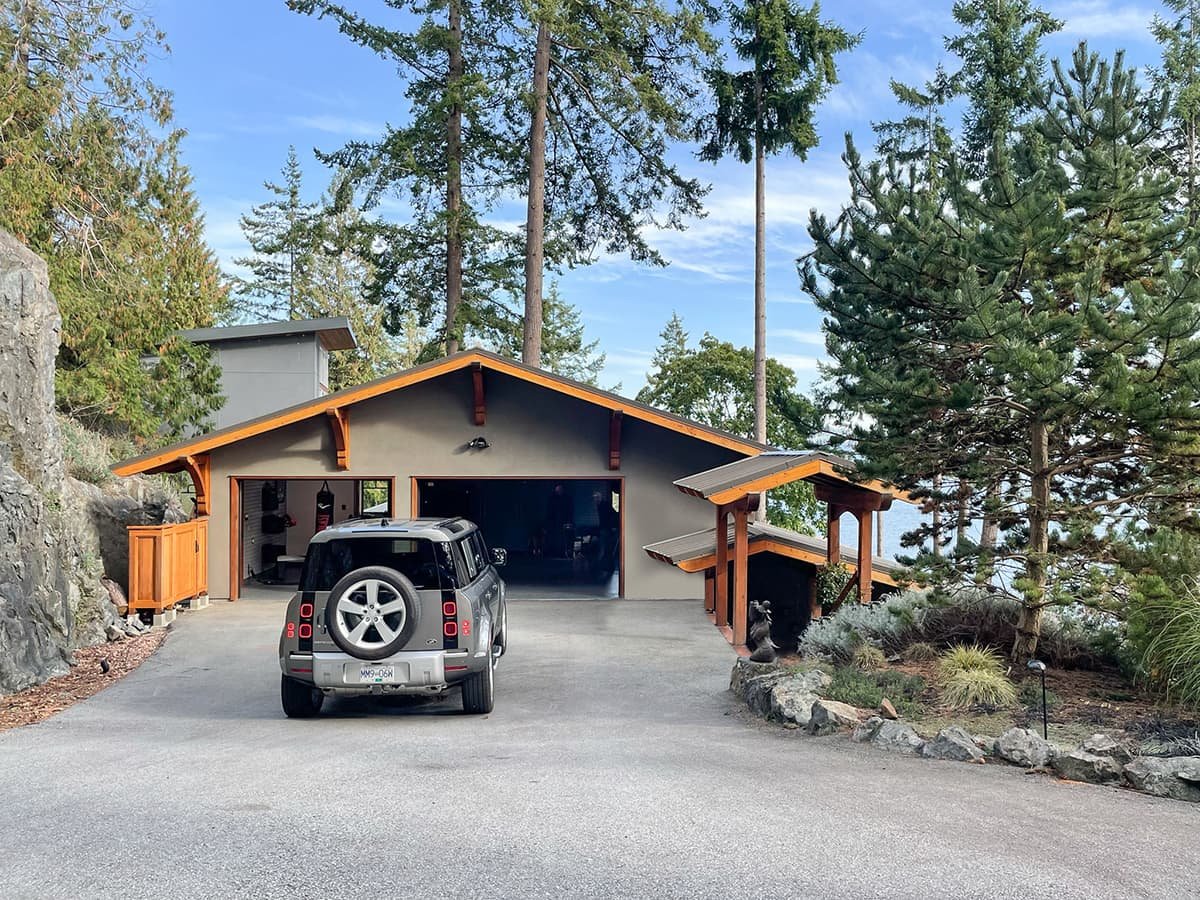 Luxury home upgrades are a great way to make your home more comfortable and add value to your property.
In recent years, there has been an increased demand for luxury home upgrades. Maximizing our home comfort level by adding more high-end features tailored to our families' lifestyles has taken on a new level of importance.
Indulge in the perks of high-end living with our guide to some of the best luxury home upgrade ideas.
4 luxury home upgrade benefits
The benefits of well-chosen luxury home improvements are undeniable. Here are the best reasons to invest in any of the luxury home upgrade ideas we've included here:
Boost your comfort level and make your life easier: high-end home upgrades enhance the functionality and aesthetic appeal of your living space. This improves your living quality and makes your home feel like the haven it should be.
Present your home in the best light: how we style and present our homes is a reflection of our taste, personality, and how we want others to view us. A

well-appointed home showcases the high standards you have for your living space and impresses neighbors and visitors.

Remodeling refreshes your living space: a change of style that adds more high-end features and modern décor breathes new life into your home.
Add value to your home: most renovations increase the value of a home. The home upgrades featured here will surround your family in the comfort of luxury for years to come and make your home more enticing to future buyers.
Luxury home upgrade ideas that add style and elegance
There is simply no substitute for the peace of mind that comes with owning a home that is perfectly designed for your taste and lifestyle.
For anyone with expensive, sophisticated taste, that means investing in high-quality materials, state-of-the-art amenities, and the very best professionals to design and build their dream home.
From the backyard to the kitchen to the garage, many different options are available to create a more luxurious and personalized living experience for your home.
Let's look at some popular luxury home upgrade ideas that will help unlock the full potential of your living space.
1. A gourmet kitchen
One of the most popular luxury home upgrades is a kitchen renovation. Not just any kitchen renovation, however – we're talking about creating a gourmet kitchen that exudes the look of luxury.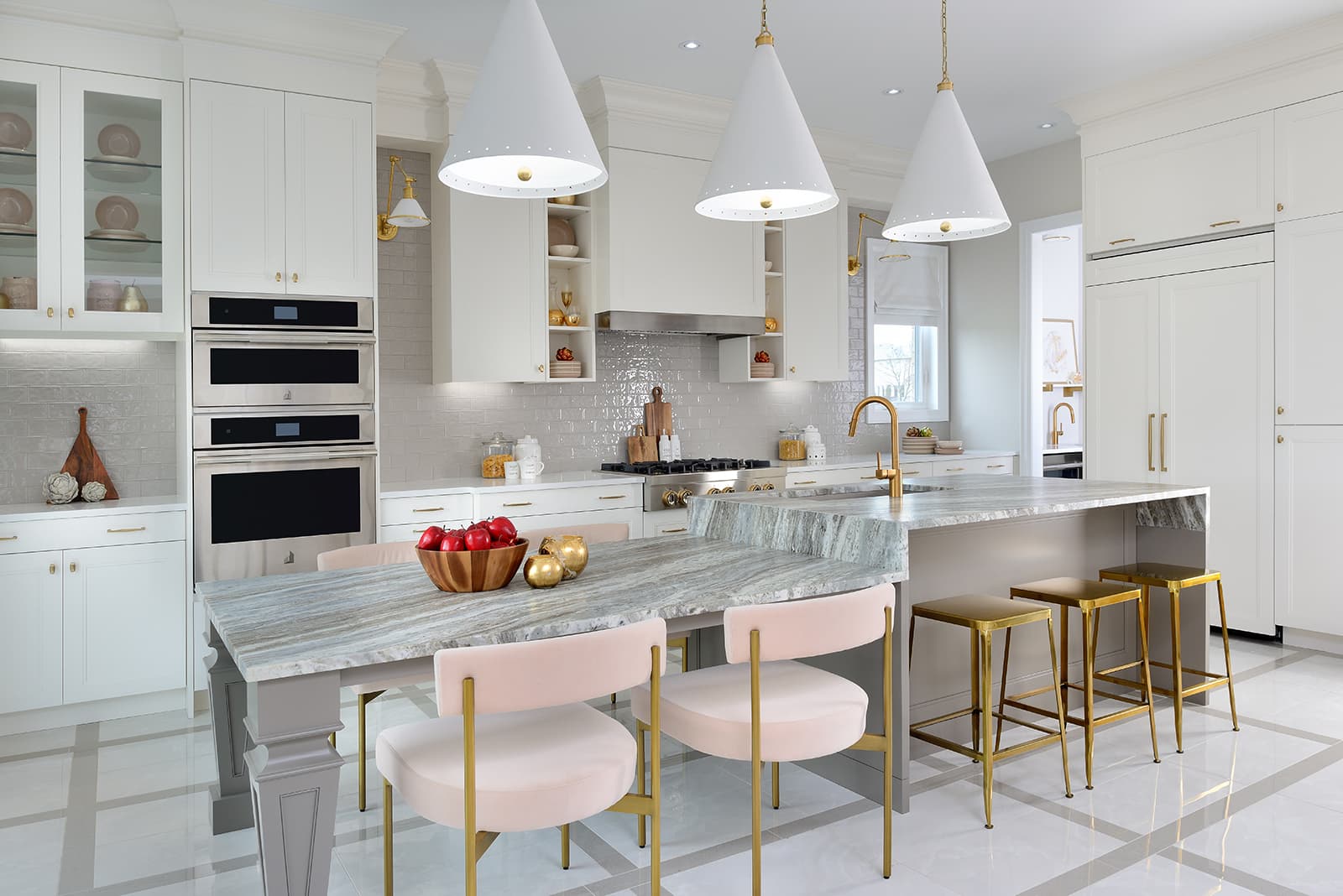 Photo credit: Jane Lockhart Design
Cabinetry options
Cabinets are typically the biggest expense in a kitchen remodel and custom cabinets give you more design options to create an upscale kitchen look. Natural woods like oak, cherry wood, and walnut are great choices. Don't overlook engineered materials like high-quality MDF (medium-density fiberboard), melamine, and thermofoil, either. Adding ultra-stylish hardware to your bespoke cabinets is the perfect finishing touch.
Countertops
For the countertops, materials like quartz, granite, or marble provide a luxurious aesthetic. They also have excellent scratch and stain resistance, are low-maintenance, and will last for a very long time. You can never have enough kitchen counter space, so maximize the square footage as much as the room allows.
Kitchen islands
Installing an island (or two) is one way to increase the amount of counter space in a kitchen. Kitchen islands can also be used for dining, additional storage space, and as a statement piece.
Smart appliances
High-end appliances with smart technology to make using the kitchen easier and more convenient are a must. Built-in appliances that are seamlessly incorporated into the room's design will save space and minimize visual clutter.
Consider rounding out your luxury kitchen remodel by updating the faucets and including a walk-in pantry and/or reach-in wine cellar.
2. A showroom-quality garage
Anyone willing to invest in a luxury home should want every square foot of their residence to look high-end. Most luxury home builders put little effort into making the garage look as nice as the rest of the house, however.
That's one reason the garage has become a prime space for the upgrade treatment in luxury homes. Luxury garage upgrades also boost curb appeal, which matters to luxury homeowners.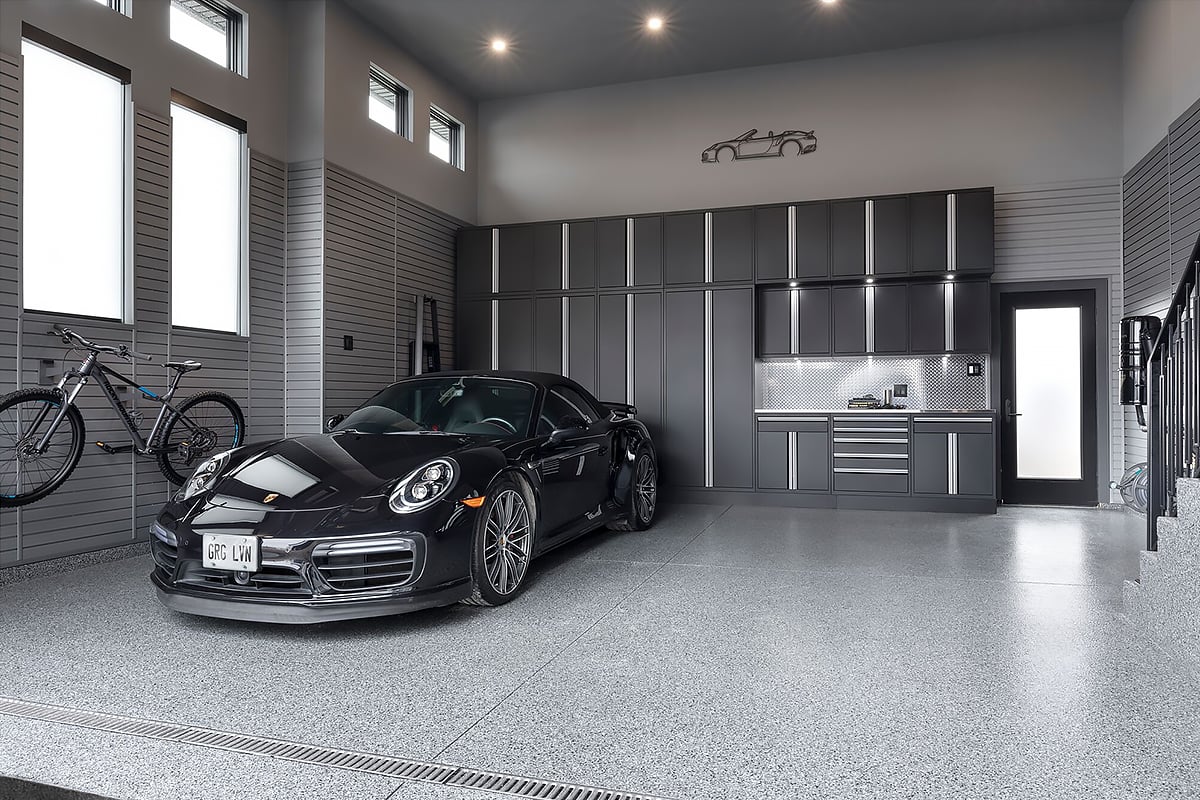 There's no shortage of luxury home upgrade ideas for the garage to help you maximize its potential.
Keep it organized
One key to establishing a luxury look in the garage is to keep it organized and clutter-free. A recent Stanley Black & Decker survey found that 52% of Americans were unhappy with how their garage was organized.
Maximize your storage space
High-quality storage systems like Garage Living's cabinetry, slatwall, and overhead racks are the ideal solutions for maximizing a garage's storage space and they look great, too. Our premium LINEA slatwall accessories look right at home in a luxury garage.
Premium flooring
By working with a design professional like Garage Living, you can color-coordinate the new features of your garage to create a stylish space that looks incredible. That includes the floor, which is one of a garage's most prominent features. Nothing gives a home garage's floor more of a posh, showroom-quality look like our premium Floortex™ polyaspartic floor coating.
For some additional garage remodel ideas and inspiration, view our exclusive Designer Series garage design themes.
Create a multi-purpose garage
A luxury garage can be more than just a nice-looking space where your vehicles get parked. Not that we're minimizing the importance of always parking your vehicles in the garage, mind you. Parking in the garage has many benefits, most notably that it keeps your luxury vehicles more secure. If you own electric vehicles, you'll need to park indoors regularly to recharge them as well.
The pandemic has reshaped the designs of houses and condos and made flexible home spaces more of a priority.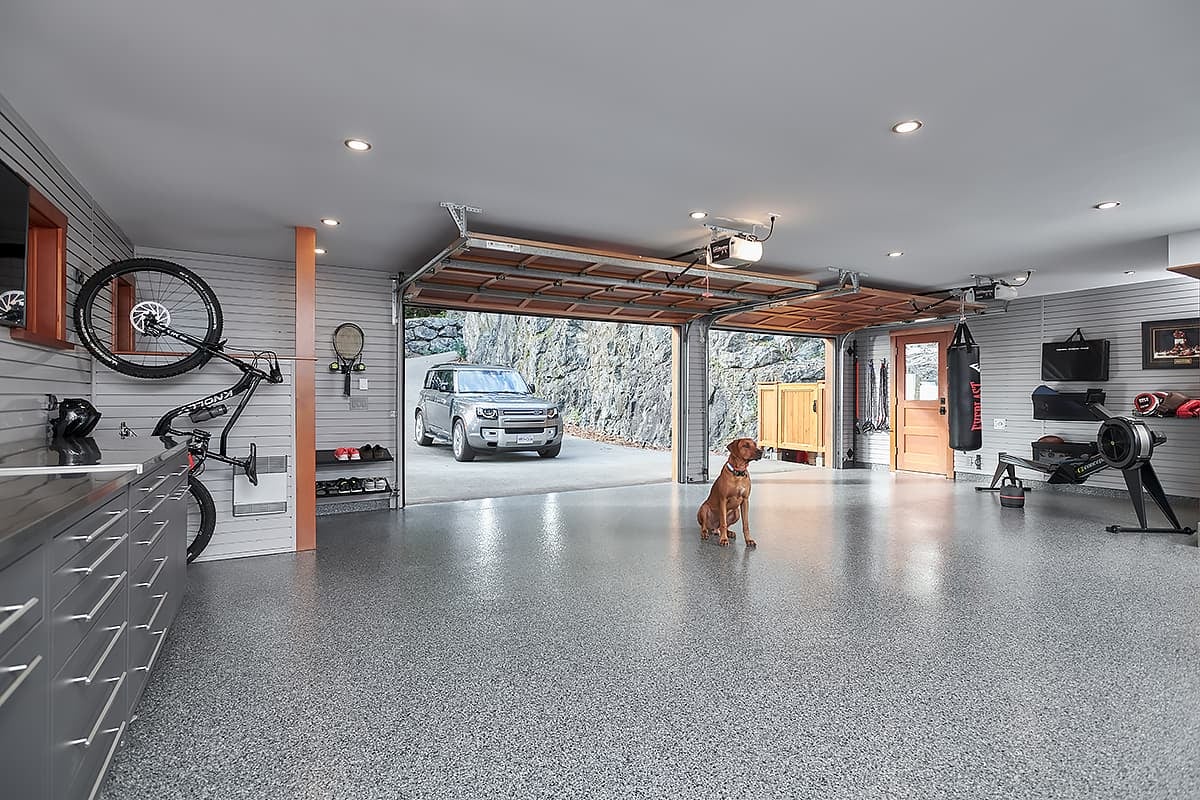 Modern garages are capable of being a part of the home where you can store your prized possessions, show off your personal style, and spend some leisure time. Here are just a few of the many additional uses a garage can have:
exercise space
lounging area
home office
workshop
creative space
3. A bathroom with spa-like features
An occasional spa visit allows us the opportunity to take a breather from the fast pace of life by pampering ourselves and recharging our batteries.
Outfitting your bathrooms with some spa-like luxury amenities creates easier access to features that help you pay more attention to your self-care and wellness. A recent Houzz Bathroom Trends Study found that 41% of homeowners rely on their bathrooms as a space to rest and relax.
Soaking tubs
An extra-deep soaking tub with jets can help you destress and provides effective hydrotherapy. Freestanding tubs are popular nowadays and give a bathroom a sophisticated look.
Spacious walk-in shower
Spacious, open-concept showers are another popular luxury bathroom idea worth looking at. A walk-in shower design eliminates the door, which makes the bathroom feel bigger and gives it a very modern aesthetic.
Upscale countertops and high-end tile or stone are essential for a luxury home's bathrooms (or the master bathroom at least). A new custom vanity and makeup table and updated lighting can also give the room a more dynamic look.
Here are some additional ideas to create a more spa-like environment in the bathroom:
heated towel bars
body spray shower systems with multiple wall-mounted spray heads
heated floors
hot tub
sauna
high-tech toilets with auto flush, auto open and close lids, seat warmers, and deodorizing systems
4. A stunning front entryway
A major reason to invest in some of these luxury home upgrade ideas is to make our houses look nicer for visitors.
As far as interior living space upgrades go, there's no place better than the front entryway to focus on to present your home in the best possible light to anyone stepping through the front door.
Front doors and first impressions
A beautiful front door adds a real sense of luxury, boosts your curb appeal, and makes a positive first impression on visitors. You can use its design as a way to allow more natural light into the front entryway, which elevates the inviting feel of your home.
Increasing the amount of natural light is a top priority in luxury home design right now. Other ways to accomplish this are to increase the size of any windows in the entryway area and install a skylight.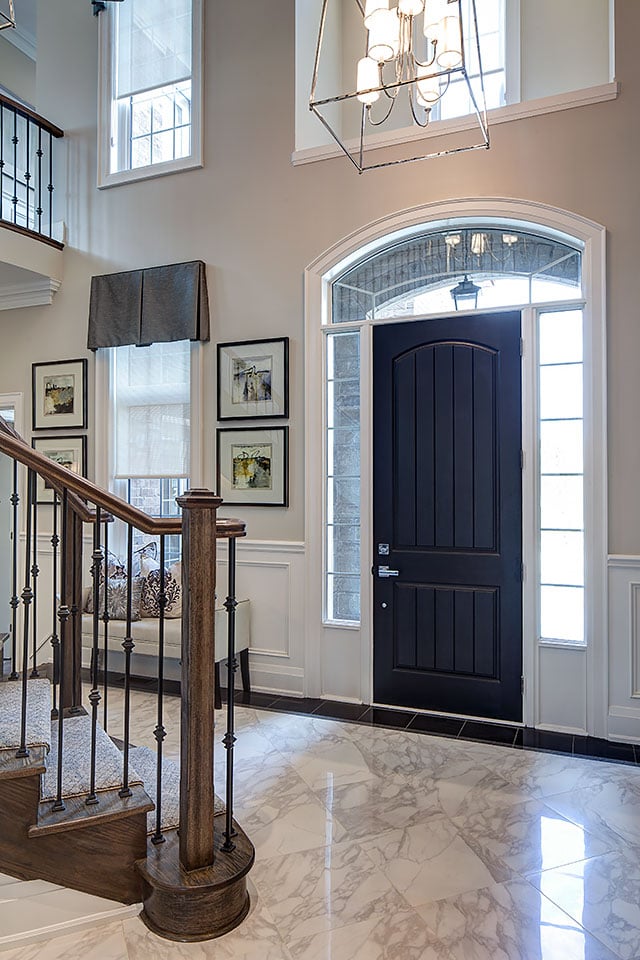 Photo credit: Jane Lockhart Design
Good entryway lighting also has a big impact on the tone you set for anyone entering the space, of course. Choose a luxury ceiling light fixture to showcase both your entryway area and expensive taste!
5. A stylish walk-in closet
Walk-in closets are consistently one of the most-wanted features for buyers of any home. In today's luxury homes, a master bedroom walk-in closet is all but expected. That makes it one of the top luxury home upgrade ideas for adding value to your house.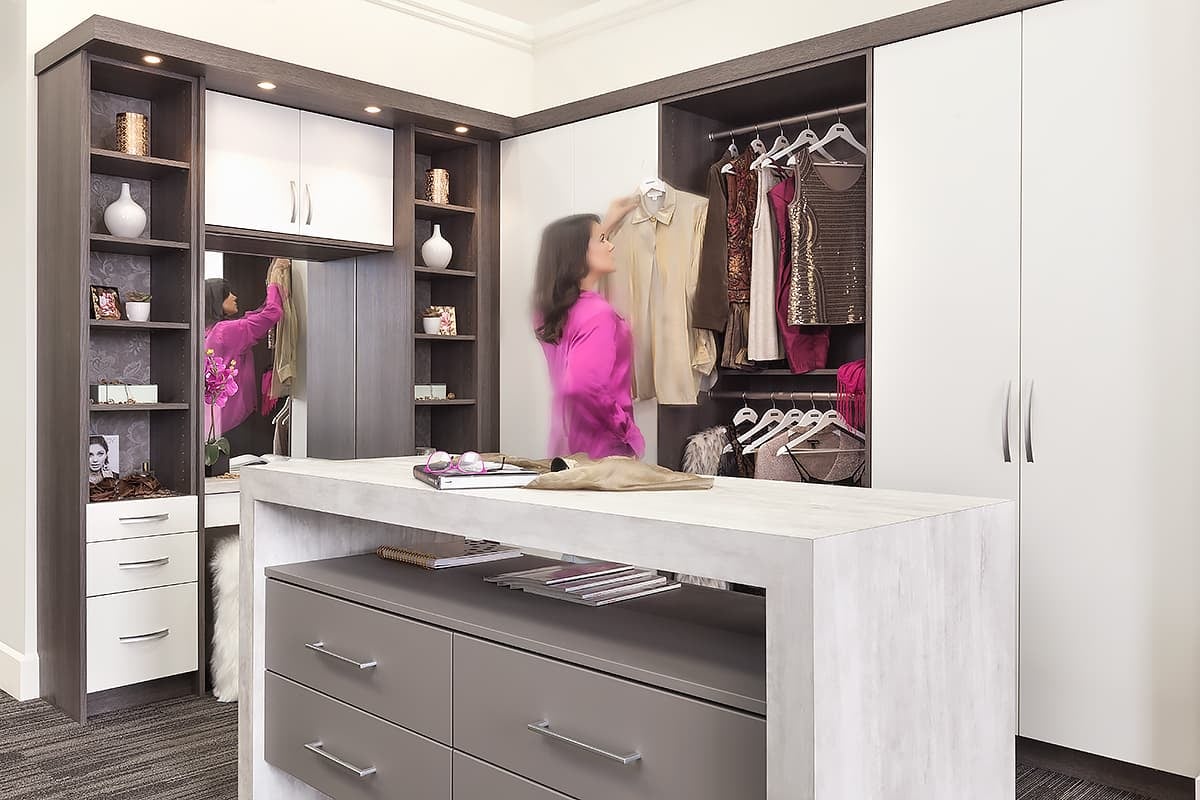 Photo credit: Organized Interiors
More storage and less clutter
Closets are a hotspot for home clutter, so there's real practicality in expanding the amount of storage space you have for your wardrobe. A spare room (beside the master bedroom if possible) is the ideal spot. If you don't have a spare room, a partitioned section of a large master bedroom can work well, too.
Having lots of storage room and a good custom closet organizer allows you to create designated homes for all of your clothes and accessories. This eliminates a lot of the time that gets wasted by misplacing items and not having a sensible wardrobe organizing system.
Design features
A walk-in closet provides plenty of opportunities to add lavish, ultra-contemporary design features to a home. Along with creating maximum storage functionality, it can be designed to showcase your wardrobe collection and make a closet look like a stylish boutique.
Consider making the space even more luxurious by adding a cozy, personalized dressing area to start and end your day in a more comfortable setting.
6. Smart home automation
Most people considering some luxury home upgrade ideas will be looking to integrate more smart home automation. That makes a lot of sense since one of the reasons to invest in luxury home products is the increased level of comfort they provide. Smart tech accomplishes this with convenient features like voice-activated controls and they can also improve home energy efficiency.
Luxury homes typically have the most cutting-edge products and design features available. Beyond the smart tech already powering the TVs and some of the appliances in most of our homes, almost every type of functionality in a home now has smart tech capabilities.
In addition to things like thermostats, lighting, and security systems, here are a few less obvious things in the home that are smart tech-capable:
sprinkler systems
air and water quality control systems
garage door openers
controls for drapes and blinds
domestic cleaning (the BBC reports that robot vacuum cleaners are the most widely sold robots in the world)
Recent advancements in artificial intelligence (AI) technology have been getting a lot of attention. You can expect to find aspects of that tech being more widely incorporated into the smart home products we use.
7. A premium outdoor living space
The backyard has moved to the front of homeowners' minds in the past few years. During the pandemic, interest in outdoor living spaces exploded as homeowners looked to use their backyards more to cook, dine, and relax.
A backyard is the number one thing homebuyers want in 2023, according to research data from leading real estate marketplace site Zillow.com.
Outdoor kitchens
An outdoor kitchen and living space are tailor-made for a luxury home. Here are five reasons they make a great addition to a deck or patio:
luxury home

exterior upgrades add value and aesthetic appeal

outdoor kitchens with a dining area and outdoor living room expand a home's livable square footage
an outdoor living space is perfect for entertaining guests
outdoor kitchens double a home's cooking space
cooking outdoors allows you to enjoy your backyard and nature more often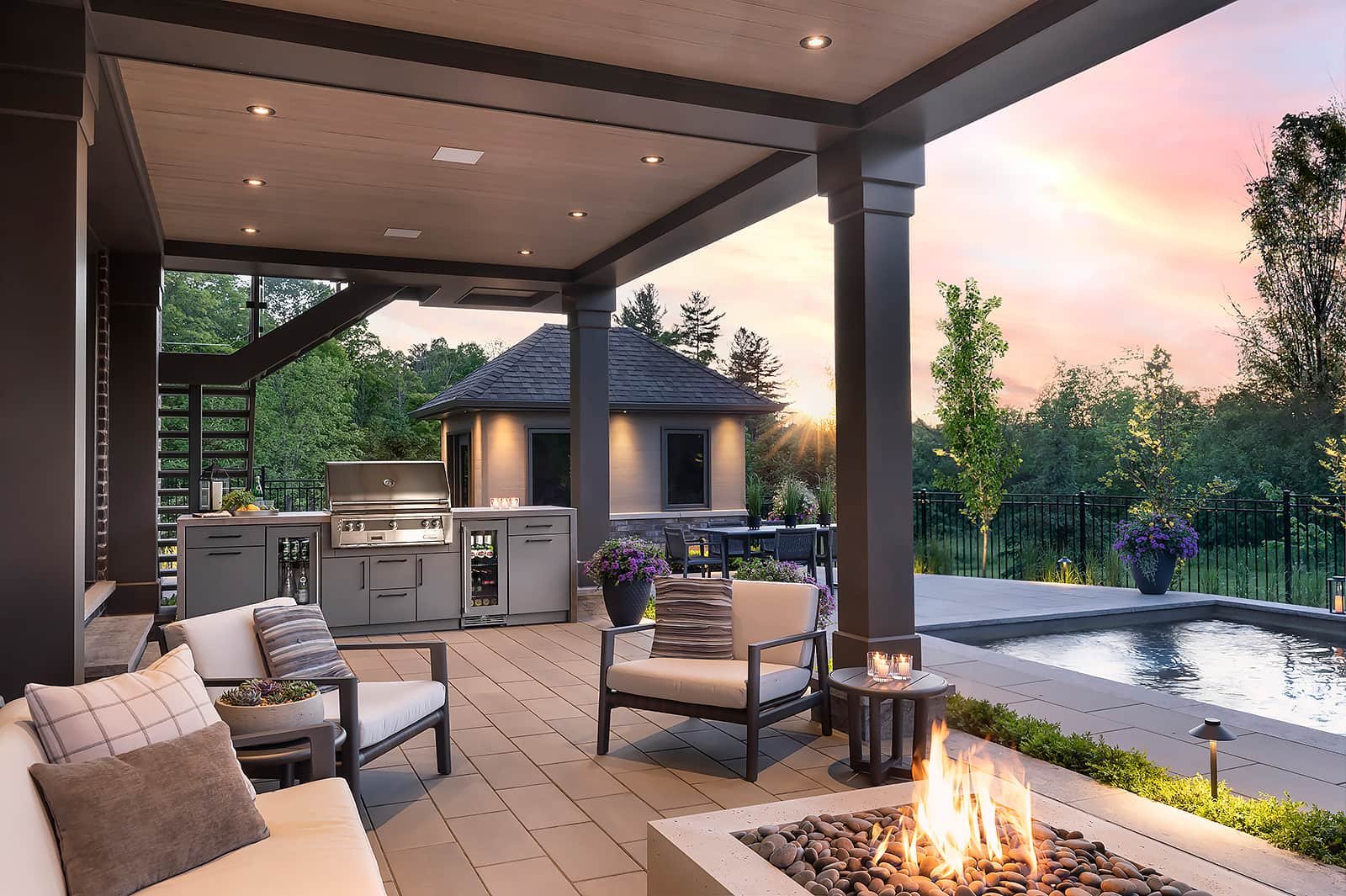 Photo credit: Outeriors
An extensive range of features are available to add luxury touches to an outdoor kitchen's design. The kitchen itself can include a top-of-the-line built-in grill and appliances like a fridge, pizza oven, and warming drawers. Everything can be designed using high-quality materials for the countertops and cabinetry.
To create a more complete luxury outdoor living space, add a dining area, outdoor bar and beverage center, high-quality outdoor furniture, a fireplace or fire pit, and an outdoor TV.
8. High-end flooring
The design features in a luxury home must find an effective balance between beauty, functionality, and durability. This is especially true for the flooring, which has a huge impact on a living space's appearance and is subject to some of the most wear and tear in homes.
The right type of attractive flooring can effectively complement a luxury home's interior design style. High-end wood, stone, and tile flooring materials have long been a fixture in the homes of affluent owners and offer a wide range of styles and finishes to provide the desired look of luxury.
Hardwood flooring
Hardwood has a timeless appeal with a rustic, stylish, and elegant aesthetic to accommodate anyone's luxury living standards. Exotic, hand-scraped, and reclaimed hardwood are some of the most popular types of luxury hardwoods available. Recent trends are seeing a shift away from traditional hardwood styles and more of the following types of designs:
lighter colors like blonde wood
multi-tone colors
lower-maintenance matte finishes instead of glossy finishes
wider floor planks
zigzag-style herringbone or chevron patterns for a unique look
Stone tile and slab flooring
Natural stone tile or slab flooring go hand-in-hand with a luxury home look. Marble, travertine, granite, and quartzite tend to be the materials favored by homeowners opting for stone flooring. Concrete and high-end ceramic tiles or carpeting are additional alternatives to hardwood flooring.
For added comfort, consider installing radiant floor heating throughout your luxury home or in specific rooms. Subfloor heating works in tandem with a central heating system to heat a living space and you'll appreciate the additional warmth underfoot on chilly days.
9. More living space and multi-purpose rooms
A house may have luxurious features in every room. If it's not quite big enough for your family's needs, however, it will never quite feel like that forever home you always dreamt of owning.
Enlarging a home's footprint by adding some rooms or expanding the dimensions of some of your prime living areas (like the living room, kitchen, or master bedroom) can help you achieve 100% satisfaction with your home's design.
Room ideas for your lifestyle
The extra space can be put to all kinds of practical uses to better accommodate your family's lifestyle. Here are several ideas:
home office
exercise/yoga room
wine cellar and tasting room
a room dedicated to creative pursuits (craft room, sewing room, music studio)
home theatre and gaming room
guest bedrooms
bar room
sunroom
home library and reading space
As an alternative to expanding a home's square footage, there are many ways to create multi-purpose rooms that make better use of your existing home spaces. For example, if you only host overnight visitors a few times a year, combine a guest bedroom with a home office so a spare room isn't left underused.
Add the look of luxury to your garage
Those are just a few of the many luxury home upgrade ideas worth exploring to elevate your living space to the next level. Do any of these luxury home upgrade ideas align with your vision for your dream home?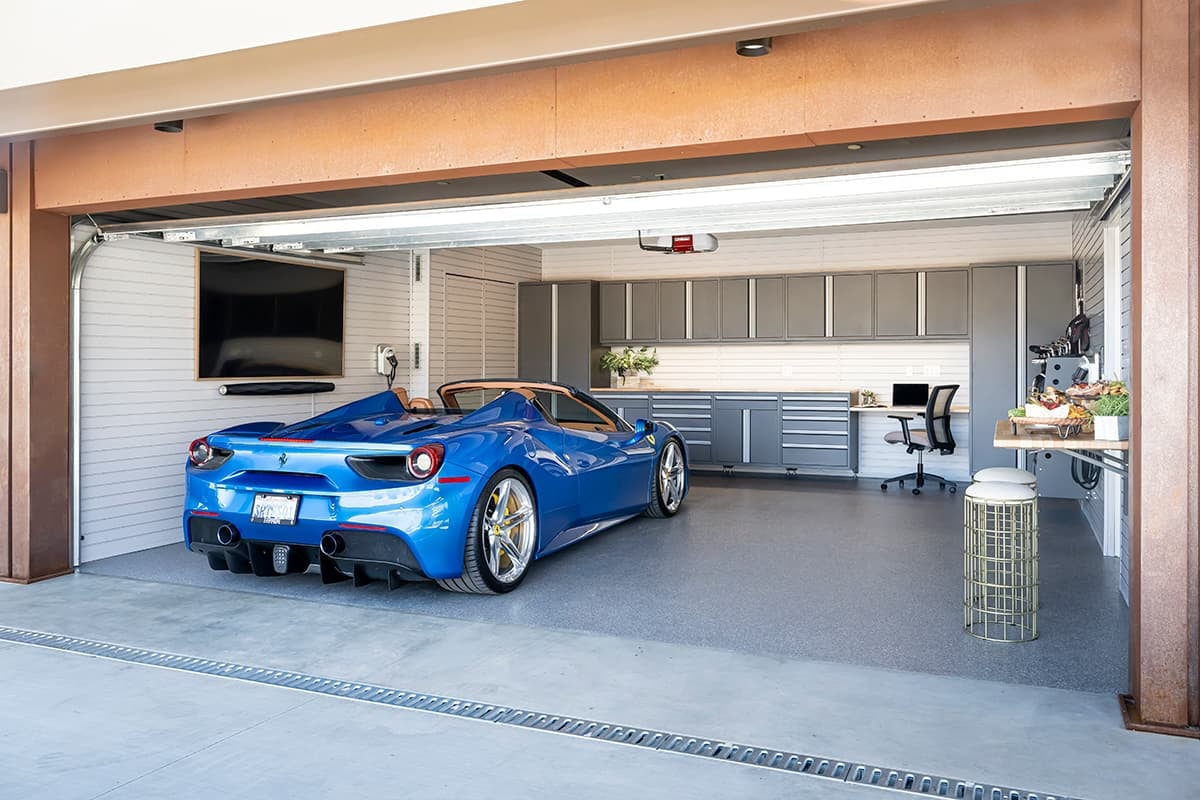 Garage Living has been creating showroom-quality luxury garages since 2005. Work with us to complete your luxury home design by transforming your garage into a high-end space with maximum functionality.
Schedule a free consultation with us to get your luxury garage remodel project started.
Please share this post if you found it useful.
See also: