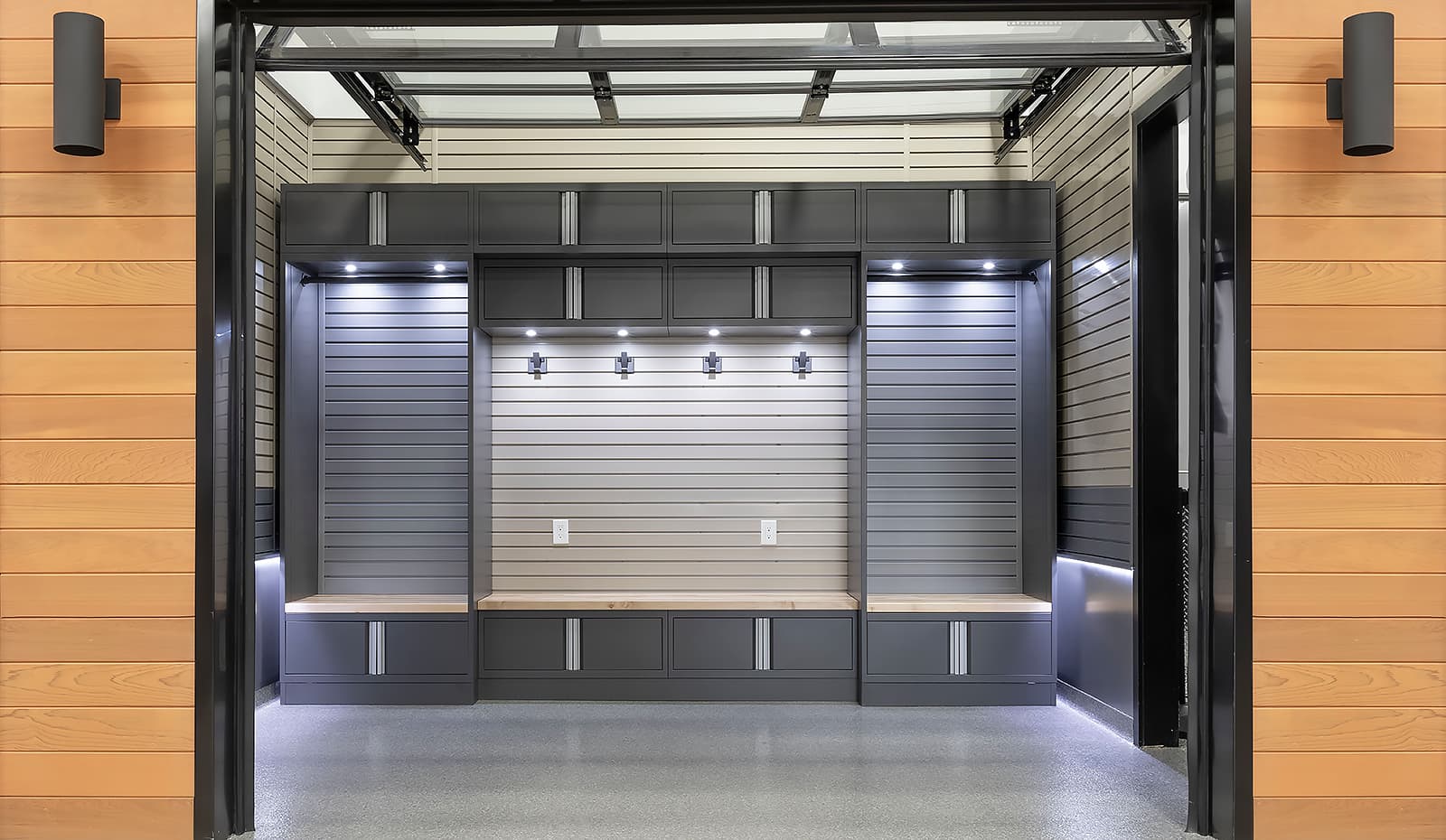 Mudrooms come in various shapes and sizes. They can be located in several areas of the home since they're commonly not traditional rooms, but designated areas of a living space.
Nowadays, you'll find mudrooms in home entryways, hallways, nook spaces, large hall closets, paired with a laundry rooms, and anywhere else near an entrance. You'll even find more and more homes that have garage mudrooms.
Regardless of where a mudroom is in a home and what its design looks like, all mudrooms share one common purpose: to keep homes cleaner and more organized.


5 benefits of having a mudroom
High-traffic home entryway areas have a habit of becoming clutter hotspots. Not every family member is in the habit of always putting away their apparel or picking up things they've set down after bringing them into the house.
Entryways are also naturally harder to keep clean since they're the first living space area we use after entering the home. All of that mud, rainwater, snow, and debris on the bottom of our footwear that gets brought in leaves a mess unless we diligently clean up after ourselves and others. The entryway only looks worse when clutter is added to the mix.
An entryway (especially one by the front door) should always look organized because it's the area guests to your home see first. Visitors judge your home within 38 seconds of entering it, according to a survey by The Independent Network powered by VEKA.
A well-designed, strategically located mudroom has lots of benefits, especially for busy families with kids. Here are five of the benefits of having a valuable "home buffer zone" like a mudroom:
Prevents entryways from getting overwhelmed by clutter: mudrooms "corral" apparel and footwear as soon they enter the home by providing easy-to-use storage space.
Immediately captures messes brought in from outdoors: containing things like mud, dirt, sand, leaves, rainwater, and snow in one area by a point of entry

results in less cleaning work on hardwood floors, carpets, and rugs.

Provides a tidy, comfortable home landing zone: after arriving home from work, school, and recreational activities, it's nice entering a cozy, clean space where you can decompress as you remove your outerwear. Home is our comfort zone. Being greeted by a messy space as soon as you come home can sour a good mood quickly.
Frees up space in closets and other entryways: a mudroom spreads out the workload of your entryway closets. It also eliminates items like footwear and coats from hallways and foyers and helps keep them tidier.
Makes your daily routine more efficient:

a space that is designed to make entering and exiting the house more efficient and convenient is a time-saver. It eliminates or reduces the amount of time that gets wasted looking for misplaced items.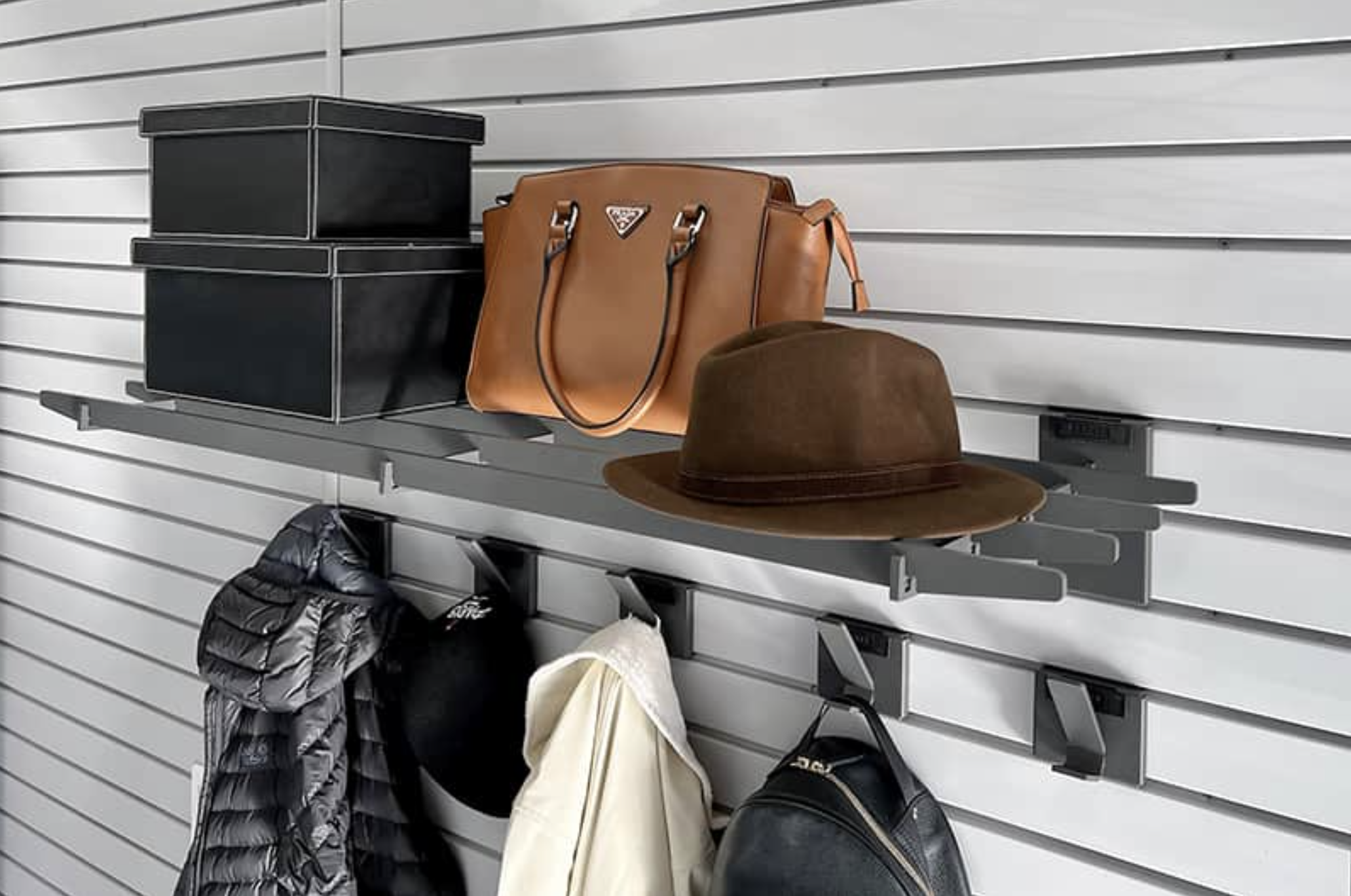 Having organized garage mudroom storage for your apparel gets you in and out of the house more efficiently.


Why a garage mudroom is so practical
The garage is supposed to be a multipurpose storage space where we keep everything from cars to rakes to sports equipment. Why not extend that functionality to the items you wear outside every day?
If you have space to spare in an attached garage, creating a garage mudroom is likely easier than finding space in your main living area to create one. It's certainly easier and less expensive than adding a new room to your home, too.
A great thing about mudrooms is that they don't require a lot of space. A well-designed mudroom with the right storage systems is capable of packing a lot of functionality into a relatively small area to help resolve a home's entryway organization issues.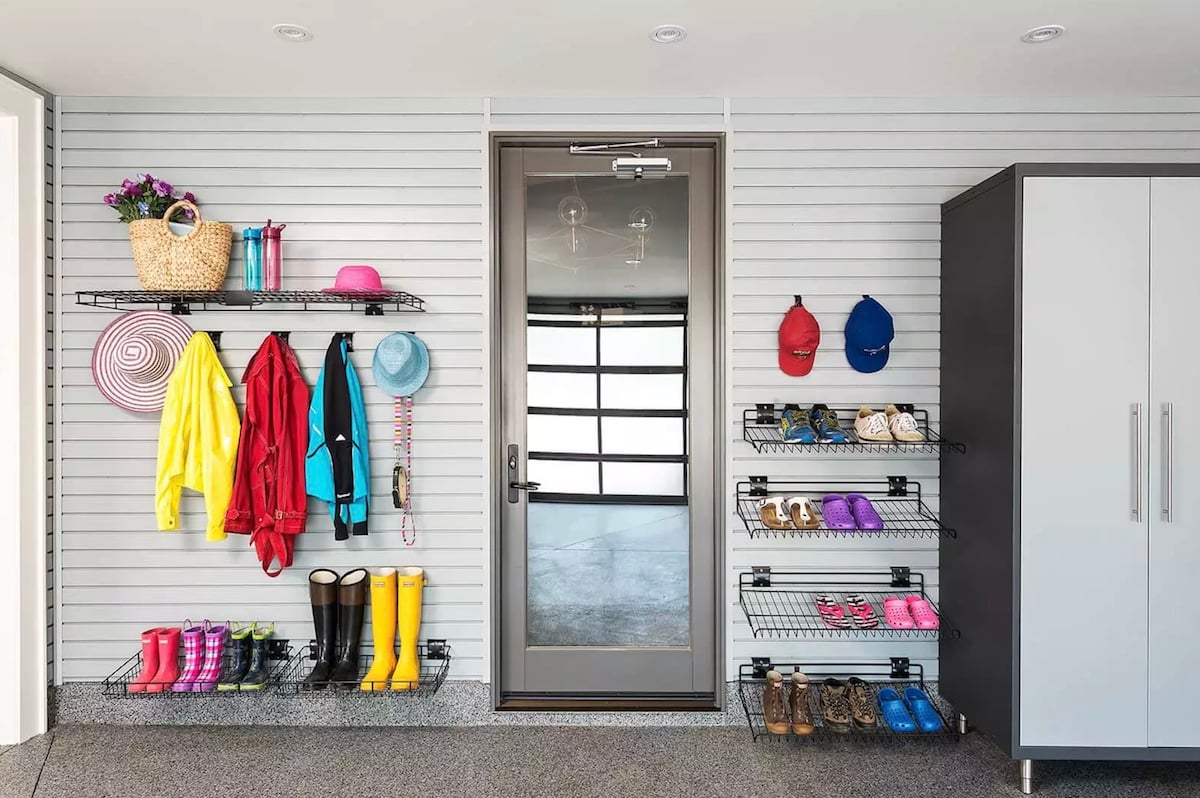 The garage access door has replaced the front door as the main entry and exit point for most homeowners, according to a Chamberlain Group study. The frequency with which the garage is being used as the main home access point makes it very practical for a mudroom setup.
One factor that can affect how often a garage mudroom is used is cold temperatures. Depending on your location, it may be more practical to use a mudroom in the garage for only the warmer months of the year. Another option for homeowners in cold-weather climates is to make their garage climate-controlled or add heating in just the mudroom area.
Another reason the garage makes so much sense to use for a mudroom is that a remodeled garage's wall and floor materials are durable and tailor-made for a mudroom.
A high-quality floor coating like Garage Living's Floortex™ protects garage floors with a waterproof seal. Our PVC slatwall panels for a mudroom's hanging accessories have a durable cellular PVC construction. Both products also have the one quality that is essential for any mudroom's design materials – they're super-easy to clean!
5 essential garage mudroom features
There are many ways to design and set up a garage mudroom. Doing it properly will encourage better organization, improve your home's organizational efficiency, help you avoid (or at least cut down) arguments over clutter, and leave you with less cleaning work. What's not to love?
Productivity expert Audrey Thomas tells Real Simple magazine, "If you don't define exactly how you use your spaces, you'll end up with a mess. Maybe not the day after decluttering, but certainly in the weeks to follow."
With that wisdom in mind, let's look at the essential features a garage mudroom should have.
1. Effective storage systems
Wall hooks and hangers are essential for a garage mudroom to keep jackets, hoodies, hats, backpacks, and other clothing accessories organized. Hooks and hangers also come in handy for non-apparel items that are ideal for mudroom storage, such as reusable grocery bags and dog leashes.
Shelving is another mudroom staple, along with bins and baskets to keep small items organized. Cabinets are also practical for mudroom storage, which we'll get into further down.
A tried-and-true method of ensuring a mudroom being used by families with kids stays tidy is to designate wall, shelf, and floor space for each family member. Labeling these storage areas is optional. Not only does having designated spaces make it easier for everyone to find and put away their belongings, but it also makes it easier to hold everyone accountable for keeping their areas organized.
Shoes and boots can be stored in a variety of ways in a mudroom. Some households have their footwear stored side-by-side on the mudroom floor, some prefer to use space-saving shoe racks, and others have individual bins for each family member's footwear. Boot trays are another mudroom essential to contain the water from wet and snowy shoes and boots.
Some helpful extra accessories to add to a garage mudroom are an umbrella holder and small recycling and trash bins.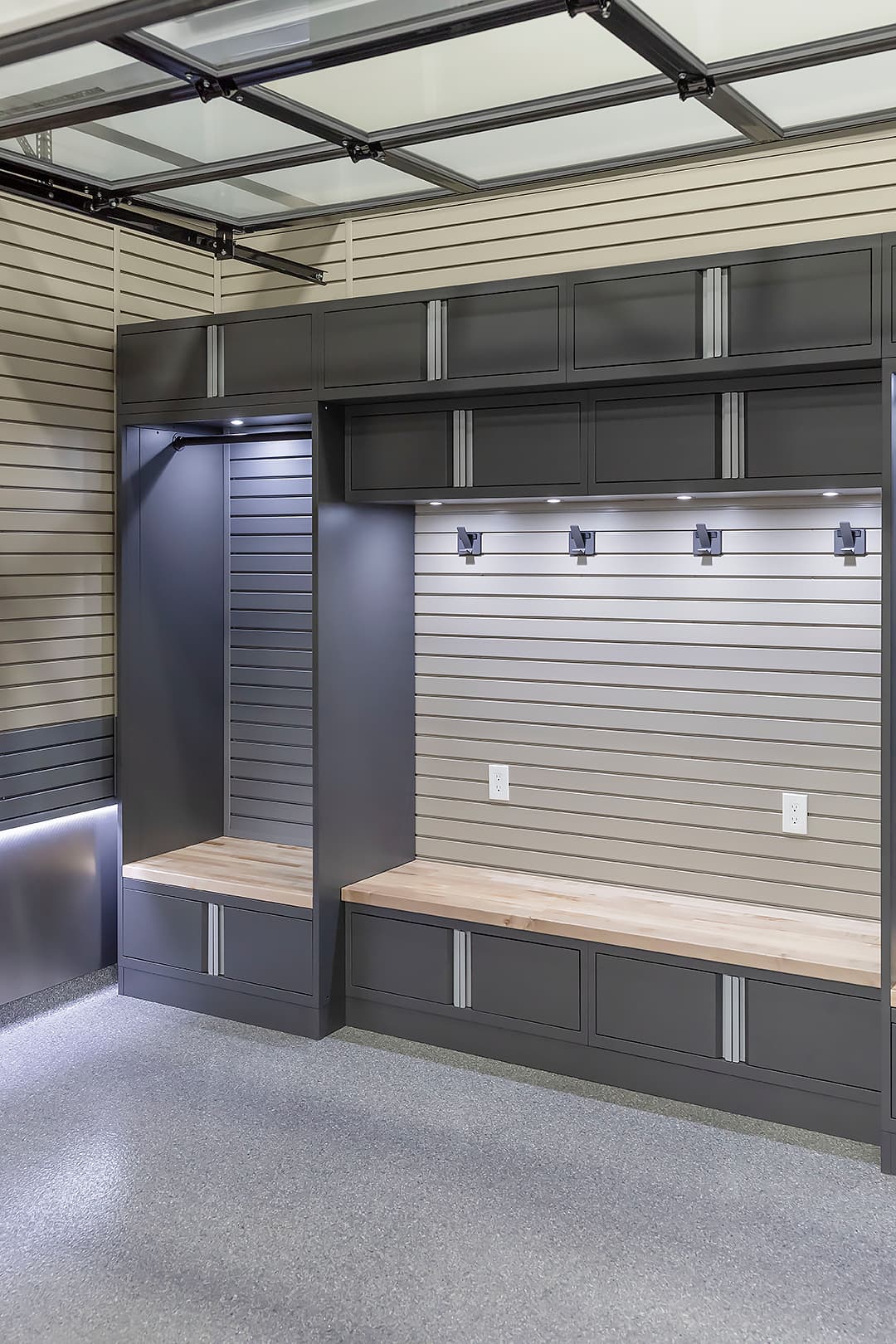 Slatwall-mounted hooks, shelves, and racks and cabinets fulfill most of your garage mudroom storage needs.
2. Slatwall
The walls of a garage are its most useful and effective storage area. They're commonly not used to their full potential, however. Most garages have hooks and storage racks installed on the upper part of the wall, but the middle and lower wall space are underutilized. Slatwall's design creates ample hanging storage space from the garage floor to the ceiling for easy grab-and-go functionality.
A major benefit of using slatwall storage as your primary mudroom storage system is its versatility. Slatwall panels allow hanging accessories like hooks, hangers, and shelves to be configured in lots of different ways. You don't have the limitations that come with having hooks and hangers permanently anchored in one spot.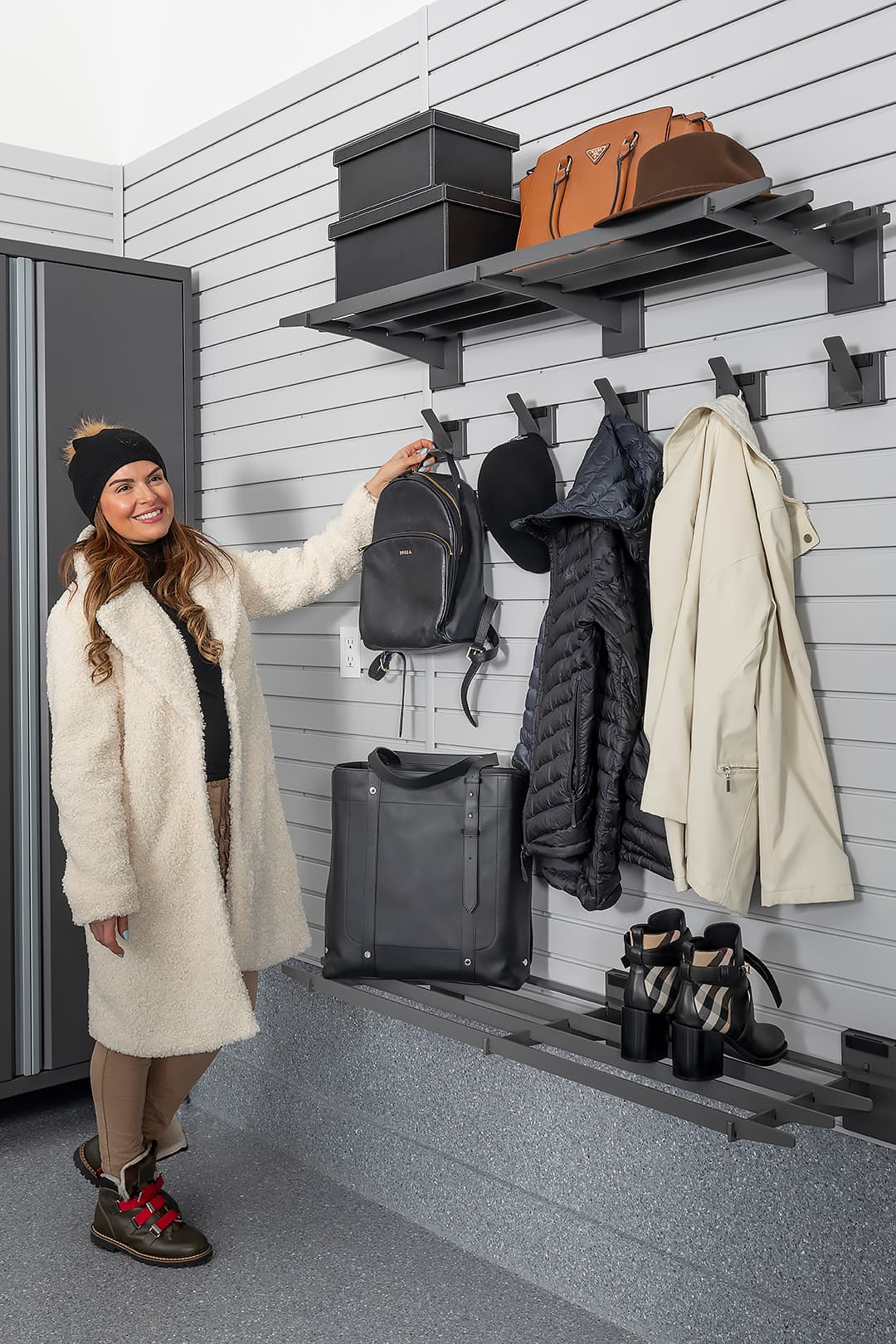 A mudroom's storage layout can be rearranged from season to season for more efficient storage. The heights of hooks, shelves, and other hanging accessories can be easily adjusted as your kids grow.
The damp and muddy apparel that ends up in a busy mudroom is taxing on the walls. The walls of a mudroom (especially ones without a bench) are also prone to hand-touching since they get leaned on for support when things are being put on and taken off.
Slatwall is ideal for a garage mudroom because of its high durability and low-maintenance nature. Scuff and stain marks left by water from wet coats and body oils can be quickly wiped down.
3. Durable floors
The floor of a mudroom also requires durability and should be water-resistant. It should be easy to clean and visually appealing as well.
Ceramic or porcelain tiles are one option to consider if you live in a warmer climate. Vinyl or PVC floor tiles are another low-maintenance garage mudroom floor option. While tile is a viable option, your best choice for a garage mudroom floor surface is a polyaspartic floor coating.
A polyaspartic floor coating is the highest-quality garage floor protection product available and is superior to epoxy floor coatings. Here's why Garage Living's Floortex™ floor coating is perfect for a garage mudroom:
polyaspartic flooring completely seals your floor to protect it from water damage
Floortex™-coated floors hide dirt and debris well, are low-maintenance, and are easy to clean
polyaspartic floor coatings are long-lasting and have excellent abrasion and impact resistance
the textured surface provides better traction when the floor is wet
no extra work is needed to coat a mudroom floor since the coating is used on the entire garage floor
a decorative coating with a glossy finish adds visual appeal to the garage
steps into the house can be coated with the same material used on your floors for a more professional look and decorative consistency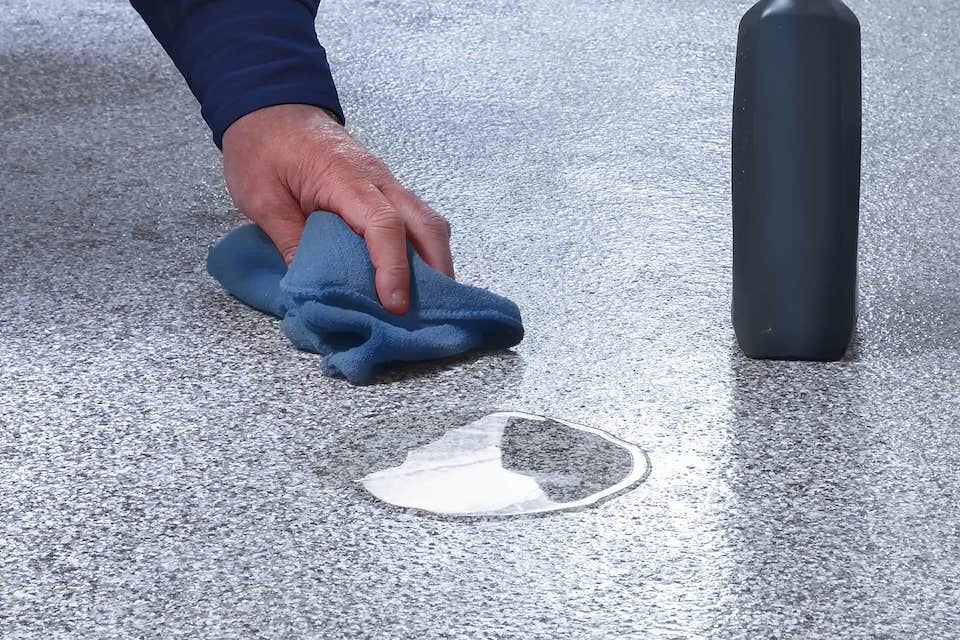 Resilient floors are a must for any mudroom area. Floortex™ polyaspartic floor coatings protect concrete garage floors from water and chemical damage. They're also low-maintenance and easy to clean.
4. Storage cabinets
Most of your apparel is fine being stored on shelves and hooks in a garage mudroom. Having everything nice and visible has its benefits. Things are likelier to get worn and not ignored, misplaced, or forgotten about.
Having the option to store some things in a hidden space is always nice, too. Hidden storage reduces visible clutter and may be preferred for storing certain items and things you use less regularly.
The best solution for hidden storage in the garage is storage cabinets. Add one or two tall, locker-style cabinets to your mudroom area. Use the tall enclosed space to hang jackets and the shelves are perfect for shoes, boots, and other items.
5. A bench with storage
One thing most mudrooms have is something to sit on. Typically, it's a bench. A garage mudroom bench functions as a practical "landing and launch" spot.
You can use it to set down things you're bringing in or out and use the perch when you're putting on and taking off footwear.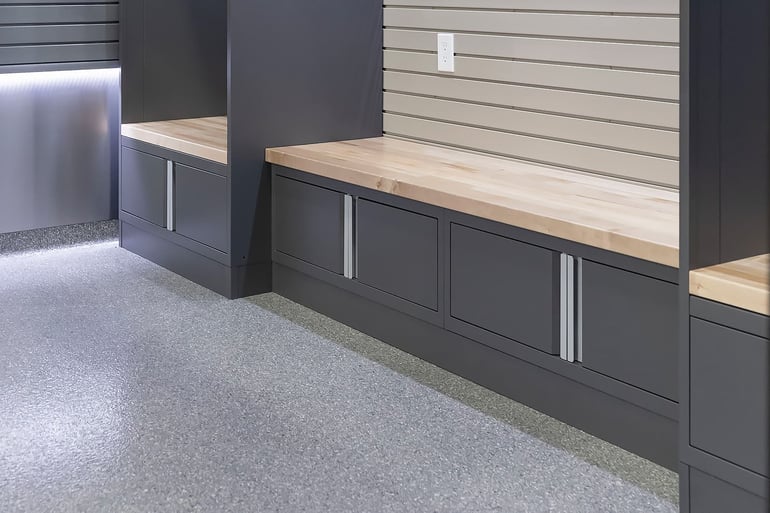 A mudroom bench provides a convenient seating area and extra storage space.
Whether you get a built-in or freestanding mudroom bench, make it as comfy as possible. Try to choose one with resilient and removable fabrics that are easy to wash. Accessorize the bench with some pillows for a decorative touch and extra back support.
A must-have feature for a mudroom bench is storage space beneath the seating area, either with drawers, a lift-up seat, cubbies, or the cabinet doors you see pictured above. The extra storage area in the bench is another way to maximize a garage mudroom's storage space.
6. Nice aesthetics
Nowadays, it's understood that even utilitarian home spaces like closets, laundry rooms, garages, and mudrooms should look nice.
Updating the appearance of a garage makes it feel more comfortable in any way it's being used. Feeling comfort in any home space is important for activities where you'll be spending extended periods of leisure time. Comfort matters even when we're in a room for a brief time, too, such as when the garage is being used as a pass-through space.
Premium aesthetics will already be top of mind for a garage designer doing a complete garage remodel. Making the small part of that redesigned space that you're using for a mudroom look nicer becomes much easier with a cohesive decorative vision.
Garage mudrooms are typically situated close to an access door, which often includes a step or two. Garage Living wants to make every inch of a garage look amazing. We can apply a coating to the steps that match the one on your floor to create an attractive, more consistent design aesthetic.
Mudroom add-ons like an outdoor rug or runner and bench pillows offer functionality and ways to add style and a homier feel. Another mudroom decorating idea is to hang a sign or artwork to personalize the space and add some charm.
3 additional garage mudroom ideas
If you're still not sold on why a garage mudroom is such a good investment, here are a few more garage mudroom ideas:
1. Washing-up space
We're all much more conscious of hand hygiene nowadays, not just as a way to prevent the spreading of a virus, but as a good practice to eliminate the germs we encounter from our everyday activities while we're out and about. Why not use a cabinet system's built-in sink as a washing-up space?
Custom garage cabinet designs can include stylish sinks and faucets with a nicer look than the utility sinks that some mudrooms and garages have. Having a cabinet sink also provides a handy place to wash up after working on cars, using a workshop, or working in the yard.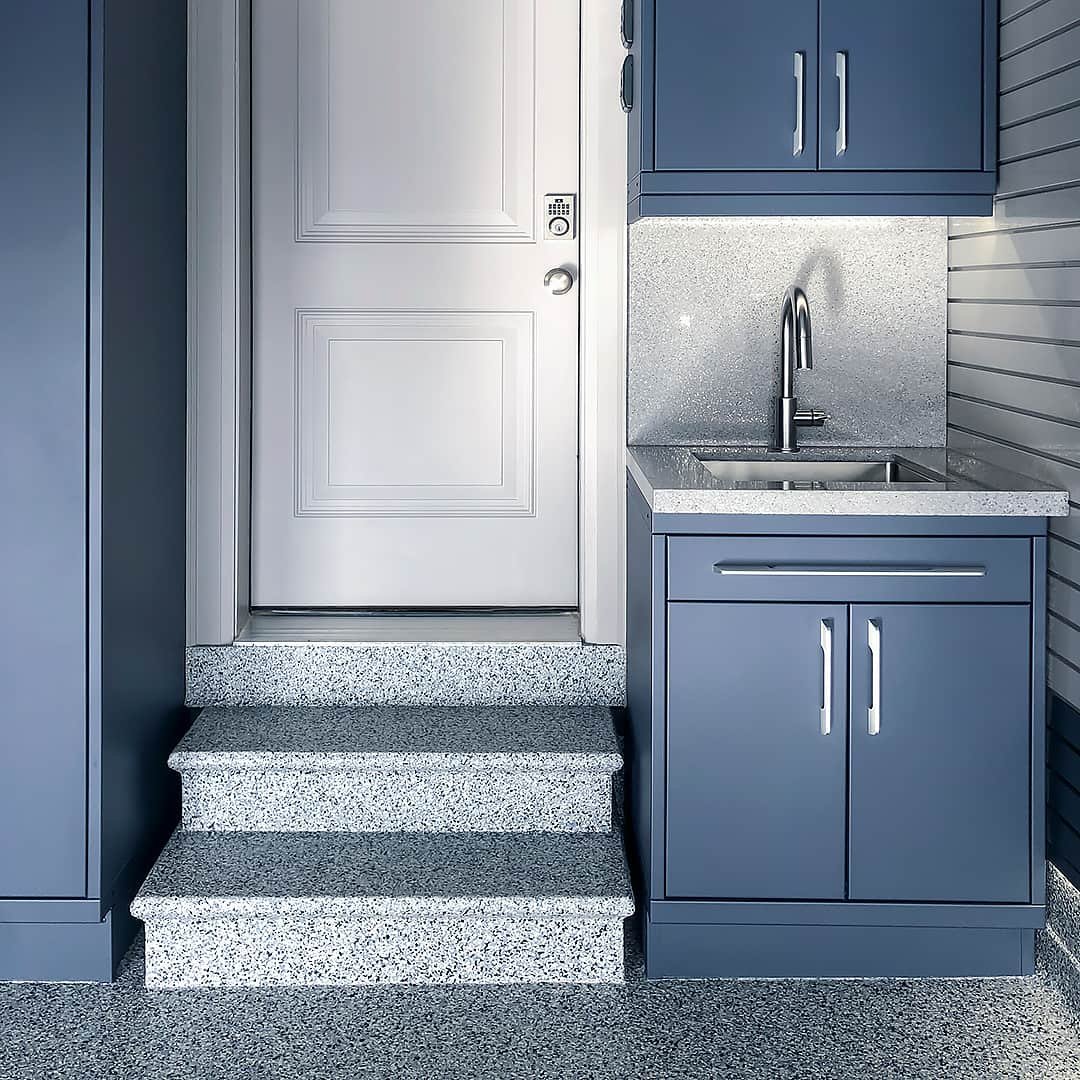 Coated entryway steps create an attractive, more consistent design aesthetic. The small section in the corner is perfect for upper and lower cabinets with a handy sink.
2. Dog-washing station
Mudrooms are designed to handle getting water on the floors and walls. If you wash and groom your own dog(s), why not do it in a space that is already built to handle messes?
A garage dog-washing station requires a bathing tub or shower. To avoid having to lift big dogs into a waist-high bathing tub, you'll want to invest in a model with steps or an electrical scissor lift design. Future-proof your dog-washing station by going with a tub or shower that is slightly bigger than what you think you'll need.
Slatwall accessories and cabinets can also be used to store all your mini dog spa supplies including:
shampoos and grooming products
brushes
drying towels
a hair dryer
a protective apron and gloves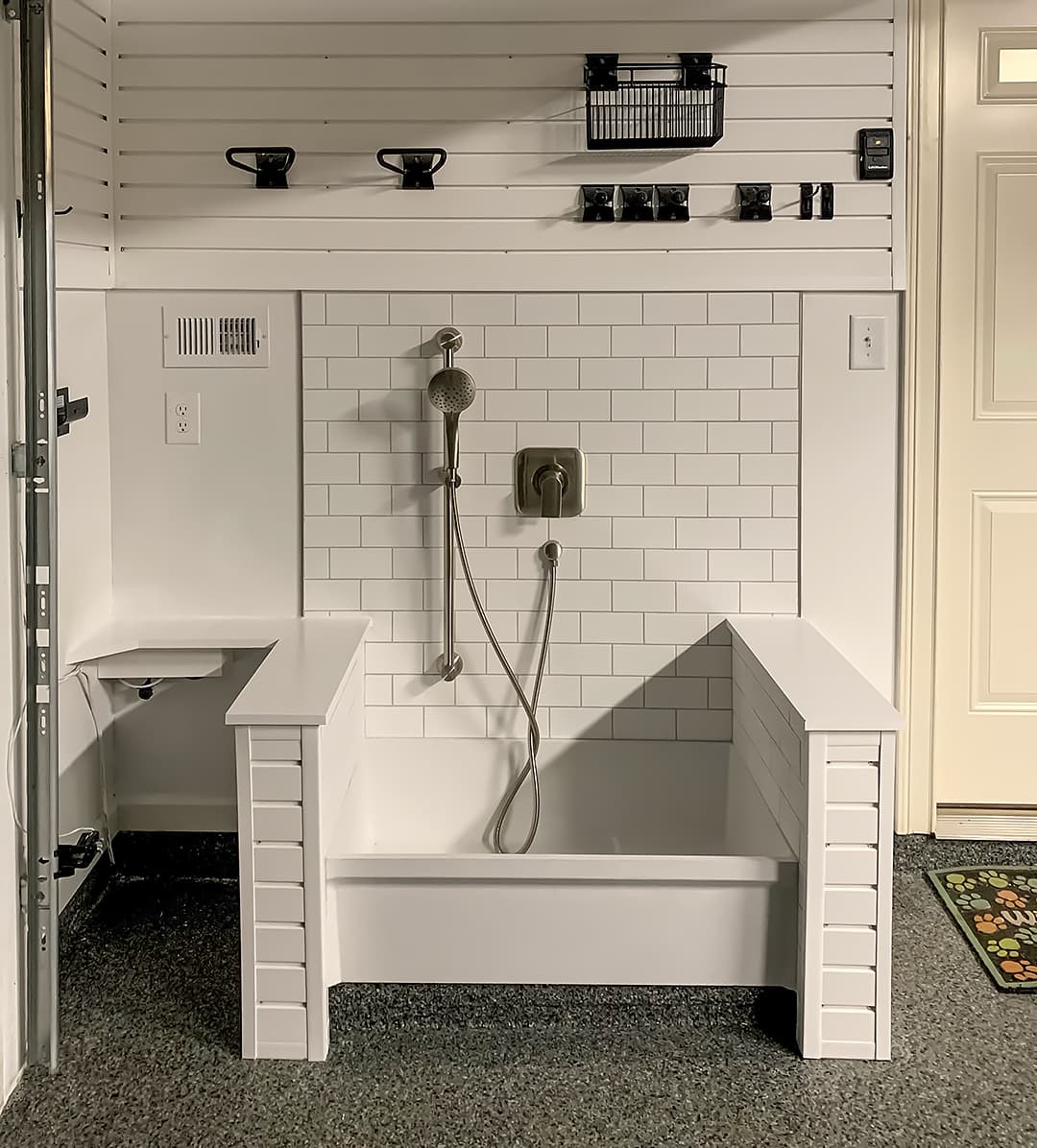 Garage mudrooms are designed to handle messes, which is why they're ideal for a dog-washing station.
3. Dog-walking station
A garage mudroom is ideal for a dog-walking station. It makes perfect sense to have everything you need for dog walks located right where your outerwear is stored.
Slatwall hooks can hold your dog's leash, harness, and coat. Use shelves or baskets for supplies like doggy treats, waste bags, and towels for wiping off muddy dog feet. Another option is to set up a dog-walking station in one of your cabinets.


Improve your home's functionality with a garage mudroom
Create a garage that has it all – a high-end appearance, ample room to park, lots of storage space, and useful things like a mudroom that add value to your home.
Garage Living has customizable solutions to bring out your garage's best look and maximize its functionality.
Schedule a free design consultation with us to get your garage makeover project started.
Please share this post if you found it useful.
See also: