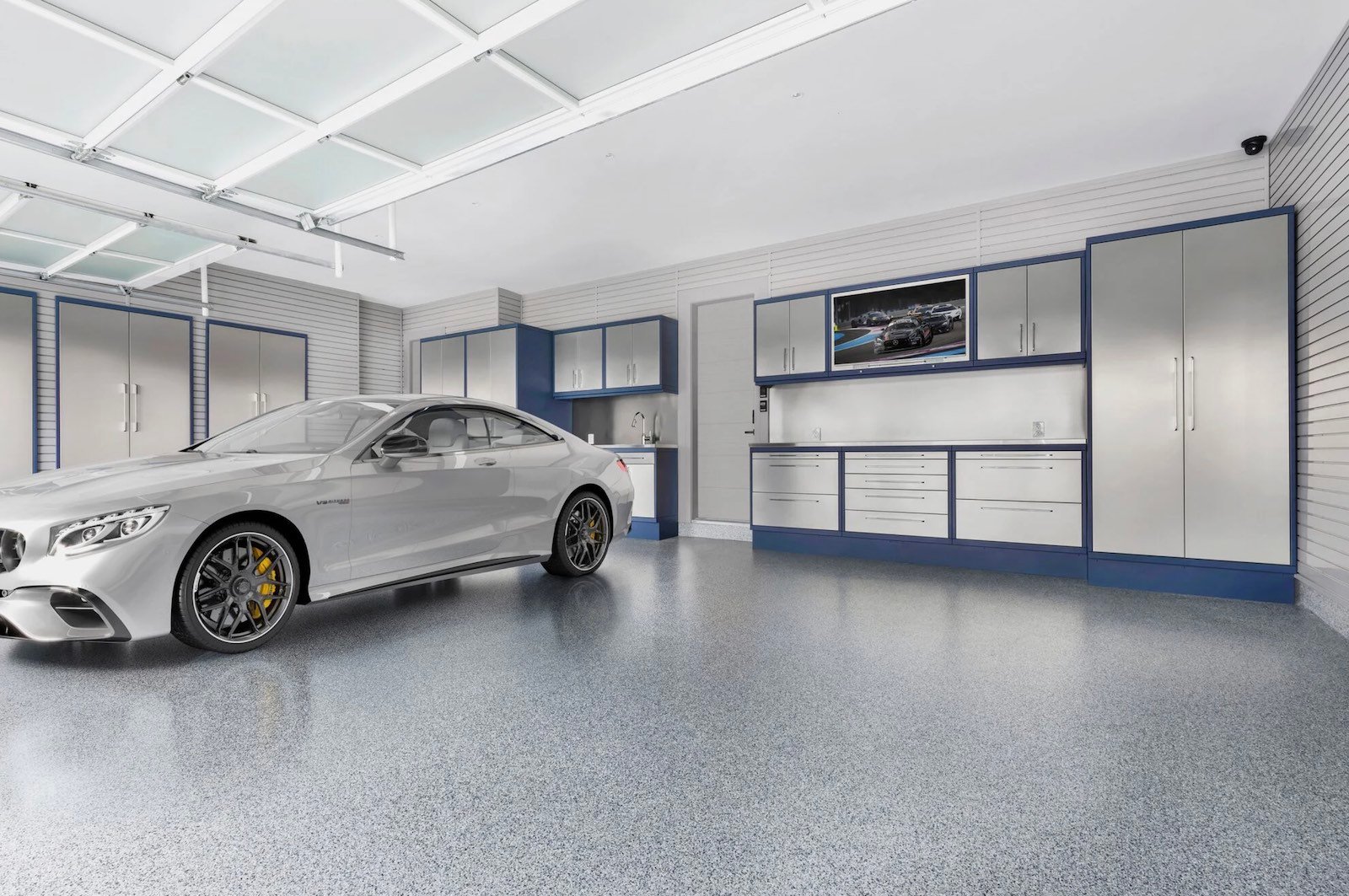 The home garage has evolved beyond being a space that is mainly used to park our vehicles and stash our clutter.
Many modern garages have become an extension of our living spaces. An increasing number of savvy homeowners are recognizing the untapped potential of their garages and turning them into areas that are more organized, functional, and aesthetically pleasing.
Luxury garage cabinets are at the forefront of this transformation.
Luxury garage cabinets are worth the investment
The words "high-end garage cabinets" and "luxury garage cabinets" can be interpreted in a couple of different ways: cabinets that will be used in a luxury garage or cabinets that are of a high quality.
This blog post covers both definitions because premium storage cabinets are virtually essential for a luxury home garage. We'll also show why luxury garage cabinets are practical for non-luxury homes, too.
Although they may be more expensive than many of the cabinet products you'll find for sale, luxury garage cabinets offer several great benefits that extend beyond mere storage.
Here are seven ways investing in high-end storage cabinets can transform any garage space.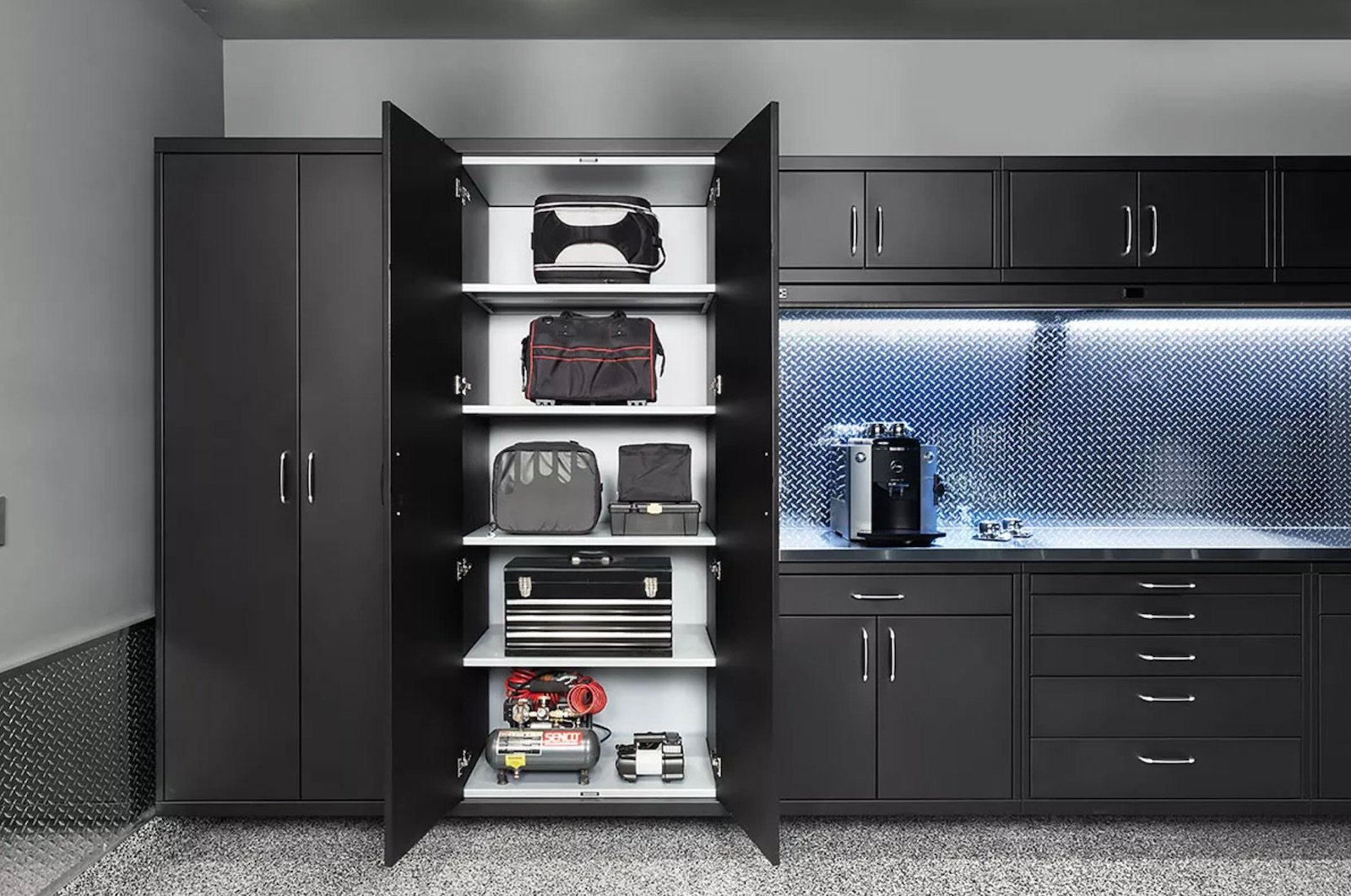 1. Luxury garage cabinets maximize your storage space
A recent Stanley Black & Decker survey shows that a lot of American homeowners are struggling to keep their garages organized. Here are some of the survey's findings:
62% of those surveyed said the garage was their most cluttered home space
52% of homeowners aren't satisfied with the organization in their garages
36% of survey respondents can't park vehicles inside because of clutter
To get a garage organized, the best solution is to declutter and invest in storage systems that maximize your storage space. The two best garage storage systems available are cabinets and slatwall.
Luxury garage cabinets are engineered with precision to provide optimal organization and storage functionality. These cabinets come equipped with a variety of shelving options, drawers, and hanging spaces to accommodate storing items like tools, gardening supplies, sports equipment, apparel, and car cleaning supplies.
Garage organization cabinets keep clutter off the floor and provide you with valuable garage storage flexibility. Things can be stored somewhere besides the walls, an overhead space, on wall-mounted shelves, or on freestanding shelf racks. High-end cabinets typically also have adjustable shelving, which comes in handy when your storage needs change.
2. Improve your home's aesthetic appeal
Gone are the days when the garage was simply a utilitarian space with little regard given to the room's décor. Crafted from premium materials like high-grade stainless steel, luxury garage cabinets add a stylish, elegant touch to the room's look.
High-end cabinets beautifully complement a luxury home's refined, upscale aesthetic. As a Florida resident recently told The Digital Almanac e-magazine about his Garage Living makeover, "We wanted the inside of the garage to match the color of our house and they did it! With a custom floor tint and stainless steel cabinets in a custom-finished white – made in North America – the look and feel now ties into the rest of the house."
In addition to seamlessly blending with a garage's interior aesthetic, luxury cabinets can be customized to complement the color(s) of any luxury vehicles being parked in the space.
Garage Living's Designer Series of garage interior themes is perfect for this type of application. You can choose from a variety of unique, professionally curated color palettes, materials, and cabinetry styles to have your garage interior reflect the luxurious look of your vehicles.
The hidden storage functionality cabinets provide contributes to the clean and organized appearance of the room as well, which is one advantage they have over shelf storage systems.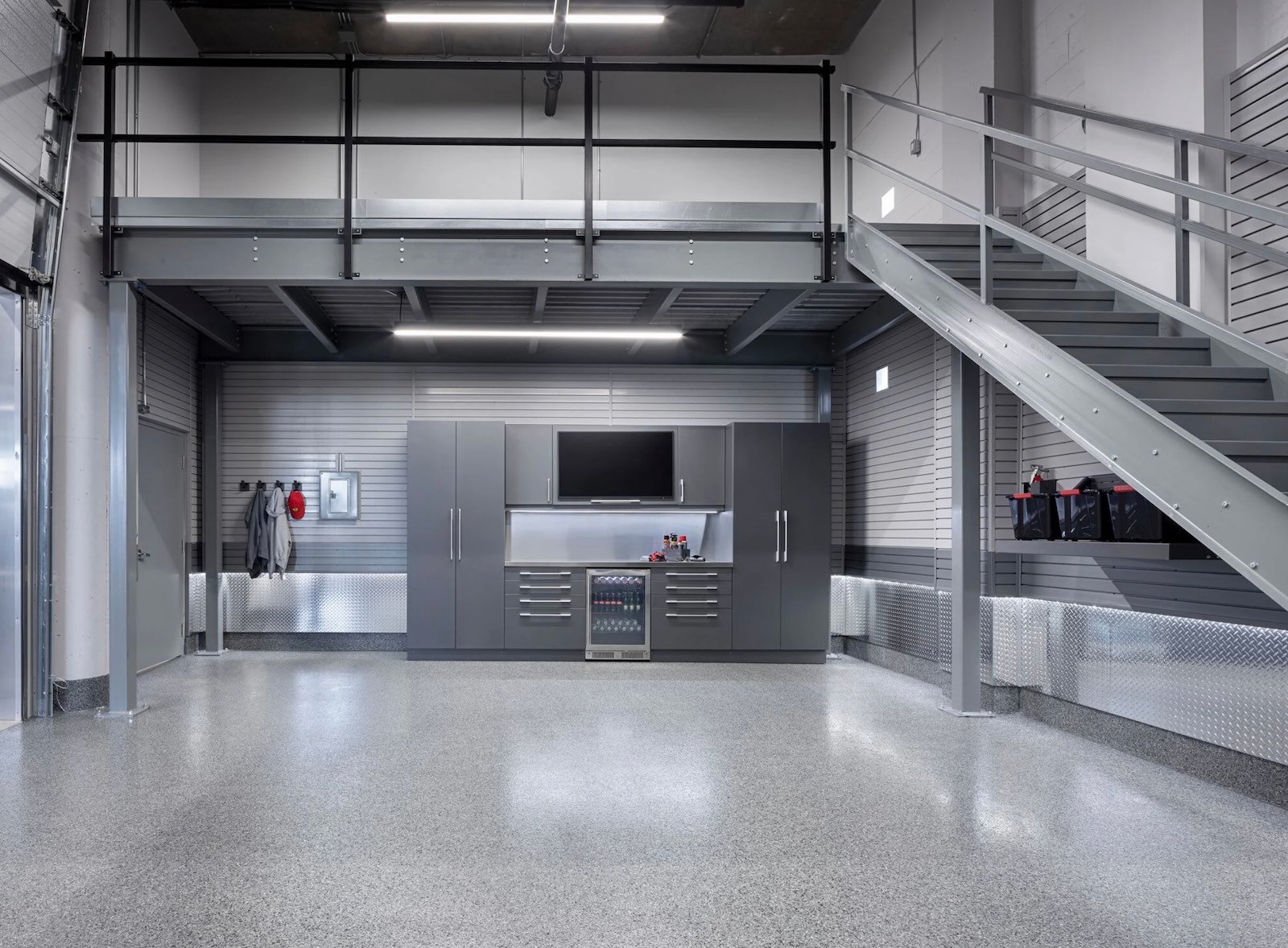 3. Superior construction, durability, and functionality
One of the hallmarks of luxury garage cabinets is their superior construction quality and durability. Garage storage cabinets need to be sturdy to withstand the rigors of frequent use, storing heavy items, and being in an environment where temperatures fluctuate.
Don't buy inexpensive, low-quality garage cabinets or repurpose old wood kitchen cabinets for use in the garage. Unlike high-end storage cabinets, they'll succumb to wear and tear faster and don't look nearly as nice.
Metal garage cabinets made with high-quality stainless steel or aluminum are a better option than plastic or wood cabinets.
Garage Living's newest line, TECNICA, is the future of luxury garage cabinets. TECNICA pushes the boundaries of what a garage can offer, presenting a progressive fusion of state-of-the-art engineering and refined artistry.
Garage Living's various lines of luxury garage cabinets are North American-made and built to the highest standards. Here are some of the features they include:
fully welded 18-gauge steel construction
protective rust-resistant powder coating
heavy-duty ball-bearing drawer sliders
soft-close doors and drawers
double wall door and cabinet shells
4. Luxury garage cabinets can be customized
Garage cabinet systems come in modular and custom designs. Most of the cabinets that are sold in stores and online are modular, which typically have a pre-determined design made up of individual sections that are connected.
Although many modular cabinet products are low-quality and don't offer many color and style options, there are exceptions. Our high-quality GL Signature and GL Premium modular cabinet systems offer great design flexibility to suit your storage needs and décor taste.
Custom-fit cabinets are the go-to choice for most consumers who want the ultimate in luxury for their garage. These made-to-order systems can be built to provide floor-to-ceiling and wall-to-wall storage that utilizes a garage's space with optimal efficiency.
Here are some of the options available when a luxury garage cabinet system is being custom-designed:
choose from a variety of colors
incorporate a countertop and sink
add a built-in TV and mini fridge
customize door and drawer hardware
add LED lights and USB ports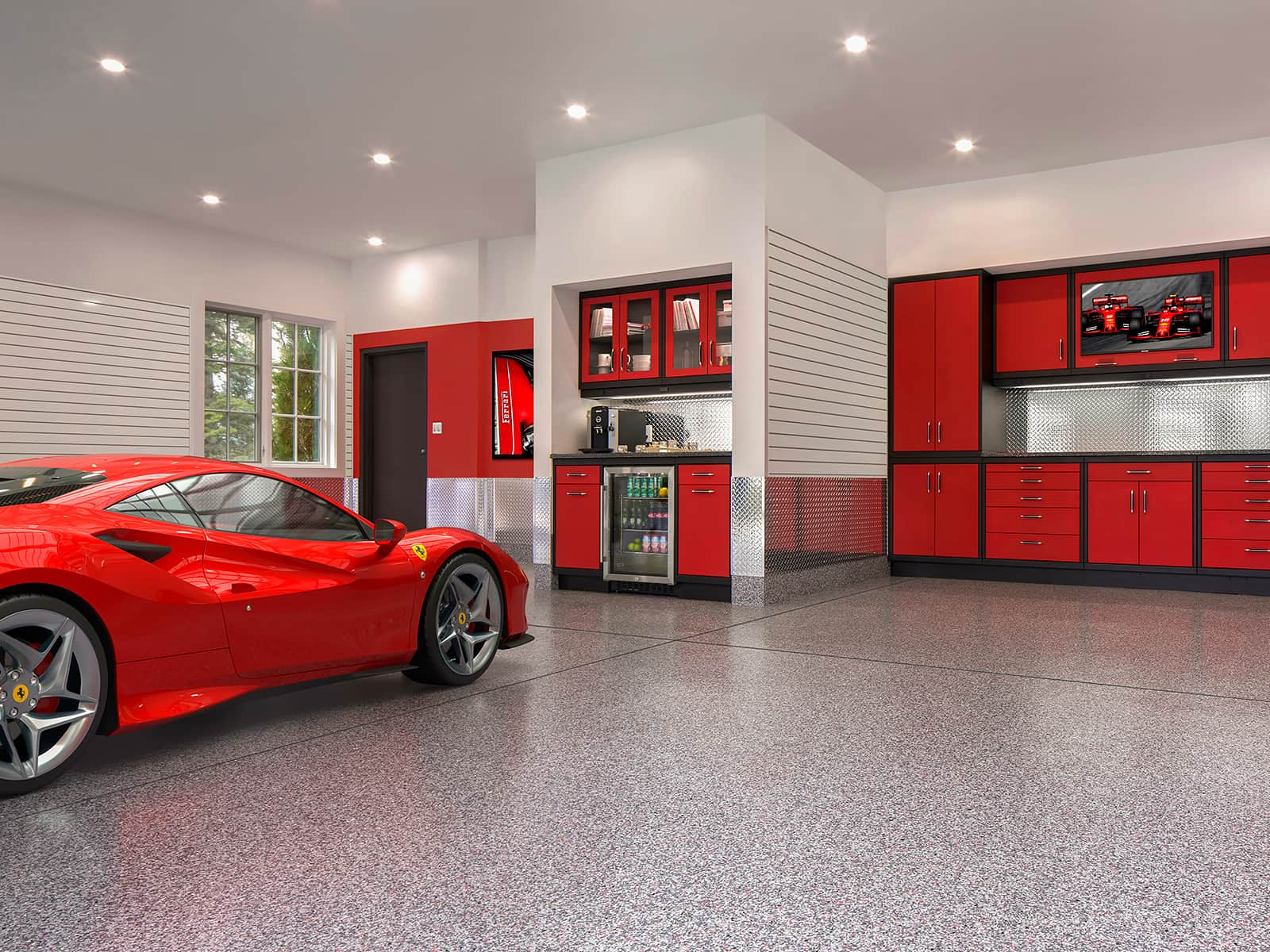 5. Safe and secure storage
Certain items stored in the garage, such as power tools, cleaning supplies and other chemicals, and fertilizers require safe and secure storage to prevent accidents or unauthorized access.
Many luxury garage cabinet models come with locks that allow you to keep potentially hazardous items out of the reach of children and pets. Expensive tools can be kept hidden from view and locked up, providing the peace of mind that your valuable belongings are always secure.
Because you can store so many things inside garage cabinets, the space will also have less clutter left on the floor that can be parking and tripping hazards.
6. Create a functional garage workspace
High-end garage cabinet systems can do one more important thing – they can be used to create a functional workspace within a garage.
That Stanley Black & Decker survey found that 53% of homeowners use a garage or workshop to work on DIY projects. Custom cabinets are ideal for a workshop since you can incorporate a workbench, organized tool storage, task lighting, and a sink for cleaning up.
"Workspace" means more than the traditional ways a garage workspace has been used, such as for working on repair and building projects. If you're the type who enjoys working on yourself by exercising regularly, well-made cabinets are great for storing weights and most types of exercise equipment and accessories.
Whether you're tinkering with DIY projects or pursuing one of your other hobbies, having a dedicated, organized, and comfortable space in the garage for them enhances your productivity and enjoyment.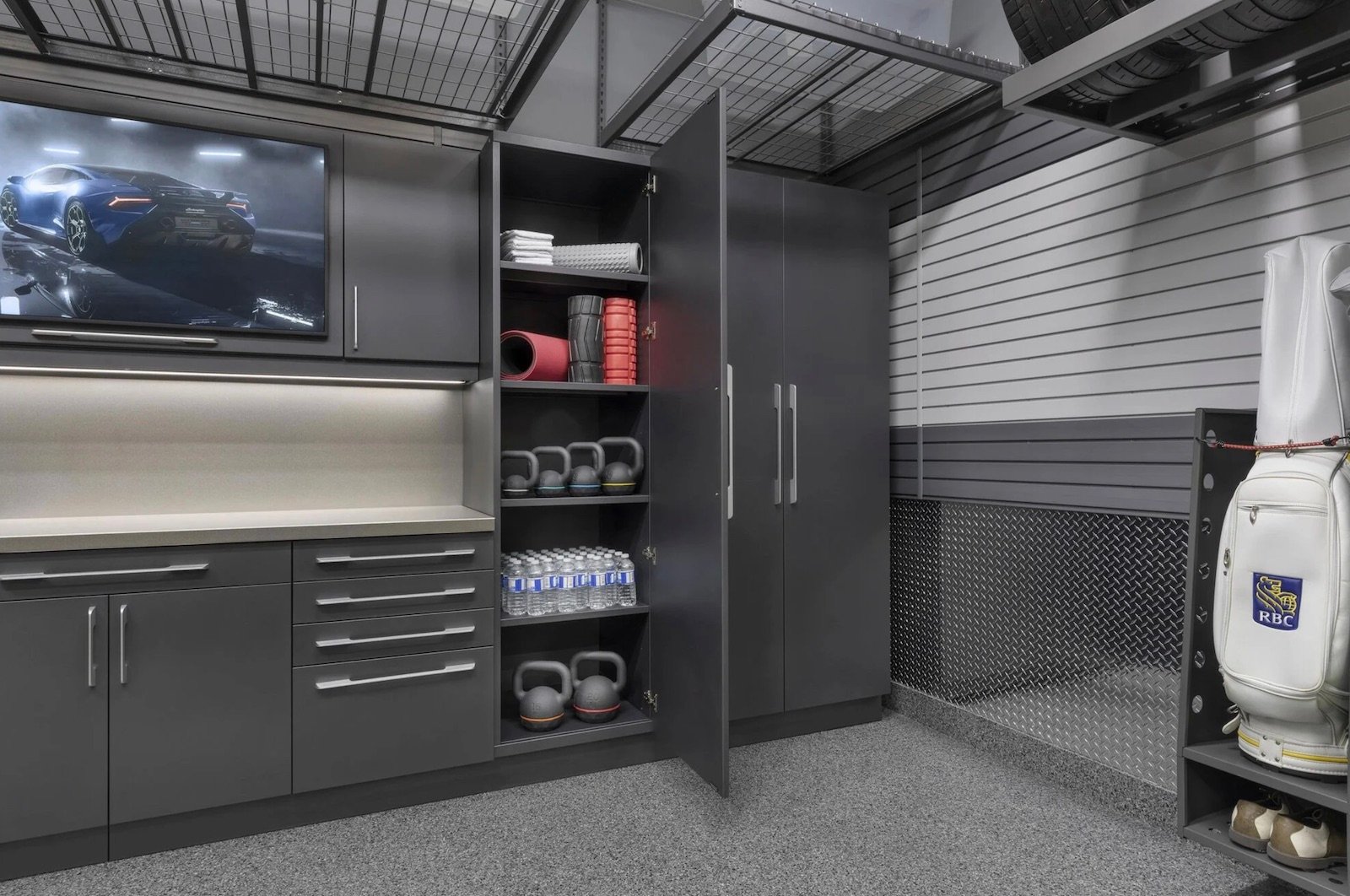 7. Storage cabinets reduce garage maintenance
Maintaining a clean and tidy garage is much easier with cabinet storage because they keep the space more organized.
Garages can get quite dusty. Storing your belongings in drawers and behind cabinet doors keeps most of the dust in the room from collecting on them and creating additional cleaning work.
With fewer items being left on the floor, you're also less likely to cause spills by knocking over containers with liquids.
Powder-coated luxury garage cabinets are designed with resilient, easy-to-clean surfaces that reduce the effort required to keep your garage looking its best.
Transform your garage with luxury garage cabinets
High-end garage cabinets are the perfect balance of practical functionality and luxurious beauty. Investing in a luxury cabinet system is a decision that promises lasting rewards.
If you'd like to give your garage a more luxurious look, schedule a free design consultation with Garage Living.
See also: