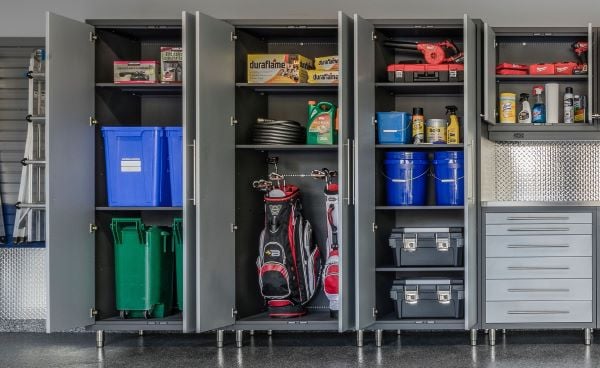 When your garage is piled high with storage, it can feel like an overwhelming task to start organizing it. While using a garage for extra storage may have started with the intention of keeping it organized and maintained, over time it becomes a place to store junk rather than valued home items.
With the storage piling ever increasing, so does the level of disorganization, and it becomes nearly impossible to find what you are looking for.

What if it was possible to use your garage for storage and for parking your car, all while maintaining an attractive, clean aesthetic? Here are a few ways you can achieve this.
How to Obtain a Functional and Organized Garage
1. Declutter
The first thing you need to do in order to make your garage a functional space is get rid of all the things you don't use.
Figure out what is worth keeping, and what is not. Whatever you don't need, you can donate to a charity shop, give to a friend, sell, or throw out.
Decide which items belong in your garage. Garages are great for storing seasonal items that you don't need regular access to, such as winter clothing or decorations. Your garage is not the place to store hazardous materials, paint, or important documents. Remove anything from the garage that may attract rodents, including trash, sleeping bags, and blankets.
Create a garage inventory. Knowing exactly which items are being stored in your garage will help it stay organized long-term. This can also keep you from making a duplicate purchase when you are unable to find an item. Continually update this list as you purchase more items to store in your garage.


2. Vertical Storage
Cabinetry
Cabinetry is the ultimate way to organize your garage while maintaining your desired aesthetic. It keeps your storage concealed behind its sleek design, and helps you find items more easily. Garage Living specializes in creating customized garage cabinet solutions with options of modular, semi-custom, and custom-fit.
Cleaning and maintaining metal garage storage cabinets involves very little work. To remove dust, simply wipe them down with a clean, dry soft cloth or a light duster.
Slatwall Panels
Slatwall panels help maximize your vertical garage space, and keep items off the floor. The panels have grooves which allow you to attach shelves, hooks, and other storage accessories. The panels are very durable and support weights of up to 50 lbs. on each bracket. Garage Living also offers over 40 slatwall panel accessories to help you make the most of your garage space.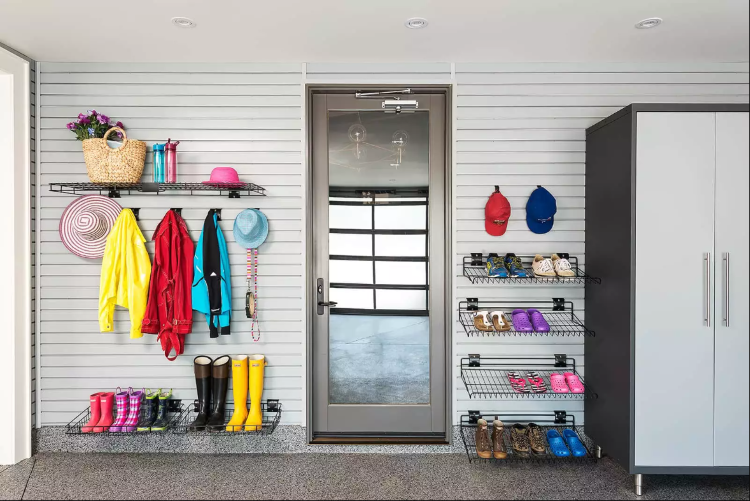 What to store on the wall:
Shovels
Cords and hoses
Ladders
Tools
Bicycles
Sporting equipment
Shoes and jackets
Multipurpose baskets
Get creative with your slatwall panels. Consider creating a mudroom section by putting in floating shoe shelves and hooks for jackets and hats.
Overhead Storage Rack & Bins
Installing an overhead storage rack in your garage is a genius space-saver. Typically, you will want to store items on your overhead rack that you won't need access to very often.
Start organizing bins to store on an overhead rack by grouping similar items together (such as winter clothes or decorations). Once you have your items categorized into their appropriate bins, label your bins so that you can easily tell what is in each bin.
What to store on your overhead rack:

Seasonal clothing
Patio furniture
Seasonal decorations
Lawn mowers, leaf blowers, etc.
Tires
Sporting and camping equipment
3. Update Your Garage Flooring
Choosing the right flooring for your garage will save you time in the future, and you can pick a garage flooring that matches with your cabinetry and overall aesthetic of your garage. Garage Living's ​​polyaspartic floor coating system (Floortex™) is tough, easy to maintain, and long-lasting.
Compared to epoxy and polyurethane floor coatings, polyaspartic coatings are much stronger and more durable. The coating is resistant to oil, gas, salt, and most household chemicals, as well as to impacts and abrasions.
You don't have to worry about it yellowing or fading over time, and it's easy to clean and maintain. Due to its rapid curing time, our professionally trained installers can install the flooring in less than a day.
Garage Living makeover before & after: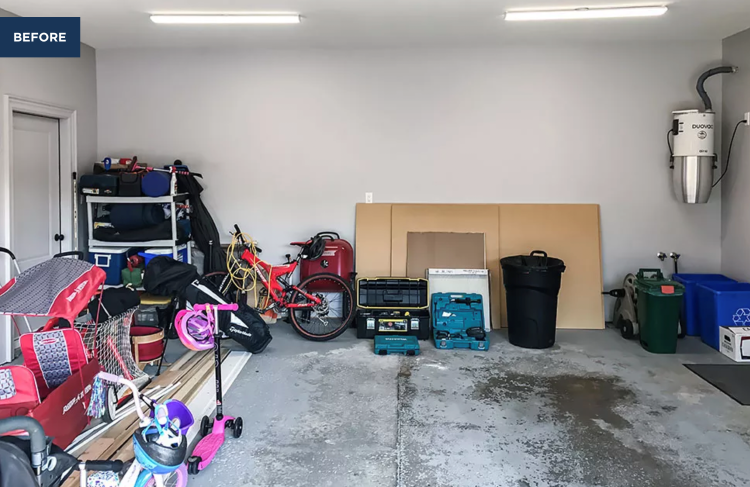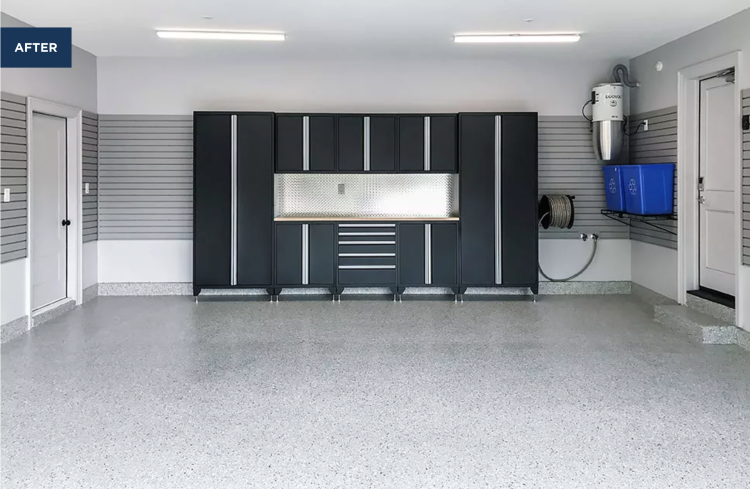 4. Maintain Your Garage
Once you have these storage systems in place, you will need to maintain it in order for it to continue to be organized and clean. Fortunately, having less clutter on the floor makes it much easier to clean your garage. Sweeping your garage floor often and wiping down any frequently used surfaces can help it stay in pristine condition, as well as regularly auditing the storage in your garage to make sure you are not storing anything that you no longer have any use for.
Are you ready to have a garage that is functional, attractive, and organized? Contact Garage Living for a free consultation from one of our Design Consultants, who can help you design your dream garage.

See also: