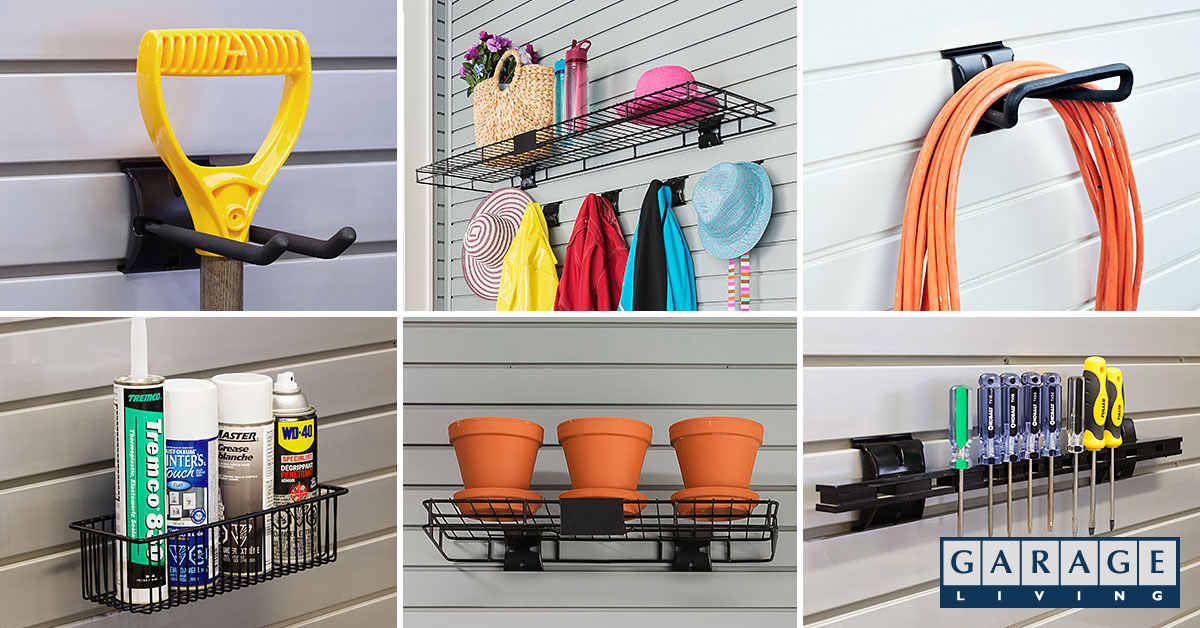 After years of dealing with frustrating garage floor clutter, you've finally made the wise decision to invest in a PVC garage slatwall storage system.
Using your garage's underutilized wall space for hanging storage makes a night-and-day difference when it comes to being able to more comfortably walk, play, and work in the garage.
And most importantly, you can restore the ability to use your garage for its primary function of parking vehicles.
Choosing the best garage slatwall accessories
The beauty of a garage slatwall storage system is its versatility and storage flexibility. There are lots of hook, shelving, bin, bracket, and basket slatwall accessories available which can be configured in an endless number of configurations.
Garage Living has more than 40 types of garage slatwall accessories to choose from. Which ones will work best for your needs?
Here's a list of 17 of the handiest garage slatwall accessories available that will make your garage noticeably more functional.
1. Single hook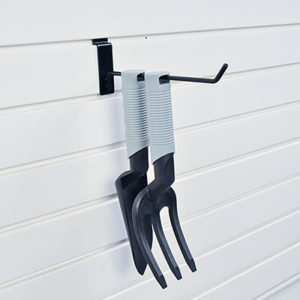 Single hooks take up very little space and are easy to move around on the garage slatwall panels. They're ideal for hanging:
small hand tools
barbecue accessories
paint brushes
garments
lighter tools with long handles (like brooms)
The 1″ single hook comfortably holds individual items. For hanging multiple items, choose the 4″ or 8″ single hook options.
2. Double hook
For more support for your larger tools, double hooks are the right slatwall accessory for the job.
One or more shovels, rakes, and various types of gardening equipment and sporting equipment (like baseball bats and hockey sticks) can be hung on the 4″ and 8″ double hook. You're sure to find many other uses for this multi-purpose hanging accessory as well.
3. Deep utility hook
This hook is deep enough to accommodate storing any of the following items:
patio furniture
smaller ladders (around 8′ or less)
hoses
power cords
Consult a Garage Living representative about which garage slatwall accessories are best for horizontal storage of longer ladders.
4. Industrial hook
For more heavy-duty hanging garage storage, use a sturdy industrial hook. Our 26″ industrial hook gets bulky items like lumber, canoes, kayaks, and tires up off your garage floor to free up valuable parking space.
5. Vertical bike hook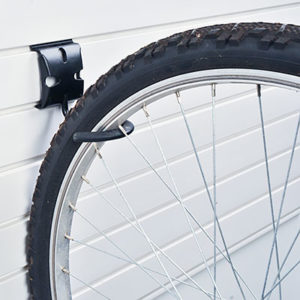 Bikes are one of those items in your garage that can really benefit from having a proper home instead of being left on the garage floor or leaned against a wall.
Using a vertical bike hook allows you to easily hang a bike by its front wheel on a slatwall panel.
Hanging bike storage will prolong the life of your bikes, as you won't need to worry about them falling over or being accidentally damaged by a car.
6. Horizontal bike hook
Whereas a bike stored on a single vertical bike hook hangs perpendicular to the wall, a horizontal bike hook keeps a bike stored parallel to the wall. This is done by hanging the bike frame on two hooks.
This bike hanging solution may be more ideal for smaller garage spaces.
7. Golf rack
For Canada and the northern parts of the U.S., the rapidly approaching warmer weather means it's time for golf lovers to get out the clubs.
Instead of letting your equipment take up vehicle trunk space, a slatwall-mounted golf rack provides a TaylorMade golf equipment storage solution for the garage (sorry for the bad golf pun).
8. Fishing rod rack
Garage slatwall accessories are all about keeping you more organized. Any avid fisher's collection of rods, baits, and other fishing accessories can grow quickly, so a proper place to store everything is very useful.
A fishing rod rack helps protect your investment by providing space for two vertically stored rods, which helps them maintain their shape.
For the rest of your fishing gear, mix and match an assortment of hook and basket garage slatwall accessories to keep your equipment well-organized.
9. Ball rack
Basketballs, footballs, and soccer balls can be a real safety hazard when they're left strewn across your garage floor.
An adjustable ball rack makes secure wall storage space for those round tripping hazards.
10. Deep mesh basket
Another option for storing sports equipment is to use one of the most versatile garage slatwall accessories available – a deep mesh basket. This hanging accessory could also be used for storing:
shoes and boots
small gardening tools and gardening apparel
car cleaning supplies
11. Magnetic tool bar
If you're using your garage occasionally as a workshop, a magnetic tool bar offers easy access to your small hand tools and keeps them organized.
12. Screwdriver holder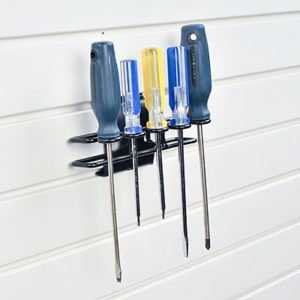 Another small tool storage option to consider is a screwdriver holder that can hold five of your most commonly used screwdrivers.
13. Paper towel rack
Whether you're using your garage as a work area or not, having paper towels close at hand in this space is convenient.
A paper towel rack hung on a slatwall panel keeps a roll of paper towels or shop towels within close reach to clean up dirty hands or garage floor spills.
14. Tilt-out storage bin
We've all seen those garages where screws, nuts, nails, and a thousand other tiny hardware parts are tossed into a bunch of plastic or metal containers. Clearly, there's been no thought given to organization.
Sorting out the contents of these containers would take forever. If this problem exists in your own garage, look for a smarter way to keep all those small pieces organized, going forward.
Clear tilt-out storage bins will keep all your screws, nuts, bolts, washers, and other small hardware pieces organized. When needed, you'll actually be able to find that right size of screw or washer for any project you're working on.
15. Garment hook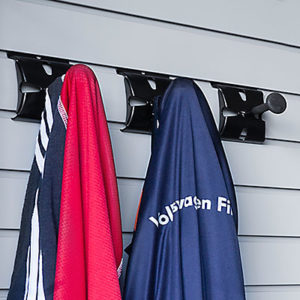 Several garment hooks attached to your slatwall panels can hold jackets, hats, gloves, rain jackets, or any other item of clothing.
Or maybe your garment hooks will be your preferred way to store bike helmets, towels, or baseball gloves.
16. Shelving
Some items in your garage aren't suited to hanging storage. Garage cabinets are one option for storing such items, as are hanging shelving accessories.
Containers of automotive fluids, cleaning supplies, garden supplies, or perhaps some planters you plan to use soon are perfect for our small or large wire hanging shelves.
Angled shoe shelves can also be used for storing boots or whatever footwear you use when working in the yard. The shelving's wire construction provides effective ventilation, which allows your soggy footwear to dry out in a timely manner.
17. Basket
If you want those items that are hard to hang to be a little more secure when they're stored, add hanging baskets to your list of must-have garage slatwall accessories.
Available in mini, medium, and shallow basket size, these hanging accessories are ideal for storing aerosol cans, car cleaning supplies, paint cans, and much more.
Learn more about the best garage slatwall accessories
Which of these garage slatwall accessories make the most sense for your garage's requirements?
You can learn more about all of these handy slatwall hanging accessories and our other garage makeover solutions by scheduling a free design consultation.
See also: