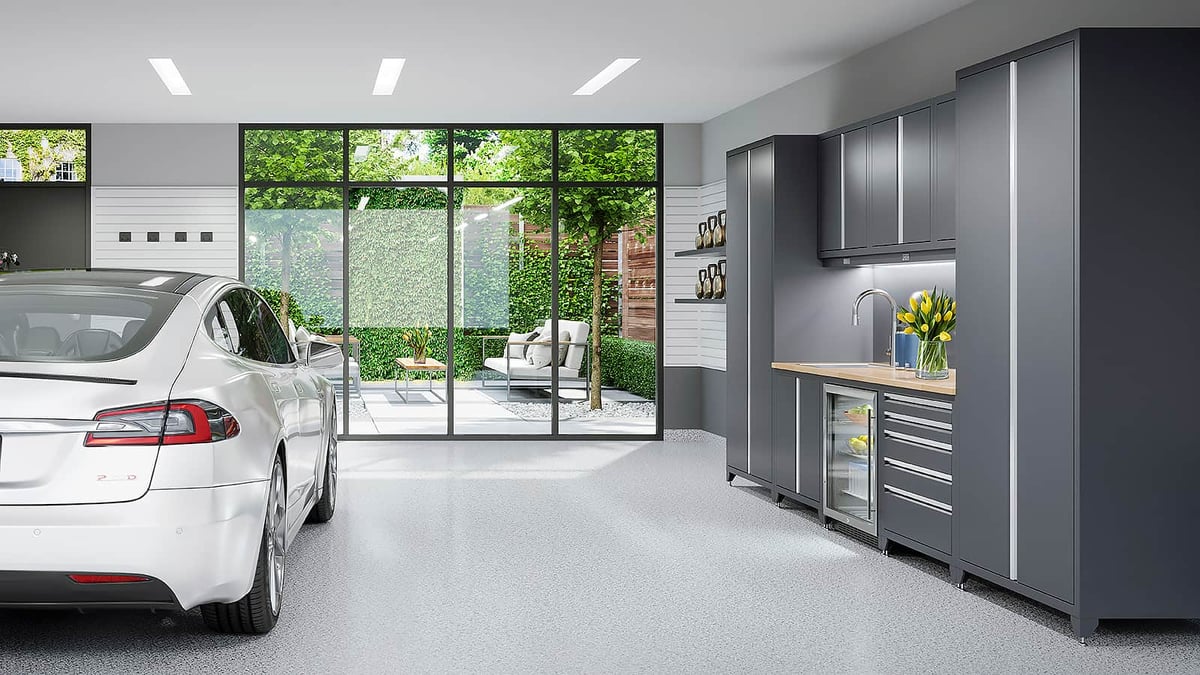 With spring almost here, many homeowners will be turning their attention to organizing what is commonly a house's messiest room – the garage.
How common? Well, exactly half of those polled by the National Association of Professional Organizers named the garage as their most disorganized home space.
That's not a surprise, considering the garage has traditionally been a dumping ground for odds and ends that usually end up becoming annoying clutter.
7 garage organization projects to transform your space
Getting garage organization projects started can admittedly be difficult.
Sorting through years of clutter is a daunting task, but it's worth it for the benefits that come with having a tidy, clean, aesthetically pleasing garage space that actually feels comfortable to enter.
If you're tired of having a disorganized garage you can never find anything in and are never able to use for parking, make some meaningful changes this spring.
Get one or more of the following garage organization projects rolling to optimize your garage's functionality. Here are seven ways to accomplish your goal of owning a garage space you can be proud of.
1. Discard the clutter and organize everything else
A thorough garage decluttering can take some time, especially if you've been putting off the task for a few years. Set aside at least a full day and, more ideally, the entire weekend.
Keep focussing on that end goal of a tidy, functional garage space that will make your day-to-day routine easier.
The best approach is to empty the entire contents of your garage and then start evaluating what is worth keeping. Toss, recycle, or donate all of the junk that's overstayed its welcome.
When you've eliminated the unnecessary clutter, group the items you're keeping together in order to stay organized and get a better understanding of how much storage space you actually require.
2. Maximize your garage wall storage

Now that you've streamlined your garage's inventory, it's time to give your belongings a proper home with the best garage storage systems.
When it comes to maximizing your storage space, keeping things accessible, and providing flexibility when it comes to your changing storage needs, you can't do better than a slatwall storage system.
Slatwall panels with hanging accessories are effective for keeping your garage floor clutter-free. They're perfect for hanging things like:
yard tools
small hand tools
bikes and sports equipment
ladders
power cords
3. Utilize your overhead space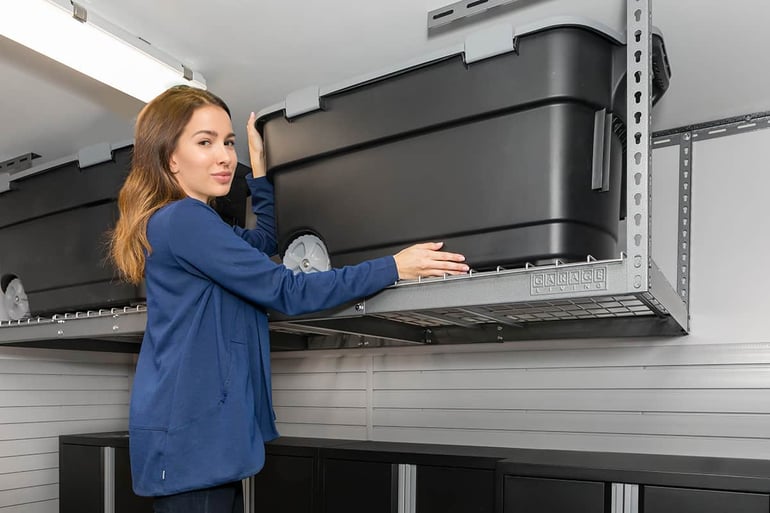 Slatwall makes great use of your garage's underused wall space, but that's not the only part of your garage that could be better utilized.
You'll find an ample amount of storage space in your garage's upper reaches, just waiting to accept those bulky items that are clogging up your floor.
Have your garage makeover professional install some heavy-duty overhead racks in order to maximize your garage's storage space even more.
4. Stay organized with garage cabinetry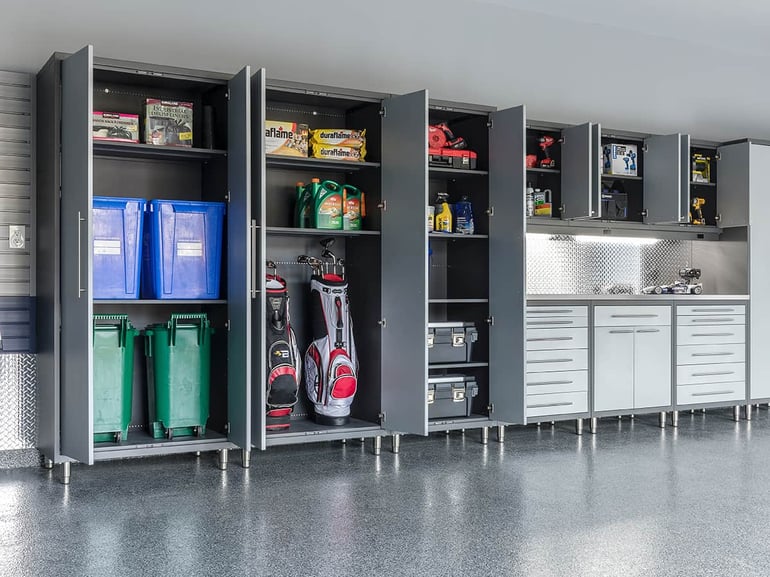 Not everything being kept in your garage is suited to being hung on slatwall panels or stored in overhead racking. That's where garage cabinetry comes in.
Garage cabinet systems provide a practical alternative to keeping things stored on wall-mounted shelving or standup racks. Cabinet storage keeps dust and grime off your belongings, hidden from view, and allows for valuables and hazardous materials to be locked up.
And if you want to create a garage workshop, you can take your setup's functionality capabilities to the next level with a cabinet system. It also doesn't hurt that cabinetry modernizes a garage's décor.
5. Double your parking space with a car lift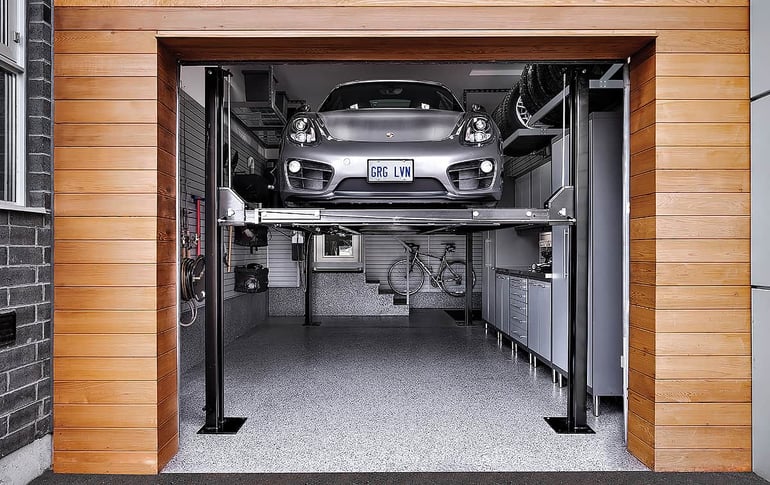 One of the main goals of these garage organization projects is to free up space so you can use your garage for parking. And we're talking about parking comfortably in the garage, not just being able to barely squeeze one or two of your vehicles indoors.
If you're adding one or more of the aforementioned storage systems, you're well on your way to being able to do that. But here's another garage parking solution you may not have considered – a car lift.
Car lifts essentially double your parking space by allowing you to park one vehicle underneath another raised vehicle.
6. Transform your garage floor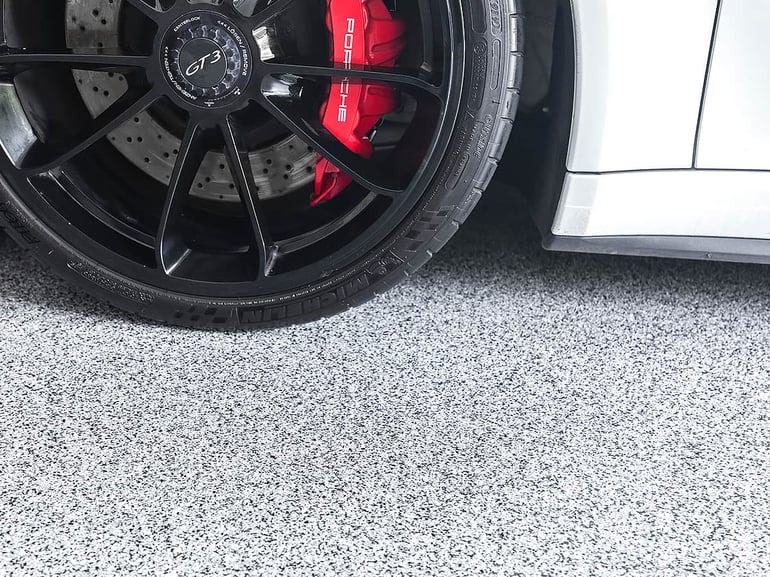 A clean garage with stylish décor only makes an organized garage space look that much better. Therefore, don't overlook the importance of making sure your garage floor adds to the look of the room.
A visually unappealing gray garage floor that's cracked and stained will detract from the appearance of even the most immaculately organized garage.
To make your garage floor stand out and protect its surface, invest in a high-quality polyaspartic floor coating. And if you've recently had a new floor coating applied, give it a good sweep and wash this spring to refresh your floor surface's appearance.
7. Add the perfect finishing touches

The last of our ideas for spring garage organization projects involves adding the right finishing touches to further upgrade your garage's appearance and add even more functionality. Here are some suggestions:
have a garage heater installed
upgrade your garage lighting
add garage wall bumpers to protect vehicles from scratches and dents
replace your garage doors to boost curb appeal
add a wall-mounted tire rack for storing seasonal tires
Get your garage organized this spring
If you're feeling the inspiration to take on some of these garage organization projects this spring, there's no better place to get expert help than Garage Living.
We've transformed thousands of garages across North America since 2005. Our experienced team of designers and installers will ensure that your garage makeover is done to your complete satisfaction.
Schedule a free design consultation with us to get your spring garage makeover started.
Please share this post if you found it useful.
See also: