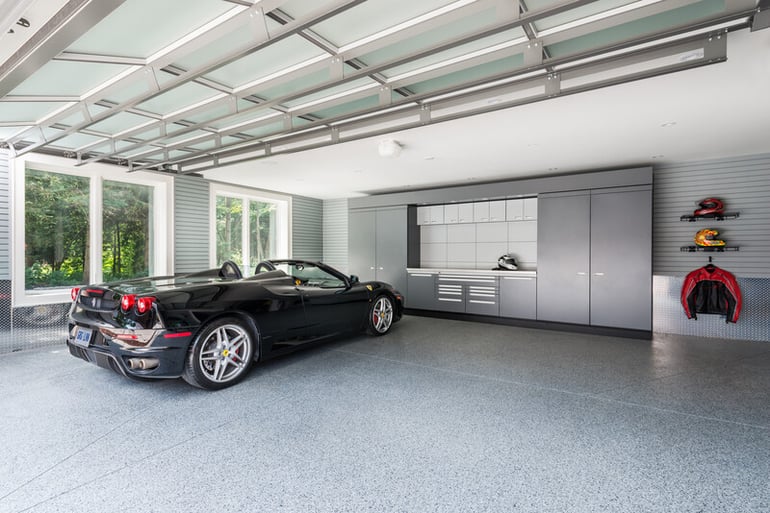 When renovating your garage, something you should take into consideration is whether or not you want your garage to have windows. Adding windows to the garage can have many benefits, especially if you plan to use your garage for more than just storage.
Questions to Consider Before Adding Windows to Your Garage
Before making the decision to add windows to your garage, you will want to weigh the pros and cons, and determine which features of a garage window are most important to you. Questions to consider include:
What is the primary purpose of your garage? If you want to use your garage as an entertainment space, home office, workshop, or fitness room, having windows could be very beneficial to you.


How important is insulation to you? This will help you determine what type of glass you will need for your windows.


Where in your garage do you want your windows located?


How important is privacy in your garage? You may decide to get frosted or tinted glass in order to maintain optimal privacy.
Pros & Cons of Garage Windows
Pros:
Natural light: Windows provide light without having to open the garage door or turn on a light, causing the space to be brighter and feel more homey. It also reduces your lighting costs, since you won't have to flip on the lightswitch every time you enter your garage.


Ventilation: If you opt for wall windows that can be opened, windows will create an airflow in your garage and reduce the smell of must without having to open the door.


Increased curb appeal:

Garage door windows can really boost your

garage's curb appeal

by accentuating your garage door. This can add resale value to your home and make your garage look more cohesive with the rest of your home.
Increases garage usability: Adding windows to your garage can make the garage feel like another room in the house, and gives you the option of turning your garage into a home office,

fitness room,

or a living space.


Customization: Windows come in several shapes and sizes, with many different glass finishes to choose from, so that you can have the aesthetic that you want in your garage.
Cons:
Security concerns: Windows always increase the risk of security issues. If you opt for wall windows in your garage, you will need to be diligent in ensuring that they are closed and locked when you are not using your garage.

If you tend to store valuables or expensive equipment in your garage, or if you are concerned about people seeing into your garage, consider opting for tinted or frosted windows, or placing them high up. There are also

security measures

you can put in place to keep your garage as safe as possible.


Insulation issues: If you do not get insulated windows, you will notice that the temperature of your garage changes with the weather, which is not ideal. Low-quality windows can let drafts into your living space and lower your home's

energy efficiency

. However, as long as you choose a high-quality glass for your windows and have them professionally installed, this shouldn't be an issue.


Glass is breakable: Since there's always the possibility of glass breaking, you may want to invest in getting thicker, impact-resistant glass for your garage windows, especially if you live in a busy neighborhood or a place with harsh weather conditions.
Cost: You will have to decide if the cost of high-quality windows and the installation process is worth the investment, and whether it will bring more value to your home.
Where to Place Garage Windows
There are a few options when it comes to placement of garage windows, including the wall, the roof, or built into the door.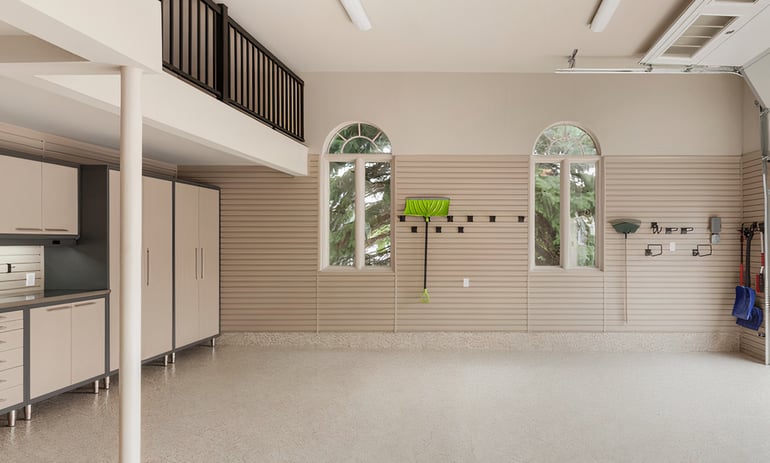 Wall windows: With windows installed into the garage wall, you have the option to choose a window that can open. This can be a great way to let in fresh air without having to open the garage door. If you do select windows that can open, we recommend adding in screens for security and pest control.
Skylights: Skylight windows provide plenty of natural light without the concern that anyone can see into your garage. However, while they provide a beautiful aesthetic while maintaining privacy, skylights let a lot of warmth into the space in the summer, and let warmth slip out during the winter. You can avoid some of this by adding shades to your skylight, but you won't have the same kind of control over the temperature in your garage as you would with regular windows.
Door Windows: You can choose to replace your current garage door with one that has windows built in, or you can add windows to your existing garage door. If you are happy with your current garage door, you can add windows to your existing door. If you want the natural light without sacrificing any privacy, have your windows installed on the top panel of your door.

One thing to take note of is that adding windows to your garage will make your door heavier, which can disrupt your garage spring system in your door opener. In order to avoid this, be sure to get the spring system adjusted upon installing your windows so that it can handle the extra weight.
How to Choose the Right Windows for Your Garage
Type of Glass & Finish: A few options when it comes to glass is plain glass, tempered glass, and laminated glass, which all have finishing options including tinted, pebble, and frosted. Tempered and laminated glass are safer and more durable than plain glass, and laminated glass is the most insulated option.
The type of glass you select for your windows can make a big difference in the look of your garage, and can provide you with more or less privacy, and impacts the amount of light that is let in.
Shape & Size: You can pick from a selection of window shapes such as square, rectangle, round, or arched, or you can get a window custom made to pick a different shape. When deciding on the shape and size of windows, keep in mind your desired look for your garage's exterior as well as the functionality of the interior.
Quality: Do you need thicker glass? Do you need insulated windows or protection against UV rays? Depending on the climate where you live, and what you use your garage for, getting insulated windows may be worth the investment, and it will also ultimately reduce your energy costs.
Adding windows to your garage is a relatively simple change which may provide the improvement that your garage needs. If you are considering replacing your garage door or adding windows to your garage another way, reach out to our garage renovation experts to discuss your project further. We can help you decide which type of windows would best suit your garage, the placement, and take care of the installation.

See also: