If a garage floor is filled with clutter, one of the things occupying some of that valuable floor space might be one or more sets of tires.
A larger 3 or 4-car garage owner may be able to stash their spare tires in a corner and still have enough space for the garage to be functional and allow for indoor parking.
In smaller garages or even large garages where every parking spot is occupied, however, those extra tires can infringe on the space that is needed to use the room how you want.
A home tire storage system is the perfect solution for anyone who has encountered such a problem. Here's everything you need to know about storing extra tires in the garage properly.
Who's using home tire storage?
When people think of home tire storage, seasonal tires come to mind first, specifically winter, summer, and all-season tires.
Smart drivers living in snowy and icy locations know the benefits of using winter tires. The peace of mind and improved safety of using winter tires is well worth the cost of buying new tires, getting changeovers twice a year, and finding space in the garage to store out-of-season tires.
Changing a set of tires is something most people are capable of doing. For anyone who likes to do their own tire changeovers, it only makes sense to keep their seasonal tires in the garage.
Home tire storage includes more than just finding space for seasonal tires, however. There are other reasons someone living in a warmer climate might have extra tires in the garage that aren't the seasonal type. Here are four examples:
1. Racing enthusiasts: it's not uncommon for speed lovers who enjoy taking their high-performance sports car out on a real track to store their track-ready tires in the garage.
2. Car DIYers: lots of car owners like to handle their own automotive maintenance and repair tasks or enjoy modifying and tinkering with their vehicles. Some people who take their DIY hobby really seriously even use a car lift to make their work a little easier. In addition to increasing a garage's parking space, a car lift is useful for working underneath vehicles.
3. Motorcycle and recreational vehicle owners: owners of street bikes, dirt bikes, or some type of recreational vehicle (like an ATV) may have spare tires that need storage.
4. Vehicle owners with full-size spare tires: some drivers buy a full-size spare tire when they buy a new set of tires and keep the spare in their trunk. Others prefer to rely on their smaller spare when they get a flat, which saves some trunk space. When they get home, a proper tire that matches their set is conveniently on hand.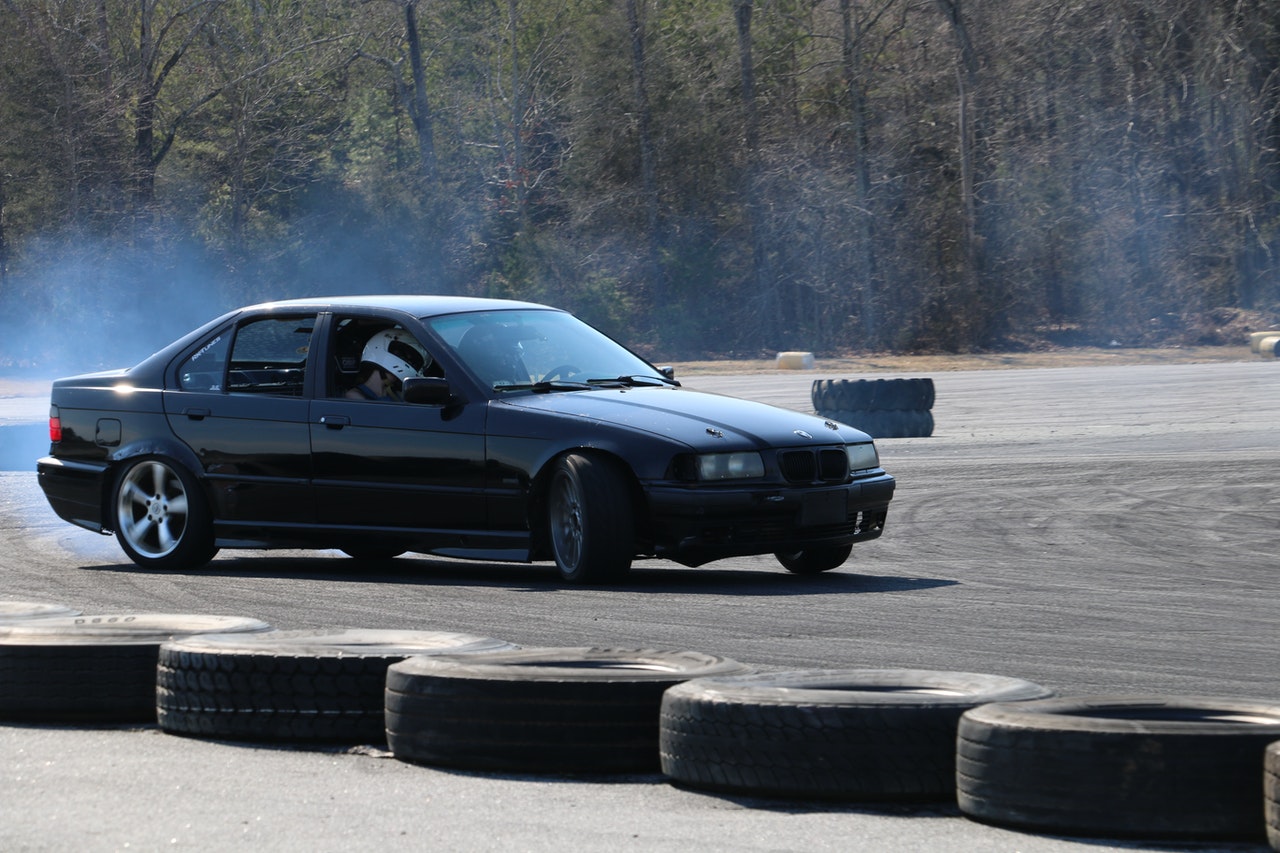 Your home tire storage options
Tires are stored either horizontally (side by side) or vertically (stacked on top of each other) in a garage.
An average car's tire weighs about 20-27 pounds. Rims add anywhere from 20-35 more pounds. That adds up to a lot of weight for four tires, which is why a heavy-duty home tire storage system that can safely handle heavy weight capacities is essential.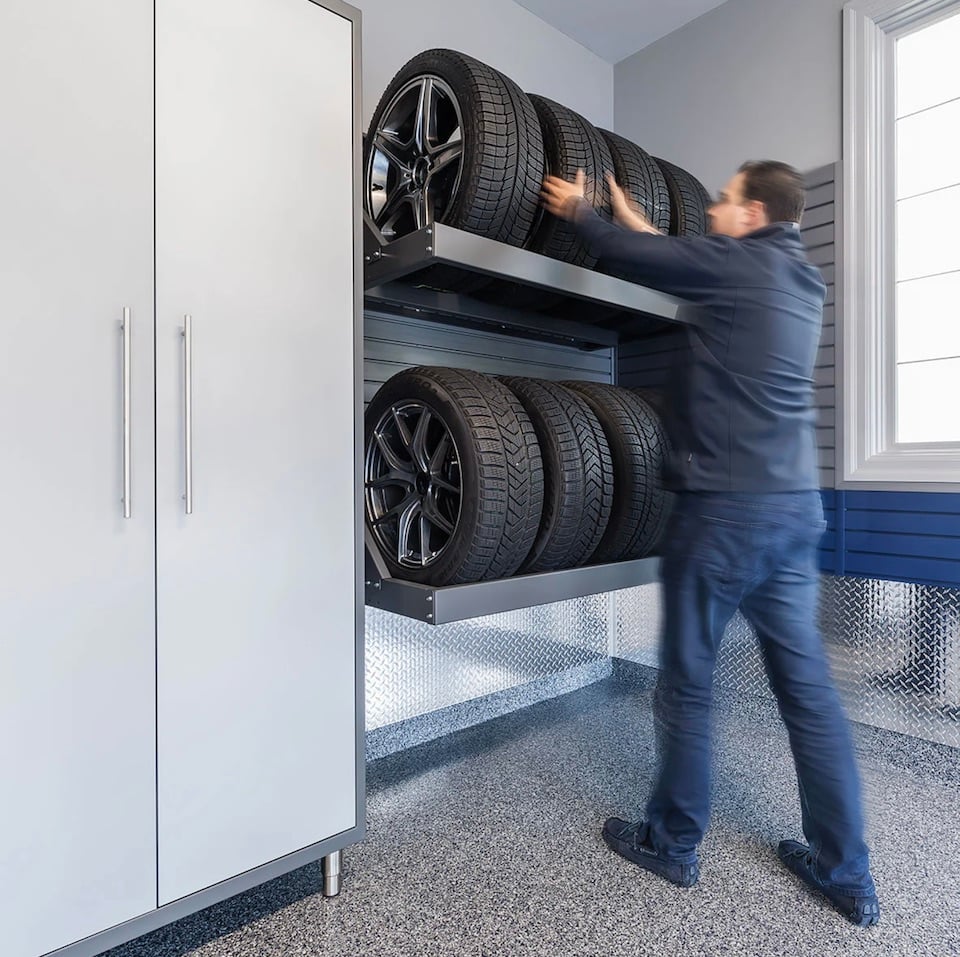 Garage Living's wall-mounted, heavy-duty tire racks come in widths of 46" and 52".
Wall-mounted tire storage racks are the most ideal tire storage system for a garage. They utilize a garage's wall space to store tires horizontally and keep the floor space free. Standing the tires upright also puts less stress on the tires than stacking them.
Another popular way spare tires are stored in a garage is with an overhead rack that is anchored to the ceiling and upper wall. In addition to storing tires and keeping things off the floor, this type of rack is great for storing bulky and out-of-season items like patio furniture, sports equipment, and plastic storage bins. This method might not be the most practical option if someone isn't able to lift a lot of weight or the rack is higher up in the garage.
Other ways to store tires are to use a freestanding industrial shelving rack or a rack made specifically for tire storage that sits on the floor. A less common method of storing tires is to hang them on heavy-duty hooks that keep the tire flat against the garage wall.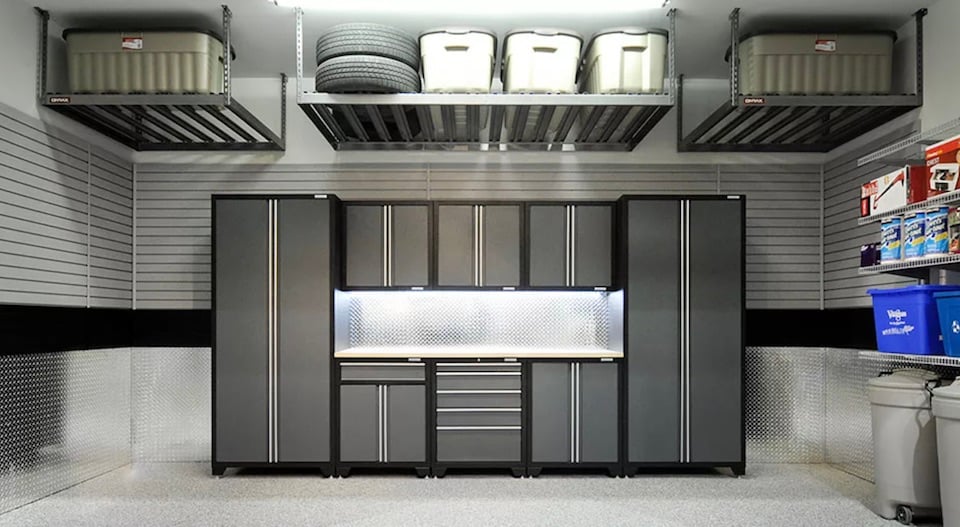 Overhead racks are useful for storing everything from tires to sports equipment to storage bins.
The benefits of having a dedicated space to store tires
Some of the benefits of having a dedicated space in the garage to store your tires are obvious, but there are a couple of other benefits you may not have thought of.
Here are all of the reasons it's worth investing in a good home tire storage system:
naturally, it saves floor space!
the convenience of having your tires easily accessible and not stored offsite
the cost of a tire storage system soon pays for itself compared to paying ongoing storage fees to store them at an auto repair shop, car dealership, or a tire storage facility
you're in control of the conditions and environment where your tires are stored
storing tires on proper racks helps maintain the clean and tidy appearance of a garage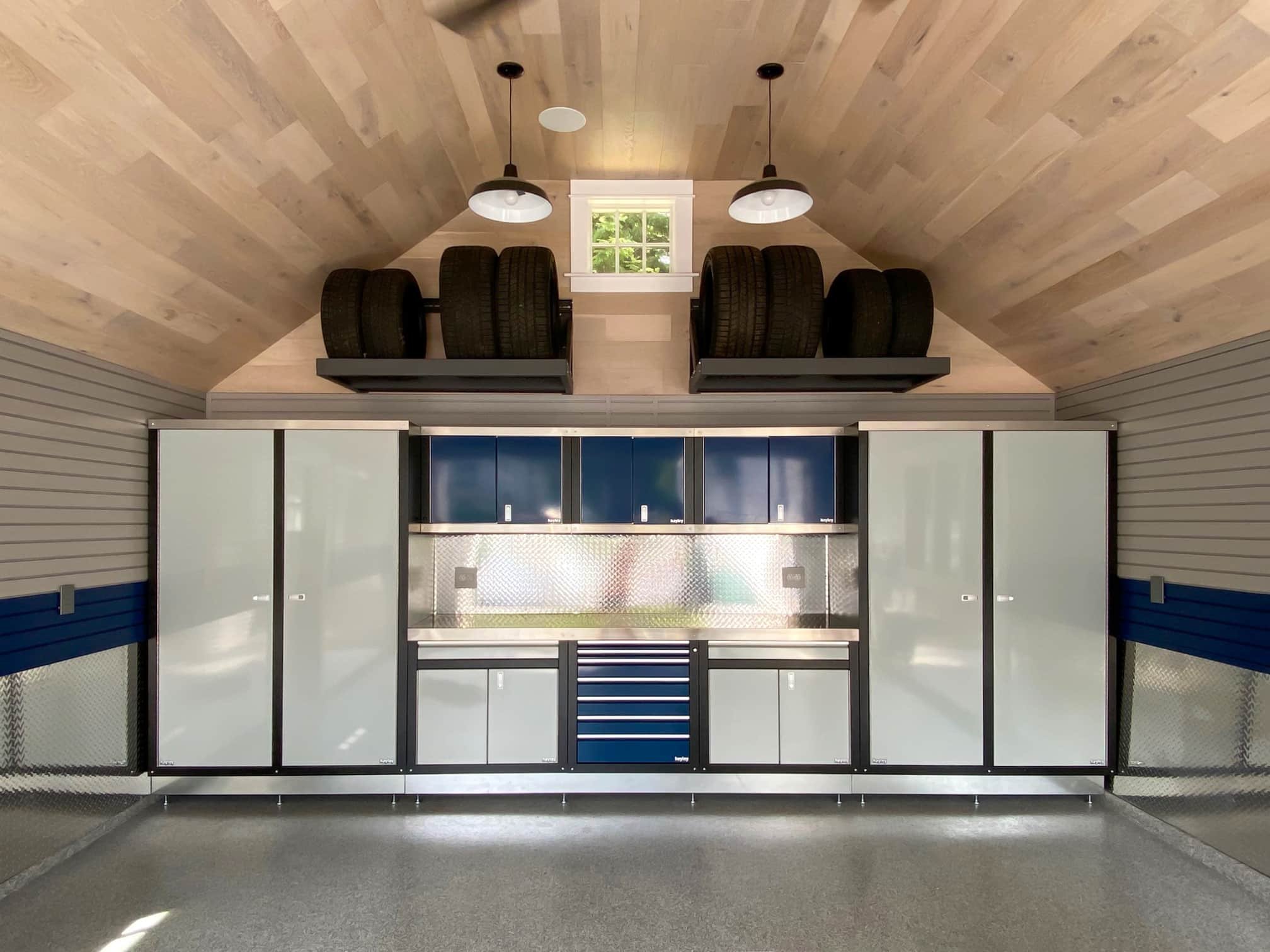 Making use of your garage's vertical space keeps things like extra sets of tires and other types of clutter off the floor.
Tire storage tips
Storing tires in a garage involves a little more than simply hauling them straight onto a tire rack or shelf after they've come off a vehicle.
To get the longest life out of your tires, here are some best practices for storing them at home:
to ensure the tires are properly rotated when they're put back on, mark them to indicate where they were mounted
don't apply a tire dressing product like a shine enhancer or conditioner before storing tires
wash the tires with dish soap and warm water and use a tire brush to remove brake dust, dirt, grime, and other contaminants
ensure your washed tires are thoroughly rinsed off and completely dry before they're stored
the best environment to store tires in is a cool, dry space
store tires at the vehicle manufacturer's recommended air pressure
keep tires out of direct sunlight
it's more cost-effective to buy separate rims for an extra tire set instead of paying anywhere from $30-80 two or more times a year to have tires kept on one set of rims
Firestone recommends that you store tires in tightly wrapped plastic bags or tire storage bags
avoid stacking mounted tires too high, which can cause them to deform over time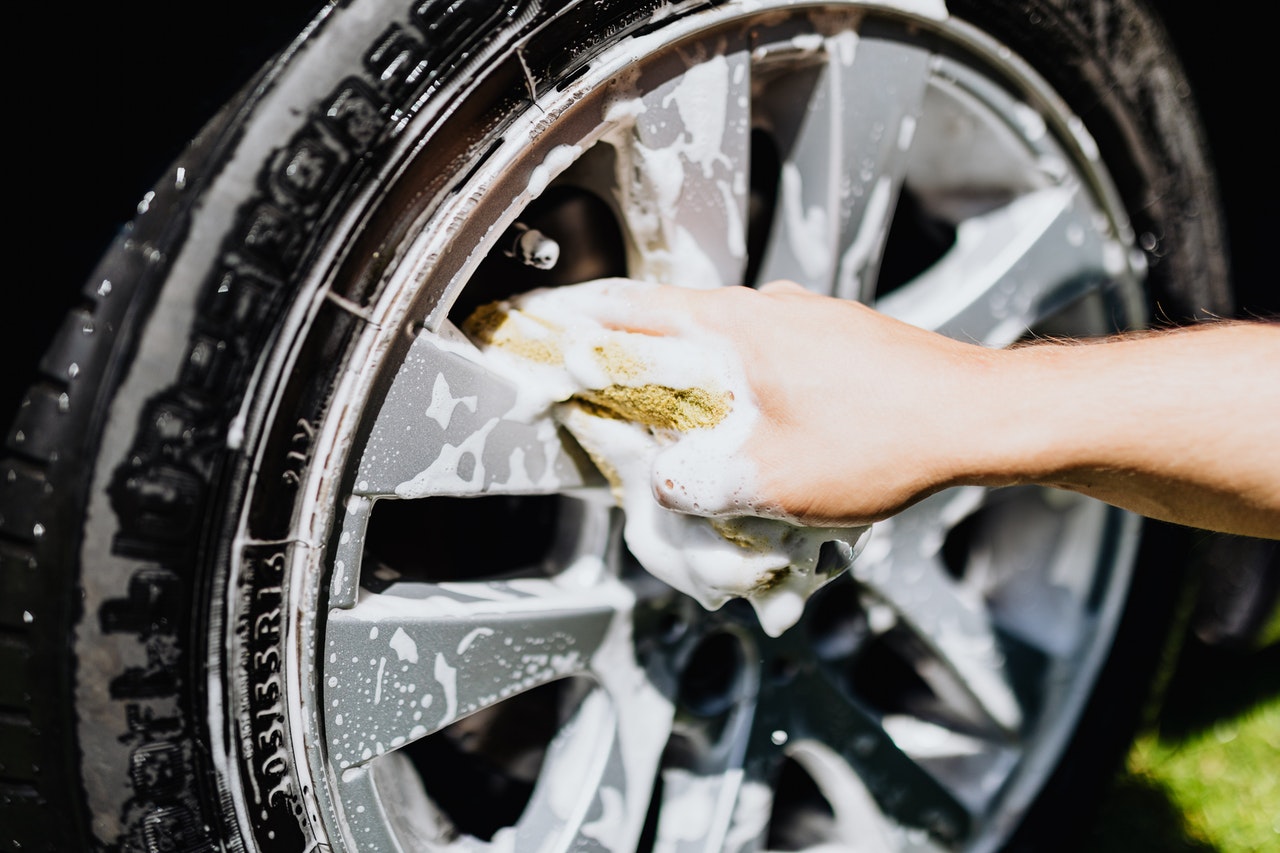 Thoroughly wash and dry off tires prior to storing them in the garage.
Give your garage the makeover it deserves
Adding a tire rack to handle your home tire storage needs is a relatively small, but meaningful step you can take to improve your garage by keeping it more organized.
Tire racks are one of many products and services GL offers to make garages function more efficiently and have showroom-quality looks.
Find out what Garage Living can do to transform your garage by scheduling a free design consultation with us.
Please share this post if you found it useful.
See also: