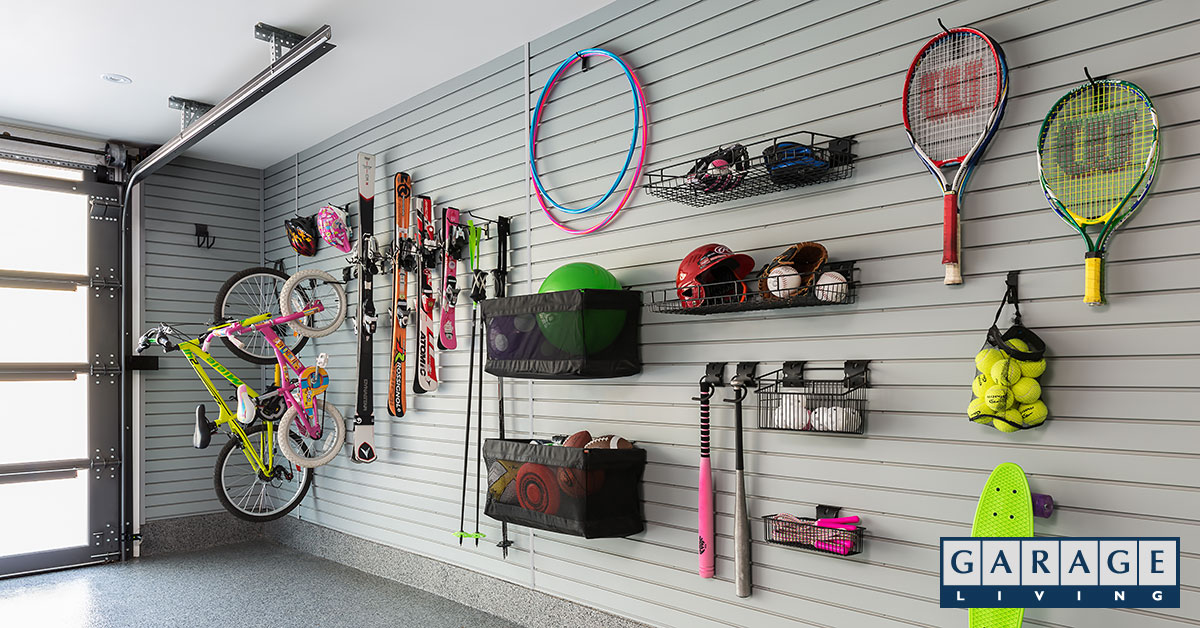 Let's face it, most kids don't make keeping their belongings in the garage well-organized a high priority.
Between bikes, sports equipment, playing accessories, and outdoor apparel, mom and dad are as likely to be picking up after their kids in the garage as they are in the rest of the house.
Keeping the garage organized during the summer season when the kids are out of school and more active outdoors is particularly challenging.
Part of that is just kids being kids, but it may also be because your kids' garage storage needs simply aren't being addressed.
9 ideas to make garage storage for kids easier
Taming the kids clutter in your garage is as simple as having a strategic plan in place that makes it easier for them to keep your garage tidier.
Using better garage storage systems and smarter storage strategies will result in having a garage where everybody's belongings can co-exist in an organized manner.
Restore order and functionality to your garage space by trying these nine ideas to make garage storage for kids easier.
1. You have more useable storage space than you think
A lot of homeowners don't take advantage of all of the useable storage space their garage has to offer. We're talking about the garage walls and overhead space.
These underutilized areas are loaded with potential storage space for all of that kiddy clutter (and probably some of mom and dad's) currently taking up residence on your garage floor.
Slatwall storage is one of the most effective ways to keep a garage floor clear and tidy. Using wall-hung PVC slatwall panels, toys, sports equipment, tools, and many other items can be hung on your garage walls, instead of being piled up on your garage floor.
You only have to look up in your garage to find even more additional storage space. Making better use of your garage's vertical space with overhead storage racks can relieve some of the storage burden on areas closer to your floor.
2. Get rid of items your kids have outgrown
Kids will outgrow just about everything they play with or wear, both literally and figuratively.
It's natural for their interests and hobbies to shift from one year to the next, meaning things they no longer use will unnecessarily be taking up garage real estate.
Once a year, take the time to go through your kids' things with them to find what they've outgrown and which of their belongings they can part with. A local charity will be grateful for your donation.
3. Designate garage storage zones
Yes, setting up designated storage zones in the garage might seem like an obvious way to keep the space more organized…but have you seen most garages?
Too many of them lack a smart layout and setup that makes it easier to maintain an organized garage space. Take the time to establish dedicated, structured zones in the garage for the entire family's storage needs.
Set up storage areas just for your kids, perhaps giving them a slatwall panel or two and some shelves that are all theirs. If you have garage cabinetry, let the kids use one of the cabinets for storing some of their things.
Letting your kids have dedicated storage areas can instill a deeper sense of ownership in them about their section of the garage. That should ideally give them more incentive to keep their part of the garage tidy.
4. Group like items together
Like decluttering, the next of our garage storage for kids tips also borrows from the book of organization and storage fundamentals – grouping like items together.
Combined with having designated storage zones, keeping like items stored together will allow you and your kids to easily find any item when needed. There'll be less time wasted rummaging through your garage looking for a certain item.
Young children will still be developing their memory retention skills, so storing items together can be especially helpful to them.
Here's a suggestion: keep all of your kids' "wheeled" belongings stored on one slatwall panel. Items you can hang up include:
bikes (vertical or horizontal bike hooks free up floor space)
scooters
skateboards
tricycles and Big Wheel-type toys
5. Create a home for everything
When it comes to making garage storage for kids simpler, creating a home for all of their things is a very effective way to increase the likelihood that items will get put back in the proper place.
If each item has a home, there will be no reason for it to be left anywhere else in the garage. This strategy also makes it easier to keep your kids accountable for how well they're contributing to the garage's level of organization.
Toys, sports equipment, pool accessories, bike accessories, sunscreen, and anything else your kids use in the garage can be hung up on the slatwall or stored on an open shelving unit.
Bins, buckets, and baskets can be used for keeping smaller loose items organized on shelves. To corral those loose balls, use deep hanging mesh baskets or adjustable wall-mounted ball racks hung on the slatwall.
Those tripping hazards will be safer stored there than they'll be if the balls were left scattered across your garage floor.
6. Use labels to help your kids
Another helping hand you can give your kids in order to help them keep the garage clean is to label their things. Labels will help especially young children identify items a bit easier and can be an early literacy development aid.
Using bright colors, pictures, or the child's name on the labels can also help younger children to identify items easier.
Be mindful of keeping a tidy, consistent look to your labels in order to minimize visual clutter.
Invest in a handheld label maker. It'll be one of those inexpensive, yet extremely handy devices you'll use for years to come throughout the entire house.
7. Store items at kid-friendly heights
These garage storage for kids tips and ideas are all about making it as easy as possible for your youngsters to function in the garage. Part of that includes making sure you're being mindful of using kid-friendly heights for their stored items.
After all, if your kids have to struggle to put something away in a storage home that's too high, chances are its new home will be on your garage floor.
Using kid-friendly storage heights in the garage is also about keeping them safe so your kids don't have to struggle to put away or take down something from an unsafe height.
Keep heavier items like bikes as accessible and low to the ground as possible. And remember to adjust storage heights in the garage for your kids' things as they grow.
8. Prioritize storage based on the season
Efficient garage storage involves making it as effortless as possible to put things away and locate items when you need them.
Prioritizing where things are stored based on the time of year helps to make garage storage for kids and everybody else easier. After all, having your kids' sleds or snowboards occupying prime, easy-to-access garage storage space during the summer makes no sense.
That's when garage storage systems like overhead storage racks can be particularly useful.
9. Use versatile storage systems
Choosing garage storage systems that provide flexibility and versatility to accommodate your kids' changing storage needs can minimize storage headaches.
When you do need to swap out one season's stored items for things that will be frequently used during the coming season, having storage flexibility ends up being a real time-saver.
One of slatwall's notable benefits is its versatility and ability to let you easily reconfigure items hung on the slatwall panels. That flexibility also makes it easier to group like items together and make the most of your wall hanging space.
We have the best garage storage for kids solutions
Could your garage use a makeover that includes more kid-friendly storage systems that can keep the space tidier? Garage Living has the best garage storage for kids solutions to fit your needs.
Contact us today by booking a free design consultation.
See also: