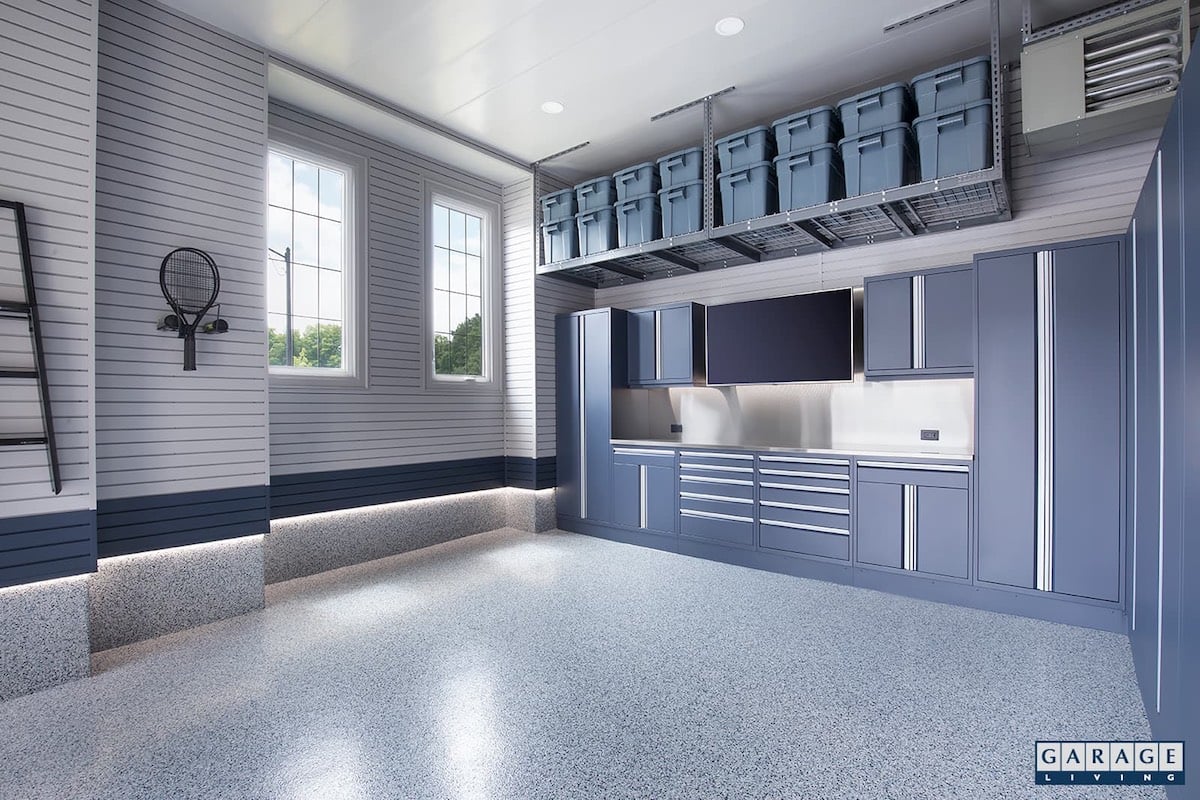 Using your garage's overhead space as a storage area is a great way to minimize garage clutter. The vertical space of a garage is commonly not used to its full potential.
But what are the best garage overhead storage systems to use and how should you use this space wisely? These seven garage overhead storage tips will help you get the most out of this valuable storage space in your home.
1. Choose the right garage overhead storage system
The most important of our garage overhead storage tips is actually rather simple – start by choosing the right garage overhead storage system. Determine what you'll be using the overhead storage space for and choose a storage solution that will satisfy your requirements. From there, everything related to garage overhead storage becomes much easier.
Garage overhead storage is frequently used for heavier, bulkier items. Therefore, you'll need heavy-duty storage racks that can handle the job and are well-made and able to last for many years in a demanding garage environment. For tire storage, Garage Living carries wall-mounted tire racks. Tires and other heavier items can also be stored in our overhead storage racks, which have the following features:
available in 2×8, 3×6, 3×8, 4×4, 4×6, and 4×8 foot sizes
up to 600 lbs is safely supported with the racking's heavy gauge steel construction
powder-coated paint finish to improve the durability of the racking
rack adjustability up to 45″ in height for improved storage flexibility

2. Store the right items in your garage overhead storage
Along with tires, garage overhead storage is ideal for storing a wide range of items that are better off up in the air than on your garage floor, which can prevent you from parking. One of the best uses for overhead racking is to use it for storing out-of-season items that have no usefulness for a significant portion of the year.
This includes property maintenance tools and equipment like lawnmowers, snowblowers, grass trimmers, hedge trimmers, shovels, and rakes.
Other out-of-season items like patio furniture, car roof racks, sporting and camping equipment, and holiday decorations are perfect for garage overhead storage. Storage bins can also be kept in your overhead storage racks, but it's advisable not to store any clothing and textiles in them.
3. Group like items together
The third of our garage overhead storage tips follows a practical, common sense guideline that can be applied to any storage situation – group like items together.
Strategically storing items greatly reduces the chances of misplacing them and you'll find things much easier. Following this simple guideline will be particularly beneficial when it comes to finding smaller items.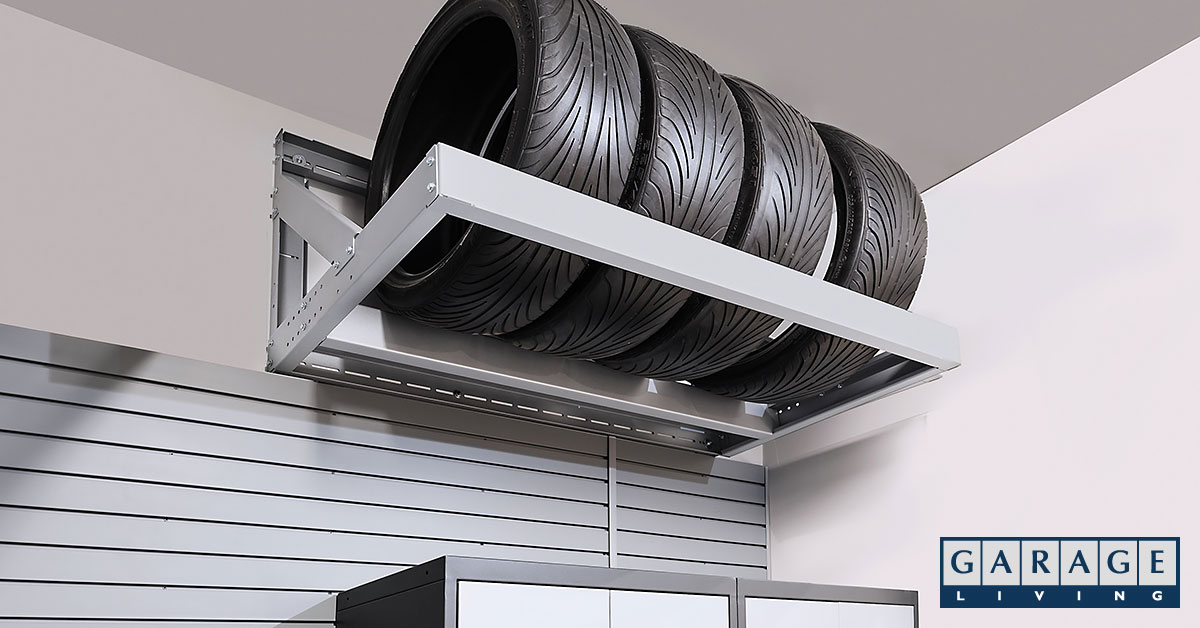 4. Label your stored items
In addition to keeping your items grouped together, using labels is another one of the garage overhead storage tips that can save you time. For storage bins, labels should be considered an essential, especially when you're using bins that all look the same.
Labels will help you find small, harder-to-find items stored in containers a lot quicker. Be sure that your labels are easy to read and won't peel off under extreme hot or cold temperature conditions.
5. Prepare your items properly for garage overhead storage
Wash and dry any items destined for garage overhead storage that can corrode like bikes, lawnmowers, and snowblowers. For motorized equipment, follow the manufacturer's storage maintenance guidelines, such as making oil changes.
Taking the time to do this when storing your belongings at season's end will result in longer lifespans for them.
6. Don't waste garage overhead storage space with clutter you don't need
Determine how useful each item being stored will be when needed again. Is that old tent that's seen better days really going to hold together for another camping trip? Does that rake with mangled tines truly warrant further use?
Follow this guideline in the spring and fall. A biannual process of weeding out items that have outlived their usefulness will help keep garage clutter at a minimum. That makes your garage overhead storage space more functional.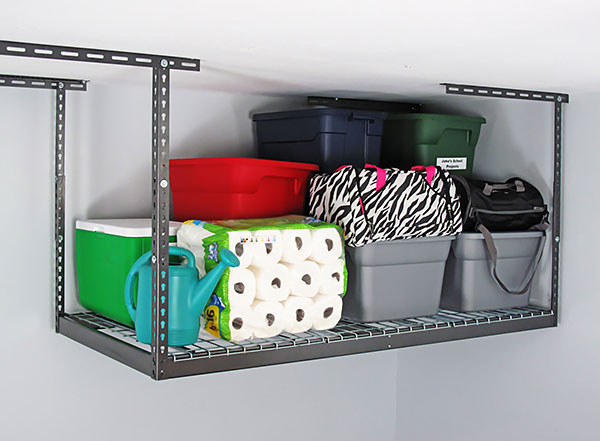 7. Let a trusted professional handle the addition of garage overhead storage racks
Installing garage overhead storage racks that are meant to handle heavy weight loads requires expertise. Suspended overhead racks need to be properly attached to your rafter or ceiling joists, while a wall-mounted tire rack also needs a stable anchoring foundation.
That's why one of the garage overhead storage tips worth heeding is to leave the installation of specialty racking in the garage to a professional.
Garage Living will capably install your specialty storage racking so it's 100% safe and able to withstand the heavy loads that will be placed on it. We also know what sizes and types of specialty racking will work best within your garage space.
Complement your garage overhead storage with other smart storage solutions
In addition to an effective garage overhead storage system, you can add even more functionality to your garage with our other smart storage solutions:
slatwall panels with hanging accessories that let you use your garage walls for storage
freestanding industrial shelving racks that can handle your heavy-duty storage needs for items you need to have more accessible at ground level
storage cabinets that increase your storage space and improve your garage's interior appearance
Even upgrading your garage lighting with a proper garage lighting fixture can help make it easier to find items in your overhead storage racks.
Follow these garage overhead storage tips to help you maintain a tidy garage space
By following these garage overhead storage tips and using an efficient overhead storage system, your garage will remain clutter-free and a highly functional space in your home.
If you're ready to realize the full storage potential of your garage, book your free design consultation to get started.
See also: