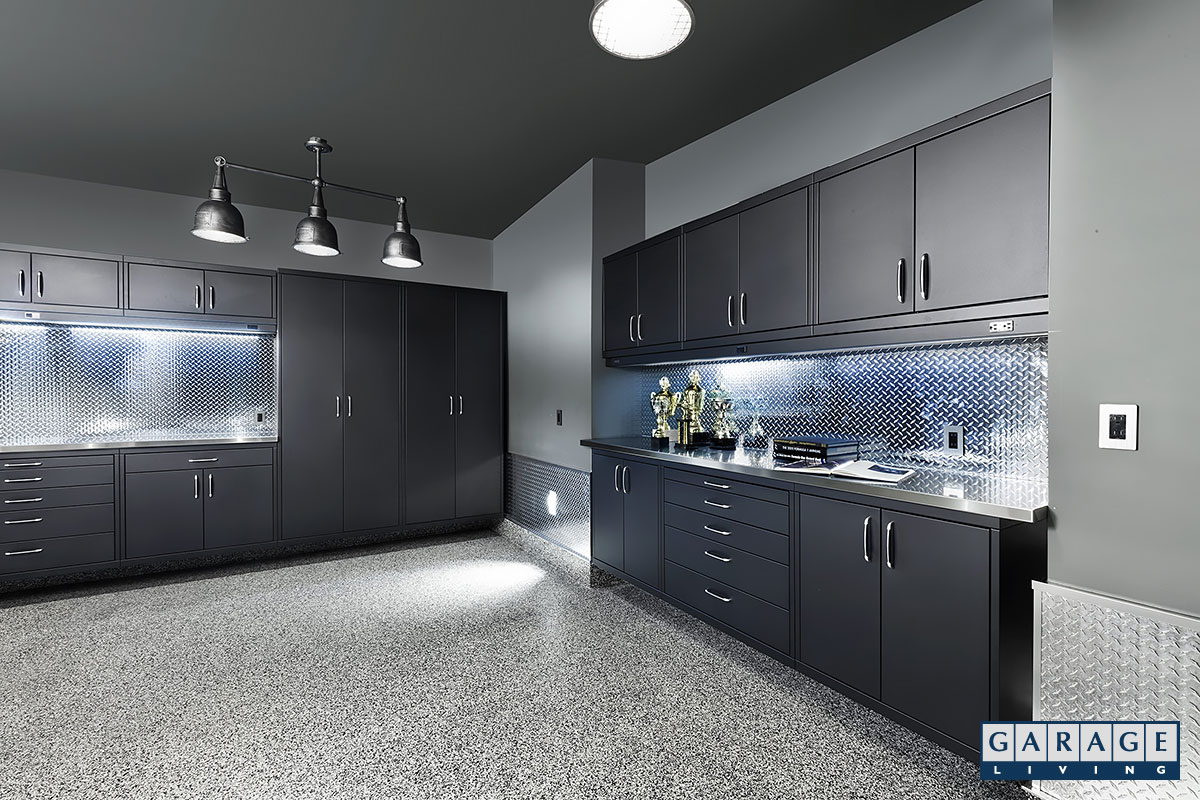 Shelving, overhead racks, and a slatwall hanging storage system will help immeasurably when it comes to keeping a garage organized.
Effective garage storage systems that provide a home for everything prevent clutter from accumulating. They also make it easier to keep a garage tidy with less effort.
With so many choices available when it comes to upgrading your garage's storage capabilities, there's one option you might be overlooking – a garage cabinet system.
Do I really need a garage cabinet system?
Many homeowners might think a garage cabinet system just isn't for them. Perhaps you don't spend enough free time in the garage to believe such a purchase would be worth it.
You might be under the impression that storage cabinetry is meant solely for garages that are owned by people with a big tool collection who love working with their hands.
While a garage cabinet system is ideal for garages where vehicle maintenance and carpentry projects occur on a regular basis, the fact is that every garage can benefit from having one.
Here are seven common-sense reasons to consider a garage cabinet system for your home, regardless of how handy you are with a hammer.
1. A garage cabinet system eliminates clutter
One of the unquestionable benefits of having a cabinet system installed in your garage is that it will significantly cut down on your floor clutter.
Even if you have a larger two or three-car garage and available storage space isn't a pressing concern, that garage floor clutter can still be a persistent nuisance.
Whether you're tripping over clutter or finding it hard to locate tools when they're needed, there's a real practicality to removing things from your garage floor and keeping them neatly stored in a garage cabinet system.
When cabinetry is partnered with some of those aforementioned garage storage systems like slatwall panels, you'll be amazed at how much nicer your garage looks and feels when it's clutter-free.
2. Upgrade your garage's appearance
Garage cabinetry might seem like a product that's purely functional and something that's only providing room for storage.
A garage cabinet system has a lot more value and use for your home than as merely a dedicated storage space, however.
Storage cabinets can add a huge aesthetic upgrade to your garage's interior, which is not something to be taken lightly.
You'll have to buy the right type of cabinet system, of course. Well-crafted, higher quality cabinets that are professionally installed instantly upgrade a garage's interior with a more modern and finished look.
Stylish cabinet systems like Garage Living's GL NEOS Elite or GL Custom Steel models infuse a garage with clean lines and a sleek, high-end appearance.
Choosing a garage cabinet system that allows for customization can really take your garage's design to the next level. Adding custom options like a sink, backsplash, or an enclosure for a TV enhance your garage with stylish and functional touches that stand out.
3. Make your garage safer
More often than not, a messy garage is also an unsafe garage.
With items spread out all over the garage floor and tools leaning up against the walls, tripping and leaking hazards abound.
A garage floor littered with items also poses the risk of damage to those items from your vehicles, not to mention the vehicles themselves potentially being dented, scratched, and scuffed.
Corralling that clutter with better storage systems like garage cabinets will reduce that safety risk.
Your garage also contains many types of dangerous chemicals and hazardous materials that can be stored in a cabinet system with optional locking doors and drawers. Examples include:
paints and solvents
fertilizers and pesticides
cleaning products
containers of automotive fluids
To further childproof your garage, use locking cabinet drawers and doors to keep sharp tools safely tucked away.
4. Add value to your home
Because a garage cabinet system helps to minimize or eliminate floor clutter, you'll be able to easily park your vehicles inside, where they belong.
That means your garage is serving its primary function and providing full value to your family year after year, not merely being used to store useless junk.
A garage that's easy to maintain and allows for effortless vehicle parking is a strong selling point for any buyer whenever you decide to move. That means added value to your home.
Any garage with a high quality garage cabinet system will also project a more impressive, professional appearance. When compared to the unsightly look a cluttered garage with an outdated décor and cheap storage systems projects, prospective buyers will take notice.
5. A garage cabinet system keeps tools organized
The larger your tool collection gets, the harder it is to keep organized if you don't have a decent storage system in place. After awhile, that big toolbox just won't cut it anymore.
Invest in a well-designed garage cabinet system to enjoy the following benefits that come with keeping your tools organized:
you'll spend less time searching for tools (leaving more time to actually work)
your workspace will be less cluttered
set up your workspace to have the tools you use most close at hand
A garage cabinet system that keeps your screwdrivers, wrenches, hammers, and other tools stored in drawers and behind doors also helps to extend their life. They'll be less exposed to dust, grime, and rust-causing moisture.
6. Keep valuable tools locked up
Some of your pricier tools will no doubt include cordless power tools and pneumatic tools (which are driven by compressed air).
An expensive air compressor, power generator, and even many higher quality hand tools (which can cost hundreds of dollars each) are also best stored in a secure space, to protect your significant investment.
A garage cabinet system with locking doors and drawers provides such a storage option.
The comforting peace of mind you'll get knowing your expensive tools are securely stored will be worth the extra expense for this custom feature.
7. Create a garage workshop
While most homeowners have no interest in setting up a garage workshop, some gearheads and hobbyists will salivate at the opportunity to do so.
Turning the garage into a multi-functional space by creating a special area that provides room to work with your hands will be a motivating factor for some to invest in garage cabinetry.
The fact that you can customize your workspace's cabinet system to fit your working needs will be even more of an incentive for these homeowners to buy garage cabinets.
Our rugged GL Rally cabinets are ideal for a garage workshop. This system features sturdy 16 gauge steel construction, a galvanized stainless steel countertop, and speciality options that allow for locks and a sink unit to be added.
Discover the benefits of a garage cabinet system
If eliminating your garage clutter and upgrading your garage's appearance with a new cabinet system sounds like an appealing proposition, Garage Living can help.
Whatever your garage cabinet system needs are, one of our five lines of world-class modular and custom-fitted cabinet systems is guaranteed to enhance your garage space.
Book a free design consultation with one of our garage cabinet experts to get your personalized garage cabinet system design started.
See also: