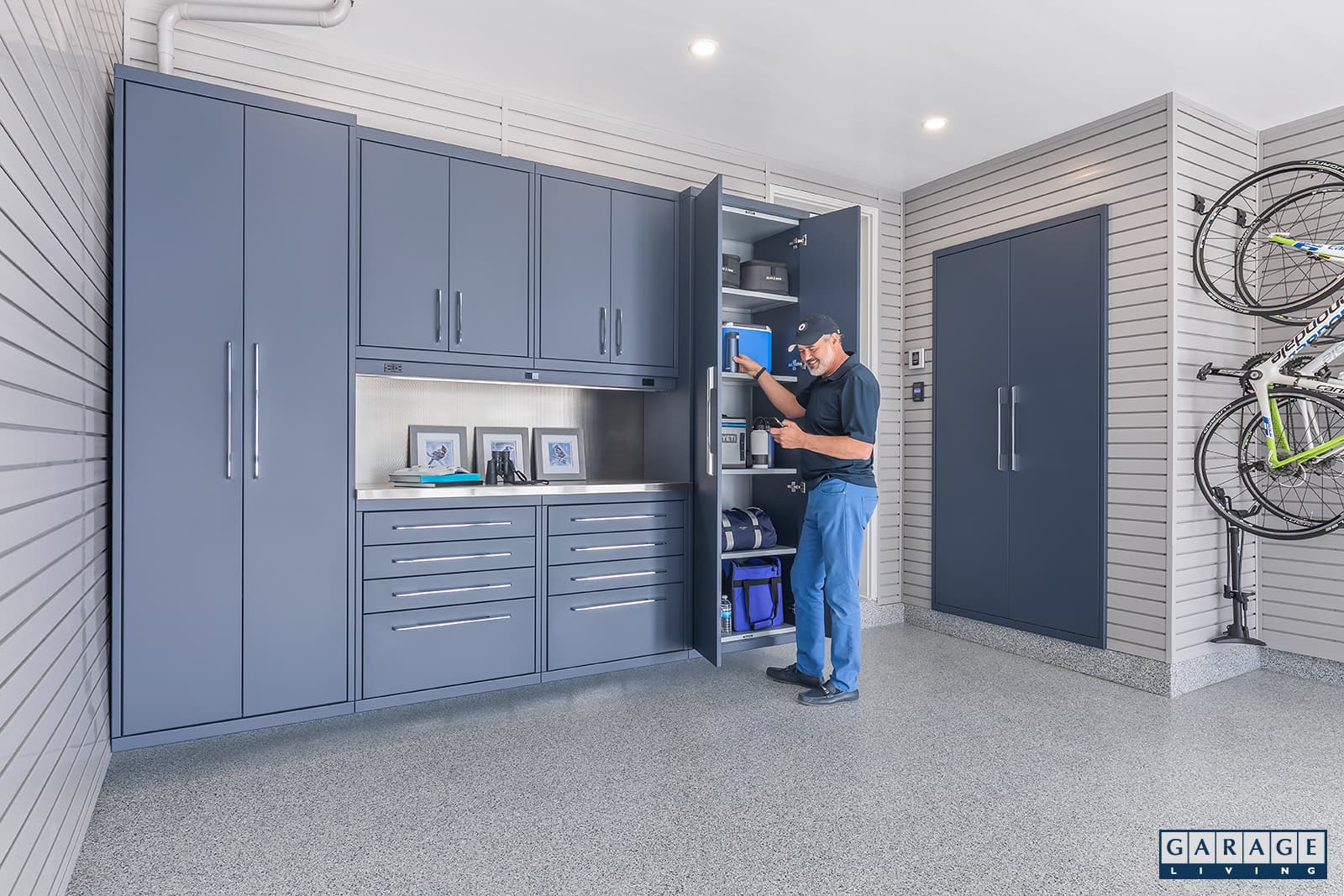 Certain Father's Day gift ideas can convey a rather "going through the motions" approach to gift-giving on what's supposed to be dad's special day.
We're talking unimaginative gift ideas like socks, a tie, a gym membership, or the dreaded gag gift. A quick online search will show you that these are among the most common Father's Day gift ideas.
They're also some of the least appreciated gifts that dads say they want to receive.
Father's Day gift ideas that are unique and very practical
Sure, dads generally are hard to buy for. This Father's Day, surprise and delight dad by choosing some of these unique and practical Father's Day gift ideas for the garage.
They'll show you put a little more thought into this year's gift and also make dad's life easier for years to come.
1. A garage floor transformation
For dads who enjoy spending lots of time in the garage, a dull-looking concrete garage floor that's damaged and uneven doesn't exactly contribute much to his comfort level in this space.
You can significantly transform the feel and appearance of your garage by having a polyaspartic Floortex™ floor coating applied.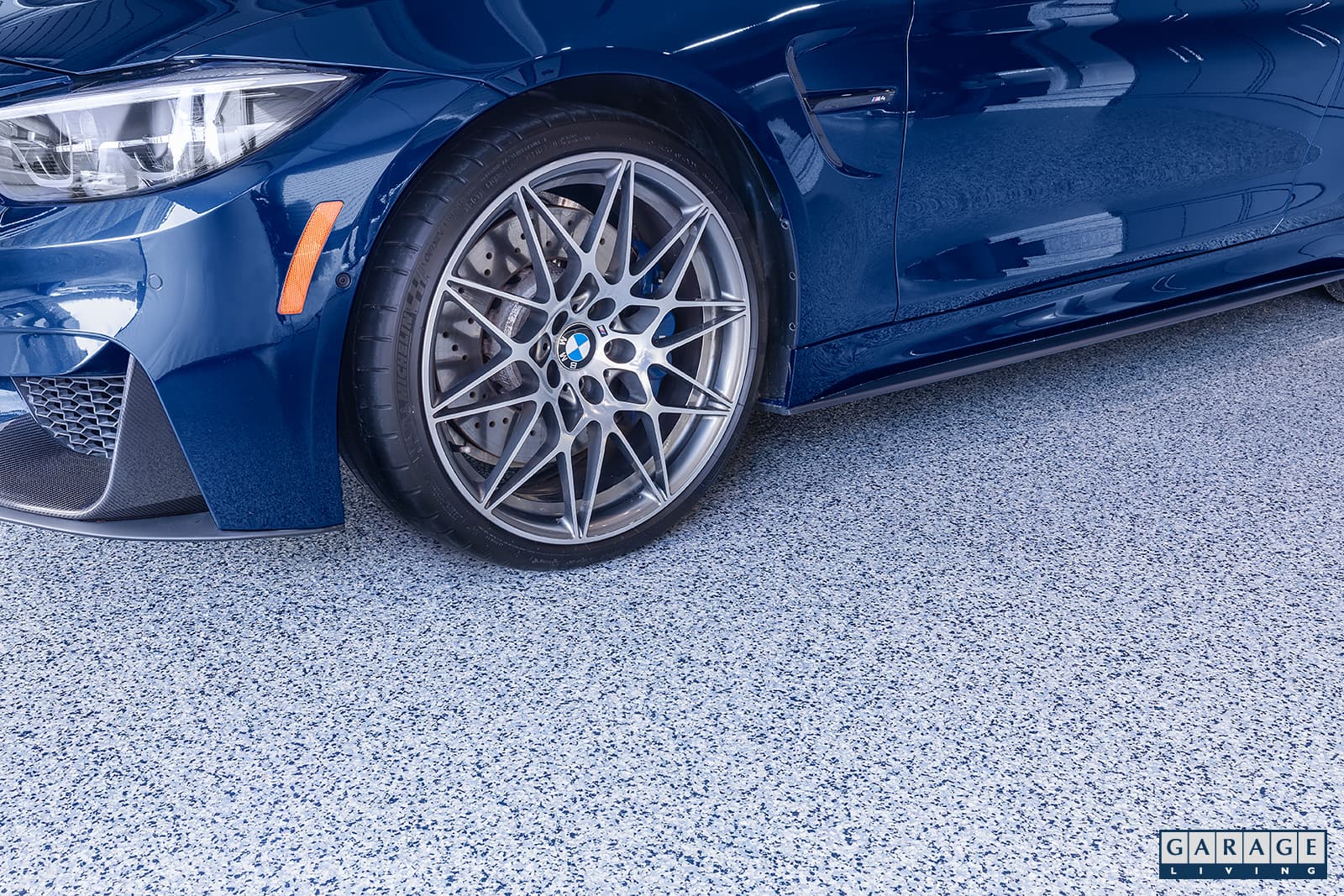 The Garage Living 5-step Floortex™ application process produces an attractive textured surface that's smooth, clean, and easy to maintain.
A high-quality foundation underneath dad's feet while he's spending hours in the garage doing vehicle maintenance, using a garage workshop, or working out will be greatly appreciated. And your new garage floor project can be completed in as little as one day.
2. Garage storage cabinets for dad's tools
If dad's tool collection has grown and he's lacking an adequate organization system for storing them, it can make it difficult to find the right tool when he needs it.
That's why garage storage cabinets are so useful. With lockable tool drawers and the ability to customize the cabinets according to dad's needs, storage cabinets make it much easier for dad to keep his garage space organized.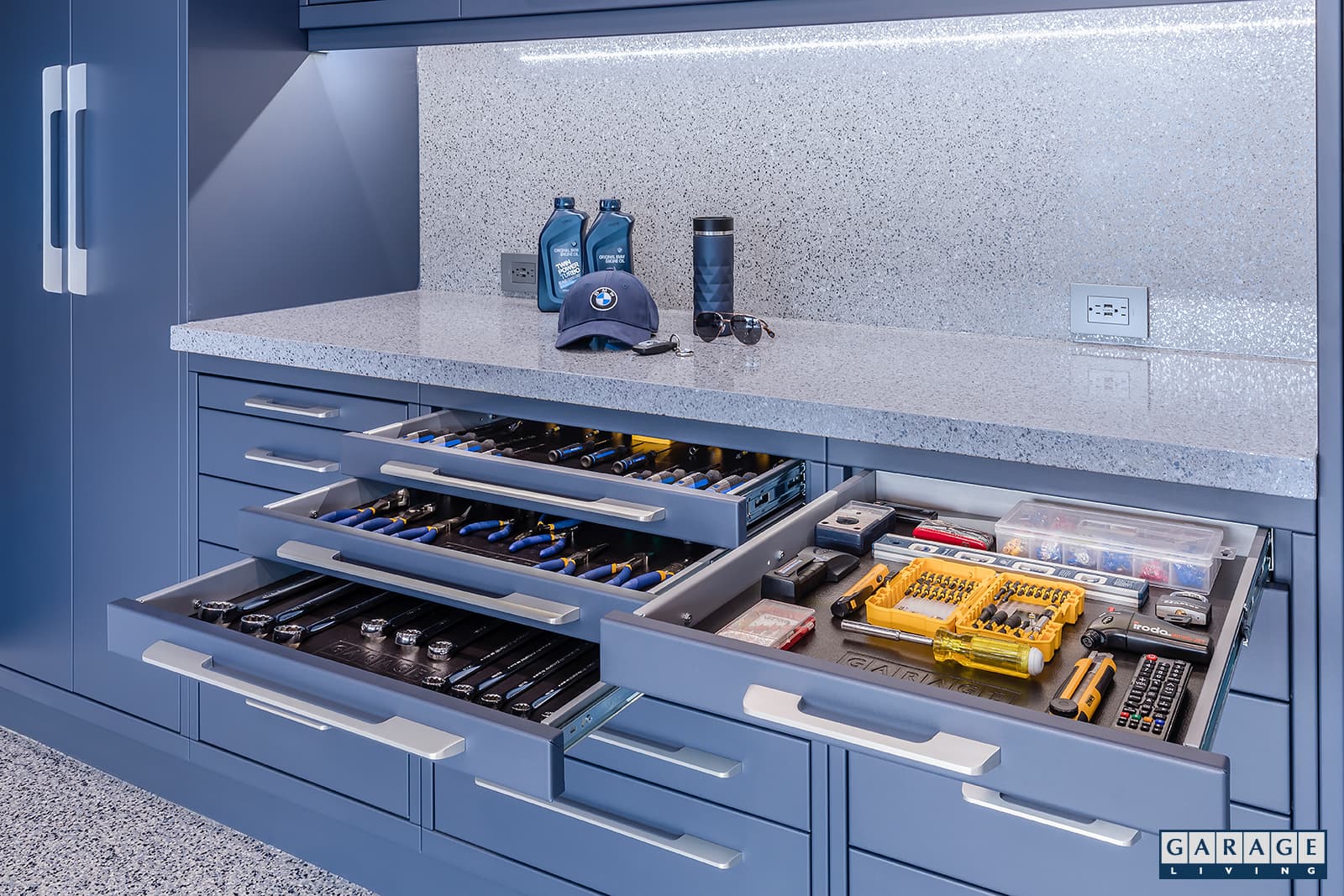 And along with the extra storage space, cabinets also add a lot to the interior look of a garage. Does dad own a high-end car that he loves?
You can nicely enhance the vehicle's surrounding environment by adding custom storage cabinets that complement its color (our GL Custom Steel and GL NEOS Elite cabinet systems are particularly well-suited for this purpose).
3. A garage workshop
When it comes to thoughtful Father's Day gift ideas, it's always nice when dad's hobbies and pastimes are taken into consideration. If your dad or husband is the tinkering type, what could be better than a garage workshop? A garage workshop gives dad a private space that lets him indulge in his hobbies (and won't disturb the rest of the family).
Our storage cabinets are ideal for creating a highly functional garage workspace by adding a countertop work surface and, as mentioned, lots of room for storing tools. Our rugged GL Hayley cabinet system is ideal for a multi-functional garage space.
An infrared heater can be added so dad can use his workshop even when the temperature drops. And for smaller garages, we can add a space-saving foldaway workbench.
4. A high-quality hose and hose reel
If you own a house, you have lawns, shrubs, flower beds, and vegetable gardens that all need the attention of a hose during the spring and summer. Not enough dads invest in a quality hose or hose reel, however. Cheap hoses will crack and start leaking after just a couple of years.
And inexpensive hose reels will also reveal their poor design and cheap construction materials far too soon, with wheels falling off and mechanical components breaking down.
Invest in a high-quality garden hose and hose reel instead of replacing these items every two or three years. Garage Living carries the highest quality hoses and hose reels on the market. Dad will appreciate having reliable, well-made equipment to use when it comes to doing his watering chores.
5. A more organized garage so dad can park inside
One of the smartest Father's Day gift ideas to consider is adding slatwall panels with hanging accessories. This system lets dad store his lawn tools, ladders, power cords, and any other items that can be hung up.
If dad likes to golf or fish, we have a fishing rod rack and golf rack that are perfect for storing his angling and golf equipment on the slatwall panels. Garage Living also carries specialty storage racks for more heavy-duty storage requirements.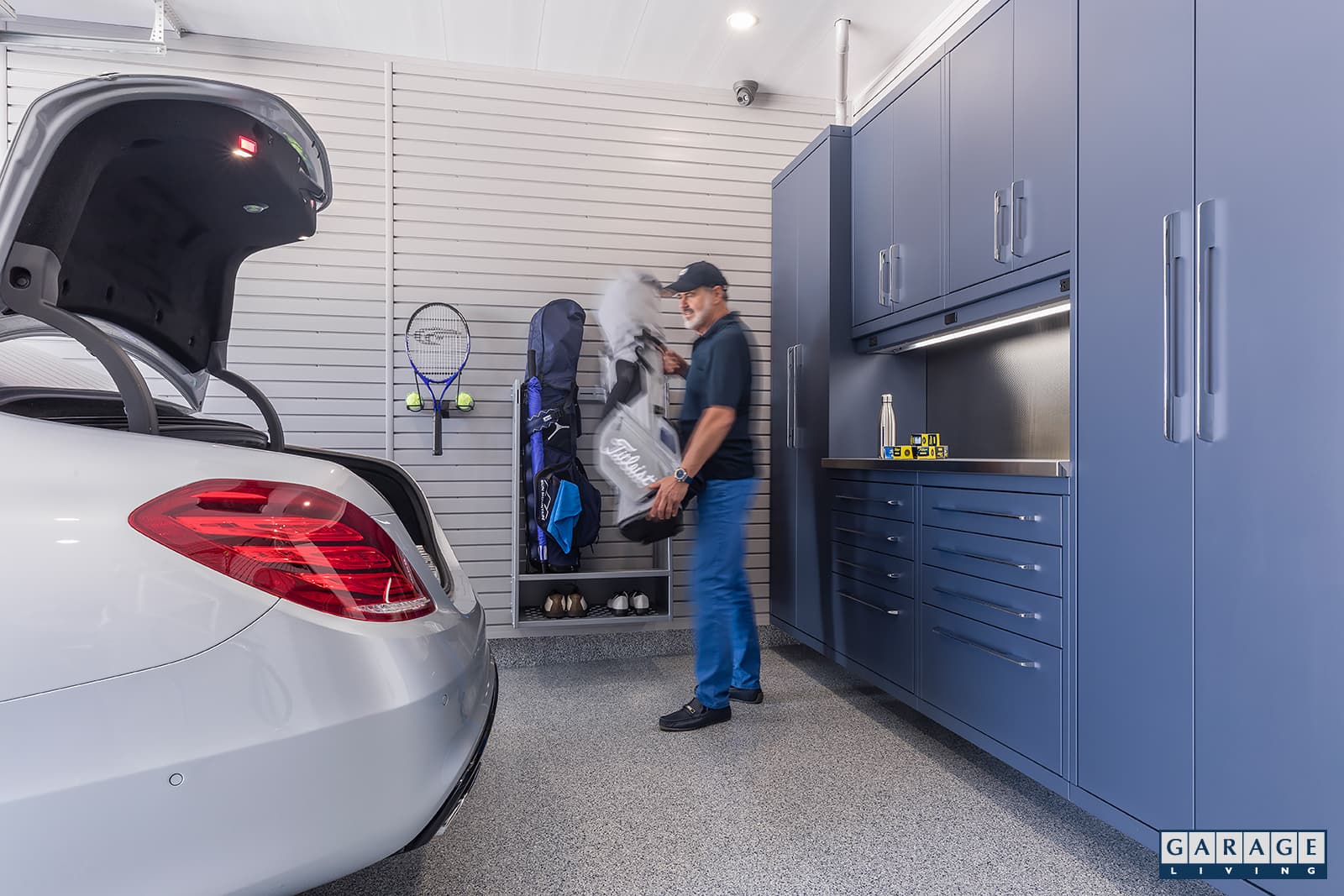 By using your garage walls and overhead space for storage purposes, your garage floor will be organized and clutter-free. That frees up floor space so mom and dad can park their vehicles inside the garage once again, which is supposed to be one of the main functions of a garage, right?
6. Extra parking space to store dad's prized vehicle
Does dad own a classic car or truck that he, understandably, wants to be stored inside? If so, that can come at the expense of a garage parking space for one of your vehicles that get driven on a more regular basis. Create an extra parking spot in your garage by adding a 4 post car lift.
A 4 post car lift takes advantage of your garage's unused vertical space, which allows for a vehicle to be stored above another vehicle. Dad can store his classic vehicle up in the air during the months when he won't be driving it, leaving room for an everyday-use vehicle to also be parked in the garage.
Car lifts can also be used for storing motorcycles and items like lawnmowers and snowblowers, which helps keep your garage floor uncluttered.
7. Better garage lighting
Many garages still use only a one or two incandescent bulbs as a lighting source. Adding an energy efficient, long-lasting LED light fixture can greatly improve the lighting quality in the garage. Better lighting makes it easier for dad when he's looking for a certain tool or working on a task, in addition to improving the atmosphere.
Upgrading a garage's lighting is a relatively simple and inexpensive way to improve this space. It's also a must-have feature if you've chosen to add any of the previously mentioned Father's Day gift ideas. Dad's dream garage needs to be seen in the best light possible!
Visit our showroom for inspiring Father's Day gift ideas
You can visit your local Garage Living showroom to have a look at these practical Father's Day gift ideas up close.
You can also schedule your free consultation with a member of our design team to start planning your garage makeover project.
See also: