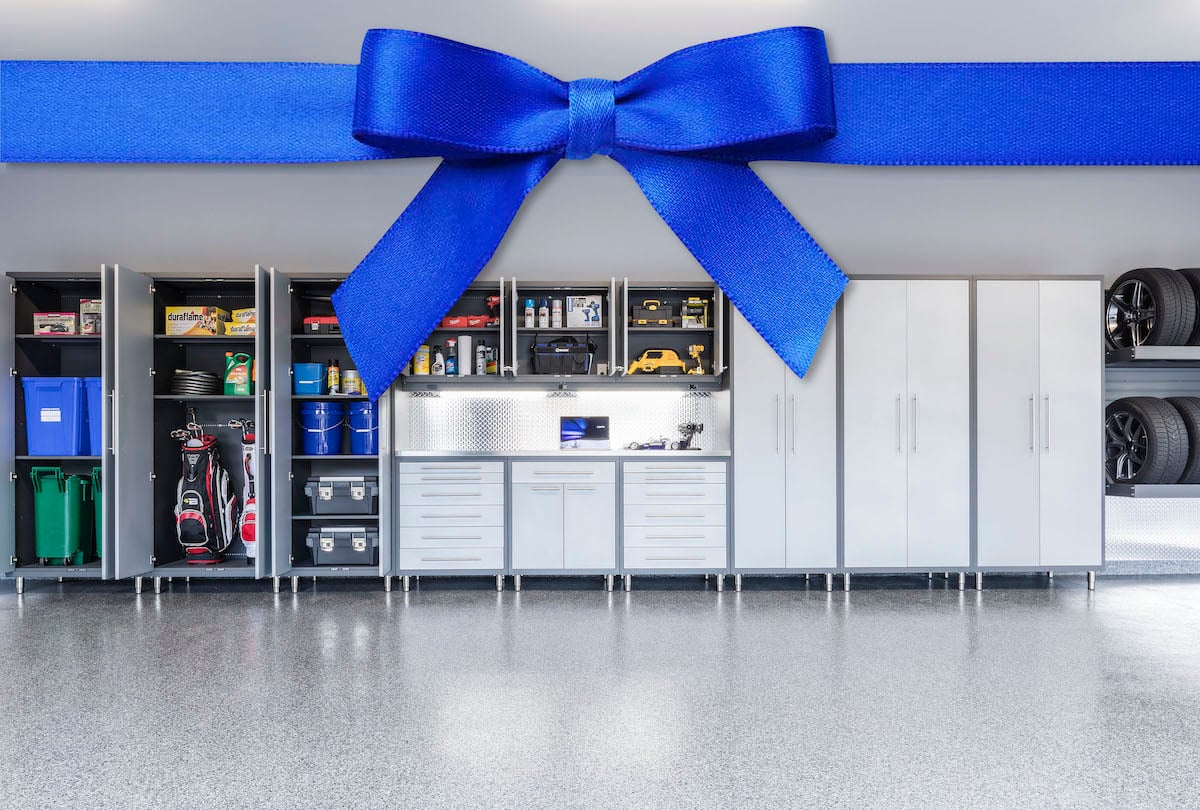 The car lover in your life may not be the easiest person to shop for. Auto enthusiasts do tend to have very specific taste when it comes to anything related to their vehicles.
Luckily, there's no shortage of great car lover gift ideas to choose from this holiday season. That gives you some much-needed flexibility to cater more specifically to the particular tastes and preferences of the auto enthusiast you're buying for.
These 11 car lover gift ideas include items that are practical, fun, informative, stylish, and safety-conscious. True, none of them may be quite as well-received as a new Tesla Model S sitting in the driveway with a bow on top of it on Christmas morning.
Even still, the car guy or car girl in your life will appreciate the thoughtfulness you put into your holiday gift-giving this year.
1. Key finder
One of the most frequently misplaced items in homes are car keys. And the cost to replace a lost key fob can get quite expensive. Those prices range from a minimum of about $75 right through to well into the hundreds of dollars for fobs used by higher-end cars.
For the disorganized car lover who's always misplacing their keys and being late for work or appointments, buy them a key finder. A small Bluetooth tracker is attached to a key ring and linked to a smartphone app. When your keys are lost, simply open the app to pinpoint their location.
They can also be used with backpacks, wallets, purses, and anything else you want to keep track of. Tile is a reputable brand for this type of product, with prices starting in the $25 range for a single tracker. It's a lot more cost-effective to buy a 4 pack of trackers for around $60, though.
2. Auto care kit
For the most part, auto enthusiasts are obsessed with keeping their vehicles clean and well-detailed. When you're looking for car lover gift ideas that help your gearhead pamper their ride, consider an auto care kit.
Man Crates' Auto Care Crate and the variety of auto care kits available from Meguiar's include just about everything needed to detail a prized vehicle. A complete auto care kit will be put to to frequent use by any car-loving recipient.
3. Tire pressure gauge
Regardless of whether you drive a luxury vehicle or a rundown beater, every car should have a reliable tire pressure gauge stored in its glove box. Driving on underinflated tires can:
damage the tires and cause them to eventually blow out due to overheating
limit your car's handling ability
lower your fuel economy
Tires that are overinflated can also cause problems, so it's suggested you check your tire pressure once a month to ensure they're filled to the manufacturer's recommended psi.
Even if your car has a tire pressure monitoring system, it's smart to use a tire pressure gauge occasionally just to double check for accuracy. And they make great and inexpensive stocking stuffers!
4. Portable tire inflator
When it comes to practical car lover gift ideas, a portable tire inflator/mini air compressor can't be beat. These handy devices just may be the most invaluable thing stored in your trunk besides your spare tire.
Many tire inflators do more than just fill up your tires and save you the ridiculous costs that gas stations charge nowadays for usage of their air compressors. They also have extra features like high output LED lights to see better at night or flashing hazard lights.
Cordless models can use either the same type of battery used with cordless drills or be plugged into a regular electrical outlet for recharging. A lot of models also plug into your car's cigarette lighter. Prices for a quality tire inflator start at around $40. The device can also be used for inflating:
bike tires
soccer balls, footballs, and basketballs
air mattresses
5. New garage flooring
The gift of new garage flooring makes perfect sense for anyone who cares about the space they're parking their beloved cars in. Having a fresh Floortex™ floor coating applied on your floor gives any garage a more modern look.
Floortex™ floor coatings are extremely strong, durable, and easy to maintain. They're highly resistant to most automotive fluids and household chemicals and spills wipe up easily. The decorative flake surface also nicely obscures dirt and dust.
The decorative flakes used in our flooring application process come in a variety of colors that effectively complement both a car's colors and a garage interior's décor.
6. USB-C car charger
If your gift recipient's ride is older than a 2015 model, it may have an older-style USB charging port that takes longer to charge new smartphones. Or it may not have a USB charger at all.
Surprise them with an upgraded USB-C charger that plugs into a car cigarette lighter to provide a faster charge. Prices range from about $10 to $25.
7. Car books
When looking for car lover gift ideas that are more on the informative side, there are a plethora of automotive books to choose from. We recommend:
Formula 1: All the Races – this meticulously researched book covers the Formula 1 story from its beginnings in 1950 up until the present day
The Car Book 2017 – the 37th edition of this comprehensive car buying guide gives you up-to-date information on every new car to help you make an informed buying decision
Porsche 911: 50 years – any Porsche lover will appreciate receiving this coffee table book featuring a detailed written and visual look at the evolution of one of the most iconic cars ever
Consumer Reports New Car Buying Guide – whether you're looking for a new car or just want to keep up on the latest models, this 200 page buying guide from the trusted magazine is a must-have
The Impossible Collection of Cars – this showcase of the past century's most exceptional cars features lavish packaging that makes this gift extra-special for any car lover
8. Driving gloves
Driving gloves look undeniably cool, but their benefits go beyond just stylish looks. They protect your steering wheel from the dirt and natural oils your bare hands leave behind.
And if your car doesn't have a heated steering wheel, driving gloves are nice to have in colder weather. Their thin leather design allows for a better grip than most other gloves, while keeping your hands warm.
9. Realistic driving simulators
If you're looking for fun car lover gift ideas and the person you're buying for has a PS4 or Xbox One gaming console, give them an ultra-realistic driving experience.
Gran Turismo Sport (for PS4) and Forza Motorsport 7 (for Xbox One) both just released in October. Each series has an impressive pedigree when it comes to creating games that are specifically geared towards those who appreciate high-end cars (and driving fast in them).
Painstaking attention is paid to the details of the cars in these games and their 4K visuals really enhance the immersive experience. You can even add a driving wheel accessory to make that Porsche handle even better. And contrary to popular belief, video games aren't exactly a kids' hobby anymore – the average age of a gamer is actually 35 nowadays.
10. Garage cabinetry
How can you make a car lover's garage space even more organized and visually appealing? Just add garage storage cabinets to it. Whether someone needs extra storage space for gardening supplies, car tools, or the tools they use for their garage workshop, garage cabinetry is the perfect solution.
Garage Living carries assorted types of cabinet systems in modular and custom-fitted designs to suit any car lover's needs. Is your auto enthusiast the type that likes to get their hands dirty working on their prized ride? If so, the GL NEOS Elite or GL Hayley cabinet systems will be perfect for them.
Our cabinets offer ample design flexibility so that any car lover can get more functionality and stylish looks from their garage space. Car lover gift ideas that can improve a garage space make even more sense for anyone with a passion for cars. That's because they'll spend more time than the average person in this part of the home.
11. Car battery booster
The last of our car lover gift ideas is a car battery booster. Just like finding out you have a flat tire, realizing your car battery is dead can ruin a perfectly good day.
Instead of asking a neighbor or co-worker for a boost, or waiting for the AAA or CAA truck to arrive, fix the problem yourself. You'll find a wide range of portable car battery boosters available to choose from. Some models are small enough to fit into your glove box, while more heavy-duty chargers can be kept in your car trunk.
You can't go wrong with any of these car lover gift ideas
These car lover gift ideas will put a smile on the face of any auto enthusiast and brighten their holidays. If you'd like to learn more about giving any of our garage makeover products and services as gifts this holiday season, visit your local Garage Living showroom.
See also: