Do you ever wonder why so many of your neighbours have garages that they seemingly never use for parking their vehicles? This is likely due to them lacking effective storage solutions, such as a garage overhead storage system.
Statistics from the U.S. Department of Energy shed some light on the oddity of garages not being used for vehicle parking. They estimate that 25% of homeowners with 2-car garages can't park their vehicles inside them because of excess clutter. Furthermore, only 32% of them are able to fit one vehicle inside because of clutter.
With the colder weather approaching, you're probably making plans to store a number of things you've used over the spring and summer. Where can you store them so that your garage remains functional and is able to accommodate parked vehicles? You only need to look upwards to discover garage overhead storage space just waiting to be used!
Four great benefits of adding a garage overhead storage system
Garage overhead storage brings many benefits to your home. Here are four reasons to consider this type of storage for your garage:
You'll free up plenty of garage floor space. Bulkier items can take up valuable space on the floor, consequently making it harder to function in the garage. Utilizing the underused space in your garage's upper areas will get them out of the way.
Better organization. As a result of adopting this storage solution, you'll be able to stay organized and minimize clutter. When you need to find particular items, you'll spend less time searching for them.
Protecting your investment in your vehicle. Any vehicle represents a sizable financial investment on your part. If your cluttered garage isn't allowing you to park inside of it, your vehicles are far more susceptible to theft and damage while parked outside in your driveway.
The convenience of having your vehicles stored indoors. Having your vehicles protected from the elements is something you'll definitely appreciate during the year's frigid months. No longer will you have to scrape snow and ice from your vehicles when they're parked at home. Overhead garage storage can help make this possible.

What items are well-suited for overhead garage storage?
A wide range of items in your garage are well-suited for overhead storage, including:
off-season motorized lawn equipment, such as lawn mowers, snow blowers, grass trimmers, hedge trimmers, and chainsaws
car roof racks
patio furniture
storage bins and containers
tires (if you don't desire a tire rack)
sporting and camping equipment
lawn care and snow removal equipment
A heavy-duty storage solution for your bulkier items
Garage Living's overhead storage racks are a great heavy-duty storage solution for your garage's bulkier and weightier items. Items not currently being used because of the time of year are also ideal for garage overhead storage. Suspended from the rafter or ceiling joists, these storage racks utilize your garage's underused vertical space. Their features include:
heavy gauge steel construction which lets racks hold up to 600 lbs of weight
adjustable height of up to 45 inches for increased versatility
6 sizes available (2×8, 3×6, 3×8, 4×4, 4×6, and 4×8 feet)
a powder coated paint finish to ensure longevity
Store your tires properly with heavy-duty tire racks
Because of the difficulty of driving during the winter, there's a good chance you own two sets of tires for your vehicles. If you own multiple vehicles, that can add up to a decent portion of your garage floor space that off-season tires may be occupying. Use dedicated tire racks instead and you'll quickly reclaim that valuable garage floor space!
Heavy-duty tire racks from Garage Living are wall-mounted, therefore you'll save space. Your tires will be organized and you'll have more room to function in your garage. Our tire racks come in three colours: granite, silver, and tan.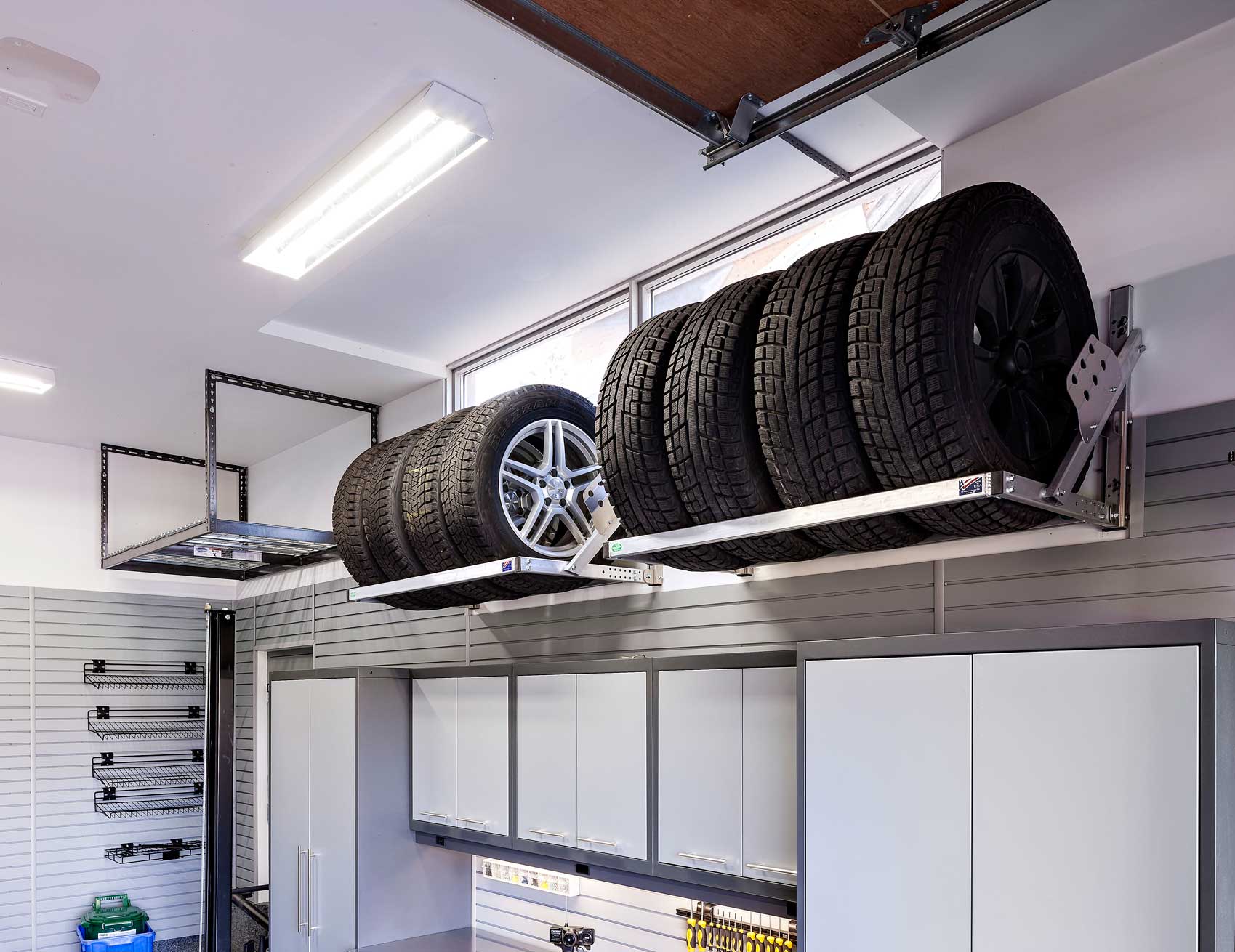 Other helpful storage solutions for the garage
Overhead garage storage is a real space-saver. There are also a number of other storage solutions you can use in your garage to help maximize your storage space:
Garage cabinets really expand your storage options for tools and other belongings. Available in custom-fitted and modular and free standing designs, garage cabinets also bring great aesthetics to your space.
Garage wall storage uses slatwall panels and accessories to make use of your garage's wall space for hanging items. Configure the accessories any way you want to hang a wide array of your belongings of all shapes and sizes.
Additional specialty storage racks are available at Garage Living. Ask us about our industrial strength shelving units, firewood racks, golf racks, and more.
There's no reason to let garage clutter restrict you from using your garage for one of its main functions – parking your vehicles. You can visit our unique showroom to view Garage Living's overhead storage systems up close. Book your free consultation with one of our design experts, who's looking forward to discussing your garage storage goals with you.
See also: