Staying organized in the garage becomes much easier when you have smart storage and organization solutions to help.
There are several ways to accomplish this, such as with a garage cabinet system.
When choosing the right garage cabinet system, don't underestimate the importance of high-quality materials in their construction.
Your garage is subjected to fluctuating temperatures, higher levels of moisture, and dirt. You'll also be handling tools and heavy items around your cabinets, in addition to opening and closing drawers countless times. These factors illustrate why you shouldn't compromise on quality and craftsmanship.
For durable, long-lasting garage cabinet systems, Garage Living has you covered with various cabinet styles and designs for your storage needs. Any of the following garage cabinet ideas will keep your tools organized and safe, in addition to improving a garage's aesthetic appeal.
1. GL Signature cabinets
For those on a tighter budget, the GL Signature line is one of the garage cabinet ideas worth considering. The GL Signature line is a modular configuration. This means that it consists of pre-made standalone units that are assembled to create a highly functional storage system that also looks great.
Choose from different styles, such as upper and base cabinets, locker cabinets with adjustable shelves, cabinets with drawers, and cabinets with both drawers and doors.
All GL Signature components are made with sturdy 18 gauge welded steel construction that's powder coated to ensure a long life.
You'll instantly recognize the fine craftsmanship that's gone into these cabinets when you open the drawers (made with 100 lb ball bearing sliders) and single wall doors with powerful magnetic latches. A stainless steel or maple butcher block countertop provides a very durable work surface.
If you require cabinets with a smaller footprint for your garage, an 18-inch depth Signature Shallow system is also available.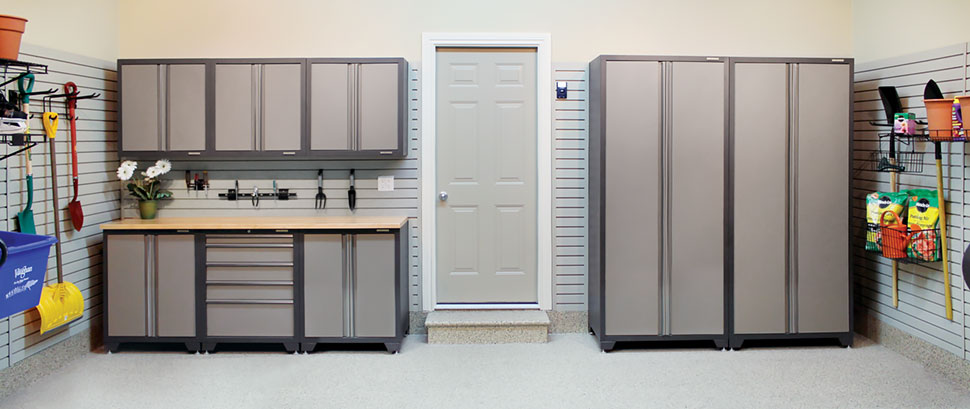 2. GL Premium cabinets
The GL Premium line of modular garage cabinets offer a little more design flexibility and a few differences from the GL Signature line. Their powder coated 18 gauge steel construction comes with even sturdier double walls and doors, along with the choice of a maple butcher block or stainless steel countertop.
This model comes with 125 lb ball bearing drawer sliders and European soft-close door hinges. Both models, along with the GL Custom Steel line, come with stainless steel handles.
All of our garage cabinet systems have adjustable feet that help protect your investment from ground moisture. They also assist with balancing your cabinets on uneven garage floors. If you garage floor is in bad shape, our Floortex™ polyaspartic floor coating is your best solution.
These specialty options are available for both the GL Signature and GL Premium cabinetry lines:
closet rod
backsplash
sink unit
valance lighting
power bars

3. GL Custom Steel cabinets
Custom cabinet systems like the GL Custom Steel line let us design a cabinet storage system that can be tailored exactly to your unique garage space.
The fully welded 18 gauge steel and aluminum construction features double walls and doors and gives you 14 color options for powder coating. That's more than any of our other steel cabinet lines, making it easier to complement the rest of your garage's decor. The powder coating on our cabinets helps prevent corrosion and also adds protection against scratches and dents.
The GL Custom Steel line comes with heavy-duty 150 lb ball bearing drawer sliders and your choice of maple butcher block, stainless steel, or galvanized steel countertop.
The outstanding design flexibility of the GL Custom Steel cabinet line extends to the large number of specialty options available:
closet rod
backsplash
sink unit
valance lighting
power bars
TV integration
parts bin organizers
specialty cabinets
glass door inserts

4. GL NEOS Elite cabinets
The GL NEOS Elite line of storage cabinets boasts ultra-strong 16 gauge steel construction, precision 250 lb ball bearing drawer sliders, inset anodized aluminum handles, three countertop options, and eight specialty options (among many other features).
The sleek, modern design of the GL NEOS cabinet line transforms the looks of any garage space with a seamless wall-to-wall fit.
If you're looking for the right high-end cabinet system to enrich the look of your garage's interior and complement where you park your luxury vehicle (in addition to giving you great storage and organization flexibility), look no further than the GL NEOS Elite model.

5. GL Rally cabinets
For garage owners in need of cabinets that can accommodate heavy-duty use, the GL Rally system may be the perfect choice.
This line of workshop-friendly cabinets has an industrial look and is made with thick 16 gauge steel. Sturdy double wall doors and cabinets and bolted construction ensure the cabinets will last for years.
Although GL Rally cabinets feature a rugged design, they still look stunning and can be customized with a number of powder coated colors.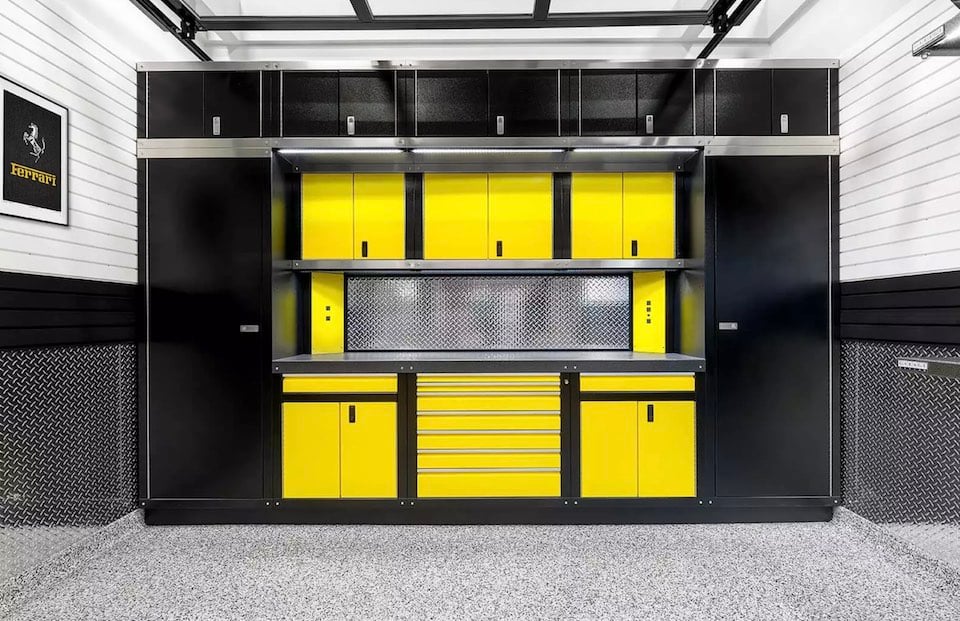 Learn more about our garage cabinet ideas
Any of these garage cabinet ideas will make your garage space look and function much better.
To find out more about how any of these cabinet systems will improve your garage, schedule your free consultation with one of our design professionals today.
See also: