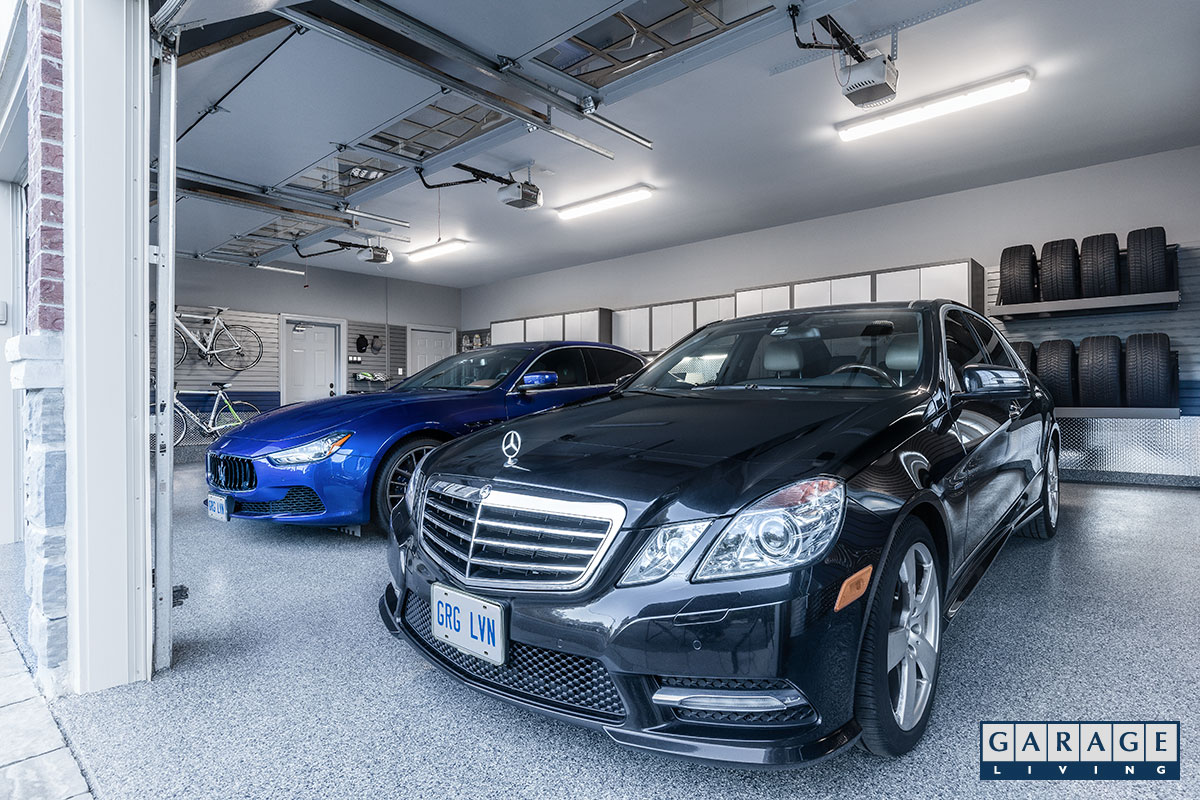 Safe and easy home garage parking can be a daily challenge for many vehicle owners for a number of reasons.
The most obvious reason home garage parking might be difficult is because your garage space is smaller than you'd like. A 1-car garage space combined with you owning a larger vehicle (like an SUV or minivan) can make for a tight parking fit.
Even if you have an average-sized vehicle, other variables such as clutter, poor lighting, and the space's layout can create home garage parking problems. Examples of the latter might be a support beam or a central vac system with a canister that juts out and impedes on your garage parking space.
And finding enough space to park all of your vehicles indoors can be a problem even if you have a 2-car, 3-car, or even larger garage space. If you're not taking the time to occasionally declutter your garage, parking problems are inevitable.
Potential problems with home garage parking
Not having enough room for garage parking leads to these potential problems:
paint and body damage to vehicles
the inconvenience that comes with difficulties entering and exiting vehicles
you can't reap the many benefits of garage parking
the stress of trying to park your vehicles inside safely
Home garage parking can be stressful, but there are several ways to fix the problems relevant to your own parking situation. Start by making use of these seven useful tips and implementing a few of the recommendations to make home garage parking easier.
1. Make your garage bigger
When considering ways to make home garage parking easier, one of your first ideas might be to expand the size of your garage. It's a natural conclusion to make, but a solution that does have some drawbacks.
The recommended minimum size for a 1-car garage is around 12′ wide by 24′ deep (12′ x 24′). That can be expanded to dimensions of approximately 14′ x 22′ and 16′ x 24′ to accommodate larger vehicles and room for storage.
For 2-car garages, the minimum recommended size would be approximately 22′ x 24′. A size of 24′ x 24′ would be considered ideal and provide you with extra flexibility. As always, you should go with with more space than you think you'll need.
Yes, hiring a garage builder to expand your garage's size may provide you with more parking space. There are a few reasons, however, why some alternative solutions will soon become more appealing:
the high cost of a garage expansion
the inconvenience of not having use of your garage for an extended period of time
the mess a garage expansion will cause
the hassle and expense of obtaining building permits
2. Create more space in your garage
If your garage floor is cluttered and barely leaving you enough space to pull a vehicle inside, it makes more sense to deal with the clutter than to start knocking down any walls.
Many garages don't fully utilize their wall and vertical space for storage. There are a few effective garage storage and organization solutions that can take advantage of these underused areas.
A slatwall organization system adds PVC slatwall panels with hanging accessories to your walls, which lets you keep your floor clear of clutter.
Overhead storage racks also aid you in keeping your floor clear, thereby making home garage parking easier. Less garage floor clutter means less obstacles to worry about when parking.
A garage cabinet system can also be installed to add extra storage room and they're a great storage solution if your garage can accommodate it. Storage cabinetry may or may not be ideal for your garage if the space is too confined, although keep in mind that our GL Signature cabinet system comes with a shallow depth option for smaller garages.
3. Use DIY home garage parking aids
Probably the biggest challenge of home garage parking is knowing how far into the garage your vehicle should be pulled. The other main worry is knowing how far over to one side of your garage your vehicle is. Here are some of the DIY parking aids that homeowners have tried:
a suspended tennis ball on a string hung from the ceiling (when it touches your windshield, you're in far enough)
attaching a paint brush or broom head to the driver side wall (when your mirror touches the bristles, you'll know you're over too far on that side)
adding bright reflective tape on your garage walls to line up with a set point on your vehicle
using a wood block on your floor as a stopping indicator
using old sofa cushions or fastening thick carpeting or foam pads to walls
While it's true these cheap home garage parking aids can work to varying degrees, there are two reasons they might not provide the satisfaction you're looking for.
First and foremost, these low-tech parking aids look lousy. Who wants an ugly fuzzy tennis ball hanging from their garage ceiling or old carpeting stuck to their walls? These DIY ideas will only detract from your garage's aesthetics. That's not ideal, especially if you've invested in a garage makeover that includes a fresh new garage floor coating.
The second reason to think twice about DIY home garage parking aids are they tend to not be reliable. That dangling tennis ball can slip off the string or get knocked out of place. And wood blocks can break or slide if they're not properly anchored.
4. Use proper home garage parking aids
If DIY parking aids aren't to your liking, there are quite a few other options available online and in stores. One of the most popular choices are wireless car cameras that can make parking easier. These are known by a variety of names, including parking cameras, backup cameras, reversing cameras, and rearview cameras.
Wireless parking sensors are another option worth considering. A sensor built into a license plate frame communicates with a smartphone app to send audio, visual, and vibration alerts when your vehicle is too close to another object.
Another high-tech home garage parking aid that's been growing in popularity are laser parking aids. These handy units are mounted in your garage and have an adjustable laser beam that guides you to park safely.
If you're a Tesla owner, you'll have access to a number of high-tech parking aids. The Tesla Model S comes with parking sensors, rearview cameras, and an automatic folding side mirrors feature. Some models also have a "Summon" mode that can automatically park the car in your garage for you.
On the more low-tech end of commercially available parking aids are indicators that are put on your garage floor. These come in different types, such as a mat or bump/stopper that indicate when you're in the right parking spot. The downside of these aids are that they can move if they're not fastened to your floor.
5. Add better lighting and wall bumpers
One way to make home garage parking less of a headache is to improve the lighting in your garage. Garages commonly have outdated lighting which consists of one or two 60 watt incandescent bulbs that don't provide much illumination.
It's amazing how much of difference improved lighting makes in any space. And considering garage parking leaves you with little room for error, upgraded lighting is worth considering.
Our 4 foot LED garage light fixture provides high quality and uniform lighting, which can help make parking a little easier. Its unbreakable lens and durable housing make it ideal for a damp location like a garage. The energy efficient 71 watt light has the same light output as 10-60 watt incandescent bulbs, while using 90% less energy.
Another smart choice to protect your vehicle doors in small garages are wall bumpers, which are mounted on your garage walls or slatwall panels. These PVC bumpers will save your doors from the dings, dents, and scratches that can occur when entering or exiting vehicles in a confined garage space.
6. Practice parking more or change the way you park
If you've recently moved into a new home, you may be having problems parking in your garage because you're just not familiar enough with the space and how your vehicle fits within it.
Another factor that may be causing you to feel uncertain when parking is that you're driving a new vehicle that's significantly larger than your previous vehicle. Simple practice can help make things easier. Get a family member to act as a parking guide outside the vehicle to help you acclimatize to your surroundings.
You might also consider backing into your garage instead of pulling forward into it, as most drivers do. You may have more things stored on one side of the garage than the other and a simple reverse of what side you exit or enter your vehicle from might help.
Reversing into your garage has a couple of benefits. First, it obviously makes it easier and quicker to leave your garage. Secondly, it's safer to pull out of your garage driving forward, which might be a consideration if you have small kids or pets.
One of the great benefits of home garage parking is that your vehicles will warm up quicker on cold days. Just remember not to overdo it with the warming up if you're reverse parking in your garage.
Make sure your garage door is open to let your exhaust fumes escape and limit the warm up to a few minutes. If you're making this a regular practice, you should also ensure the connecting wall between your garage and heated living area is properly sealed. This includes having weatherstripping and a threshold on the door that accesses your garage from the rest of your home.
7. Add a car lift for more home garage parking space
Any of the above home garage parking tips should be helpful to you, as can our last parking solution. A 4 post car lift can double your garage's parking space. That can turn a 1-car garage effectively into a 2-car garage or just create a little more space in your larger garage.
The car lift allows a vehicle to be stored above another vehicle that's parked on the ground. If you have a 2-car garage and are finding it difficult to park two vehicles inside of it, a car lift can allow you to do this and perhaps also create a space for a workshop.
Our 4 post car lifts are safe and easy to use and can store vehicles weighing 8,000 – 9,000 lbs. They can also be used for storing motorcycles and out-of-season items, as well as being useful for doing maintenance on your vehicles.
Conquer your home garage parking problems
There's no reason to contend with the stress of home garage parking and risk any damage to the body of your vehicles, which leads to expensive repairs. The solutions listed here will help you conquer your home garage parking problems.
Garage Living has extensive experience in transforming garage spaces to make them clutter-free, more visually appealing, and much more functional. Find out what great things we can do with your garage space by scheduling a free design consultation with us today.
See also: