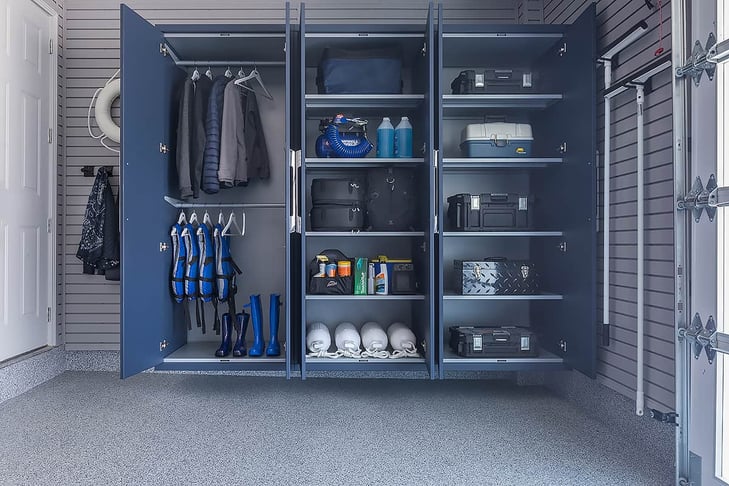 Despite garages being one of the most used spaces in homes, they are also commonly the most cluttered.
A study conducted by the National Association of Professional Organizers found that 50% of homeowners named the garage as their home's most disorganized area.
74% of homeowners surveyed by the Wall Street Journal said parking was the most important function of their garage.
Even though so many homeowners agree on a garage's main purpose, however, a SpareFoot survey shows that more than half of Americans are unable to park in their garage.
Follow these efficient garage spring cleaning tips
A thorough spring cleaning can help to declutter your garage space, which too often becomes a dumping ground for junk that limits the ability to park inside.
But what's the best way to use your time for this task? Follow these nine garage spring cleaning tips and your garage will be a tidier, more functional, and cleaner space when you're finished.
1. Have a garage spring cleaning plan and ask for help
Most garage spring cleanings can be completed in a weekend. If your garage is filled with wall-to-wall stacks of junk that have been accumulating for years, obviously a bigger time commitment (and maybe professional assistance) will be needed.
Have a clear plan of what you want to accomplish with this garage spring cleaning project. A garage spring cleaning checklist can help with this. Assign tasks to family members to speed up the process.
Pace yourself to avoid burnout, while also maintaining a sense of purpose and eye towards finishing your goal. And offset some of the tedium of the task by listening to your favorite music, a podcast, or the baseball game.
2. Declutter your garage
The second of our garage spring cleaning tips is decluttering. You'll want to remove everything (yes, everything) not nailed or screwed down from inside your garage. This will make it easier to give the garage a top-to-bottom cleaning. You'll also be able to better assess which of the garage's contents are worth keeping or discarding.
To accommodate removing your garage's contents, try to pick a day where rain isn't in the forecast. Put the items anywhere but the driveway directly in front of your garage doors (one of our garage spring cleaning tips explains why). The lawn, walkway, or patio are good spots. Group the items coming out of your garage into one of five categories:
keep
donate
recycle
toss
sell
If you're struggling to let go of items, ask yourself whether or not you've used them in the past few years. If you haven't used them, ask yourself why and whether or not they're justifying the space they're occupying.
For all items you're not keeping, have a plan to get them where they need to go in a timely manner. Putting them back in the garage for anything longer than a week or two just defeats the purpose of all your hard work.
3. Air out your garage
Now that your garage is emptied out, make sure all windows and any doors that open to the outside are opened up. You'll be able to give your musty garage a good airing out now that all the clutter is gone.
That's another benefit of decluttering – it gets rid of stacked piles of junk that restrict the airflow in your garage. Using a box fan or shop fan positioned at one of the open windows or doors will help speed up this airing out process.
4. Wipe down and sweep out the garage
As one of the previous garage spring cleaning tips advised, the entrance in front of your garage doors should be clear. That's because there will be plenty of dirt, dust, and water passing through that area as you scrub out your garage interior. It'd be a good idea to use a dust mask for this next messy task.
Wipe down any shelving or flat surfaces (aside from the floor). Garage slatwall panels are very easy to clean with just a rag, but maybe the material on your garage walls is drywall, brick, or another material. If so, just giving the walls a downward sweep with a broom will remove some of the dirt and dust that's accumulated. Use the broom to remove any cobwebs you see as well.
Sweep out all of that accumulated dirt, dust, and salt deposits (if you live in areas that use salt on the roads during winter). Make sure you're not missing any of the corners.
5. Hose out your garage
Now it's time to wash your garage floor with your garden hose and a gentle cleaner. For Floortex™ floor coatings (which are easy to maintain and resistant to household chemicals), we recommend Scotts Oxi Outdoor Cleaner. It's effective, biodegradable, phosphate-free, and won't harm your grass or plants.
After your final rinse, use a squeegee to remove the remaining water. Garage Living carries a 30″ double blade foam squeegee specifically for this task.
6. Clean and inspect your garage doors and opener
Next, it's time to clean your garage door. Rinse it off with a hose and then wipe it down using a sponge, dish detergent, and water. For any window panels or inserts on the garage door, see the next garage spring cleaning tip. Be sure to attend to both sides of your garage door.
It's a good idea to periodically inspect your entire garage door system. Ensure that your garage door opener is working properly, particularly all safety functions. Check that your opener's photo eyes are clean and properly aligned. Chain drive and drive screw openers can have spray lubricant applied (check your manual).
Inspect your garage door for rust, warping, and other age-related problems. Your garage door has numerous moving parts, such as springs, rollers, tracks, hinges, and pulleys. Spray lubricant can be applied to these parts. Garage door spring maintenance can be quite dangerous, so consult a professional if they need fixing.
If you need to replace your garage doors, you'll find plenty to choose from in our collection of steel, fiberglass, wood, and full view aluminium garage doors.
7. Clean your garage doorframe
Your garage door area can account for a large percentage of your home's front exterior, which can have a big impact on your curb appeal. A wooden garage doorframe with faded or cracked paint or caked-on dirt and grime can attract the kind of attention you don't want.
Therefore, don't forget to pay attention to your garage doorframe when spring cleaning. That may require a simple scrubbing and hosing off or a more time-consuming effort that involves stripping, painting, or staining the doorframe.
One option to consider that virtually eliminates the need for ongoing garage doorframe maintenance is to have your doorframe wrapped with aluminum capping. It also adds a clean, finished look to your home's exterior.
8. Wash your garage windows
Now let's wash any windows in your garage space. This may include side windows, windows on a side or back door, or window panels or inserts on your garage door. Use a sponge and warm water with some dish detergent to scrub the windows and then rinse them.
Stubborn stains, especially on outside windows, can be removed using pure vinegar. After the final rinse, use a small hand squeegee on the windows. Wipe the blade after each stroke to prevent dirt and particles from building up and scratching the windows.
Finally, drying the windows with either a microfibre cloth or (believe it or not) a newspaper will eliminate streaks.
9. Assess your garage storage and organization systems
The last of our garage spring cleaning tips involves assessing your garage's storage and organization systems. Now that you've returned your garage's belongings to your clean space, do you have a designated home for each item?
If not, consider upgrading your garage's functionality with storage solutions like garage cabinetry, slatwall, and specialty storage racks. The two latter storage ideas make use of your garage's underutilized wall and vertical space.
This keeps your garage organized and your floor space open, making future garage spring cleanings a much easier and faster process.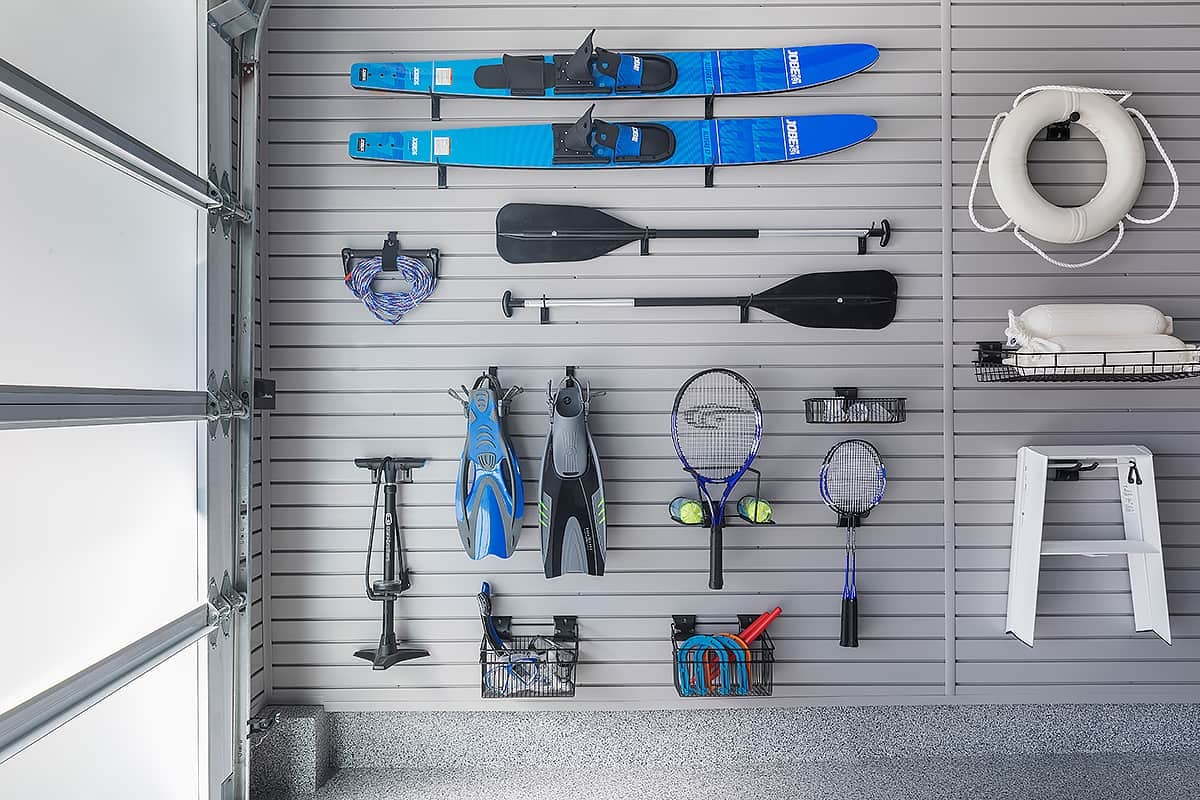 Keep your garage organized all year round with a slatwall storage system. This will minimize the time you'll need to spend on future garage spring cleanings.
An organized garage with clear floor space also allows you to park vehicles inside. There are lots of benefits to parking your vehicles inside your garage, including:
vehicles being more secure from theft or vandalism
you can avoid the inconveniences of bad weather
your vehicle's exterior is protected from UV exposure, bird droppings, and tree sap
Use these garage spring cleaning tips for effective results
Using these garage spring cleaning tips will give you effective results with this weekend project.
Has your garage cleanup effort and this blog post shown you ways in which your garage space could look and function better? If so, schedule a free design consultation with us to discuss a garage makeover project.
See also: