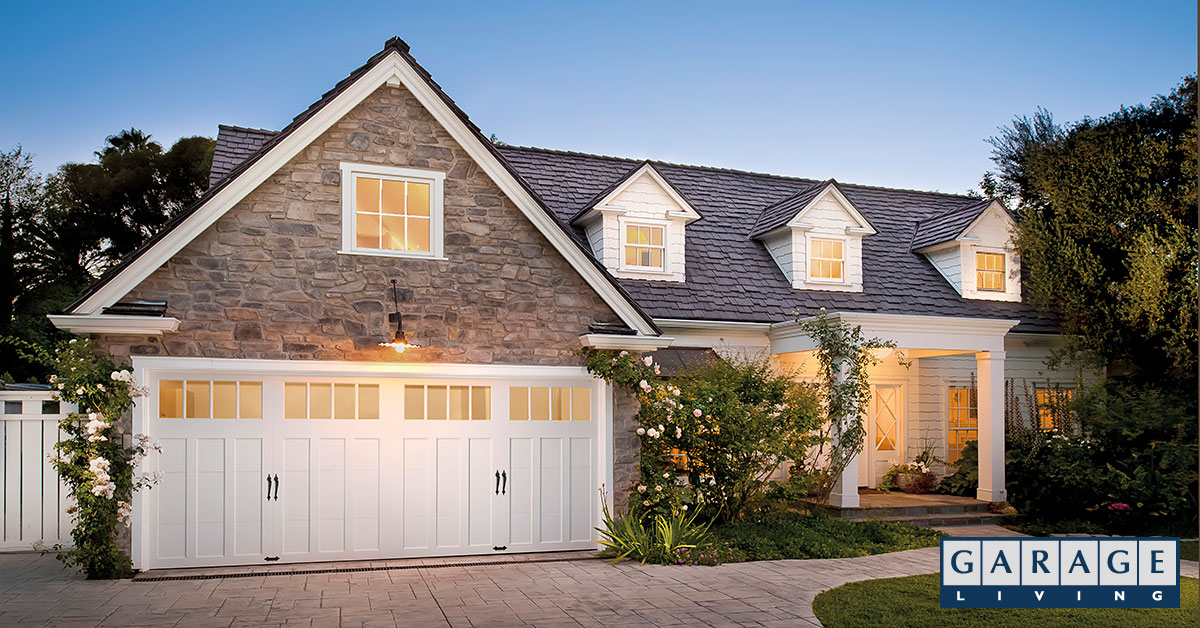 Law enforcement statistics show that 1.5 million home burglaries occur in the U.S. each year.
Not surprisingly, the most common entry point for thieves breaking into a house are the front and back doors. In approximately a third of those cases, the doors were actually left unlocked.
A home's windows and the garage are the next most vulnerable entry point for burglars.
15 garage security tips you need to know
It only takes a few minutes for a thief to break into your home and make off with your personal property. If you have an attached garage, there's even more reason to re-evaluate how secure it is.
With a little common sense, some vigilance, and a few proactive security measures, you can protect your garage and the rest of your home from break-ins.
Use these 15 garage security tips to help make your home safer and a less attractive target for thieves.
1. Think like a burglar
The first of our garage security tips might sound odd, but give it a try. Take a few minutes to walk around the exterior of your garage and the rest of your home and ask yourself, "How might a burglar get into my house?"
Which areas seem the most vulnerable? How secure is your garage? Looking at your house from the perspective of a burglar could be beneficial and enlightening.
Do this exercise at night, when you can get a better idea of how effective your home's exterior lighting is.
2. Lock your garage doors
If you have to manually open and close your garage doors, it goes without saying that you should always keep them locked.
Most houses nowadays have automatic garage door openers, which make garage doors far more difficult (but not impossible) for a thief to get past.
If you're going on vacation, it's a good idea to use a padlock clamped on one of the door tracks to ensure they stay closed.
And if your door opener is a little older and doesn't have smart tech that detects when your garage doors are open or closed, unplugging the automatic opener when you're away for awhile is another option.
It's also a good practice to keep your exterior garage service door and interior garage access door always locked.
3. Zip tie your emergency door release
This is one of the cheapest garage security tips we can recommend: zip tie your automatic garage door opener's emergency release.
All automatic door openers have an emergency release lever that typically has a red cord attached to it. Its main purpose is to allow you to open or close your garage doors when there's a power outage.
A resourceful burglar, however, could exploit that feature. By pushing in on the top of the garage door and creating just enough of a gap, they could access the cord or lever by fishing for them with a wire hook and then pulling, which would open the door.
Secure the release lever or cord with a zip tie to keep them safe from tampering. If there is a power outage and you need to use the emergency lever, simply cut off the zip tie and replace it when the power comes back on.
4. Don't leave your garage doors open unnecessarily
How many times have you been working in your yard for a few hours and noticed a neighbor's garage doors wide open, with no sign of them for long periods of time?
Leaving your garage doors open unnecessarily is an open invitation for anyone to enter your home. And at the very least, you're allowing anyone passing by on the street to easily view the contents of your garage.
Even if you're working in your yard, it takes little effort to keep the garage doors closed. And even if you live in a safe neighborhood, take nothing for granted.
Some newer models of garage door openers have smart tech that lets you check on whether your doors are open or closed with a smartphone app. You could also purchase a standalone garage door monitor to keep closer tabs on your doors.
5. Upgrade your outdated garage door opener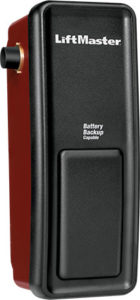 If you're using an outdated garage door opener, your garage is more vulnerable to a break-in than it would be if you had a more modern automatic door opener model.
You've probably heard stories about burglars gaining access to garages using scanners that can easily figure out an older opener's access code.
Even a neighbor who happened to have the same access code as you could accidentally open your garage doors with the press of their opener remote.
Newer garage door openers use a much more secure "rolling code" technology that generates a new code every time the remote button is pressed.
Modern garage door openers are also far quieter and energy efficient than models of the past.
6. Use a smart garage door opener
Another great feature of some modern garage door openers is that aforementioned smart technology, which lets you monitor and operate your garage doors remotely.
Using a smartphone app, Liftmaster's innovative MyQ technology can tell you if your garage doors are open or closed. If anyone is trying to break into your garage, you'll get an alert message on your phone.
This technology is also convenient in cases where you forget to close your garage door after leaving the house. A simple tap on your phone's screen allows you to open or close the doors, even when you're miles from home.
7. Cover your garage windows
These garage security tips are all about taking precautionary measures to make any burglar's job as difficult as possible.
Between the garage door windows, side windows, and the exterior garage service door window, thieves could have any number of ways to get a good look inside your garage.
And they won't just be looking for tools or other valuables to take – they'll also be looking for vehicles to see if anyone is home.
Take that into consideration when choosing new windows for any of these parts of your garage. Covering the windows completely is one option, or you could install window blinds or curtains specifically meant for use in the garage.
If you like getting some sunlight in the garage, you could put translucent film over the garage windows. Windows with a frosted glass design also allow sunlight in, while obscuring the contents inside the garage.
8. Improve your exterior lighting
A house with poor exterior lighting becomes a more appealing target for burglars. Ensuring all entry points into your home are well-lit will go a long way towards keeping your house a lot safer.
Nowadays, motion-activated exterior lighting is the popular choice for homeowners.
Yes, the lighting may occasionally come on when the neighbor's cat wanders past, but it's both an effective and cost-effective way to protect your home, not to mention energy efficient.
Make sure the lighting is strategically placed around your garage and home perimeter so a burglar can't deactivate it. Installing any lighting approximately 10-12 feet above the ground is ideal.
Include an exterior lighting inspection as part of your yearly house maintenance checklist.
While you're paying extra attention to your home's exterior, also make sure your hedges and bushes are well-maintained. Thick, overgrown foliage around your home's exterior only aids a burglar.
9. Ensure your garage doors are in good condition
Old garage doors that are warped, have faded paint, and don't provide a tight door seal aren't just detracting from your curb appeal and hurting your home's energy efficiency.
They're also a home security liability. Any gaps or openings a run-down garage door might cause make it that much easier for a burglar to break into your garage.
Replace your outdated garage doors with any of the wide selection of modern styles available to update your home's exterior look and keep your garage more secure.
Steel garage doors, in particular, are a popular choice because of their durability and the numerous custom design options homeowners can choose from.
10. Upgrade your garage service door and access door
With the quality of your traditional garage doors in mind, don't forget to pay the same attention to your garage's other doors.
Your home's front door and back door are probably sturdy solid core doors that have secure deadbolts. Your garage service door (which opens into the garage from outside) should be just as secure.
The garage's interior access door that enters into your home should be equally sturdy, with a deadbolt lock. For extra security, you could also install door jamb reinforcement kits to the doors.
Keeps these doors locked, even when you're home. According to U.S. Department of Justice statistics, 28% of house burglaries occur when an occupant is home.
11. Don't leave valuables in your garage or vehicles
Here's one of the more common sense garage security tips: simply avoid leaving valuables in the garage or inside your vehicles.
The garage can become a catch-all space for items you can't find storage room for elsewhere in your home. Just be mindful not to keep high value items stored among those items or in your parked vehicles.
Even if you're diligent and keep all of your garage's doors locked, why take an unnecessary risk?
12. Use a remote opener on a keychain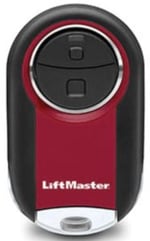 One item that also shouldn't be left in your vehicles is your garage door remote opener. While it may not necessarily be a high value item, it is essentially a key into your home.
Many homeowners still leave their remote openers attached to their car's sun visor or in their glove compartment.
Eliminate this potential home security risk by using a remote opener that's attached to a keychain. They're widely available, cheap, very convenient, and can come with you when you exit your vehicle.
13. Be a good, vigilant neighbor
Being a good neighbor means many things, including keeping an eye open for suspicious activity around your neighbors' homes.
Maintaining good communication with your neighbors about any security issues in the neighborhood also helps keep the area safer. Chances are, if you have a good relationship with your neighbors and are vigilant when it comes to their homes, they'll happily return the favor.
Help one another out by having a neighbor pick up your newspapers while you're on vacation. They could also park one of their vehicles in your driveway while you're away to make it less obvious no one is home. Do the same for them when they're away.
14. Lock up your tools
If you're regularly out in the garage working with tools, it may not be practical or convenient to be lugging them back and forth every time you need them.
One smart option for keeping all of your tools secure in the garage is to use custom garage cabinetry with locks.
Our GL NEOS Elite, GL Hayley, and GL Custom Steel cabinet systems give you the option to add locks to your cabinet drawers and doors.
15. Install a garage security system
Studies show that homes with clearly visible security systems in place are far less likely to be targeted by thieves.
An alarm system for your garage makes just as much sense as it does to have an alarm system that monitors the rest of your home.
Security cameras above your garage's entry points are another effective deterrent for thieves. Affordable, high quality motion-activated video cameras with feeds that can be watched on your smartphone make it easier than ever to monitor suspicious activity around your home's exterior.
Protect your home with these garage security tips
There's no worse feeling than coming home and discovering your garage or another part of your home has been broken into.
The number of home break-ins also spikes during the summer months, so there's no better time to make use of these garage security tips to keep your house better protected.
Schedule a free design consultation with us for expert help in making your garage more secure, functional, and visually appealing.
See also: