Once you've made the decision that your garage needs a makeover, it's time to do some homework and find the best garage remodel company for the job.
There is no shortage of contractors available to do the work, but what factors matter most when you're choosing who to hire?
Reasonable pricing, a good reputation, and an impressive level of overall professionalism from a prospective garage remodel company is a high priority, naturally.
Don't stop there. There are a few more essential things the company you choose to upgrade your garage should bring to the table to maximize your satisfaction when the project is completed.
Why hire a garage remodel company instead of DIYing?
Before we look at what a garage remodel company should be able to do for you, let's quickly explain why you should entrust a garage renovation to an expert instead of doing the work yourself.
A recent Porch.com survey found that 55% of homeowners have DIYed a home improvement project, yet only 31% of them considered the project to be successful. In many cases, these homeowners ended up hiring a pro to fix the work they had done.
Someone once said, "there is no substitute for experience". Unless you're experienced with the complicated nature of the design and installation process a garage remodel entails, it's best to leave things in the hands of a seasoned professional.
Sure, it may be cheaper to attempt a garage remodel yourself. A garage remodel expert will get the job done properly the first time and eliminate the stress, time investment, and messy work involved when you tackle the project yourself, however.
A highly specialized garage improvement company like Garage Living also has the know-how to ensure your garage isn't just more organized and visually appealing. They can give the space the kind of major overhaul that really adds an impressive "wow factor" to one of your home's hardest working rooms.
When you decide to hire a garage remodel company instead of going the DIY route, there are several essential things to look for from them to make sure your home improvement project is successful.
1. A great reputation and positive online reviews
We all know there are many shady contractors out there who will cut corners, rip you off, and come up short in the reliability department.
You're entrusting someone to work in your home and improve a room you will use every day. Therefore, any garage renovation company you hire shouldn't just have a good reputation – they should have a great reputation.
Word of mouth
Good 'ol word of mouth continues to be one of the best ways to weed out the good contractors from the bad ones. A personal referral from someone you trust who has worked with a particular garage remodel company can be invaluable. Although their great experience working with a contractor doesn't 100% guarantee yours will be the same, it's an excellent indicator of what to expect.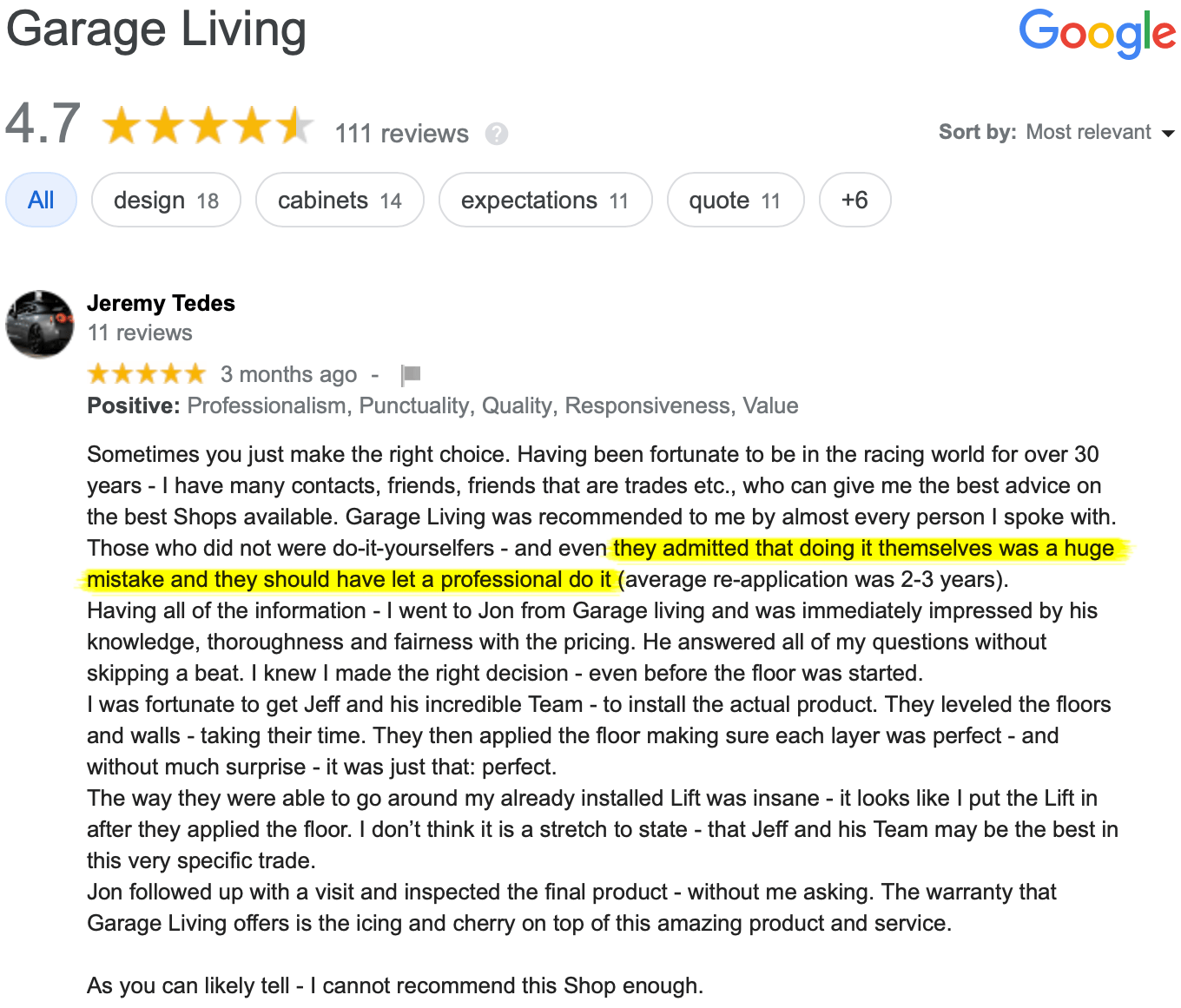 Online reviews
Nowadays, reviews from crowd-sourced review sites like Google, Facebook, and Yelp are how most people seek out the trustworthiness and quality of home improvement professionals.
According to research, 91% of people read online reviews on a regular or occasional basis and 84% of people trust online reviews as much as a personal recommendation.
Home services websites like Angie's List, Houzz, and HomeAdvisor are other great resources for finding reliable contractors.
2. Customization options
Having high-quality products to choose from is nice – can they be customized, though? And if so, what is the range of those customization options?
If you want your finished garage space to look exceptional, having plenty of options to customize the room's interior décor will be essential. Only having two or three colors to choose from for your garage floor coating, slatwall, or cabinets means you're limiting your creative options.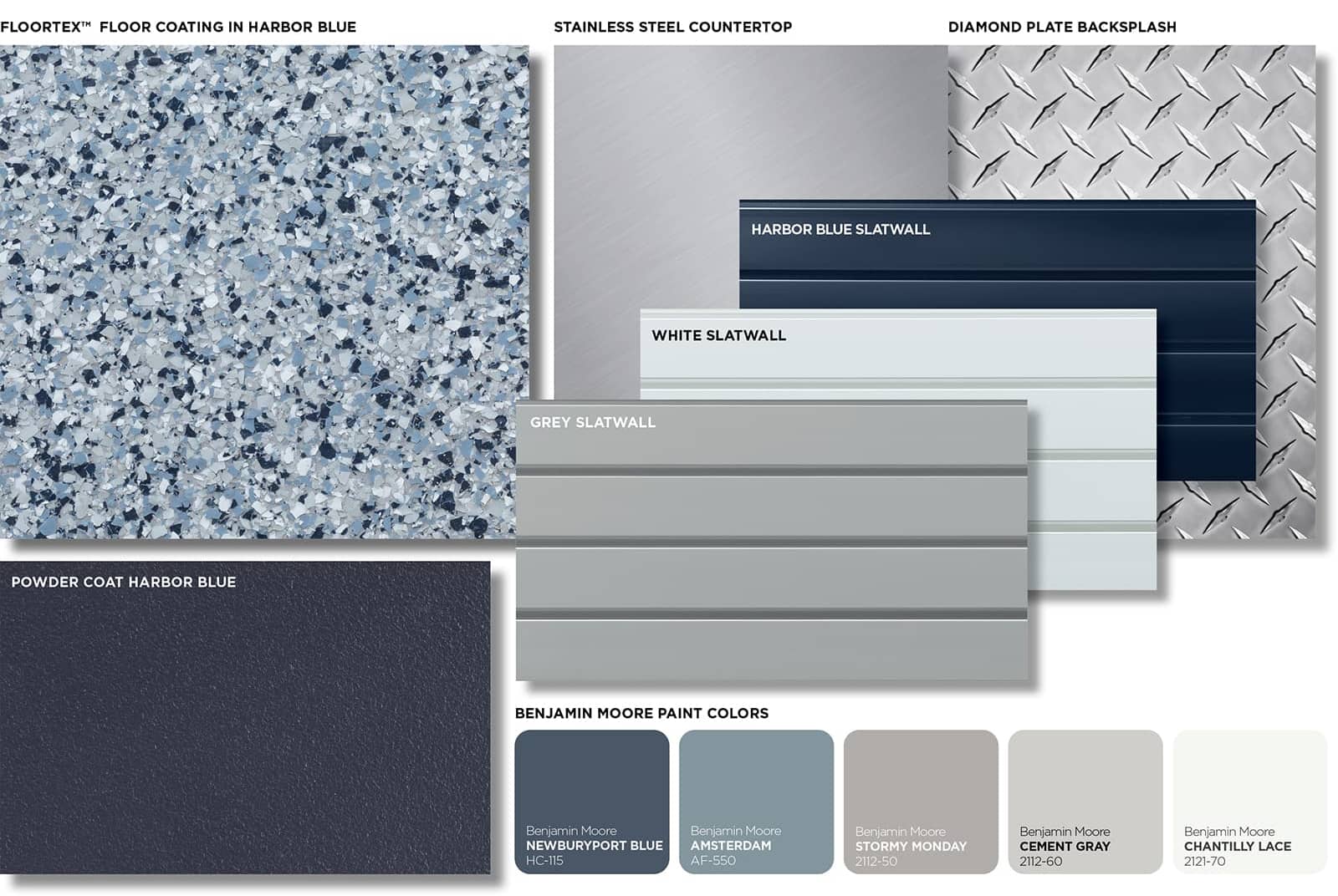 Look for a company with a selection of products that gives you an ample amount of customization flexibility and freedom to create a distinct, appealing aesthetic in your garage.
Our Designer Series of garage design themes is a popular option with our clients. It includes seven themes of curated custom colors and materials from our roster of products that produce finished garages with a high-end look. The series simplifies the design process for our clients and is an effective way to help them visualize what their garage can look like.
3. Impressive examples of past work
A personal referral or reading a number of online reviews about contractors will help you narrow down your list of candidates, but "the eye test" is going to be a huge factor in making a hiring decision.
If you're lucky enough to know someone who has had a garage renovation done recently, an in-person viewing of the work will give you a helpful up-close example of what a garage remodeler can do.
Unfortunately, that kind of opportunity will rarely present itself. The next best thing is to naturally take a look at photos of a garage makeover specialist's past work. A garage remodel can end up looking anywhere from shoddy to serviceable to exceptional – don't settle for anything less than the latter for your garage!
Before and after photos
Their website should have image galleries of completed garage remodel projects to give you a good idea of what kind of work they're capable of doing. It's worth noting that even the presentation of a garage remodel company's website can give you some useful insight into how professionally the business operates.
Viewing a completed garage remodel is one thing. If you can get examples of what a space looked like prior to the work being done with before and after garage makeover photos, it gives you even more information about the competence and creativity of the contractor.
4. High-quality products
One simple way to eliminate certain garage renovation companies from your list of candidates is to look at the quality of the products they carry.
Visiting one of their showrooms or checking out a remodel they've worked on and seeing and using the products the company works with will tell you whether or not they have high standards.
If a garage remodel company's products look and feel cheap, what does that say about their work quality and value of the hard-earned money you're spending with them?
There's a reason that polyaspartic floor coatings cost more than epoxy coatings – its quality is vastly superior, it lasts much longer, and you need professional equipment to apply it.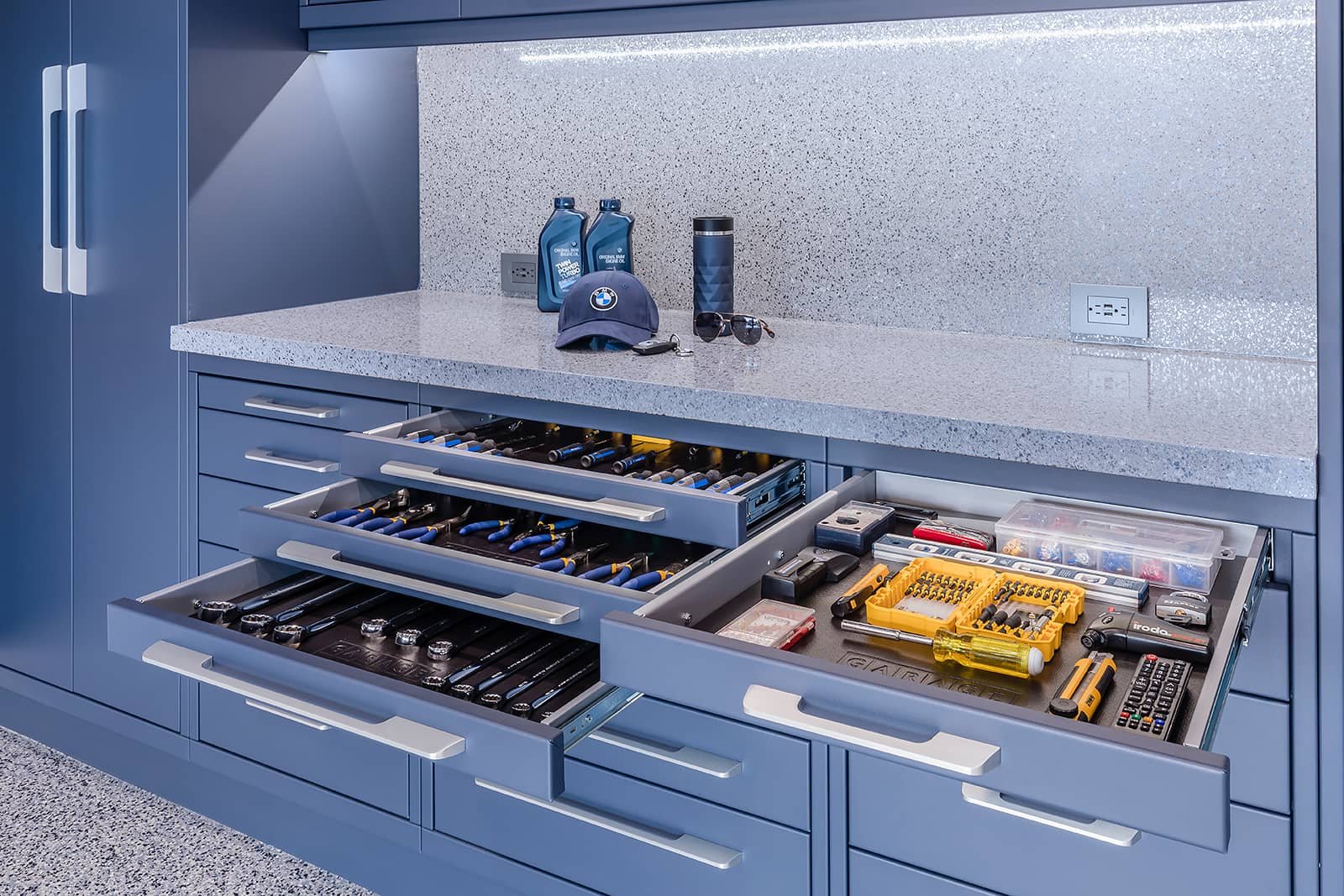 The same consideration regarding quality should be given to garage cabinets. Inexpensive cabinets bought online or at a big-box store may seem like they'll get the job done, but you'll quickly find they're cheaply made and won't last as long as you expected.
Try to shop local by supporting local small businesses and buying American and Canadian-made products that tend to be of a higher quality than products from overseas and keep your spending dollars closer to home.
5. Amazing customer service
Excellent customer service should be another huge selling point for you. A company with top-notch customer service can be the difference between a home renovation project being a pleasant experience or a headache-causing experience that's unsatisfying for you.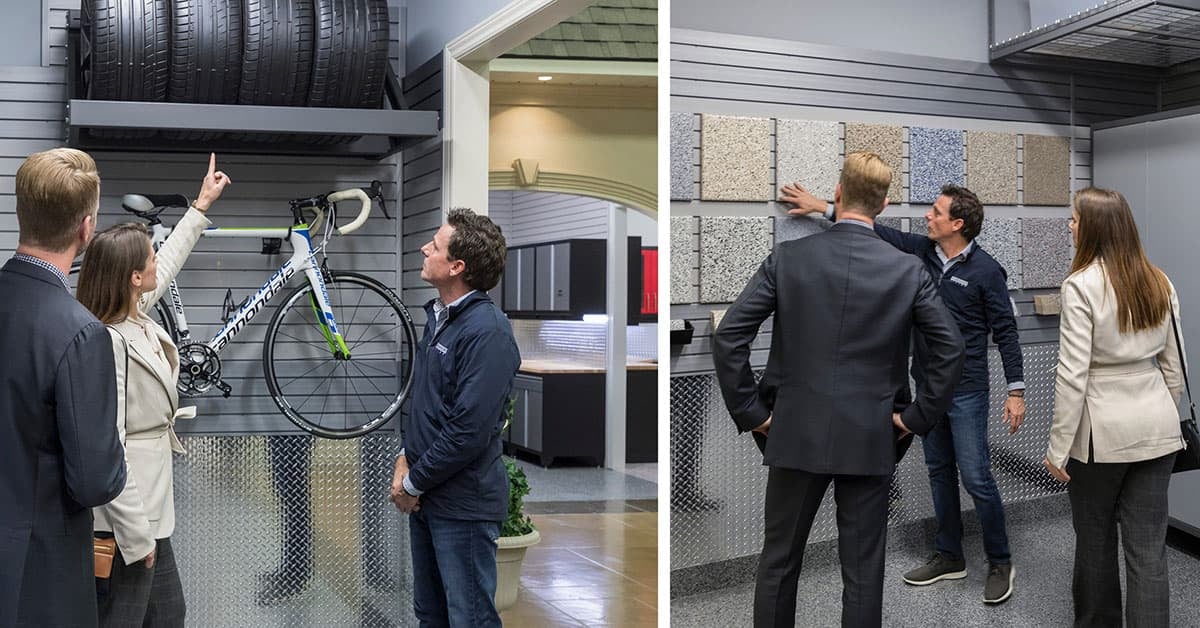 Use the previously mentioned resources to find out how effectively a contractor communicates with their clients and how reliable they are. This includes asking questions like:
does the company get back to their clients about quotes or other inquiries in a timely manner?
was scheduling convenient consultation and installation times an issue and was the company flexible and easy to work with?
does the company have a showroom?
were the installers punctual and properly clean up when they finished working?
does the contractor stand behind their work and products with strong warranties?
did the garage remodel company follow-up with the client when the project was completed and address any concerns?
Good customer service should also be convenient for you. If you're seeking to transform your garage, the floor will likely need some work.
Unless a contractor uses a high-quality product like Garage Living's Floortex™ polyaspartic floor coating that can be applied year-round, you'll have less flexibility for what time of year your floors can be upgraded if you live in a colder climate.
6. Expertise and professional training
During your contractor vetting process, set a high bar for the level of expertise the company you're considering has specifically with garage renovations.
This is where hiring a garage remodel specialist instead of a general contractor or handyman can make a big difference. The phrase "jack of all trades, master of none" exists for a reason, after all.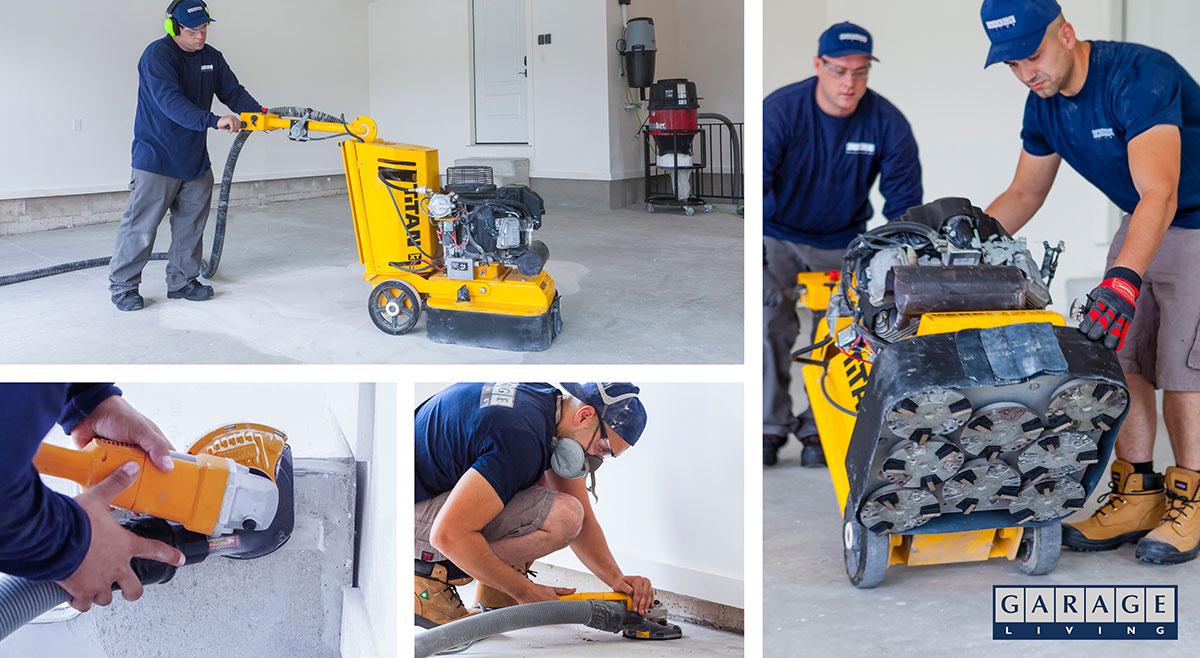 Having completed thousands of makeovers across the U.S. and Canada since starting in 2005, a company like Garage Living has experienced just about everything when it comes to garage remodels.
Most high-quality and reputable garage renovation professionals will:
give their employees the proper training to work efficiently and safely
know how to bring the best out of a garage space
use high-quality products that last longer
be properly licensed and insured
stand behind their work
be better equipped to deal with renovation challenges
Don't undervalue that first point about proper training. Garage remodel pros are skilled tradespeople and although they learn much of their craft from hands-on experience, the foundation of their knowledge should start with professional training.
Be sure to ask any garage remodel company you're considering hiring what kind of training their installers get. Garage Living has all of our installers take training courses to ensure they're qualified to perform the work that goes into every garage remodel we do.
7. Fair pricing
One of the most important questions anyone seeking out a garage remodel company will have for their project will be the cost and whether a contractor can work within their budget.
A top-to-bottom remodel can involve many different upgrades including adding a floor coating, wall base coating, slatwall storage system, garage doors, door openers, a storage cabinet system, overhead storage racks, and a car lift.
Other potential upgrades include installing modern lighting, a heating system, insulation, drywall, redoing the ceiling, and painting the walls and ceiling.
The size of the garage, scope of the project, quality of the products, and processes used to install everything will largely determine what the project costs. As with any home improvement project you're hiring someone for, be leery of anyone who is quoting you a price that seems too good to be true. In most cases, it is.
If you're more confident that one garage remodel company will do a better job than another based on examples of work you've seen and the fact they have a superior reputation, that's worth paying more for if their quote is a bit higher, yet still reasonable.
The end goal is to have a beautiful garage that you're 100% happy with and to have the process of making that happen be as stress-free a possible.
Hire the garage remodel company that checks all these boxes
Investing some time to find the best company to upgrade your garage will go a long way towards providing you with a high level of satisfaction once the project is completed.
Garage Living prides itself on checking all of the boxes above, to ensure that every remodel project we complete exceeds our clients' expectations.
There's a reason we're known across North America as a leader in home garage storage, organization, and décor solutions.
Schedule a free design consultation with us to see what the Garage Living experience is all about!
Please share this post if you found it useful.
See also: