Any home renovation or makeover relies on the right paint colors to achieve the best results in your design changes.
Garage paint colors are no different. By utilizing smart garage paint ideas, you'll make the upgrades to your garage's interior and exterior really stand out, thereby enhancing the overall look of your home.
An inviting home appearance boosts your curb appeal, along with the resale value of your house.
But which garage paint ideas help you achieve the kind of head-turning aesthetics you covet? Here are five garage paint ideas to guide you.
1. Ensure your garage paint ideas complement each other
The scale of a garage makeover can vary. Maybe it involves a simple garage door replacement or perhaps you're looking for a complete reinvention of your garage space.
The latter can include adding slatwall panels, a new floor, garage storage cabinets, a new garage door, and storage racks.
You'll want to choose paint colors that lets these welcome new additions to your garage really complement each other visually.
That's no small amount of color combinations to consider, just within your garage interior. Of course, you also need to consider how these new garage colors will complement your home's exterior colors.
2. Get creative with your garage paint ideas
If you're really looking to establish a unique and cohesive look for your garage interior, there's ways to get even more creative. One of them is to pick garage colors that complement the colors of one or more of your vehicles.
You can even use pops of color to make your space more inviting in the following ways:
inject some personality by adding a bold color to your garage cabinetry
add a brighter paint shade to your garage's interior door leading into your home
use some of the colors from the accents in your garage floor coating to help tie the room together
3. Garage paint ideas for your walls and ceiling
Garage wall and ceiling colors can have a big effect your space's lighting conditions. That's an important factor to consider in an area where you'll be parking vehicles, regularly searching for items, or using tools.
A lighter garage wall paint color reflects light better. Keep in mind, however, that a lighter shade will also make dirt and grime more evident.
If a lighter shade is preferred, a semi-gloss paint is a wise choice. Semi-gloss paint makes dirt less evident and is better for cleaning without showing any wear.
Neutral colors like grey, beige, or tan will be easier to clean and maintain than a white shade. They also offer more design flexibility.
If you're having slatwall panels installed in your garage (available in eight colors), they're not just a great way to keep clutter off your garage floor, they can also be cleaned very easily.
4. Choosing the right garage floor color
Painting a garage floor with a masonry, epoxy, or latex paint is one low-cost option for refreshing your floor's look. Unfortunately, this option doesn't provide much of a long-term flooring solution for your garage.
Depending on the level of your garage's foot and vehicle traffic, garage floor paint may need to be reapplied in just a couple of years due to chipping and wear.
Investing in a more durable and visually appealing solution like a Floortex™ floor coating makes more sense. With colors that range from the lighter Pebble Beach Grey to the bolder appearance of Orbit, you can pick whatever fits with your décor's needs.
Any Floortex™ floor coating color you pick will be easy to maintain, though. The garage floor coating's textured look from the decorative flakes sprinkled during the application process is very effective at hiding dirt and dust.
Another flooring option for your garage are PVC floor tiles. These non-adhesive interlocking tiles install easily and offer more than enough color and design combinations to complement your other garage paint ideas.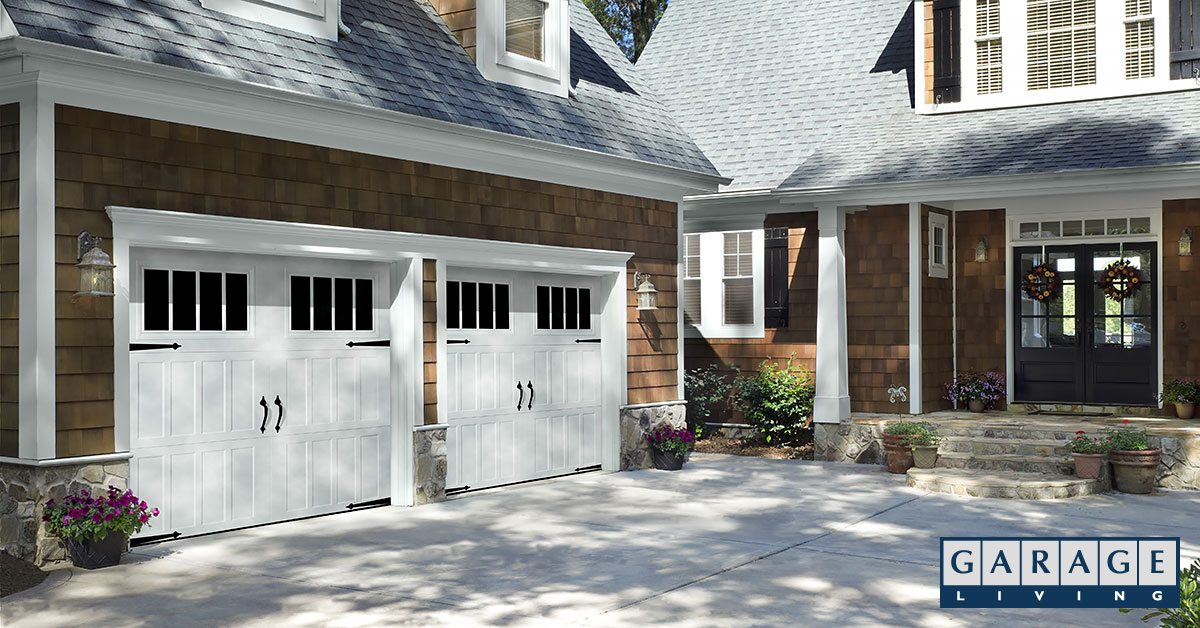 5. Garage paint ideas for your garage doors
Whether you're adding new garage doors or painting your existing garage doors, choosing the right colors for them is important. That's because garage doors can account for as much as one third of a home's front facade.
There are differing opinions on the ideal color schemes for a house's exterior, but here are some generally agreed-upon guidelines to follow when choosing a garage door paint color:
your front door should be your home's focal point, so pick a garage door color that doesn't take attention away from it
avoid loud primary colors
choose a garage door color that takes into consideration your home's other exterior features (including siding, brick, roof, shutters, windows, etc.)
Garage paint ideas to bring out your home's best look
Applying some of these garage paint ideas to your garage makeover will bring out the best in your home's look. Get the process started by scheduling your free design consultation.
See also: