If you're ready to give your garage interior and exterior a customized upgrade, you'll want to consult a trusted professional. From start to finish, no one understands the garage makeover process quite like Garage Living.
When you're looking to get your garage organized, upgrade your flooring, or choose any of the number of other garage improvement solutions we offer, Garage Living has a respected track record.
Garage Living has established itself as one of North America's premier garage makeover companies, with thousands of successful makeovers under our belt. We specialize in makeovers big and small, including high-end garage makeovers.
A successful beginning-to-end garage makeover process doesn't just require the customer to be satisfied with the project's finished results. It also includes the customer's satisfaction in their experience working with us.
On both fronts, Garage Living prides itself on the high marks our customers consistently give us, which results in many customer referrals.
How our garage makeover process works
Garage Living's process of creating dream garages for our customers involves three main steps:
1. Initial free consultation
The first step in our garage makeover process, the design consultation, is extremely important, as it gives us a framework moving forward. The free consultation can take place in the comfort of your home, via a virtual consultation, or in your local Garage Living showroom.
One of our design experts will discuss with you what upgrades you're looking to make with your garage space. Does your damaged garage floor need a new floor coating? Are you looking for an effective garage storage solution that keeps your space organized, like slatwall panels or specialty storage racks?
However you're looking to improve your garage, one of our design experts will show you the best products and services we offer to fit your needs. They can also suggest ways to upgrade your garage space that you might not even have considered. We'll also guide you through the wide range of custom options available for many of our products.
One of the key parts of the consultation process will involve a design consultant evaluating your garage space and taking measurements. This will give them a better sense of how the planned upgrades will fit, function, and look in your garage.
The consultation process will also include discussing the project's timeline. Do you need the work completed by a certain date or is there a specific time window that does or doesn't work for you? All of these logistics will be worked out.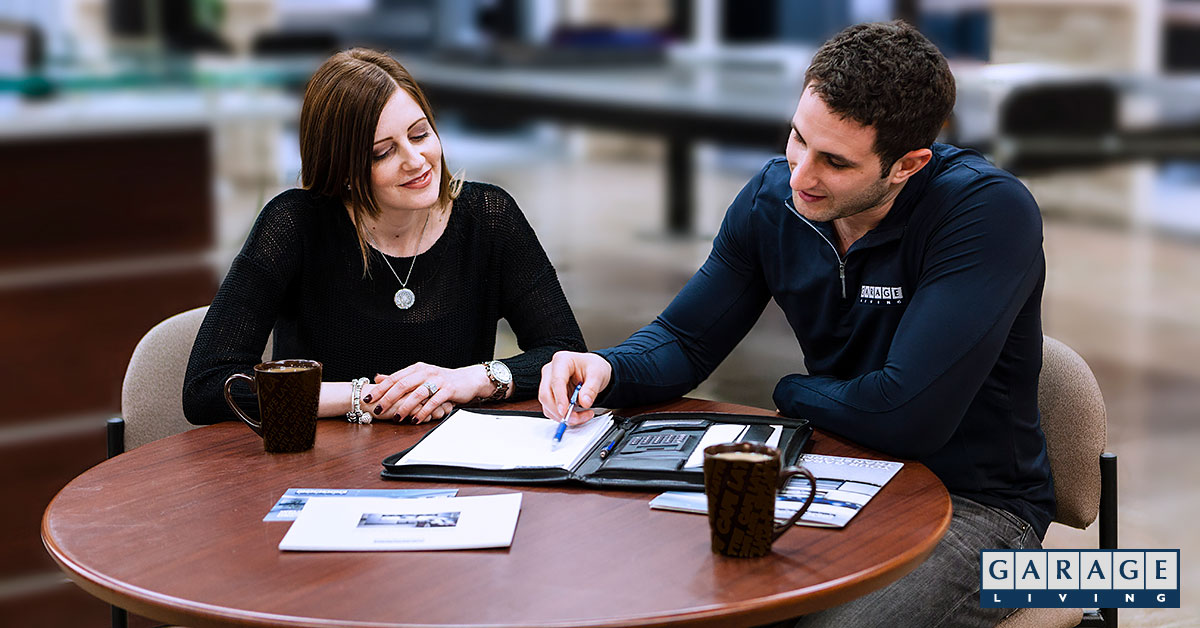 2. Design phase
The consultation ensures the design consultant is clear on what your project goals are and what kind of garage space they have to work with. Now it's time to bring your dream garage to life with the second step in our garage makeover process – the designing phase of the project.
Based on your chosen products, designs, and customization preferences, our highly trained team of designers will create scale drawings of your garage using our CAD software. This computer-aided design tool lets us create 3-D images of your garage space with the incorporated additions.
The CAD software helps up plan the space and also allows us to show you what the end result looks like before we start any work on-site. If there's something you'd like to tweak or change, perhaps with your custom garage cabinetry, we can work with you to enhance the blueprint's design.
Garage Living knows that a strong level of communication with our clients is a key element to our great customer service. Therefore, you'll be kept in the loop throughout the entire garage redesign process. We welcome any questions, concerns, and input you might have.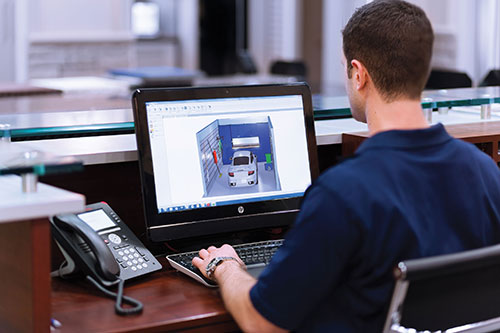 3. Installation
Once you've viewed the final design and approved it, it's time for the last step in our garage makeover process – the installation.
We'll schedule an installation time that's most convenient for you. Prior to the scheduled day, you'll get a call from one of our representatives so we can answer any questions that are still on your mind.
On the day of the garage makeover, our professional installers will show up at the scheduled time to begin your garage's transformation process. Every high quality product included in your garage redesign will be installed according to the blueprint's exact specifications.
Our courteous, highly trained installers are very respectful of the trust you've placed with us to work in your home. Once the job has been completed, you can rest assured that any mess from the work area will be cleaned up.
If there are any issues with any aspect of the project's installation, we'll happily address it with you on-site or over the phone.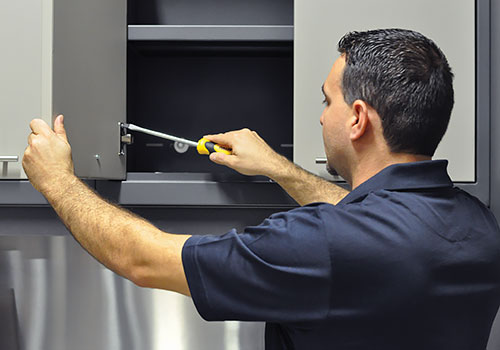 Learn more about our garage makeover process
This is our garage makeover process and everyone at Garage Living strives to deliver a friendly, helpful, and satisfying experience to every customer we work with.
Would you like to transform your cluttered garage into a clean, functional, and highly organized space? To do so, take your first step in our garage makeover process by scheduling your free design consultation today.
See also: