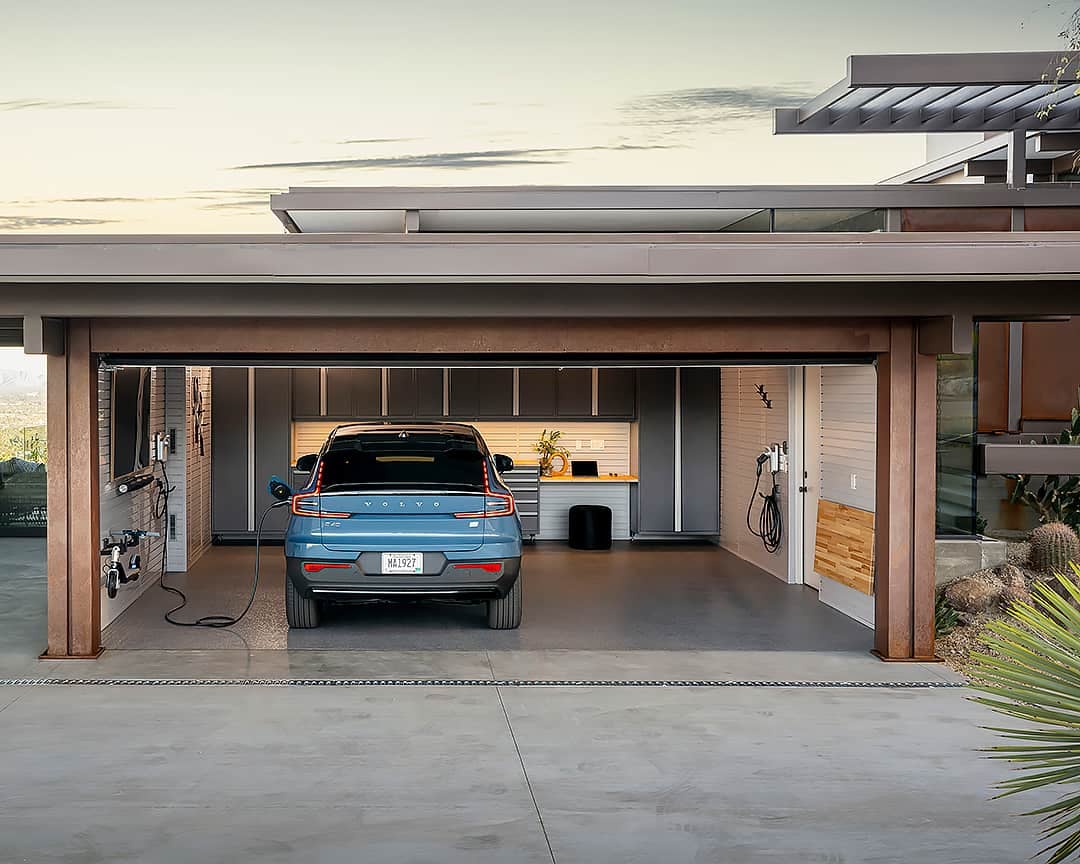 In March of this year, Garage Living partnered with Volvo Cars USA to design and build a multi-purpose garage that addresses the lifestyle of homeowners who are interested in a more sustainable present and future.
To showcase this, Garage Living applied their ReCharge Garage concept to a $5.7 million home in Palm Springs, California. Volvo Cars USA chose the energy-efficient home as the location for their Recharge Drive Event to launch their all-new, fully electric C40 Recharge vehicle.
Over 70 automotive, tech, and lifestyle media from across the US and Canada, along with reps from Garage Living's North American Head Office, and Volvo Car Corporation in Göteborg, Sweden attended the event, which took place from March 8th to 10th of this year.
A shared vision for a more sustainable future
In the spring of 2021, Volvo Cars USA approached Garage Living after discovering the ReCHARGE garage design theme on their website. The ReCHARGE concept is part of Garage Living's Designer Series , which includes a variety of exclusive design themes, select color palettes and décor ideas that speak to various lifestyles.
Volvo recognized the synergy between the companies. Each provides consumers and homeowners with more sustainable, forward-thinking solutions for the vehicles they drive and park at home, without sacrificing style for functionality.
The ReCHARGE design concept is tailored for electric vehicle (EV) and hybrid vehicle owners who want an emission-free garage where they – and their EVs – can rest, reconnect, and recharge. "The demand for electric vehicle-adapted garages continues to grow," says Aaron Cash, President and co-founder of Garage Living. "Approximately 40% of our design consultations on existing garages and virtually 100% of new build garages now factor in an EV."
The Swedish automaker has set ambitious targets to make its entire lineup of vehicles fully electric by 2030 and to achieve carbon neutrality by 2040. "As Volvo continues its electrification journey, the advancement and accessibility of home charging is critical to driving continued adoption of EVs," said Anders Gustafsson, Sr. Vice President Americas and President and CEO, Volvo Car USA. "The ReCharge Garage concept provides a glimpse into a future where electric cars will reshape our lives for the better, whether on the road or at home."
Working towards this goal, Volvo Cars USA has also announced that their 2023 lineup of cars will only include mild hybrid, hybrid, and fully electric models. All of which will need home charging stations.
Creating the EV-friendly garage
Volvo Cars USA was inspired to take a completely different approach to launch their C40 Recharge vehicle. This was driven by the C40 European launch in Belgium, where instead of staging a typical vehicle launch at a racetrack, the automaker selected to move through the streets of Belgium and cruise along stretches of highway.
This concept was integrated in the Palm Springs event. It included a luncheon for the media featuring a Garage Living welcome message and Volvo design presentation in a residential setting as a highlight on their drive tour in and around Palm Springs. Guests experienced how a remodeled garage becomes a clean, multi-purpose room while simultaneously being EV-friendly.
Great care was taken to select an energy-efficient home powered by solar and wind energy that was set in a scenic area. In collaboration with Garage Living and real estate brokerage Compass, the recently built house overlooking the Coachella Valley was chosen as the ideal location.
The ReCharge Garage provides easy access to multiple charging stations, demonstrating how "homes will become the fueling stations of the future that make owning an electric vehicle easier than ever," says Marc Sanders, the Compass real estate agent representing the home.
"Garage Living extends the home's usable living space and creates a clean, welcoming entry for homeowners, allowing them to park their vehicles in style," says Sanders. "Through their workmanship and attention to detail, Garage Living turns this often-overlooked space into a multi-purpose room that completes the home."
Once the home was selected, it took Garage Living less than two weeks to complete all electrical and construction in the garage. The bespoke design complements the architecture of the house, the surrounding desert landscape, and Volvo's Scandinavian aesthetic.
Features of the ReCharge Garage
Garage Living Palm Springs completed the garage remodel, which impressively stands out amongst the abundant high-end features and amenities included in the 3,169 square foot home. Notably, the house was the last residential design by renowned architect Ray Kappe, who died in 2019.

Features of the ReCharge garage include:
Two Volvo-branded Level 2 electric vehicle chargers inside the garage with a third charger in the carport. Each charger is powered by solar and wind energy.
North American-made slatwall panels with up to 10% recycled PVC to finish the walls, conceal electrical panels with a hidden storage space, and accommodate vertical storage.
Slate-colored Floortex™ floor coating with an ultra-low level of volatile organic compounds (VOCs).
Fully customized, North American-made cabinetry crafted from 18-gauge steel with under-cabinet lighting, banks of drawers and pull-out shelving.
Clever storage solutions including space for golf clubs, tennis racquets, and an electric scooter.
A flexible work-from-home space formed from a maple counter with a built-in desk, along with a separate folding leg table to provide extra counter surface.
An entertainment center with a 75" state-of-the-art, wall-mounted smart TV and Bowers & Wilkins speakers.
Media coverage of the Volvo Recharge Drive Event, C40 launch and the ReCharge Garage
The launch of the Volvo C40 Recharge and the showcasing of the ReCharge Garage received coverage from dozens of media outlets (including content syndication). Here are some select articles: