A freezing cold garage during the winter is a given for many homeowners in North America.
This doesn't have to be the case, however. There are several reasons why adding garage heating to your home is a good idea.
As winter approaches, let's explore the topic of garage heating and some heating ideas worth considering.
Electric radiant heating lets you use your garage during the winter
Garage Living offers electric radiant heaters that come in 110V and 220V models which are wall-mounted. A remote control is included.
While this type of heating won't heat your entire garage, it does allow you to comfortably use areas of your garage during the fall and winter.
Using your garage workshop or making vehicle repairs doesn't have to stop when the colder temperatures arrive.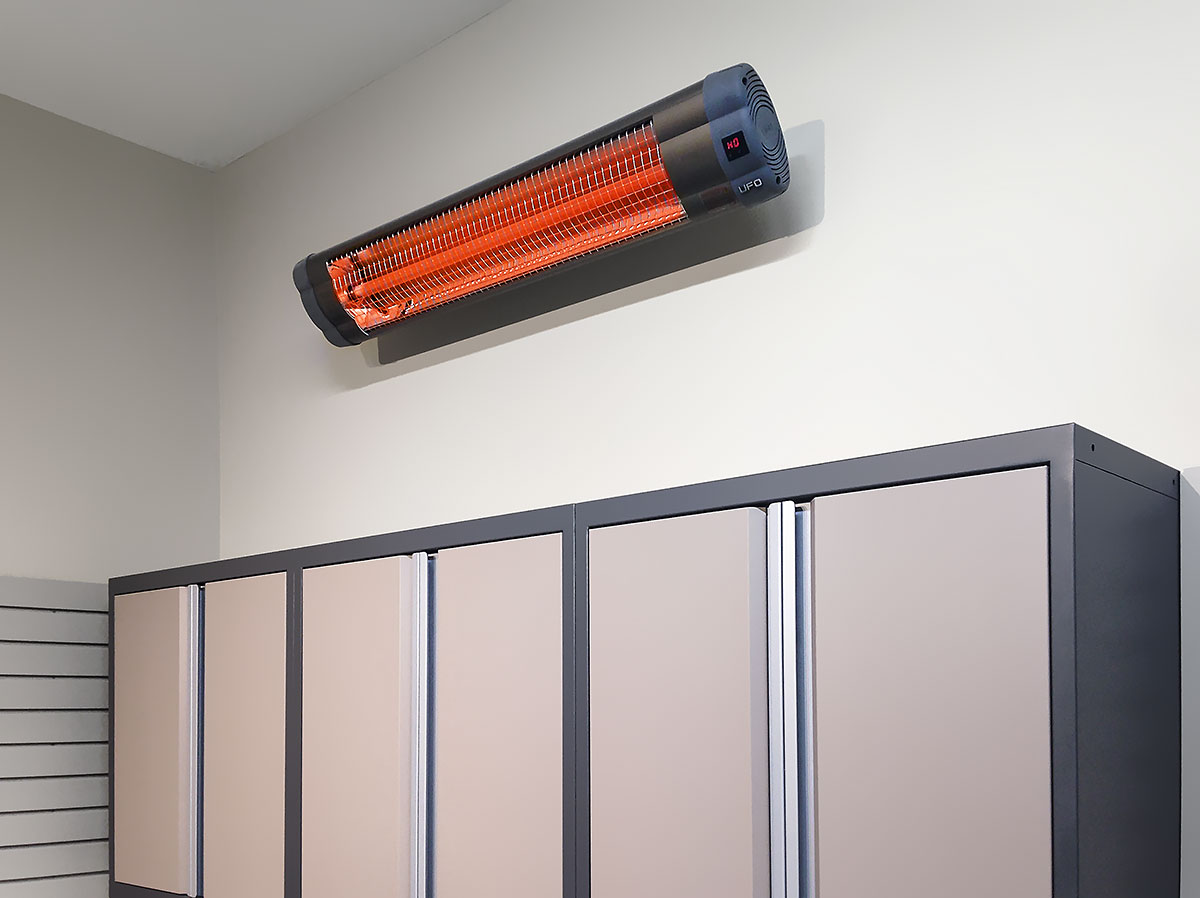 Types of garage heating that aren't practical
There are a few types of garage heating that aren't practical for permanent use, largely for reasons of safety. Some of these include:
Extending your home heating system's ducts. Using this type of heating for your garage has too many negatives. Specifically, it increases the risk of carbon monoxide from your vehicles and other harmful garage fumes and dust making their way into your house.
Portable propane, kerosene, and oil heaters. These types of heating sources are regularly used in garages, but aren't ideal. Even with decent garage ventilation, you'll still be exposed to the harmful fumes these types of heaters emit. They also contribute to an increase in garage condensation levels.
Portable electric heaters. Heating a garage space during the winter with a small electric space heater won't be very effective. If you do use one, be mindful of keeping this heat source away from flammable materials.
Adding insulation makes garage heating more effective
Adding insulation to your garage walls and ceiling will make a world of difference when it comes to garage heating. Vapor barrier and upgrading your garage's weatherstripping will also help.
All of these heat-retaining measures will improve your home's energy efficiency during the year's cold months, regardless of whether or not you're running a heater in the garage. You'll also benefit from garage insulation during the spring and summer when your house's air conditioning is running.
If fully insulating your garage isn't financially feasible, do the next best thing. Try to at least add wall insulation to any garage walls that adjoin with your home's interior walls.
Don't forget insulation for your garage door
When insulating your garage walls and ceiling, don't forget about your garage door. Generally, older garage doors lack any insulation features, which contributes to heat loss.
Old garage doors may also not give your garage the best protection from the elements due to factors that come with age, such as warping and other kinds of damage.
Adding insulation to your existing garage door is one option. A more assured way of maximizing your garage door's energy efficiency is to upgrade to a new garage door.
A new floor coating makes ice and snow easier to handle
Adding garage heating means you'll be parking your vehicles in an environment where the snow, ice, and slush they've brought in will melt quicker.
While much of that moisture will evaporate, messy garage floors due to melted snow during the winter are inevitable. This is the case in garages without heating as well.
A new polyaspartic garage floor coating makes cleaning up after your vehicles in the wintertime a breeze. Our Floortex™ floor coating provides a beautiful, smooth surface that's durable and highly resistant to chemicals, such as road salt. A quick mopping or a few squeegee strokes will make slush and melted snow on your garage floor disappear.
Get better airflow in your garage by decluttering
A garage filled with clutter doesn't promote good warm airflow. You can improve your garage's organization and storage capabilities with a number of solutions.
Consider adding specialty storage racks, slatwall storage, or garage cabinetry to your space to help. These storage solutions will also upgrade your garage's appearance.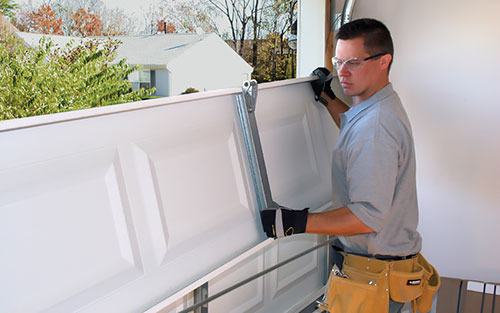 Let a pro install your garage heating
There are many reasons for hiring a company with plenty of experience when it comes to garage heating, such as Garage Living.
By entrusting professionals with the addition of garage heating solutions to your home, you'll ensure yourself of receiving high quality work and your family's safety. Adding a permanent heat source to any space requires expertise, which we have plenty of.
Here's an additional example of how experience matters. If you did decide to add insulation to your existing garage door, our experts have the know-how to properly perform this problematic task.
Along with adding the insulation, the garage door's springs need to be properly adjusted (which is a dangerous job) to compensate for its extra weight. Failing to carry out these steps properly can result in damage to your garage door and opener, not to mention posing a potential safety risk to your family.
When it comes to garage heating ideas and solutions, trust the experts at Garage Living. Book your free consultation with us now so you can enjoy the comforts provided by garage heating this fall and winter!
See also: