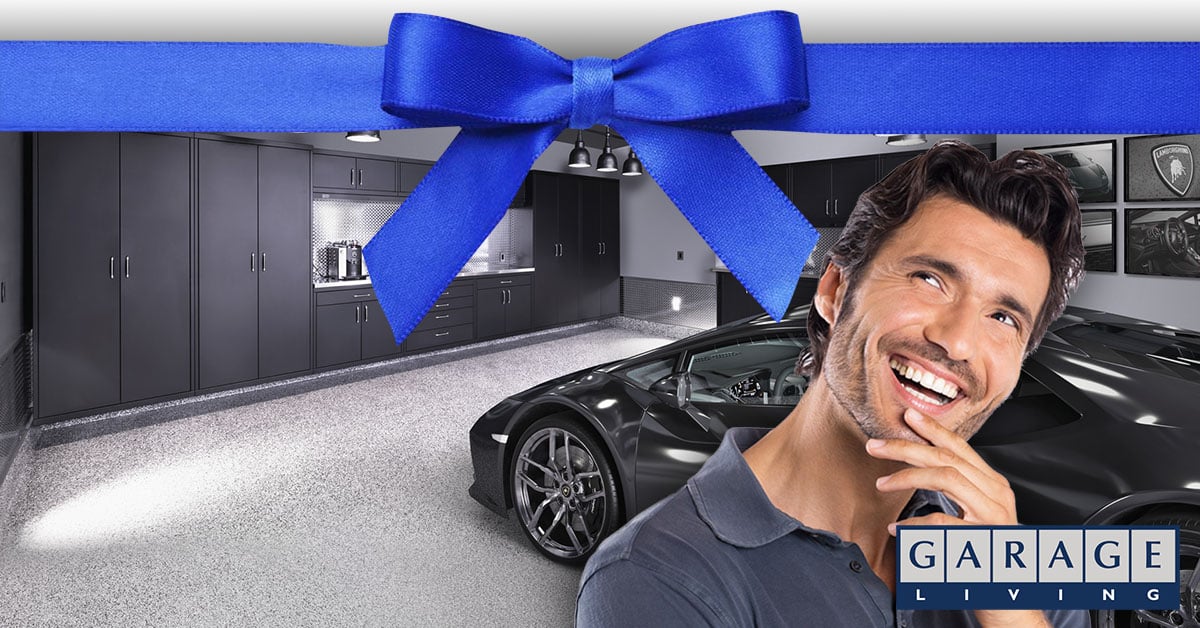 Is your dad or husband difficult to shop for when it comes to gift giving? Here's a unique gift idea that you might not have considered – a new garage for dad.
Treating dad to a complete garage makeover for Father's Day or his birthday will be one of the more thoughtful gifts you could give him.
For dads who love spending time in the garage tinkering, a garage remodel makes a lot of sense. And if your garage space is long overdue for an update to its décor and needs to function better, investing in a garage makeover makes even more sense.
Why a new garage for dad makes the perfect gift
Homeowners have typically focussed more on home improvement projects in the kitchen, bedroom, basement, and bathroom before turning their attention towards the garage.
That tendency has changed somewhat in recent years, however, and garage makeovers have become a hot home improvement trend.
More homeowners realize that it's worth investing in one of the hardest working spaces in your home so that it looks and functions its best. Incorporating dad's needs into a garage remodel is very easy to do.
Here are five great reasons a new garage for dad will be the perfect gift he won't soon forget.
1. Dad won't expect it
Think back to some of the more memorable gifts you've given or received. The ones that really stand out do so usually because the recipient was taken by surprise with the gift and actually needed and wanted it.
A remodelled garage for dad definitely checks all three boxes. He won't see this unique gift idea coming and will be thrilled with the effort you've put into such a thoughtful gift.
Any dad will appreciate having a nicer garage space. Perhaps he's been considering making a few upgrades himself for awhile and just hasn't gotten around to it.
Frankly, leaving a garage makeover to professionals like Garage Living is for the best. Many aspects of a garage redesign require special expertise in order to achieve the best-looking results. You'll also end up with a completed project that's safer than what you might get with a DIY job.
Dad can leave the hard work to the experts and simply enjoy his beautiful new garage space.
2. Tailor the garage to dad's needs
A custom garage makeover means just that – custom. That means you can have the garage designed to accommodate dad's needs and interests, in addition to the rest of your family's requirements.
To take care of the clutter on your garage floor, have slatwall panels installed so dad can hang his tools and all sorts of other things on your garage's underutilized wall space. Slatwall storage's versatility makes it easy to change things around when your storage needs change.
A slatwall storage system is also perfect if dad loves sports and could use some help keeping all of his sports equipment tidy. If he enjoys hitting the links, there's a hanging golf rack available for dad's golf bag and accessories.
If dad's always wanted a garage workshop, including storage cabinets with a sturdy countertop to the garage redesign can add a functional workspace that's all his to enjoy.
Does dad love tinkering around with the family's vehicles and doing his own maintenance on them? You could set the garage up with a handy 4 post car lift. Not only is a car lift a great way to add more parking space in your garage, it also allows anyone to work safely underneath a vehicle.
To ensure dad is totally satisfied with the garage remodel, be sure to give him a say in what features he'd like to include.
3. Dad will be more comfortable
Anyone can get used to their garage being a dirty, cluttered, and poorly lit space that just isn't pleasant to be in. For decades, we were conditioned to think that this space wasn't worthy of the same high aesthetic standards we have for the rest of our home.
That's a thing of the past now. Just spend a little time in a recently transformed garage that a talented team of garage makeover professionals have handled. You'll see that a garage is truly capable of being a beautiful space in your home.
A fresh floor coating, for example, makes a world of difference in how a garage looks and feels. It's a must-have feature when having your garage for dad designed.
All of the aforementioned upgrades will enhance dad's comfort level within the garage, which will only add to his enjoyment of the space.
4. The whole family benefits
The motivation for undergoing a garage remodel might be that it will make a great gift for dad. Let's face it, though, getting a garage makeover is a win-win for both dad and the rest of the family.
We're sure dad won't mind if the rest of the family's needs factor into the design decisions.
If you have kids and they play sports, it's a given that their sports equipment and accessories aren't neatly organized on your garage floor. Elevate those loose footballs and basketballs onto your slatwall panels with the appropriate hanging accessories.
And mom's needs can be addressed, too. You can have your garage designer create "his and hers" areas in the garage if needed, just like we did for Bryan Baeumler's home for HGTV's The House of Bryan TV series.
5. Garage makeovers add value to your home and life
A functional garage that comfortably provides a space for parking vehicles is one of the most desired features homebuyers look for.
Getting a garage makeover now provides dad with a great gift and adds value to your home, but not just in the eyes of a potential buyer years from now.
For many years to come, a garage makeover helps dad and the entire family get more out of your garage space than you were getting before.
That improves your life because your garage is able to store things more efficiently, is easier to keep organized, and is a more welcoming, comfortable space.
Gift dad with the garage of his dreams
Giving the gift of a remodelled garage for dad requires a lot of planning. Be sure to leave yourself plenty of time to make the necessary arrangements in order to get dad's gift ready in time.
You can learn more about getting dad's dream garage project started by booking a free design consultation with us.
If you want to maintain the element of surprise with dad's gift, you could also speak with a design consultant at one of Garage Living's showrooms.
See also: