Garage floors work hard when dealing with constant foot and vehicle traffic. They also have to contend with exposure to dust, dirt, mud, spills, automotive fluid leaks, and rainwater.
And garage floors in homes that are located in snowy northern climates have an even bigger workload. Winters take a greater toll on those garage floors with all the snow, ice, salt, sand, and de-icing products that get brought inside by your vehicles and footwear.
Learn more about what you can do to give your home the best garage floor winter protection.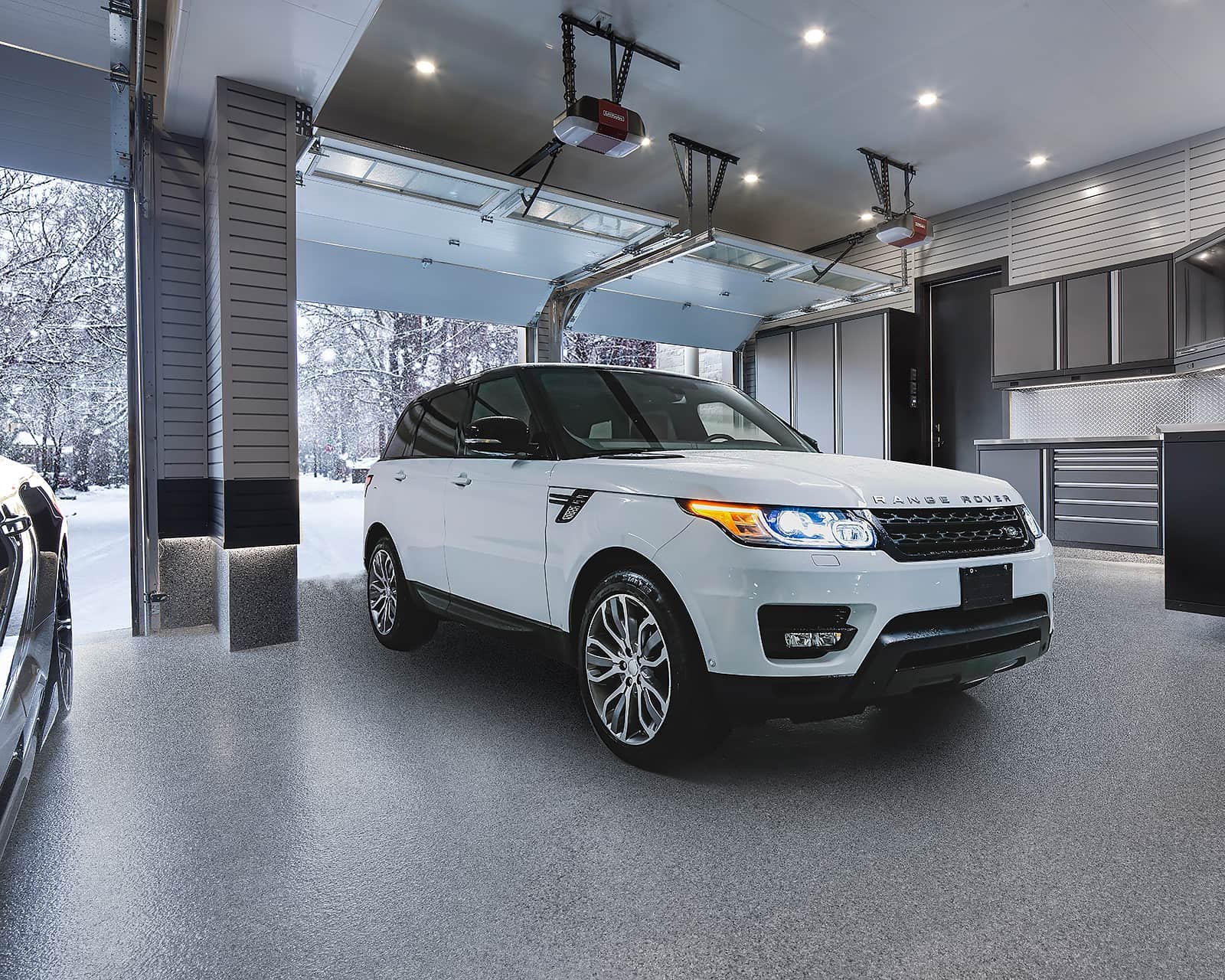 Here's what the winter can do to your garage floor
Having an ice-cold, messy, and slippery floor isn't the only effect winter has on your garage.
Most garage floors are unfinished, meaning they're just bare concrete without a top seal. Concrete is actually more porous than people realize. Without a sealer, garage floors are more prone to foundational deterioration from water and chemical de-icer.
A garage floor will expand and contract when the temperature rises and falls. This natural process will endure more stress when excess water seeps into the concrete (especially via surface-level cracks) and goes through repeated thaw and freeze cycles.
Melted snow that mixes with road salt will recrystallize within the concrete, which puts additional stress on the floor. Eventually, this all results in existing floor cracks getting longer and deeper and new cracks forming. Pitting and spalling can also occur, which involves larger areas of a floor's surface crumbling or flaking away.
Sand may be useful when it's spread on the roads, but it's definitely no friend of the garage floor. The very reason sand is being used for winter driving safety is why it's bad for a floor. The abrasiveness that gives the sand its functionality for tire traction wears away at your floor's surface, whether it's bare concrete or has a topcoat.
And we can't leave out road salt. All of those unsightly white salt stains and deposits on the floor will not just make a mess of your clothes, they also do damage even before seeping into the concrete. Salt that is left on the floor can cause discoloration and also acts as an abrasive.
What are your garage floor winter protection options?
When you're considering winter protection for your garage floor, you have four viable options.
1. Garage floor coatings
An epoxy or polyaspartic floor coating is the way to go if you're looking for the most effective garage floor winter protection solution. They will help protect your floor from the ravages of winter and offer decorative benefits that add visual appeal to a garage interior.
Epoxy floor coatings cost less than polyaspartic coatings but aren't as durable. One reason is that a polyaspartic coating's adhesive base coat forms a stronger bond with the concrete than epoxy coatings will. Both epoxy and polyaspartic coatings add a top coat seal that protects a garage floor from water, chemical, and abrasion damage.
One drawback of epoxy coatings is that they need to be applied in a specific temperature range, which means applications can't be done in colder weather. On the other hand, polyaspartic floor coatings like Garage Living's Floortex™ floor coating system can be applied in temperatures as low as -40°F.
2. Garage floor sealers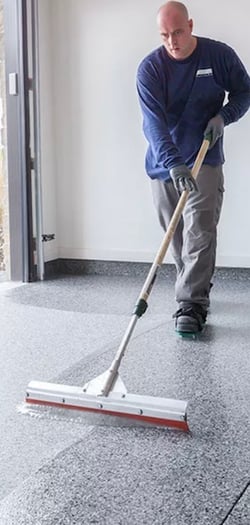 A sealant can be used on a garage floor to produce a clear, thick film that covers up a floor surface's imperfections and adds a protective layer against abrasions and water and chemical seepage into the concrete.
Sealers provide a glossy finish, but any aesthetic benefits will be diminished if the color of the concrete below it is unevenly matched or if the floor shows evidence of surface repair work.
3. Winter snow mats
The cheapest way to protect a garage floor in the winter is to buy a winter snow mat (also known as a water containment mat), which comes in a variety of sizes.
The mats are typically made with durable rubber or vinyl and can hold gallons of water from melted snow, ice, and road salt that falls off your vehicles. The water can be removed with a squeegee or wet vac.
As a less permanent method of garage floor winter protection, floor mats can move around if they're not heavy enough or anchored to the floor. Cheap floor mats can also tear quickly, especially when a vehicle's tires are turned too much while driving over them.
4. Garage floor interlocking tiles
Interlocking PVC or rubber floor tiles are another way to protect a garage floor during the winter. They're cost-effective, can be installed quickly, come in a variety of designs, and are easy to replace if a tile is damaged.
Self-draining floor tiles channel any water from melted snow and ice to the concrete underneath them. It's wise to seal the floor or have some type of drainage system in place before laying down the tiles. Solid floor tiles will collect any moisture on their top surface and it should evaporate.
If you're wondering if you can paint a garage floor in the winter to protect it, don't waste your time. Floor paint provides virtually no garage floor winter protection. It is purely cosmetic.
The best garage floor winter protection: a polyaspartic floor coating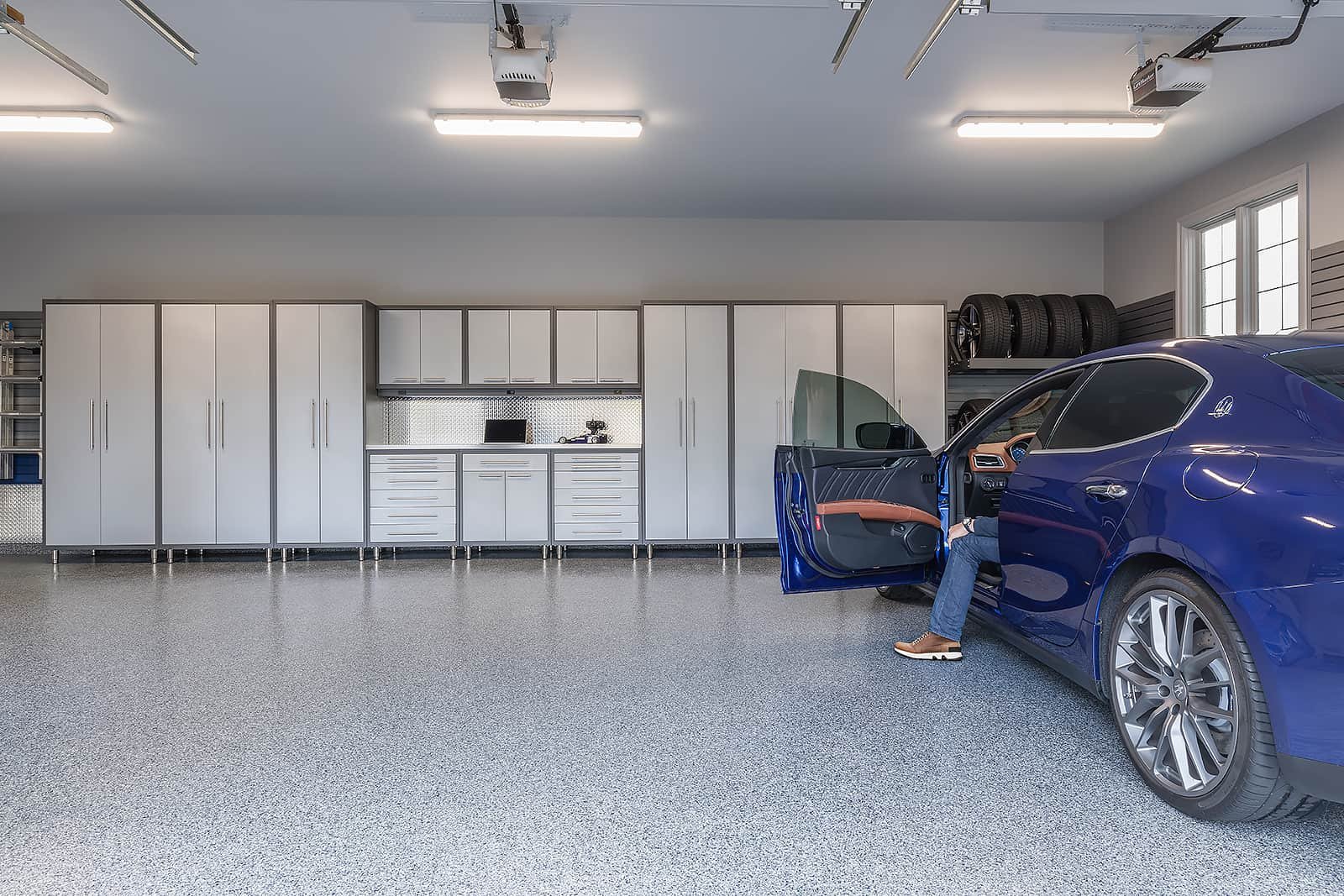 So between all of these garage floor winter protection options, what's the best choice to make? It's a polyaspartic floor coating.
A Floortex™ polyaspartic floor coating delivers the best floor surface protection available for home garages.
Floortex™ coatings protect garage floors from winter salt, melted snow, ice, and de-icing chemicals. It also protects your floor from damage that can occur from scratches, abrasions, automotive fluid leaks, and household chemical spills.
Garage Living can also give your garage a baseboard coating that creates a unique, seamless appearance between your walls and the floor, as well as sealing up any drafts or areas where water can do damage.
On top of all of these protective benefits, a Floortex™ floor coating looks great and can be customized with a color that complements your garage's décor. The decorative flakes we use also give the floor added texture, which can provide better slip resistance when the surface is wet.
The advanced proprietary floor coating process Garage Living's professionally trained installers use with our state-of-the-art equipment ensures every floor we refinish will last for years to come.
And because polyaspartic floor coatings have a quick curing time, it can take as little as a day to complete a floor coating application at any time of the year.
How to keep a garage floor clean in winter
Floortex™ floor coatings are very low-maintenance, but even they need some regular cleaning over the course of the winter.
Use a squeegee or shovel to remove as much snow, slush, and water from the garage floor as you can. When the garage floor is dry, give it regular sweeps to remove as much salt residue, loose sand, and other types of abrasive debris as possible. Don't just sweep everything out into your driveway – scoop it up so it doesn't eventually end up back on the floor.
When the spring arrives, the garage floor can be more thoroughly cleaned with a hose, squeegee, and a cleaning product that won't harm the coating (Garage Living recommends Crystal Simple Green).
To reduce the amount of mess that gets tracked into your garage in the winter, you could remove as much ice, slush, and snow as possible in the driveway before parking inside. Another option is to clear off the vehicle once you're parked in the garage and use a shovel or squeegee to push all that wet stuff outside.
Let's face it, though – miserable winter weather doesn't exactly inspire the will to be that proactive with keeping your garage floor clean. You're usually just looking to get into your warm house as soon as possible.
Get the best garage floor winter protection solution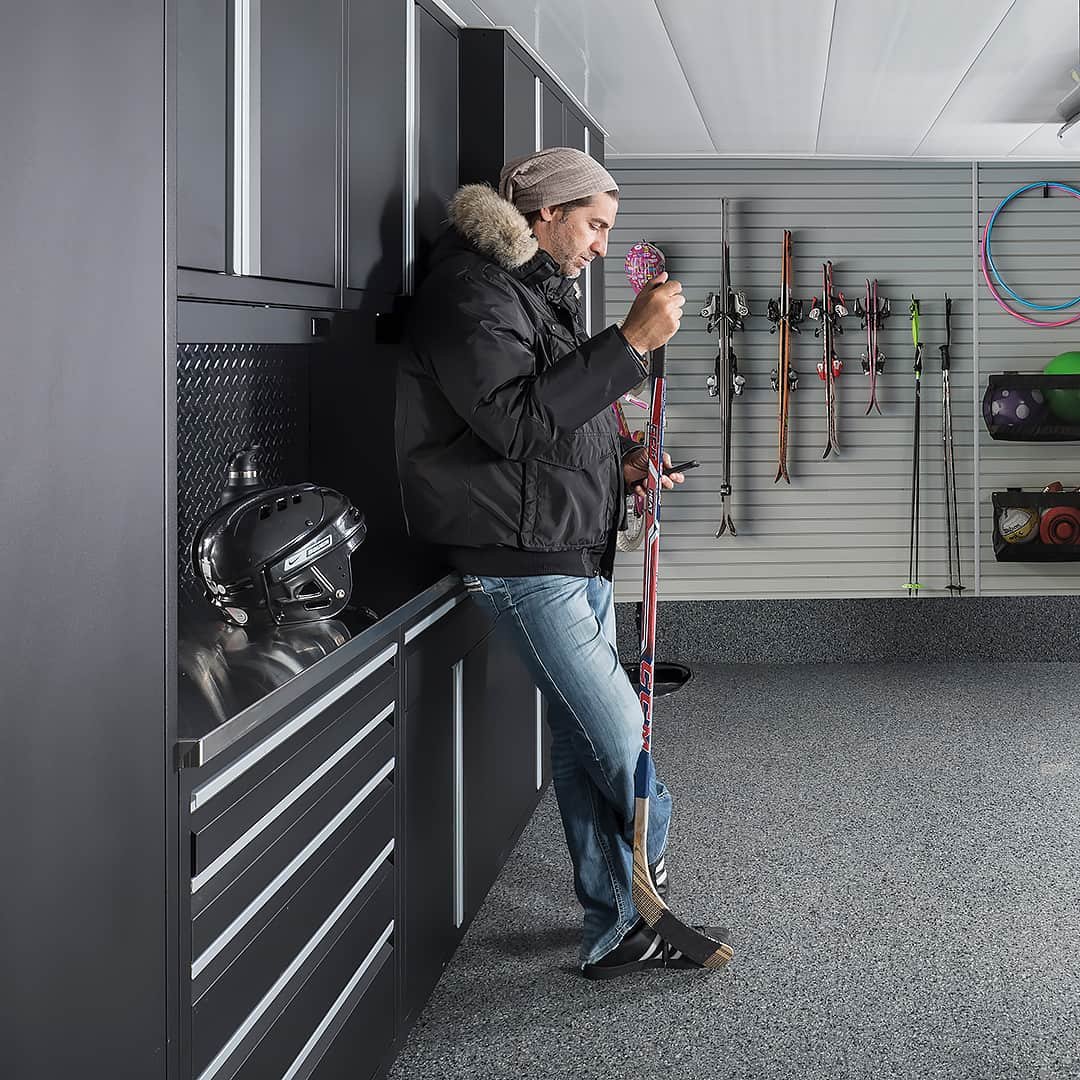 There is no better time of year to be parking your vehicles inside your garage than the wintertime.
And when you have the best garage floor winter protection like a Floortex™ coating, there's no need to worry about the long-term damaging effects winter can have on your flooring.
If you're unable to park inside your garage because it's disorganized, Garage Living can help with that, too. We have storage and organization solutions that will eliminate floor clutter and provide you with more room to park in a covered space.
Schedule a free design consultation with us today.
Please share this post if you found it useful.
See also: