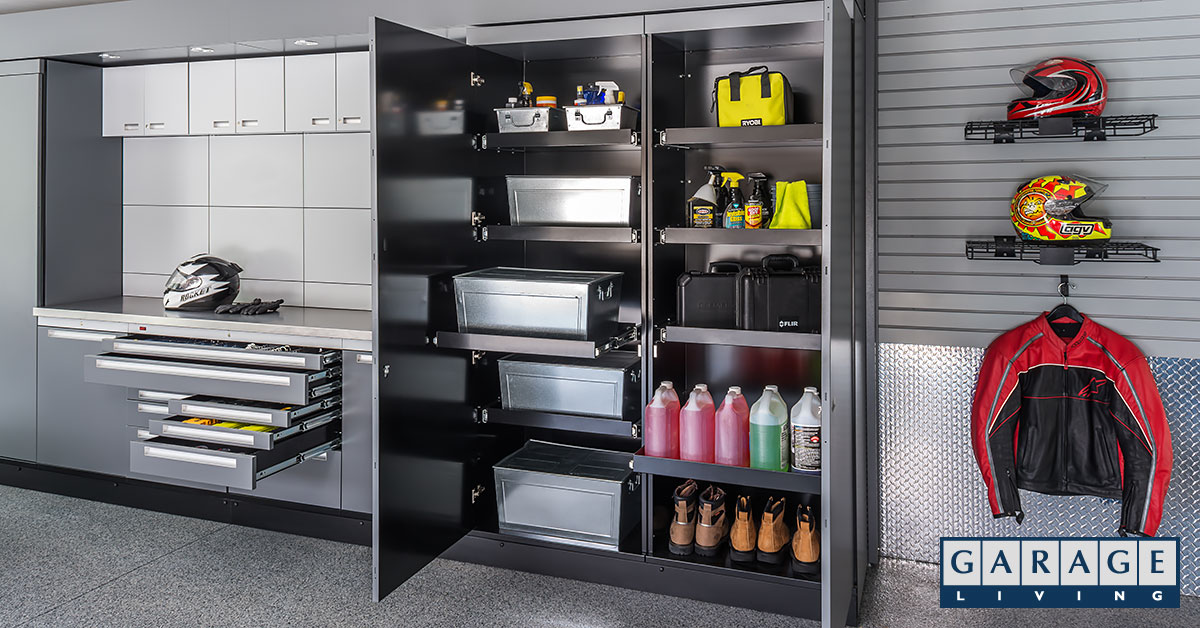 When you think of clutter hotspots in homes, a few areas immediately come to mind.
Bedroom closets, guest bedrooms, entryways, basements, and home offices are notorious for commonly being found in a disorganized state in many homes.
And then there's the garage. Garages may well be the most problematic area when it comes to keeping a home organized. You can find many statistics on how prevalent garage clutter is – here's just a few:
50% of homeowners polled named the garage as the most disorganized area of their house (NAPO study)
in a survey of 1,000 Americans, 47% of them admitted to encountering problems with garage parking due to clutter (Sparefoot survey)
a third of two-car garage homeowners are only able to park one vehicle inside (U.S. Department of Energy study)
approximately 9% of Americans rent storage space, despite the fact that 65% of them have a garage (Self Storage Association stat)
And garage clutter isn't a problem that's unique to American and Canadian homeowners. A study of 1,000 Australians by the Australia Institute found that just under half of them also had problems parking in their garages because of clutter.
Identify the main causes of your garage clutter
So what factors contribute to garage clutter? Recognizing and understanding the reasons your garage has become a disorganized mess is the first important step in resolving the problem.
Here are seven common reasons for garage clutter, followed by some solutions that can help you get organized and reclaim your garage space.
1. You have garage clutter because you're habitually disorganized
Not all of us are neatniks. Even for the most organized person, keeping home clutter at bay can be a relentless challenge.
The slow creep of clutter demands that any homeowner maintains a diligent and systematic approach to keeping home clutter at a minimum.
The hectic pace of life doesn't always cooperate with this well-intentioned approach to home organization and limiting garage clutter.
And clutter is all too eager to take advantage of the shortcomings of anyone who's habitually disorganized. While it's true that we're always capable of changing our ways and habits, the reality is that it gets harder and more unrealistic the older we get.
2. It's too daunting to deal with your garage clutter
The longer your garage clutter problem goes on, the more difficult it becomes to fix. Years of neglect towards clutter can create a scenario where the problem seems too daunting to even begin to tackle.
Giving in to these strong feelings only feeds the vicious circle of guilt, self-doubt, and stress that becomes a harmful by-product of living in a clutter-filled environment.
Clutter prevents us from easily finding items, which frustrates us. Our brains also view clutter as work that needs to be done, which negatively affects our focus.
Another non-solution to dealing with clutter in the garage is to just adapt to the mess. Instead of mustering up the energy it'll require to transform your cluttered garage space, you'll convince yourself that it'll be easier to just "work around" the stacks of junk.
The U.S. self storage industry now generates $25 billion annually. You can bet that the vast majority of those customers were plagued with garage clutter problems they simply ignored or adapted to.
3. Your garage is an easy dumping ground
Garages (especially larger ones) can seem like a fairly practical area to store items that don't have a proper home in your house's main interior.
That empty corner of the garage that can hold a bunch of stacked storage boxes or bins you don't know what to do with? It seems ideal, especially if you believe you'll come up with a better storage solution later on. It's this "I'll deal with it eventually" mindset that can create garage clutter in a hurry.
The "out of sight, out of mind" philosophy also comes into play in these scenarios. If you think about it, however, that's a rather backwards way of thinking.
That's because data shows that garage doors are now one of the most frequently used doors in homes. That means you're accessing your garage several times during the course of a day.
This frequent usage of your garage doesn't just negate the "out of sight" half of this well-known phrase. You'll also find it virtually impossible not to be increasingly mindful of the mounting garage clutter that's limiting your ability to take advantage of the space's full functionality.
4. Your garage and overall home space is too small
While large garages can be an all-too-easy storage spot, smaller garages can present a real challenge when it comes to finding extra storage space.
The problems are compounded if the rest of your home is lacking in square footage. This increases the likelihood that your one-car garage will be filled with clutter and not with a parked vehicle.
Sure, small garages may be more of a challenge to set up as effective storage spaces. You'd be surprised at a small garage's storage potential, however, when its walls and vertical space are utilized better (more on that shortly).
5. Seasonal changes contribute to your garage clutter
Transitions from one season to another in northern climates can be a significant contributor to garage clutter, particularly in spring and fall.
Come fall time, you'll need space to store your yard equipment and tools, patio furniture, summer sports equipment, barbecue, and other items until they're needed several months later. You might even need storage space in your garage for a classic car that only gets driven when the weather is warmer.
In the springtime, your snow removal equipment, snow tires, and other winter-related belongings will need to be stored. Swapping out your summer belongings with your winter belongings isn't always a neat and tidy process, unfortunately.
And there's also holiday decorations to consider. Your boxes and storage bins containing your Christmas, Halloween, and other seasonal decorative items will only be needed once a year. Therefore, you'll want them stored well out of your way and not taking up valuable garage floor space for the entire year.
6. You struggle to let go of your belongings
Another main cause of garage clutter is the inability we tend to have of letting go of things. Nostalgia has a strong pull on us, but it's important not to get too wrapped up in sentimentality.
Certain important keepsakes are certainly well worth holding onto, but how much is too much? You'll know it's time to seriously confront your emotional attachments to your belongings when garage clutter becomes a persistent problem.
Some precious keepsakes (like photos) shouldn't be stored in the garage anyway, due to fluctuating temperatures that generate moisture from humidity and condensation. This can lead to mold forming on items (especially papers and fabrics) stored for lengthy periods in garages.
For treasured items you simply can't let go of, find storage space in an area of your home that's climate controlled. In the case of a photo collection, you can also take the time to digitally archive your pictures.
For everything else that doesn't have any sentimental value, ask yourself whether or not you've used it in the past couple of years. If it hasn't been used in that time, donate it, sell it, or toss it.
Also try and resist the "but I might need it someday" mentality. This way of thinking only leads to what's been called "aspirational clutter".
7. Your garage lacks effective storage and organization systems
When you really get down to it, one of the main reasons you're struggling with garage clutter is because you're probably lacking effective storage and organization systems.
Just as a messy closet can be transformed with the addition of a closet organizer, so too can your garage benefit from the addition of helpful storage systems.
Smartly designed organization and storage systems greatly improve your odds of keeping specific areas of your home tidy and well-maintained.
4 solutions to eliminate your garage clutter
Wouldn't it be nice to drive into your garage and feel like you've arrived home to a comfortable, clean, and inviting space that you take pride in?
That feeling would certainly be better than the alternative of entering a cluttered garage (on foot, of course – there's nowhere to park!) and being reminded of your garage organization failings.
Garage Living can eliminate your garage clutter problems with the following solutions:
a variety of modular and custom-fit garage storage cabinet systems that add storage space
PVC slatwall panels with hanging accessories that create valuable, versatile storage space on your garage's walls
4 post car lifts that allow for extra vehicle storage space
specialty storage racks (including tire racks and overhead racks) that utilize your garage's vertical storage space to keep seasonal items off your floor
Creating a clutter-free garage space is easier when you turn to a trusted garage professional that has the right products and expertise.
Get your garage organization project started by scheduling a free consultation with a member of Garage Living's design team today.
See also: