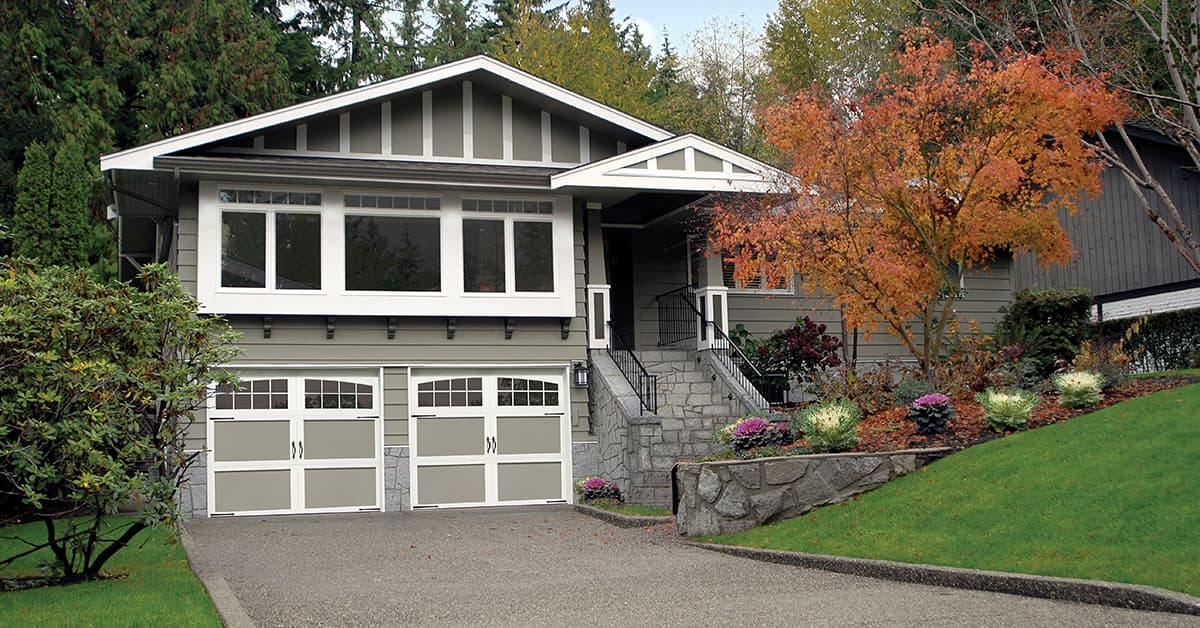 Like the springtime, the fall season is a great time to pay some attention to your home's maintenance needs.
If you live in a cold-weather climate, some fall home maintenance is extra important in order to get through another snowy winter with as few issues as possible.
But even if you live in a warm climate, a number of these fall home maintenance tips will be beneficial for your house.
10 fall home maintenance tips you'll find useful
Paying attention to some aspects of your home's maintenance in the spring and fall won't require much of your time. Many of the home maintenance tasks listed below are also inexpensive or cost nothing but a little of your time.
Investing a bit of time and money now in some proactive home maintenance reduces the likelihood of expensive home repairs in the future.
Get your house ready to handle the changing seasons with these 10 fall home maintenance tips.
1. Improve your home's energy efficiency
Improving your home's energy efficiency matters all year round, whether it's hot or cold outside.
There's a lot more awareness nowadays about the importance of home energy efficiency. Better products and services are available to help homeowners reduce their monthly utility bills with house upgrades.
For homeowners who haven't gotten around to addressing their living space's energy efficiency, here are a few areas to focus on.
Pay special attention to your windows and doors. They're some of the worst offenders when it comes to letting heat escape from your home in the winter and allowing warm air in during the summer when your air conditioner is running.
Ensure your window and door weatherstripping is intact and providing an effective seal and think about switching to energy-efficient windows. Door sweeps on your exterior entry doors will also help.
Use caulking to seal up larger gaps and cracks around window and door frames, as well as your home's exterior and interior foundation. Don't forget to check areas where any wires and pipes enter your home.
2. Boost your garage's energy efficiency
To pinpoint areas of your house that you may not be aware are hurting your home's energy efficiency, consider getting a home energy audit. A professional's assessment of your house can alert you to problem areas that need attention.
One area of the house that commonly needs a little extra help in this department is the garage, especially an attached garage.
Take the time to make sure all gaps and cracks on the wall that your garage shares with your heated living space are properly sealed. Along with saving energy, you'll also make your home safer by getting rid of potential entry points for carbon monoxide from your vehicles.
If your garage lacks wall and ceiling insulation, adding some can be a big boost to your entire home's energy efficiency. This includes using garage doors that have insulation. Garage door sweeps will help create a more airtight seal when the doors are closed.
Having a Floortex™ garage floor coating applied can give your floor a high-quality, waterproof seal that prevents cold air from coming in through any cracks. A professional floor coating improves the aesthetic of a garage as well.
Garage Living can also apply a Floortex™ baseboard coating around the lower perimeter of your garage's interior. This creates a seamless seal between the floor and the lower part of your garage walls, which eliminates drafts, reduces the likelihood of moisture-related issues, and helps keep critters out of the garage.
3. Rake those leaves and fertilize your lawn
Colorful autumn leaves may be picturesque when they're attached to branches, but you're probably less fond of them when they make their way down to your lawn.
Not raking or using a leaf blower to clean up fallen leaves can cause problems beyond just detracting from your property's looks.
A leaf-covered lawn that's left all winter will require more work on your part to get it in shape come springtime.
Another step you can take to improve your lawn's health and looks is to add a fertilizer that protects it from damage during the winter.
4. Inspect your roof
Your house's first line of defense from the elements is your roof, so a roof inspection yearly or every other year is wise.
Check your attic for signs of a leaky roof that perhaps hasn't become evident when looking at the ceilings on your home's top floor.
If you're not comfortable giving the top of your roof a visual inspection using a ladder, find a neighbor or family member who is, or hire a professional.
Look for shingles that are loose or missing altogether and check that your roof vents are working properly.
The lifespan of roof shingles is anywhere from 15-50 years due to numerous factors, including weather conditions and shingle quality.
5. Check your smoke alarms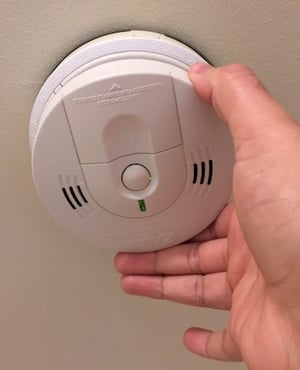 In the U.S. and Canada, October is designated as fire safety awareness and fire safety prevention month.
Include the testing of your home's smoke alarms and carbon monoxide detectors on your fall home maintenance checklist.
Change their batteries and test their safety features twice a year. Check to see if your alarms have passed their expiry date. Typically, they have a lifespan of 8-10 years.
If your home has a fire extinguisher (which it should), give it an inspection. Check that its expiry date is still good. If the extinguisher has a pressure gauge, make sure it's maintaining proper pressure.
6. Clean eavestroughs and downspouts
If you're checking your roof, that's the perfect time to tend to your eavestroughs/gutters as part of your fall home maintenance chores.
Eavestroughs that can't drain because they're excessively clogged with leaves and debris like shingle grit can cause major damage to your home's roof, siding, and foundation.
Check that your gutter hangers and brackets are secure. All of your eavestroughs should have gutter guards to keep debris out and save you a lot of maintenance time.
Once your eavestroughs are cleaned, focus your attention on your home's downspouts. Verify that they're draining properly a minimum of five feet away from your house.
Use downspout extensions if necessary to keep water that is being drained a suitable enough distance away from your home's foundation.
7. Have your air conditioner and furnace serviced
Just as checking your smoke alarms should be a regular part of your fall home maintenance tasks, so too should be changing your HVAC filters.
Your central air conditioner and furnace should have their filters changed (or cleaned if they're reusable) in the fall in order to make sure the units are working at peak efficiency.
Have your furnace inspected and your heating ducts cleaned periodically by a trained professional.
Also, have your air conditioner looked at yearly. Parts like the unit's inner and outer coils and condensate pump need occasional cleaning. If your air conditioner won't be used for several months, cover the unit for the winter.
8. Get your garage organized
An organized garage is a functional garage.
Too much clutter in the garage prohibits you from using the space for parking your vehicles, which is a real convenience when the temperature drops.
To get your garage tidy and make it easier to keep organized, look at adding some of these effective storage systems:
slatwall storage to get items off your garage floor
overhead storage racks for bulky items
wall-mounted tire racks for spare sets of seasonal tires
If not having enough parking space in the garage is a problem, a car lift is a great investment and more cost-effective than undergoing a construction project to make your garage larger.
9. Clean your dryer vent
Any fall home maintenance checklist should have a dryer vent check on it. Inspect your exterior dryer exhaust vent to ensure it isn't clogged and that the cover is intact to keep pests out.
A buildup of lint in the dryer's lint trap and vent causes the appliance to work harder, which can shorten its life.
More importantly, however, dryer lint buildup can become a fire hazard. Thousands of fires occur every year that are caused by static electricity igniting dryer lint that's built up in vents and traps.
10. Store your hoses properly and shut off outdoor faucets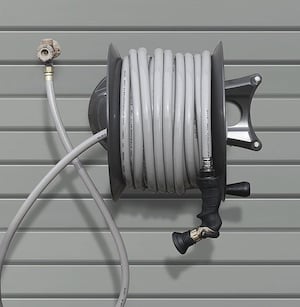 Don't wait until freezing temperatures arrive to discover you forgot to shut off your exterior faucets and a pipe has burst.
Never leave a hose connected to an exterior faucet during a cold winter. In addition to hose water potentially backing up into your faucet and pipes and causing damage, it also shortens the life of the hose.
To prolong the life of your garden hoses and prevent them from cracking and leaking, ensure they're fully drained and unkinked before storing them in the garage for the winter.
Don't forget to make sure all sprinklers, watering wands, and other watering accessories are properly drained, too.
Fall home maintenance now can save you money later
Spending some time now to take care of these fall home maintenance tasks that keep your house in good working order can save you money in the future.
For expert help to get your garage organized and looking beautiful during the fall or any other time of the year, Garage Living is the professional to trust.
Schedule a complimentary design consultation with us to get a free garage remodel quote.
Please share this post if you found it useful.
See also: