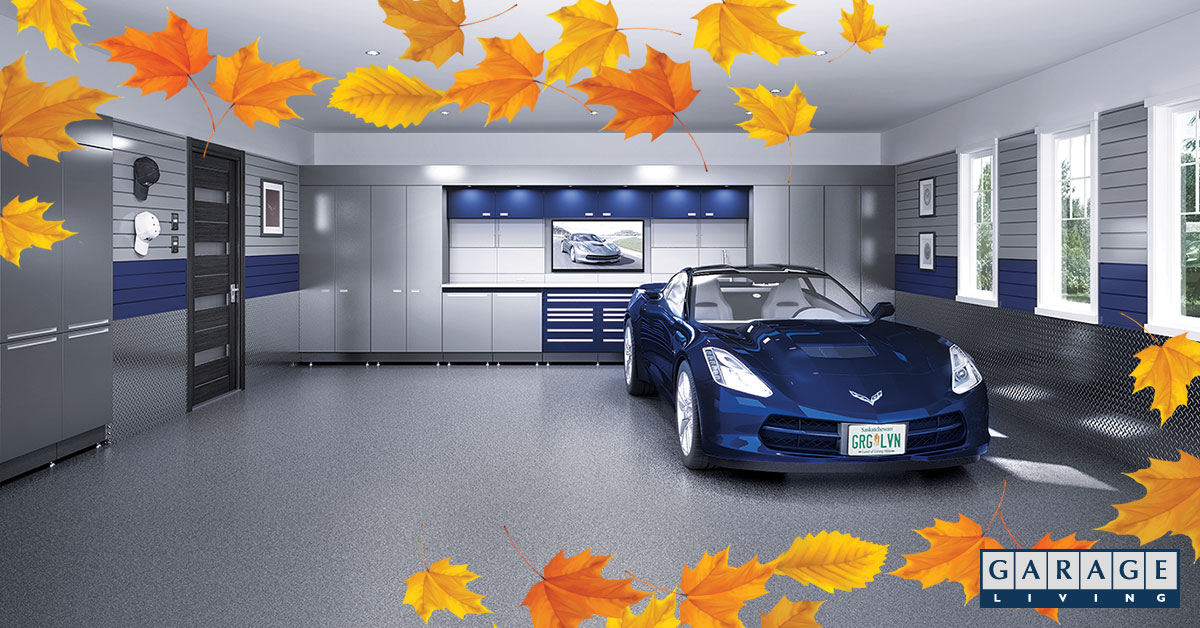 As the days get shorter and winter approaches, the yearly ritual of preparing your home for the dreaded colder weather is now underway.
Homeowners will change furnace filters, cover up air conditioners, rake a never-ending amount of leaves, clear out gutters, and plant bulbs for spring, to name just a few of many necessary fall tasks.
Of course, storing items used during the spring and summer will also require your attention. Naturally, your garage will be the primary storage space for these seasonal items.
Can it accommodate your fall garage storage requirements?
Don't procrastinate on fall garage storage preparations
Procrastinating on making sure your garage is winter-ready has several negative effects, including:
causing you to deal with your fall garage storage concerns later when temperatures in your garage are less comfortable
creating potential extra costs due to lower garage energy efficiency and damage to items from improper winter storage
the extra time that's wasted looking for things
generally prohibits you from getting the most functionality out of your garage space
Taking a proactive approach to your fall garage storage considerations will serve you well throughout the coming colder months. You'll also notice the benefits when the warm weather returns.
Winter is coming! Is your garage ready? These 13 storage tips will help you prepare. Make sure your garage space is organized and functional for the months ahead.
1. Declutter your garage
Getting your garage organized and keeping it that way requires you to declutter regularly. As a rule, it should be your very first task when it comes to your fall garage storage preparations.
Garages are the go-to dumping ground for items that you're reluctant to part with or just can't find a storage spot for within your heated living space. You know, clutter.
Anyone with a well-kept garage space will undoubtedly be taking the time to declutter this area at least once a year (at minimum). The benefits of decluttering include:
it frees up space for indoor parking and improves garage functionality and organization
implementing better storage solutions such as garage cabinetry is easier
it makes your garage safer by eliminating tripping hazards from items left on the floor (like rakes)
locating items when you need them will be easier
2. Clean your garage floor
Your fall garage storage tasks should include making sure your space is clean and as free of dirt, dust, and grime as possible. Spring cleaning your garage after the messy toll that winter takes on it is essential.
You'd also be advised to take the time to clean your garage floor before the snow comes. After all, garages in colder climates will almost certainly get more use during the spring and summer months. That creates a lot of foot traffic and tracks in dirt from your yard on shoes, boots, and tools.
A Floortex™ floor coating is extremely durable and resilient, but even it requires an occasional cleaning. Luckily, that requires relatively little effort on your part.
After decluttering, give your garage floor a good sweep and thoroughly rinse off the remaining debris with a hose. Make sure any electrical outlets that might come in contact with spray from your hose are covered up.
Then remove the remaining water on your floor with a good squeegee (you can pick one up at your local Garage Living showroom). Your clean Floortex-coated floor will look just like new and be all ready for the demands of winter.
3. Turn off your outdoor water and empty and store all hoses
Before freezing temperatures become the norm, make sure your home's outdoor water connection is shut off for the winter. Drain the lines as much as possible as well. This will greatly minimize the chance of pipes bursting during winter time, which can be an expensive repair.
Your garden hoses should also receive attention when you're carrying out your fall garage storage preparations. Garden hoses should be kept coiled and unkinked at all times to prolong their life and prevent cracking and leaks.
Invest in a hose reel to make this easier and keep hoses off your garage floor or walkways. Garage Living carries high-quality wall-mounted reels and portable hose reel carts, in addition to excellent kink-resistant garden hoses that are very durable.
Disconnect your garden hose from its water connection and make sure you've drained all the water from it. It's a bad idea to leave water in hoses over the winter for a few reasons. Don't forget to drain sprinklers and watering wands as well.
Specifically, water left in hoses that freezes can rupture the hose or cause it to crack. An undrained hose that's left connected could also cause ice to potentially creep its way into your pipes and cause them to burst.
4. Make sure certain items aren't kept in the garage
More than a few homeowners make the mistake of using their garage to store items that should be stored in their heated living space. Here are a few items that you shouldn't be keeping in the garage:
paint, cleaning products, and many household chemicals (frigid temperatures affect their consistency, color, and effectiveness)
electronics you plan to donate (condensation can damage solder joints and cause circuit boards to rust or crack)
clothing or linens that aren't in vacuum-sealed storage bags
propane tanks (store them in a shed or covered outdoor area)
paper, which attracts rodents and other pests
5. Make your garage more energy efficient
Your garage doors are the largest moving object in your home. They also account for as much as third of your home's front exterior. Therefore, it's in your best interest to make sure this home feature is properly outfitted to maximize your garage's energy efficiency.
Make sure your garage doors are properly insulated to keep as much warm air in and as much cold air out. Modern garage doors offer much better insulation features than older models, which can help lower your heating costs.
Steel garage doors, in particular, are a popular choice for homeowners looking for garage doors that provide stylish aesthetics and effective insulating features.
Adding insulation to your garage ceiling and walls can have a major beneficial impact on your garage's energy efficiency. This can be a big, messy job that also isn't cheap, but it's a smart long-term investment.
Make sure your garage doors, window frames, and any other doors have weatherstripping to eliminate drafts. Weatherstripping can peel and crack over time, so be sure to inspect it periodically. You can also eliminate drafts around window and door frames, vents, and any outlets with caulking.
Remember, improving your garage's energy efficiency during the winter also means it'll be more energy efficient during the rest of the year. A well-insulated attached garage should ease the burden of your air conditioner when the weather heats up.
6. Make better use of your garage's wall space
One of the most commonly underutilized storage areas in garages are its walls. What's the main thing that's keeping you from using your garage for parking? Floor clutter, of course!
Reclaiming that valuable garage floor space to allow for parking will be especially appreciated when the cold weather arrives. You won't need to brush snow off vehicles and de-ice their windows, sparing you extra exposure to any inclement weather. Vehicles will also warm up quicker.
Adding a slatwall storage system to your garage walls will make it a lot easier to maintain an organized garage. Our PVC slatwall panels also add a more clean, finished look to your garage interior.
And by making use of the more than 40 types of slatwall accessories available, you'll be able to hang up most of your tools and belongings that are only used during spring and summer.
Everything from bikes to gardening supplies to sports and camping equipment can be hung with our specialty hooks, shelves, brackets, baskets, and bins, in an endless number of configurations. Up to 50 lbs can be supported.
And because slatwall panels give you so much extra storage space, you can find a dedicated year-round home for all your tools. There'll be no need to switch out summer tools like rakes with snow shovels, or vice versa.
This can save you many hours of time over the coming years. Seasonal transitions in your garage will be a breeze!
7. Test all garage alarm devices and check your fire extinguisher
Many fire departments advise you to test your smoke, carbon monoxide, and heat detectors a minimum of twice a year. Make a practice of doing so whenever the clocks go forward and go back.
Your garage should have a heat detector and carbon monoxide detector installed, so make it a habit to add testing these devices to your fall garage storage and preparation to-do list.
If your garage also contains a fire extinguisher that can be stored in colder temperatures, give it an inspection. Check that its expiry date is still good and check its pressure if there's a pressure gauge.
If you're not storing a fire extinguisher in your garage, store one just inside the door that enters your home from your attached garage.
What's that, you say? Your garage doesn't have a fire extinguisher, carbon monoxide detector, or heat detector? Investing in any or all three of these inexpensive items is a sensible idea as an extra safety measure to protect your home.
8. Prepare your equipment and tools for winter storage
A little preventative care when storing your lawn tools and equipment for the winter will extend their life. This also includes patio furniture. By spring, they'll all be ready to use right away. Take the time to declutter any tools that are barely used or worn out and no longer useful.
Lawn and garden tools like wheelbarrows, rakes, shovels, tillers, and edgers can be hosed down, which should remove most dirt. To remove stubborn caked-on soil and dirt, hose the tools down and use a light wire brush for cleaning (this can also be used to remove light rust). Make sure to dry all washed items before storing them.
Now let's give your cutting tools a little attention. Your pruners, loppers, shears, saws, and hedge trimmer blade will likely have sap on them. Use a cutting tool cleaner (or turpentine, which is also effective) to remove any sticky residue. Also, inspect the sharpness of the tools' blades.
Powered yard equipment needs even more care before storing them for the winter to maximize their life. Clean any grass clippings and residue from lawn mowers and grass trimmers.
For gas-powered equipment, drain all gas, oil, and other additives from the tools and dispose of the fluids properly. Consider an end-of-season tune-up for your lawn mower so you'll have one less thing to deal with when spring comes.
9. Look up to find more fall garage storage space
Along with a garage's walls, its vertical space is rarely used to the best of its abilities for storage. Remedy that and find more fall garage storage space by adding specialty overhead racking to store your bulkier and seasonal items.
Because these larger items have more weight, you'll need a more heavy-duty storage solution, which our overhead racks provide. Up to 600 lbs can be supported on our adjustable racks, which are available in a variety of sizes.
Many homeowners taking care of their fall garage storage needs in colder climates will own an extra set of car tires. If you have more than one vehicle with a second set of tires, that can take up more garage floor space than you'd prefer. Try using a heavy-duty wall-mounted tire rack instead.
With these bulky items stored vertically, you'll be amazed at how much space this can free up on your garage floor. Parking will be easier and you'll be able to quickly locate those storage bins or totes full of holiday decorations when needed.
10. Store your summer car on a car lift
If you own a classic car or sports car that only gets driven for half the year due to the weather where you live, storing it during the winter can pose a problem.
Either you'll need to use up one of your garage's parking spots for it or you'll need to store it in an off-site facility. Both of these can be inconvenient, but a car lift makes for a great solution.
A 4 post car lift also makes use of the underutilized ceiling space in your garage to provide you with extra storage space. Simply raise your car on the lift and keep it there until spring, while parking your everyday use vehicle below it.
A car lift can also be used (with the right attachment) for storing other seasonal items like motorcycles and riding mowers.
11. Inspect your winter tools and equipment
You won't want to wait until after that first blizzard hits to find out your snow blower isn't functioning properly. Be sure that your fall garage storage and preparation checklist includes snow removal equipment inspection.
Consider taking your snow blower in for a tune-up if it's been a while since a pro performed maintenance on it. If you're more of the hands-on type, change the spark plug and fill it up with gas, oil, and any additives like fuel stabilizer.
The tires and pull cord should also be checked. Take proactive measures by having backups for parts that more commonly need replacing, so you're not inconvenienced with a maintenance issue when the snow blower is really needed. This includes shear pins and extra drive belts.
12. Consider additional storage solutions like garage cabinetry
Garage cabinetry helps you maximize storage space and can be extremely valuable when it comes to finding extra fall garage storage space for all your belongings.
Garage Living has several lines of cabinet systems to fit any budget. From our GL Signature cabinets (which are great for smaller garages) to our top-of-the-line GL Custom Steel cabinets, any system you choose will drastically improve your garage's functionality and looks.
13. Add a garage heater
Using your garage as a workshop gives you the freedom to tinker and repair things in your own private space, without worrying about messes or noise. Cold weather limits your ability to use it comfortably, however.
Your multipurpose garage space can be more useful during the year's more frigid months by adding heating to it. Needless to say, 24/7 garage heating during the winter can get expensive, unfortunately.
One alternative solution is to use a portable electric heater. An even better idea is to get a more effective heating solution that can be fastened to your wall, like an electric radiant infrared heater.
Garage Living's electric radiant heaters come in 110V and 220V models that have a long power cord and a remote control. It's meant to heat a smaller area of your garage so you'll be able to continue using your garage for your hobbies all year-round.
Consult a pro for your fall garage storage needs
Garage Living can help with your fall garage storage preparations.
Schedule your free design consultation to get your garage winter-ready with our smart and effective garage organization and storage solutions.
See also: