A well-designed garage makeover project focuses on making the garage beautiful and functional. Your garage space should be an extension of your home's architecture, design, décor, and lifestyle.
For a number of reasons, custom garage cabinets should be an essential component of your garage makeover project.
With a fusion of passion, innovation, creativity, and expertise, Garage Living's metal cabinets offer superior craftsmanship, materials, options, and looks to satisfy any homeowner's wish to create a personalized custom garage space.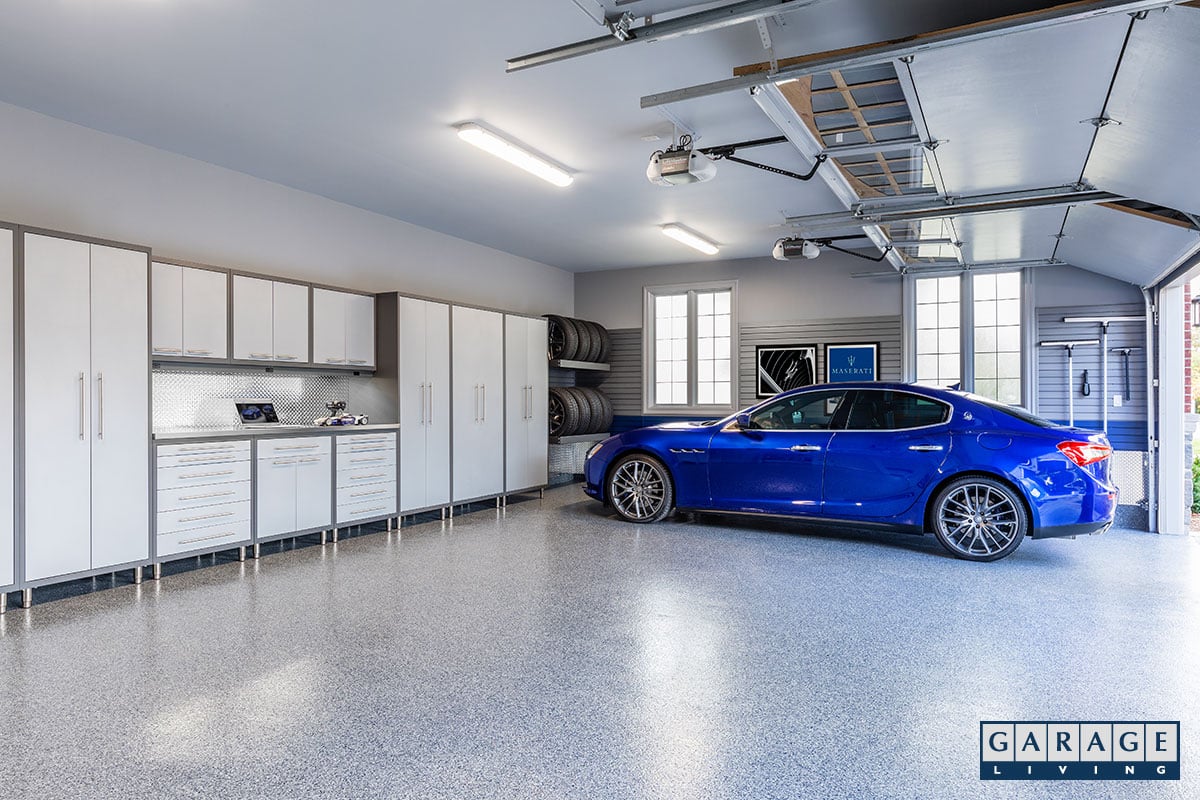 Custom garage cabinets are designed to perfectly fit your garage space
There are commonly two types of garage storage cabinets:
Modular – individual prebuilt/prefabricated cabinet units that don't allow for custom sizing
Custom-fit – offers more design flexibility because the cabinet units can be custom-built to a specific height, width, and depth
A custom-fit garage cabinet system gives Garage Living's designers extensive flexibility to customize the cabinets to our clients' exact garage space requirements. This custom-fit precision makes optimal use of your garage's space.
Choose from a wide range of specialty options for your custom garage cabinets
There are a wide variety of specialty options available to make your garage cabinets more functional and visually appealing. Here are some of the specialty options that can be added to our custom garage cabinets:
sink units
power bars with USB charging ports
utility drawers with organizing bins
backsplash
valance lighting and pot lighting
TV cabinet enclosure
numerous color options
Add more storage space with custom garage cabinets and stay organized
One of the obvious benefits of garage cabinets is that they make it much easier to keep your garage organized. Along with garage organization solutions like slatwall and specialty storage racks, cabinets add extra storage space that's maximized.
Your tools and other belongings will be kept organized and choosing the drawer lock option will keep them secure.
Custom garage cabinets also add a high-end look to a garage and enable the room to be a more productive workspace.
We have three lines of custom garage cabinet systems available:
1. GL Custom Steel cabinets
The GL Custom Steel precision line of storage cabinets represents our best choice for design flexibility, showroom quality looks, and overall high-end garage storage. These cabinets are ideal for the for discerning homeowner looking to complement their luxury vehicles with an appropriately high-end surrounding in their garage interior.
And GL Custom Steel cabinets can do more than just look spectacular and let you add specialty options like a TV cabinet enclosure and glass door inserts. These cabinets are also well-suited to homeowners who wish to use their garage as a workspace.
2. GL NEOS Elite cabinets
The GL NEOS Elite system stands out with its minimalist high-tech look and seamless wall-to-wall design. Like the GL Custom Steel system, the cabinet colors of the GL NEOS Elite system can be used to complement your vehicle color, which is a frequent request of Garage Living clients.
GL NEOS Elite cabinets are also well-suited to a task-oriented garage space like an automotive workshop. They feature durable double wall cabinet doors and shells, heavy-duty drawers for storing heavier tools, and lots of custom options to address your work needs.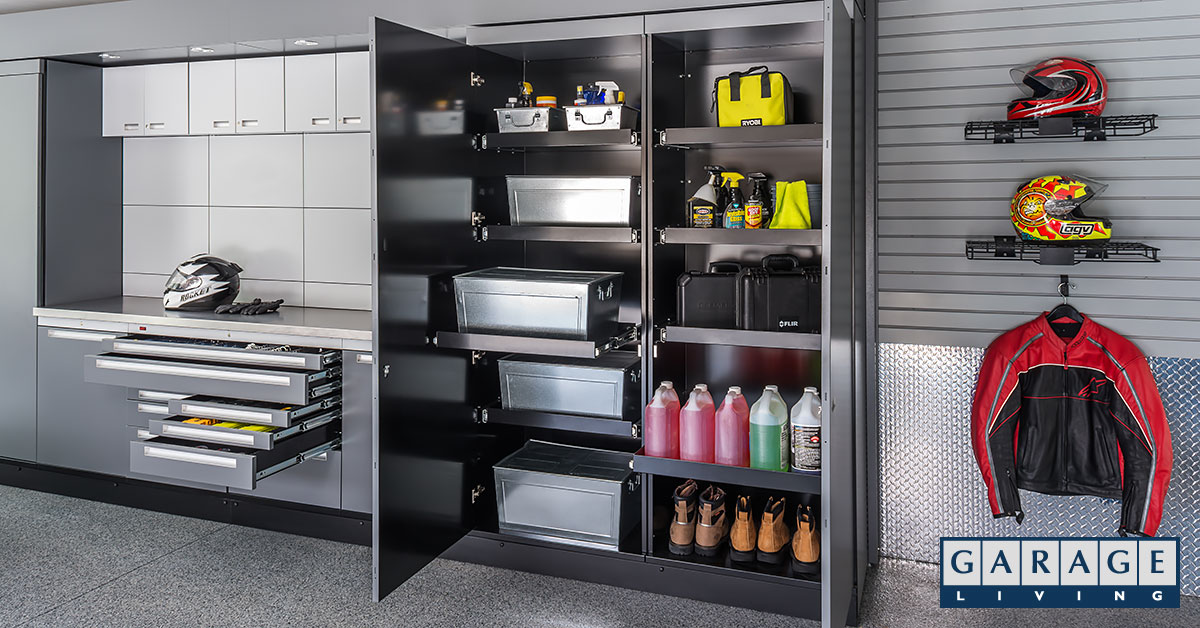 3. GL Hayley cabinets
Whereas our other cabinet lines keep their construction elements hidden (like screws, bolts, and rivets), the GL Hayley system aims for a different aesthetic.
The visible hardware components on the custom-fit GL Hayley system creates a unique look. This garage storage system is ideal for a task-oriented garage space.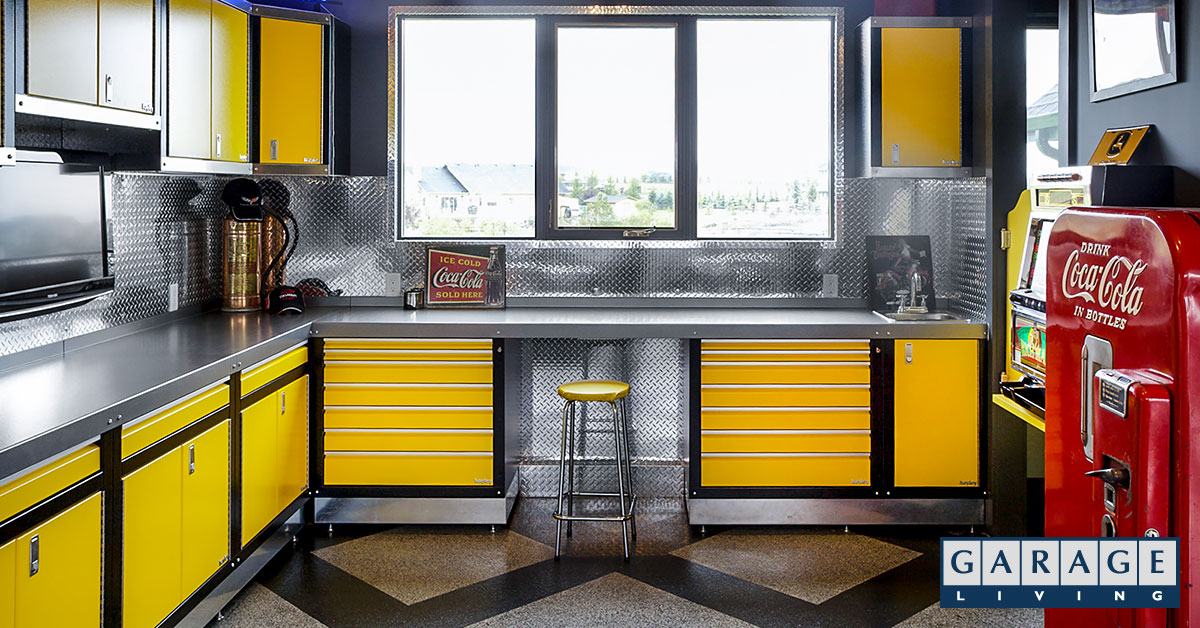 Ensure your custom garage cabinets use high quality construction materials
Don't overlook the importance of the materials your custom garage cabinets are made from. All of Garage Living's modular and custom metal garage cabinets are constructed from sturdy, high quality American and Canadian 16-gauge and 18-gauge steel. "Gauge" refers to the steel thickness – the lower the number, the thicker the steel.
Cheaper garage storage cabinets from big box stores commonly use an inferior quality of foreign steel that's flimsy, overly recycled, and more likely to rust quickly.
Our custom garage cabinets are also powder-coated. This is a process where multiple coatings of a dry powder are applied to the cabinet surface. Powder coating gives your cabinets a more resilient finish than traditional paint coatings, which extends their life.
Look for superior craftsmanship in your custom garage cabinets
Along with first-rate construction materials and speciality options, higher-end custom garage cabinets also have a superior level of craftsmanship.
From the smartly designed layout of the cabinet systems to their smooth, easy-to-open drawers and doors, you'll immediately notice the difference compared to much cheaper cabinets.
Garage cabinets for all your storage needs
We also have additional lines of modular cabinets to serve your garage storage needs.
Choose from our popular GL Signature and GL Premium cabinet systems, which still offer high quality craftsmanship and construction materials, along with several specialty options.
Transform your garage space right now
Garage Living specializes in designing custom garage cabinet solutions of the highest quality that will transform your garage space for years to come.
Get started by scheduling your free design consultation with us today.
See also: