If it's time to redo your aged and crumbling garage floor, there are a number of garage floor coating brands to choose from. Not every garage floor coating is created equal, however.
Will your choice of coating deliver the looks and durability that meets your needs? When choosing a garage floor coating, you need to look at a number of important different factors to determine whether or not it's the best choice for you.
1. How will the garage floor coating look?
Sure, any new garage floor coating should improve the look of your garage's old floor surface. There are definitely varying degrees as to just how much better each one will look and perform once the job's been finished, though.
Applying a floor coating yourself that was bought from a home improvement retailer simply won't look as impressive as a polyaspartic garage floor coating like Floortex™ that's been applied by a professional company like Garage Living.
2. Does the manufacturer have a good reputation?
Just how much do you know about the manufacturer of your garage floor coating? Are they a reputable company that makes a high quality product, such as Floortex™ manufacturer Rhino Linings?
Before investing money in a floor coating, be sure you're buying a product from a reliable manufacturer with a good track record.

3. How durable will your garage floor coating be?
If you're going to the time and expense of adding a floor coating to your garage floor, you certainly want it to be durable and last for years. The average weight of a vehicle is a little under 4,000 pounds. Can your floor coating stand up to the rigorous demands that will be placed on it and remain intact, while retaining its finish?
4. What level of maintenance will your coated garage floor require?
No one enjoys cleaning, so ease of maintenance should be an important factor to consider when choosing a floor coating. If chemicals and other liquids are spilled on your garage floor, how easy will they be to clean up and can they affect the floor's finish? Also, how visible will dust and dirt be on the floor?
5. When it comes to a warranty, what can you expect?
Warranties deliver peace of mind, ensuring you of a specific length of time of satisfaction with a product purchase. Just how strong is the warranty your garage floor coating comes with?
If problems arise, how comfortable are you that the floor coating manufacturer or installer will rectify the issues and stand behind their product and services?
6. What kind of application turnaround time can you expect?
Having a new coating applied to your garage floors can be disruptive to your busy life, so you'll no doubt appreciate a quick application process. How soon can you expect everything to return to normal and be able to start using your garage again?
One distinct advantage Floortex™ floor coating has is that it builds up thickness much faster during our 5-step application process than other floor epoxies. This significantly reduces the overall time needed to complete your flooring project.

7. How will your floor coating complement your garage's decor?
If you're having your garage floors transformed with a new coating, it's possible you've decided to also upgrade other areas of your garage with cabinetry, wall storage, or a new garage door.
Even if this isn't the case, you'll want to ensure that your new garage floor coating complements the style and color scheme of the rest of your garage. How easy will that be to accomplish with the options and design flexibility that your floor coating provides?
8. Is the floor coating safe and environmentally friendly?
You and your family will be spending a lot of time in the garage in the years to come. How safe are the chemicals in your garage floor coating?
You should expect that your floor coating of choice is free of VOCs (Volatile Organic Compounds), which are chemicals found in household products that are slowly released into the air.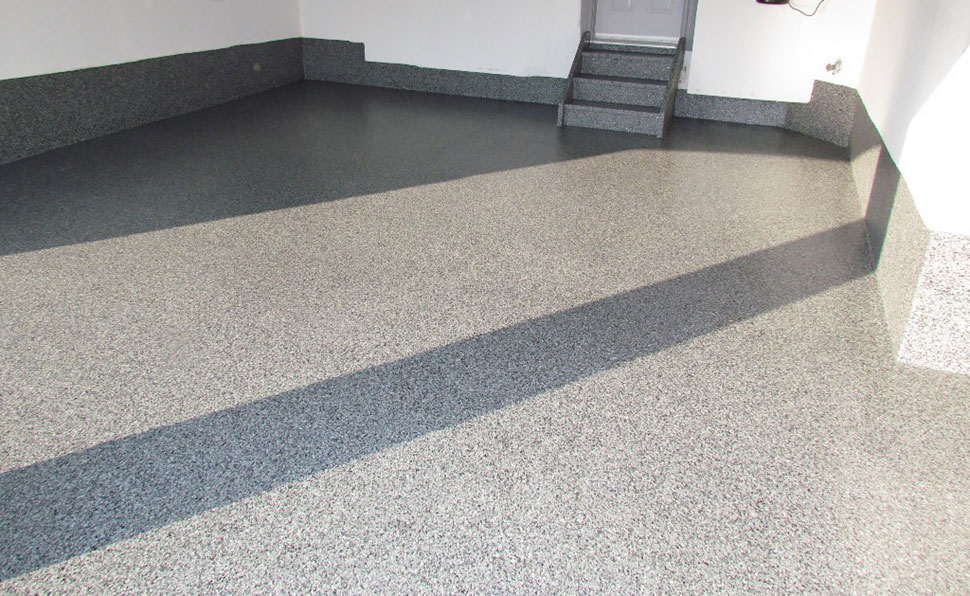 Floortex™ has all 8 of these floor coating essentials
When you compare the individual benefits of various garage floor coatings, only one brand stands out above the rest – Floortex™. Using the above eight questions, here's how Floortex™ provides every one of your garage floor coating requirements:
Your garage floor will stand out with the sleek and clean look that Floortex™ floor coating delivers, adding a thoroughly modern touch to your space.
Floortex™ is manufactured by Rhino Linings, a worldwide leader in high performance polymers and protective coating products for industrial and residential applications.
Enjoy a superior level of durability with a Floortex™ floor coating, which won't fade, yellow, blister, or peel over time like some other floor coating products will. It's also highly resistant against a wide range of chemicals.
The textured appearance of a floor coated with Floortex™ doesn't just look great, it also makes dust and dirt less visible. That means less maintenance for you. Cleaning up spills is a breeze, too.
You'll get a written warranty from Garage Living when your floor is done, ensuring you of 100% satisfaction with our products and installation services.
It can take as little as one day for us to finish our application process of a Floortex™ coating. After the final top coat has cured, foot traffic in your garage can resume in 24 hours and vehicle traffic can resume in just 2-3 days.
There are many floor coating colors to choose from, which will complement any color scheme your garage interior might have.
Floortex™ floor coating is an environmentally friendly product, with zero VOCs.
Make the best choice for your garage by choosing a Floortex™ garage floor coating.
To further discuss how Floortex™ floor coating can enrich your garage's space, schedule your free consultation with a member of our design team.
See also: