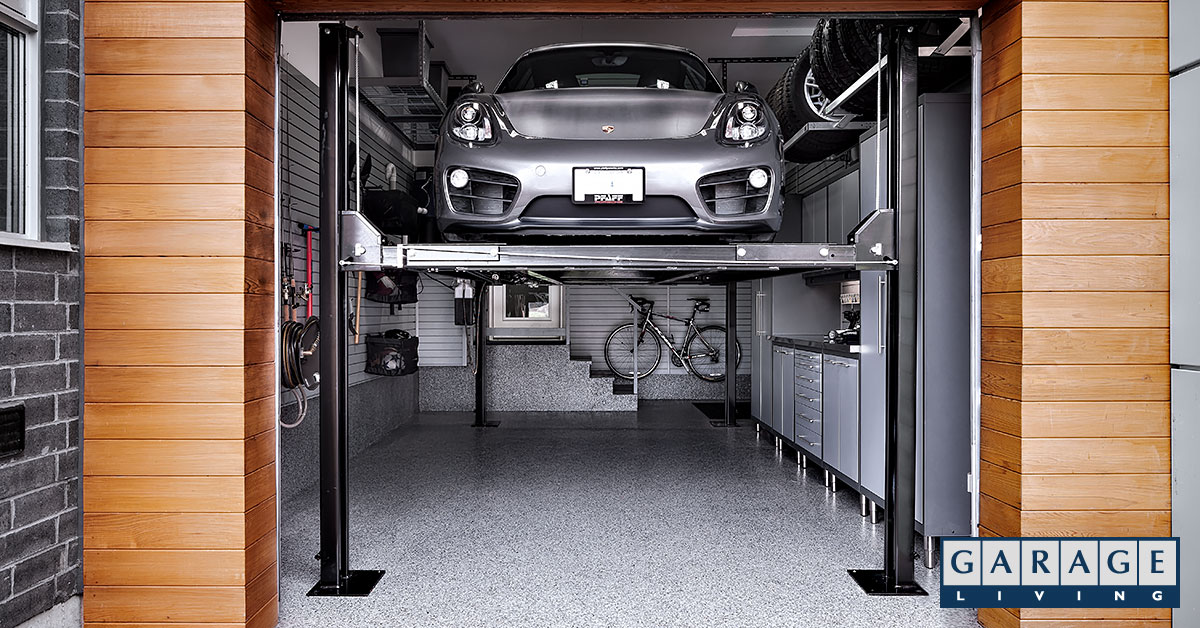 Luxury condos in Manhattan have them. The gleaming glass malls of Dubai have them. But that doesn't mean you can't have one, either.
Car lifts are the latest trend in garage luxury. And these days, you don't have to be social royalty to own one.
An increasing number of homeowners are installing car lifts in their garage. These "elevators" are your best bet when it comes to added convenience to park more vehicles within a limited garage space.
Let's say your family owns two cars, but your garage can only hold one. Instead of forcing one car to park outside at all times, a car lift can allow for both vehicles to be stored indoors.
This is particularly helpful during the winter months when you want to protect all your cars from the elements. Even if you live in a climate that is warm year-round, indoor parking is always better for your vehicles in order to keep them safe from theft and vandalism.
Garage Living can provide professional assistance with the installation of your car lift. But there are some important considerations to make before getting one of these for your garage.
Will you own more cars in the future?
As mentioned earlier, a car lift is an excellent option for individuals and families who own more than one vehicle. They're certainly a cheaper option than building an additional garage or expanding your existing garage.
But consider whether you'll be purchasing any new cars in the future. If you plan on adding more vehicles to your current collection, it may be cheaper to have several lifts installed at once rather than getting them put in whenever a new car is purchased.
Do you want a 2 post or a 4 post car lift?
It's a good idea to familiarize yourself with the basic mechanics involved with car lifts. 4 post lifts typically have higher weight capacities than 2 post lifts and are a lot more user-friendly due to their "drive-on" design. With 2 post car lifts, you have to align support arms underneath the vehicle to lift it.
Most 4 post car lifts require the homeowner to anchor the unit to the floor, as do some 2 post car lift models. 4 post car lifts do have a larger footprint in the garage because they naturally have twice as many posts. Keep that in mind if space is at a premium in your garage.
What safety features are important to you?
Modern-day car lifts come with a variety of safety features to protect users from accidents and injury. Reputable manufacturers are especially careful to incorporate the best safety features in car lifts sold for domestic use.
Safety options include lift stabilization to prevent the vehicles from toppling over and hydraulic flow controls. Pay a little extra and you can get a car lift with anti-pinch mechanisms and many other valuable features.
Be sure to thoroughly research the safety features on any car lift models you're considering before committing to one.

Does the device meet proper safety standards?
When shopping around for a car lift, you may come across some foreign-made models that are noticeably cheaper than their North American-made counterparts.
Never take chances when purchasing a heavy-duty device like a car lift. Even though the foreign model may be less expensive, the price difference may be due to parts and craftsmanship that are of a much lesser quality.
Instead, opt for a car lift made by a trusted manufacturer from the U.S. and Canada. This will ensure that the product meets the high safety standards in both countries. This does not mean you need to purchase the most expensive device on the market. You should be able to find a qualified lift at a cost that's reasonable for your budget.
Does the car lift have a good warranty?
Like all electronic devices, car lifts are not immune to defects and breakage. Check that the manufacturer has a good warranty that protects your investment over the long run.
Be willing to pay a little extra for an extended warranty, which will bring you that added peace of mind.
Talk to a pro when buying your car lift
Rely on a qualified professional like Garage Living when buying a car lift for your garage. From design planning to installation, our company can ensure that you're getting the most out of your garage!
Schedule a free consultation with us today.