Garage Living is all about transforming the garages of our clients into highly functional spaces that look incredible.
As a company with a keen eye for stylish design and high-end aesthetics, we're always interested in the newest luxury vehicles some of our clients might one day be parking in their new garages.
Recent years have seen a boom in the sales of luxury vehicles worldwide, with especially strong showings in the U.S. and Canada.
Considering the strong economies in both countries and the innovative and stunning models that auto manufacturers keep producing, it's no wonder luxury vehicles are being parked in more and more garages.
9 of the best 2020 luxury cars to look out for
2020 has no shortage of amazing luxury vehicles to get excited about.
Our list, which isn't in any particular order, focusses on some of the standout models that have been highly rated by respected automotive journalists. Canadian prices (CAD) are in parentheses.
Take a look at some of the best 2020 luxury cars available right now that add a major "wow factor" to any garage!
1. Lexus LC 500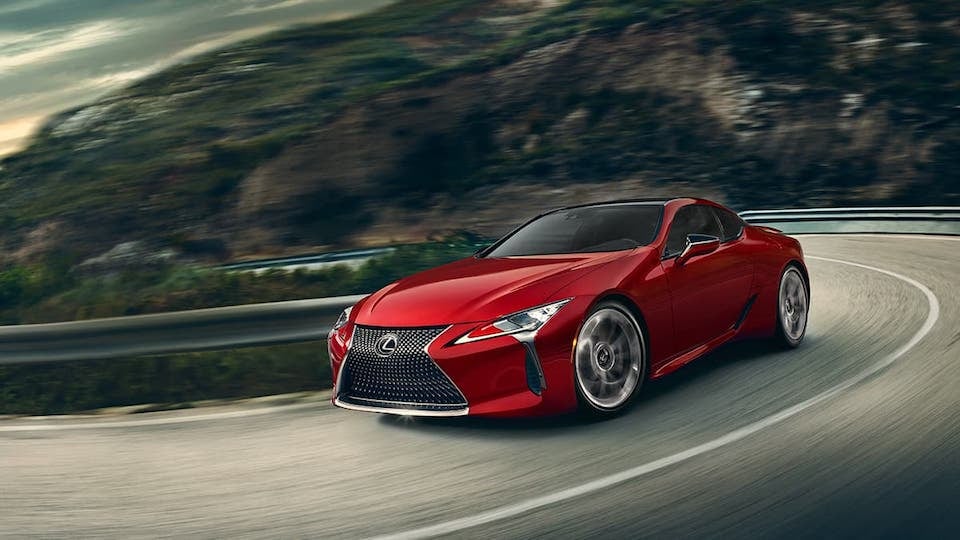 Consumer Reports named Lexus the most reliable automaker for 2020, not just for luxury vehicles but the entire auto industry. That was based on exhaustive data collected on more than 400,000 vehicles manufactured from 2000-2019. We're not surprised considering Lexus is a subsidiary of Toyota, a perennial leader in automotive reliability.
The LC 500 makes our list of the best 2020 luxury cars because…well, just look at that photo above! What's not to love about that sleek front end, burly V8 engine (pushing 471 hp on the standard model), and exquisite interior?
Lexus' flagship coupe is available in four different versions:
LC 500 standard model
LC 500h hybrid
LC 500 convertible
LC Inspiration Series (limited to just 100 cars)
Starting from: $92,950 ($103,450 CAD)
2. Porsche Taycan

The Taycan (pronounced tie-kahn) was unveiled as a concept vehicle in 2015 and the first fully electric Porsche has finally made its way to market, making quite the first impression in the process. Automobile magazine named it their 2020 Design of the Year.
The car's name, roughly translated, means "soul of a spirited young horse", which seems quite fitting. It aligns nicely with the horse featured on Porsche's iconic logo and reflects the serious horsepower lying beneath the hood.
The baseline 4S model delivers 522 hp (up to 563 hp with a bigger battery), the Turbo has 670 hp, and the Turbo S packs a whopping 750 hp.
The premium electric vehicle features front and rear electric motors providing all-wheel drive and an 800-volt electrical system that's touted as having shorter recharge times. Car and Driver magazine expects that the Turbo S model's driving range will be around 225 miles (362 km), while the Turbo model should be around 270 miles (434 km).
Starting from: $103,800 ($119,400 CAD)
3. Audi R8

Available in coupe and convertible versions (the latter is called the Spyder), the Audi R8 was praised by Car and Driver for its "head-turning styling, minimalist cabin, and a V-10 engine that sings''.
That 10-cylinder engine is the same one the Lamborghini Huracán uses, so you know it's no slouch in the speed department. The standard model of the vehicle runs at 562 hp and the Performance model of the coupe and convertible pushes 602 hp, with "neck-snapping acceleration", as Car and Driver puts it.
View a gallery that shows how the color of the Audi R8 of one of our clients influenced the color scheme for his garage makeover.
Starting from: $169,900 ($188,400 CAD)
4. Corvette ZR1

As Corvette manufacturer Chevrolet boasts, "The ZR1 has returned to the throne to push the Corvette legacy to its highest point ever. It's a supercar that's at once luxurious and overwhelmingly capable, delivering the icon's fastest, most powerful, most advanced performance in a production Corvette to date. Drivers, hail the new King."
Look beyond the standard automaker marketing hyperbole, however, and you'll find an impressive luxury sports car whose 2019 model was named Road and Track magazine's Performance Car of The Year. That model achieved a top track speed of 212 mph, making it the fastest production Corvette ever.
The supercharged V-8 engine can go 0-60 in just 2.85 seconds and tops out at 755 hp. You can even control the volume of the car with a new exhaust system with four different sound profiles, ranging from the in-your-face Track setting to the quiet-as-a-mouse Stealth setting.
Starting from: $123,000 ($138,595 CAD)
5. Mercedes-Benz S-Class

Mercedes-Benz is the leader in luxury vehicle sales both in the U.S. and globally. The flagship S-Class is a big reason for that and is a longstanding favorite of luxury car buyers.
Trusted automotive resource Edmunds named the 2019 S-Class the winner of their Buyers Most Wanted Luxury Large Car award. Car and Driver heralded the 2020 S-Class for its "flawless fit and finish inside and out, creamy-smooth engines, and a distinguished on-road presence" and Carbuzz.com says the sedan "still manages to set the bar for virtually every other competitor at this premium end of the market" in its review.
The full-sized luxury sedan has a spacious interior loaded with the latest car infotainment tech and premium options like a 360° camera system. Extras also include semi-autonomous driving and seats that can do almost everything except drive the car itself (well, not quite…they do have ventilation, heating, and massage capabilities, though).
New for 2020 is a hybrid model (the S 560e), which joins the sedan, coupe, and convertible S-Class models.
Starting from: $95,000 (109,000 CAD)
6. Tesla Model S

If Google searches are any indication, the Tesla Model S is the second-most wanted electric vehicle in the world, trailing only Tesla's Model 3 (according to data from MotoringResearch.com).
We do know it has been the best-selling large luxury car in the U.S. and Canada in 2018 and 2019. Not bad for a model that only launched eight years ago.
Other auto manufacturers are trying to catch up to Tesla's industry-leading electric vehicle driving range. The latest Model S has an impressive 373 mile (600 km) driving range and an acceleration speed of 0-60 in only 2.6 seconds.
The newly launched Taycan is a direct competitor to the Model S, as Porsche tries to cater to car buyers seeking luxury, high-performance, and more eco-friendly transportation.
Starting from: $85,000 ($113,600 CAD)
7. BMW 7 Series

One of the world's most popular luxury brands gives its flagship luxury sedan a few relatively minor updates for 2020. Notably, BMW's 7 Series luxury car gets new headlights and taillights, reworked powertrains, updated infotainment tech, and a refresh of its hybrid model (with the 745e replacing the 740e).
AutoBlog.com's review of the 7 Series raved about how "nearly every technological, engineering and performance trick up BMW's sleeve can be found in this car, making it one of the most sophisticated and advanced vehicles on the road today".
The in-your-face front grille is fairly divisive amongst some BMW enthusiasts and auto journalists (TopGear.com's review called it "hilariously, unforgivably ugly"), but the 7 Series remains one of the world's best-selling large luxury cars for a good reason.
Starting from: $103,645 ($119,800 CAD)
8. Polestar 1

Polestar is a rather unknown auto brand here in North America. The company was founded in 1996 and built its reputation as a team on the European racing circuit. Volvo purchased them in 2015 and two years later Polestar's first high-end electric performance cars hit the market.
We thought the exciting Polestar 1 was a good under-the-radar pick for our list of the best 2020 luxury cars. Driving.ca said the built-in-China zero-emissions vehicle "may not just be the best EV on the market today but possibly the best luxury gran turismo".
The plug-in hybrid coupe features two rear electric motors and another electric motor under the hood that can combine for a powerful 600 hp. Polestar says the 1 delivers the best electric-only range of any hybrid car on the market.
As in previous years, the production run of the vehicle is limited to 500 units.
Starting from: $155,000 ($208,950 CAD)
9. Porsche 911 Carrera S

Sure, it's another Porsche on our list, but it's the iconic 911 Carrera S. Porsche has eight different models of one of the most well-known sports cars in the world on offer for 2020, ranging from the baseline Carrera coupe up to the Carrera 4S Cabriolet.
We love the Carrera S for its sleek looks, luxurious leather interior, cutting-edge amenities, and incredible handling. And then there's that legendary power of the car, which has a top track speed of 191 mph, does 0-60 in 3.5 seconds, and has a 443 hp engine.
Since the 2020 911 Carrera S was unveiled, the accolades have been rolling in, with Motor Trend naming it one of their finalists for 2020 Car of the Year.
Starting from: $113,300 ($120,000 CAD)
For the best 2020 luxury cars, only the finest parking space will do
Any of the best 2020 luxury cars listed here need something more than a drab, outdated garage space to call home for the coming years.
If you appreciate the beauty of a luxury car, you owe it to yourself to park your vehicles in a luxury garage that's befitting of the high-end looks of your four-wheeled investments.
Garage Living specializes in designing garages that give homeowners ample storage space that's easy-to-manage, as well as showpiece garages you'll be proud to show off.
Take your first step towards parking your vehicles in a gorgeous space that gives you the feeling of luxury the moment you arrive home. Schedule a complimentary design consultation with us today.
Please share this post if you found it useful.
See also: