There are many important decisions that go along with committing to a major home improvement project like a garage makeover.
For homeowners, one of their biggest concerns will be which contractor they can trust to handle the project. Personal references can be invaluable, as can the many online resources available.
The Baeumler Approved contractor referral program is one such important resource.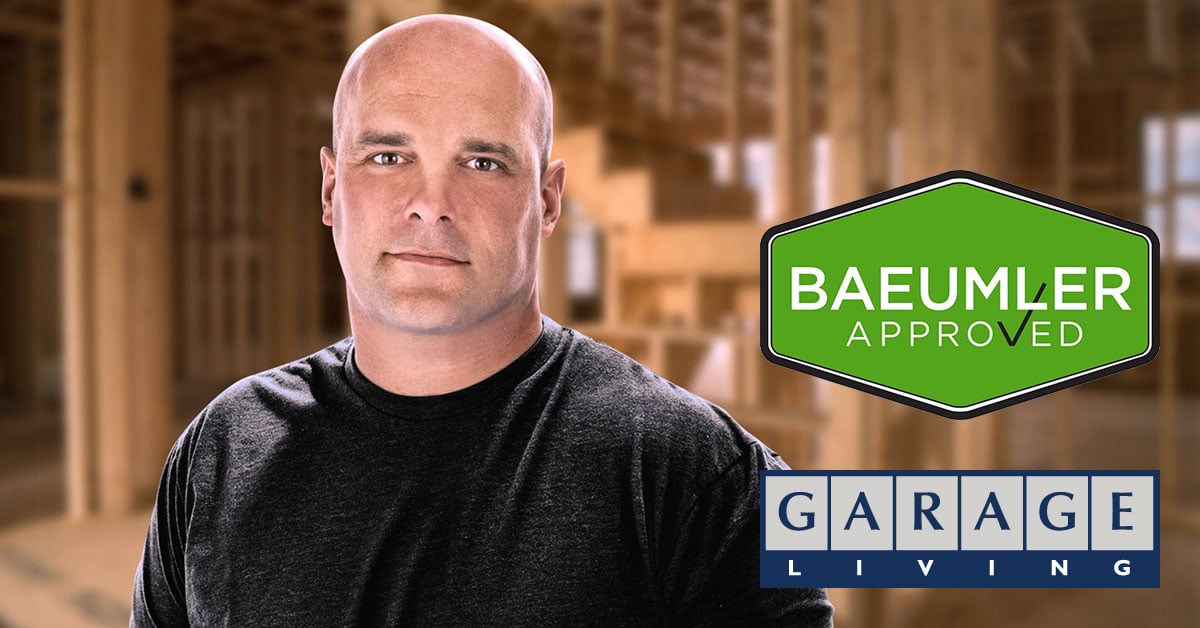 What is the Baeumler Approved program?
The Baeumler Approved program was launched in 2012 in Canada by celebrity home improvement guru Bryan Baeumler and his business partner, Stuart Riley.
Baeumler's high profile in the media exposed him to many people asking him for his expert advice when it came to choosing a reliable contractor or tradesperson for a home renovation.
While other online resources were available to provide feedback on contractors, none of them had the highly respected Baeumler name attached to them.
As the handyman explains on the Baeumler Approved site, "We help you take the first steps in selecting who you will trust to help you improve."
But before getting deeper into the Baeumler Approved program and why its seal of approval is important when choosing a contractor, let's get a quick primer on the man behind it.
Who is Bryan Baeumler?
The better question might be who isn't Bryan Baeumler? This is a man who certainly doesn't rest on his laurels.
It's hard to imagine the high profile Baeumler has escaped many people's attention, but here's a list of some of his accomplishments and endeavors:
the host of numerous popular TV shows including Disaster DIY, Leave It to Bryan, House of Bryan, and Bryan Inc. on HGTV in the U.S. and HGTV Canada
CEO and President of Baeumler Quality Construction, a full-service construction, and renovation company
the bestselling author of 2015's Measure Twice, a DIY handbook
heads the Baeumler Family Foundation for Kids charitable organization
Baeumler has always loved working with his hands. In fact, he started his own handyman business when he was just 14, completing odd jobs for his neighbours.
And despite earning a Political Science and Business dual degree that was steering him down a career path in law, the call of the trades proved too strong for Baeumler to ignore.
How are Baeumler Approved members chosen?
Let's face it, there are more than a few contractors out there who demonstrate poor ethics, work quality, and reliability. That's why the Baeumler Approved program was created.
When choosing which contractors will be eligible to become Baeumler Approved, the screening process looks at the following criteria:
are previous clients satisfied with the quality of work and communication from the contractor?
do companies that have collaborated with the contractor speak positively about their work practices?
does the contractor have a reputable online history of testimonials and referrals?
can the contractor provide evidence of required professional certifications?
does the contractor have the necessary worker's compensation coverage, along with a minimum of $1,000,000 of active liability insurance coverage?
If a contractor meets the strict vetting guidelines established by Baeumler Approved, they're added to the list of approved contractors.
How Baeumler Approved helps consumers
The Baeumler Approved designation certainly needs to be earned by any contractor. And, importantly, this high level of reliability and workmanship also needs to be maintained.
Baeumler Approved members are required to sign and follow the program's Code of Conduct. These guidelines reflect the high standards Baeumler has towards customer satisfaction, work quality, and safety.
Baeumler Approved contractors who fail to comply with the Code of Conduct can be removed from the program's network. This level of accountability demonstrates the program's commitment toward Baeumler Approved being relied on as a go-to source for reputable contractor recommendations for consumers.
It should be noted that Baeumler Approved is only a recommendation resource. The program does not assume any liability for work done by one of their member contractors.
How does Baeumler Approved differ from online review sites?
There are many review sites available that let consumers leave feedback about companies, with Yelp and Google being two of the most popular ones.
These sites are one helpful way for consumers to get a sense of who they want to do business with. A recent BrightLocal survey found that 88% of consumers trust these reviews just as much as a personal recommendation.
The Baeumler Approved doesn't quite follow the same model. It simply acts as a recommended list of contractors who have established a history of trustworthiness and quality work.
Garage Living's association with the Baeumler Approved program
Since our start in 2005, Garage Living has done many thousands of makeover projects that have helped homeowners turn their garages into an extension of their living space.
Garage Living has established itself as a company known for its first-rate work, integrity, and superior products like our cabinetry, garage flooring, and wall storage system.
One example of our commitment to great customer service is the written warranty we present to customers after a Floortex™ floor coating application. This gives our customers the assurance that we stand fully behind our products and services.
Our reputation allowed us to become a Baeumler Approved member in 2013 and we continue to be proud of our association with the trusted Baeumler brand.
Our garage makeover project on Bryan's house
And Garage Living's association with Bryan extends beyond the Baeumler Approved program. We also worked on a unique garage makeover at Bryan's country home that was part of his House of Bryan show on HGTV Canada.
The project involved designing two connected "his and hers" garages. One garage space was tailored to Bryan's wants and needs and the other garage space was tailored to the requirements of Bryan's wife, Sarah, and their four kids.
There are many more photos of the project available for your viewing.
Enjoy peace of mind when choosing a Baeumler Approved contractor
The strict quality and integrity standards the Baeumler Approved program requires helps homeowners take some of the risk out of what can be a stressful process when it comes to choosing a reputable contractor.
And Garage Living isn't just a Baeumler Approved member – Bryan's also entrusted us with working on his own home.
Are you looking for a trusted garage professional for your upcoming garage makeover project? If so, schedule your free consultation with a member of our design team today.
See also: