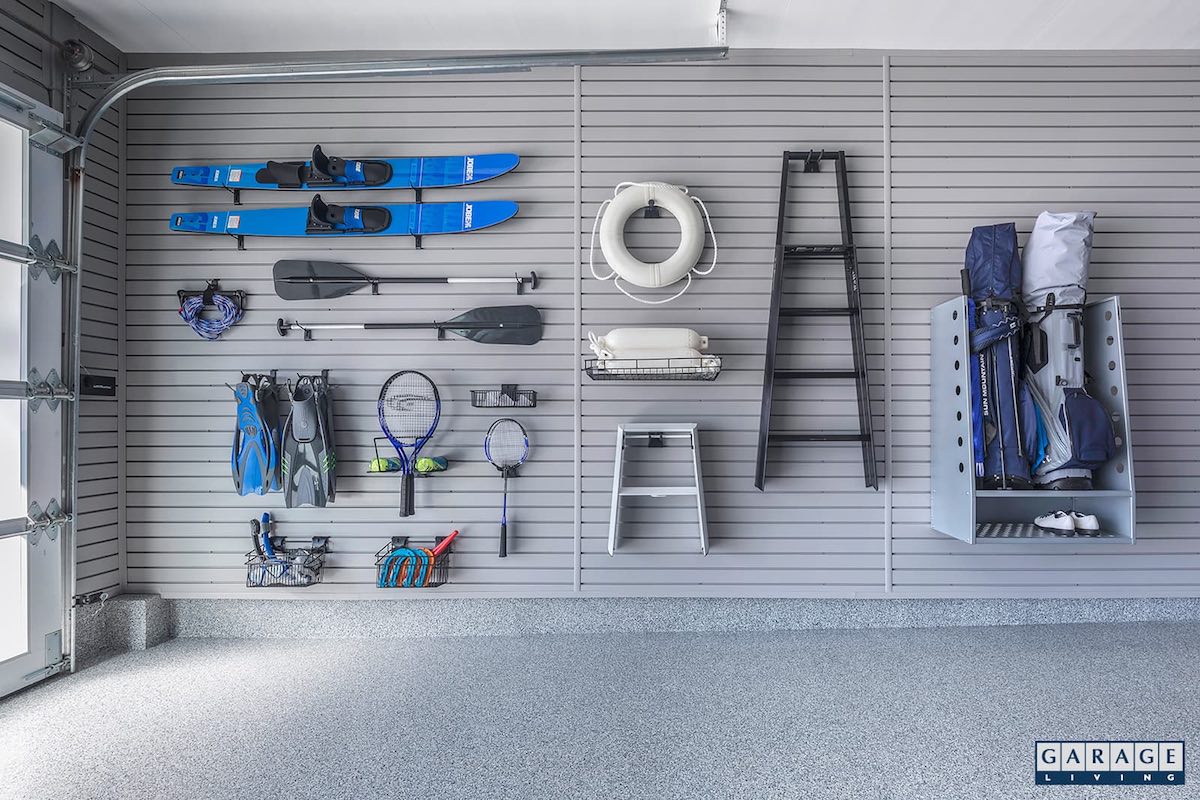 Excess garage clutter creates all sorts of problems. It restricts you from parking inside, makes it difficult to find items, and simply limits the functionality a garage is supposed to provide.
Considering a 2-car garage in the average home can comprise 13-15% of your home's overall square footage, that's a lot of wasted real estate you could be making better use of.
Adding garage storage solutions like overhead racking and cabinetry can be a big help in restoring your garage to an organized state once again. So can adding garage wall panels to keep your floor clutter-free.
Two of the most popular options when it comes to garage wall panels are slatwall and pegboard. So what's the smarter choice?
What should you be considering when buying garage wall panels?
When choosing what type of garage wall panels to go with, consider how important these nine factors are to you:
quality
durability
storage space needed
aesthetics
load capacity required
ease of installation
variety of hanging accessories
convenience of use
price
Let's break down each consideration individually.
1. What kind of quality are you looking for in your garage wall panels?
Pegboard is perforated hardboard that's most commonly found in 1/4″ thick 4′ x 8′ panels. If you've ever handled a sheet of pegboard this size, you probably noticed how much flexibility it had.
One word that possibly came to mind after seeing this was "flimsy". That's not exactly a quality one wants in their new garage wall panels, is it? Pegboard, which is similar to particle board, also tends to chip and split quite easily.
When it comes to slatwall panels, there's a couple of different types that offer more sturdiness. MDF (medium-density fibreboard) slatwall panels are quite heavy and come with horizontal rows for hanging accessories.
A more modern, improved version of MDF slatwall panels are slatwall panels made with a cellular foam PVC construction. They offer several benefits over traditional MDF slatwall panels, including durability, moisture resistance, weight, and looks.
One additional concern related to quality is the stability of the wall panels' hanging accessories. Pegboard hooks commonly get knocked off when an item stored on them is removed. Slatwall accessories, however, provide more stability.
2. How important is durability in your garage wall panels?
As mentioned, pegboard can't measure up to either type of slatwall panel when it comes to durability. Some homeowners setting up garage wall panels even make the mistake of going with a 1/8″ panel thickness when buying pegboard.
That's an invitation for all sorts of potential problems. Even buying a harder-to-find tempered pegboard won't give the same durability as slatwall garage wall panels.
Why? Because garage wall panels need to be able to handle a couple of specific challenges:
the wear and tear of tools stored on the panels being frequently picked up and stored again (especially in workshop-oriented garages)
the changing temperatures and moisture levels that a garage environment is subjected to (PVC slatwall panels are more resilient when it comes to these two factors)
"Heavy-duty" (as opposed to "flimsy") is most definitely a quality you should be looking for in your garage wall panels. And slatwall panels certainly fulfill that requirement.
3. How much garage wall storage space will you need?
Your garage walls offer plenty of underutilized storage space just waiting to be used. But how much space will you need to store everything currently cluttering up your garage floor?
Do you have lots of yard tools and a big family that requires the storage of numerous bikes and lots of sports equipment? All of these items can be stored on slatwall panels.
Factor in everything you currently own, along with how much extra space you might need to store future tool and equipment purchases. As with anything storage-related, it's always wiser to add extra storage space if possible, just to give you some flexibility later on.
The number of garage wall panels you'll need might very well be a determining factor in which type you choose, because prices will vary. More on that shortly.
4. How important are garage aesthetics to you?
Pegboard offers few choices when it comes to panel colors. Ugly white and brown pegboard panels are what you're most likely to find, which can leave you with a garage interior that looks partially like this:
Yes, pegboard can be painted, but then you have to worry about dried paint clogging the holes. That can make it difficult to insert hooks and other hanging attachments, which leads to further work drilling holes through the dried paint.
And after all that, you'll still be left with something that detracts from your garage's interior appearance instead of adding to it (particularly if you're adding several wall panels).
PVC slatwall panels offer 6 colors to choose from and provide protection and a finished, high-end look for your garage walls.
More color choices also means more design flexibility if you're looking to complement the rest of your garage's décor. That can be helpful if you're adding other upgrades like a floor coating or cabinetry.
5. What load capacities do you need from your garage wall panels?
An important deciding factor when buying an organization system for your garage walls is weight capacities. If you're going to the trouble of adding wall panels in your garage, you should want them to handle the weight of just about anything that's hangable.
Pegboard shows its limitations in this particular area. Smaller hand tools and lighter yard tools won't pose much of a problem, but a heavier bicycle or push lawn mower? Not likely.
Garage Living's PVC wall panels have a load capacity of 40 lbs/sq in and can safely hold items weighing up to 50 lbs with our heavy-duty slatwall brackets. That gives you more hanging storage flexibility.
6. Are you planning on installing your own garage wall panels?
When garage wall panels are installed, you'll need to account for various wall obstructions. This can include things like receptacles, conduit pipe, and light switches.
Our workers are skilled at making sure this tricky process is done correctly so your wall panels perfectly fit within your garage space. Garage floor sloping and ceiling unevenness are also accounted for.
Extra finishing touches that includes trim for ends, corners, and any gaps, along with color-matching screws, leaves your garage wall panels with a clean, cohesive look.
One major drawback with MDF slatwall panels is their weight (as much as 100 lbs per panel). That makes them quite difficult to work with.
7. Are you looking for a wide variety of hanging accessories?
You can find enough basic hanging accessories for pegboard panels, but probably not more than the 40+ types of hanging accessories available for PVC slatwall panels.
The wide range of hanging accessories is what really separates this storage system from the other types of garage wall panels available.
The numerous sizes of hooks can be used to hang items like bikes, small or large tools, power cords, ladders, sports equipment, and more. Magnetic tool bars and a screwdriver holder can also be used for small tool storage.
When it comes to rack storage, PVC slatwall panels can accommodate fishing rod racks, racks for golf equipment and other sports equipment, and even a paper towel rack.
Baskets, shelving, and small storage bins can also be added to your garage slatwall panels to hold everything from easy-to-lose small hardware pieces, to cleaning supplies, to your gardening supplies and tools.
8. Which garage wall panels offer the best convenience of use?
Once you've installed a pegboard wall panel and set up all the hanging attachments, it can be a big headache when it comes time to shift items around or make space for a newly purchased item. That's one of the limitations that comes with the individual holes that make up the pegboard's design.
It's more convenient making changes to the storage setup of PVC wall panels because you can easily shift items horizontally to make more room.
9. What's your budget when buying garage wall panels?
Pretty much the only area where pegboard panels are a more attractive garage wall panel option than slatwall is when it comes to price. But as the saying goes, "you get what you pay for".
If aesthetics, storage flexibility, and durability rank low on your list of concerns, budget-conscious pegboard panels might be enough to satisfy your needs.
If you're setting your sights a little higher for what you want your garage wall panels to provide, you'll be better off with PVC slatwall panels hanging on your garage walls.
Find out more about the benefits of PVC slatwall panels for your garage
Superior looks and construction and a premium level of storage flexibility make PVC slatwall panels the clear best choice when it comes to choosing garage wall panels.
With the enhanced ability to keep your garage organized that slatwall panels provide, you'll get much more functionality out of this important extension of your home.
Schedule a free consultation to discuss your wall storage and other garage makeover plans with a member of our design team.
See also: