Your garage floor is cracked and crumbling, you're unable to park your vehicles inside due to excess clutter, and you lack adequate garage storage space.
That garage renovation you've always wanted couldn't be more needed.
Unfortunately, your spouse needs convincing. Perhaps their concerns simply require them receiving a little more education about the process and the value it will have.
So how do you get your spouse on-board for a garage renovation? Try these nine useful tips.
1. Do your homework before a garage renovation
Your first step will be to do some homework about what's involved in a garage renovation. You don't need to have all the answers.
Just arm yourself with enough facts and information to adequately support your reasons for wanting a garage makeover and have a general idea of what should be expected with one. Poor preparation when discussing this project with your reluctant spouse will only hinder your case.
Visualize what you want your garage renovation to include. Sketch out how you want your new garage to look and learn a little about the products that might be used to realize this vision. You can learn more about our products on our website and also by visiting a Garage Living showroom.

2. Explain how a garage renovation will improve your family's daily lives
Now it's time to share your findings with your spouse. Explain to them that a garage renovation will make your family's lives more comfortable and convenient. Use the following examples:
Specialty storage racks, a slatwall storage system , and garage cabinetry will eliminate garage clutter and free up floor space.
Keeping the garage organized improves its functionality and allows your spouse to park their vehicles inside the garage, which provides protection from the elements and keeps them and your vehicles safer.
Adding a garage door opener makes daily life more convenient, especially with modern features like MyQ® Technology that lets you monitor and control your garage door from anywhere via a smartphone.
A durable Floortex™ floor coating will completely transform the look of your garage and is very easy to keep clean.
A stylish new garage door and aluminum capping will boost your home's curb appeal and improve its energy efficiency.
3. Appeal to your partner's self-interest
Appeal to the self-interest of your partner and incorporate their storage needs into the garage's design.
Are they an exercise or sports buff? Create a section of the garage that they can use as an exercise area. This could include slatwall panels and slatwall accessories for storing their equipment.
Here's an example of a fitness-themed garage: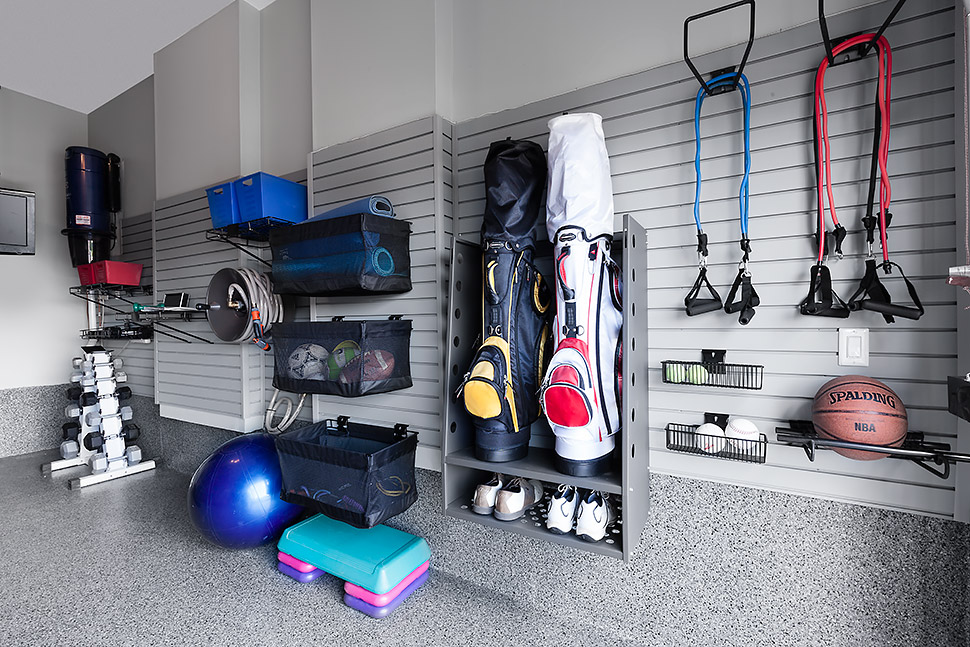 A slatwall system is also ideal for storing the belongings of anyone who enjoys gardening or yard work. Create a designated wall for your spouse to store their tools and gardening apparel.
Maybe your spouse's favourite hobby requires a workshop. We can create a great garage workspace using our high quality cabinetry and even add a foldaway workbench.
4. Have your spouse research how satisfied homeowners are after a garage renovation
Get your spouse Googling and they'll find an overwhelming number of homeowners who have undergone a garage renovation and are thrilled with the results.
They can research review sites like Yelp, home improvement forums, and social media sites that feature information sharing about home-related topics, such as on Houzz.
5. Bring your spouse to our showroom
Visit one of our showrooms with your spouse. You can get an up-close look at every single high quality product we offer and view fully outfitted garage displays.
Seeing our products in person will give your skeptical spouse a better sense of the value of our garage improvement solutions.
Our helpful staff will be happy to answer any questions you and your spouse might have about our products and services.
6. Have your spouse look at before and after garage makeover photos
Before and after photos can be very helpful for showing just what kind of transformative effect a makeover can have on a garage.
We're experts at taking cluttered and drab garage spaces and turning them into a part of your home that's functional, organized, and attractive. Here's an example:
7. Remind your spouse that a garage renovation adds value to your home
Undergoing a garage renovation now may require spending money, but remind your spouse it's a sensible investment.
Improvements made to your garage, especially the high quality improvements Garage Living can add, do more than just make your family's lives easier. They'll also increase the value of your home.
In fact, a garage door replacement has one of the best returns on investment for home renovation projects.
If your family should ever decide to move, the improvements made to your garage will definitely not go unnoticed by potential buyers.
8. Choose a reputable garage makeover company
One of your spouse's concerns may be the quality of work that will go into a garage makeover.
Garage Living is a rapidly growing company that has completed many thousands of garage makeovers throughout North America.
Our experienced team of designers, installers, and service personnel place the utmost priority in ensuring the work our customers receive meets the high standards Garage Living has set for itself.
9. Learn more about a garage renovation with a free design consultation
A garage remodel shouldn't cause tension between you and your partner.
Maintain good communication, be understanding of each other's concerns and wishes, and arrive at decisions that ensure you're both satisfied with your garage renovation project.
Schedule your free consultation with us and one of our design experts can answer all of your garage renovation questions.
See also: