A small garage definitely makes it a challenge for a homeowner to get a satisfying level of functionality out of their space.
The constraints of a small garage don't necessarily mean you have to make compromises with either of a garage's two primary functions, however.
Parking and storage in a small garage are two functions that can co-exist – it just takes a little more ingenuity to make things work efficiently.
To get the most out of your garage's limited square footage, use these small garage ideas and tips.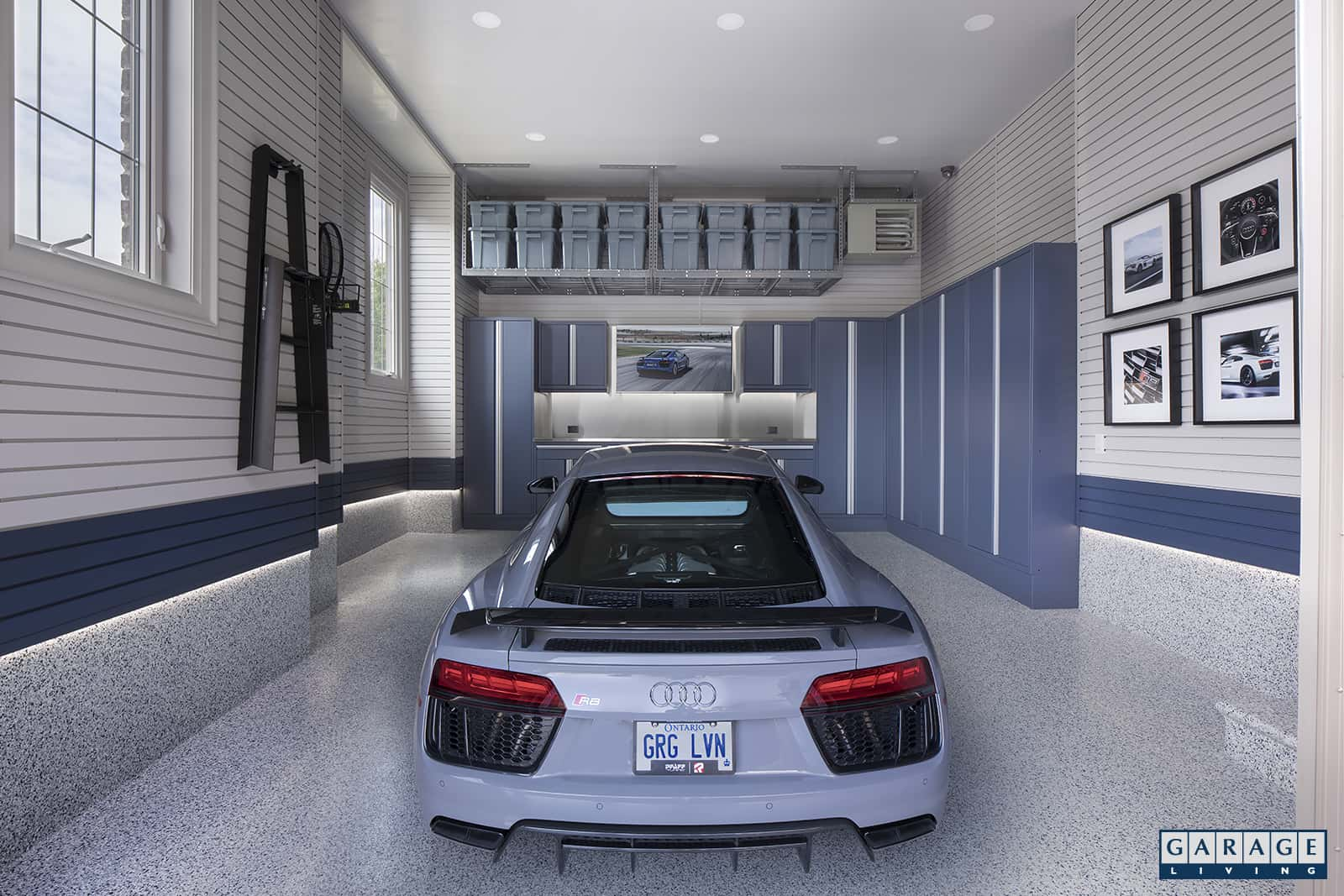 Exactly how small is a small garage?
By most people's standards, the definition of a "small garage" would be a garage that holds either one or two vehicles. A 1.5-car garage size, which is less common, would also qualify.
But just because a small garage's description says it's meant to hold one or two vehicles doesn't necessarily mean those vehicles can fit in the space comfortably.
The garage's actual dimensions, the sizes of vehicles, and the contents inside a garage also need to be taken into account.
Common 1-car garage sizes range from 12 feet wide by 20 feet deep to 16 feet wide by 24 feet deep. That ranges from 240 to 384 square feet (calculated using the room's interior dimensions).
2-car garages typically range from 18 feet wide by 20 feet deep to 24 feet wide by 24 feet deep (360 to 576 square feet).
Older 1 and 2-car garages are often smaller than the same types of garages that are built in new homes today. One reason is that back then, having a covered space for a parked vehicle was the main priority and less consideration was given to using the garage as a home storage space.
1-car garages in old homes are also more common because families typically only owned a single vehicle in the 50s, 60s, and 70s.
It doesn't help that vehicles keep getting bigger
When you look at some older small garages, it makes you wonder how the large vehicles from a few decades ago ever fit inside them.
That's something to consider these days in relation to your garage's size because vehicles just keep getting bigger.
The growing sizes of cars, SUVs, vans, and pickup trucks is largely due to relatively low fuel prices and consumer demand for vehicles with lots of convenient features.
That can leave little room to spare when parking inside a small garage. Here are some small garage ideas that will help make things easier for you.
1. Get rid of the clutter
It would seem that an obvious way to get more functionality out of any garage would be to limit the amount of non-essential items (better known as clutter) that are kept in the space.
"Removing junk" ranked as the top answer from people who were asked how they could enjoy their garage more, according to a Wall Street Journal survey.
A Braun Research study found that a third of homeowners were unsure what was occupying their garage's storage space, however. And although 75% of those surveyed wanted to have a tidier garage, almost a third of them rarely or never organized the room.
Every square foot is crucial in a small garage, which means things like old furniture, broken appliances, leftover building materials you're not sure you'll ever use, and old yard tools you replaced with newer versions years ago have no place there.
Taking the time to declutter the garage is worth it because it simply makes no sense to park expensive vehicles you drive regularly outside, while junk you haven't touched in years sits inside your garage.
2. Maximize your wall storage space
If your garage feels too small for your needs, it might seem like the solution is to undergo a construction project to make it larger or move to a home with a bigger garage.
In many cases, such drastic measures can be avoided if you let a professional like Garage Living help you to maximize your small garage's storage space.
One of the best small garage ideas you can use is to have a slatwall storage system installed that includes PVC wall panels and hanging accessories.
Slatwall is superior to pegboard because it's more durable, is easy to clean, offers more storage versatility, and can handle higher weight loads. Slatwall also has a decorative functionality that gives garage interiors a nicer, finished appearance.
With a slatwall storage system that allows the vast majority of items kept in a garage to be hung up, floor clutter becomes a thing of the past. Items like yard and hand tools, bikes, sports equipment, ladders, and power cords can be kept well-organized and grouped with like items.
Wall-mounted tire racks are an additional wall storage solution that will free up the space a spare set of tires takes up on a garage floor.
3. Take advantage of your ceiling space
Overhead storage racks are another type of effective vertical storage system for a garage. Not all small garages have ceilings that are high enough to add storage racks, but if yours can accommodate them, you should absolutely take advantage of that unused overhead space that is being wasted.
Bulky things like plastic storage bins, patio furniture, spare tires, and out-of-season items that sit on a garage floor can be the difference between being able to park inside a small garage or having to park in the driveway.
Choose heavy-duty storage racks that can handle a lot of weight and are properly anchored to your walls and ceiling for safety. It's smart to invest in racks made with high-quality steel and a power-coated finish, which will prevent rusting and last much longer.
4. Increase parking space in a small garage with a car lift
If you have two vehicles but your garage is only built for a single car, the solution to keep both vehicles parked inside is to get a car lift.
Once again, the height of your garage will determine whether or not a car lift can fit in the space. If your garage door opens at a height that's too low, a high lift conversion would be needed to reconfigure the height at which the door opens.
2 post car lifts and 4 post car lifts are used in residential garages, but it's the latter type you'll want for parking purposes.
4 post car lifts allow vehicles to be driven onto ramps and hoisted up so another vehicle can be parked beneath it. This makes it ideal for maximizing a garage's vehicle storage space. 2 post residential car lifts are suited more for someone who prefers to do their own car maintenance in their garage.
5. Choose the right cabinets for your small garage
A cabinet system is another great option for storage in a garage, but it can be a tricky thing to fit into a small garage.
Chances are it would have to be installed at the back of the garage if the room is deep enough, instead of along the side walls. And you might be limited with how big the cabinet system can be. Even a small cabinet system with a single stack of drawers, a few cabinet doors, and a small countertop can be quite functional, however.
It's worth the extra cost to get storage cabinets that are made with sturdier, longer-lasting North American-made steel. Many cheaper cabinet models found online and in big-box stores are manufactured with inferior materials that don't last.
Our GL Signature cabinet system comes with a shallow depth option that is perfect for smaller garages. Working with a garage remodel specialist like Garage Living also gives you more design and color options for a cabinet system that will enhance your garage's décor.
6. Update your paint, lighting, and flooring
Repainting a small garage and choosing specific colors can create the illusion that the room is bigger than it is.
Lighter colors help make a room look and feel larger. The effect is even more pronounced if you paint the walls and ceiling the same color or paint the ceiling one shade lighter than the walls.
Using a glossier paint that reflects lighter better than flatter paints will also help create the illusion of a larger space. Take these aesthetic small garage ideas into consideration if you're having slatwall installed. Garage Living offers eight slatwall colors to choose from.
Lighting upgrades are another way to make a small garage look larger. Adding a number of smaller lights (such as pot lights) to a ceiling instead of having a single overhead lighting fixture will provide better light coverage and make the room feel bigger.
Many garage remodel projects involve giving the flooring an upgrade with a new floor coating. Ask your garage design consultant which coating color will work best to complement the rest of your interior décor and make your garage feel a little bigger.
7. Tidy up on a regular basis
Having the right storage systems in place will make it easier to keep a small garage organized.
You have to commit to regularly tidying up the room so that clutter doesn't start piling up, however. If you neglect maintaining the space, it doesn't take long for that 1-car garage to become a no-car garage.
A quick monthly cleanup should suffice and you can give it a more thorough cleaning that involves washing the floor and wiping down any surfaces a couple of times a year.
Ensure the right things are taking up your garage storage space. Here are a few things that should not be stored in a garage:
unused or partially used paint cans
food or wine
old electronic equipment
clothing and fabrics
old photos, paper, and cardboard
Upgrade your small garage
Hopefully these small garage ideas have shown you that you can still get plenty of functionality and enjoyment out of a room that doesn't offer an ample amount of square footage.
Garage Living has transformed many small garages into organized, stylish spaces that make more room for parking, storage, and even hobbies like working out in a home gym.
Schedule a free design consultation with us to start your garage remodel project.
Please share this post if you found it useful.
See also: