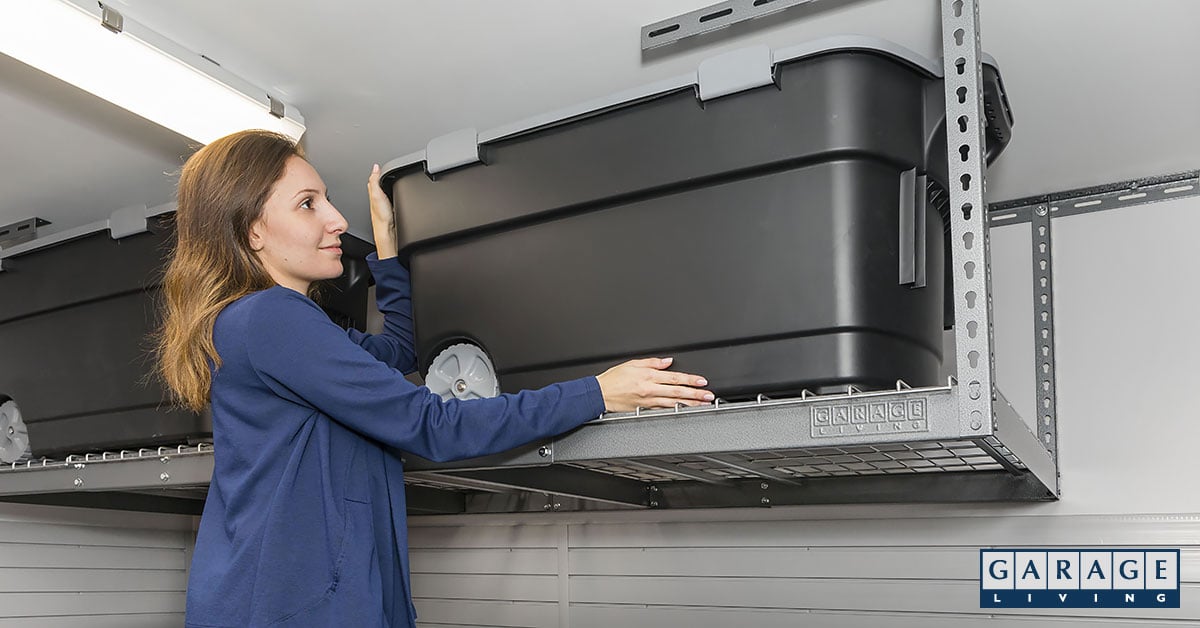 What's the one thing that makes a garage look disorganized more than anything else? Floor clutter.
A messy garage interior is why a quarter of homeowners are embarrassed to leave their garage doors open, according to an Impulse Research survey.
And you can guarantee that as a garage becomes overrun by clutter, a sharp decline in its functionality will follow.
One day you'll find that your vehicles are no longer being parked inside your garage because there's no room for them. Finding anything in your garage becomes a regular headache.
If too much clutter is negatively affecting how your garage is being used, it's a good bet one (or more) of these reasons is at fault:
your garage lacks proper storage systems altogether
you've had a "just store it in the garage for now" mentality for household items for too long
your existing garage storage systems are ineffective or outdated
the storage space in your garage isn't being utilized to the best of its ability
Those first two points are a fairly obvious cause of garage clutter, but you might be surprised at how much of a difference that last factor can have on the tidiness of a garage.
Making better use of what your existing garage space has to offer is something most homeowners overlook when it comes to finding more storage space, possibly because it's almost too obvious.
Which garage storage solutions work best?
The key to unlocking your garage's full storage potential isn't to make the space bigger with a pricey garage expansion.
You can actually solve your garage storage problems simply by using two spaces hiding in plain sight more effectively – your garage's wall and ceiling space.
Getting creative and properly utilizing these two commonly underused storage areas can transform any untidy garage into an efficient, organized space.
Here's why these two garage storage solutions make so much sense.
Solution #1: Slatwall storage
Most garages use some form of wall storage, even if it's just a few wall hooks for hanging tools. Some homeowners also use freestanding tool storage racks that are kept in a garage corner. While they may keep some of your rakes, shovels, and other yard tools organized, they're still occupying valuable floor space.
But a garage's walls have a wealth of storage space just waiting to be properly used, instead of underused.
Nothing beats a slatwall storage system when it comes to maximizing your garage's wall storage space. This storage system involves fastening cellular foam PVC panels to your garage walls so tools and many other items found in a garage can be hung up.
A variety of specialized accessories are hung in the grooves of the slatwall panels, giving you the freedom to make the most of your hanging space. Along with tools, items like sports equipment, outdoor apparel, and car cleaning supplies can be kept neatly stored and easy to find.
Compared to a pegboard storage system, a custom slatwall system is sturdier and gives you more storage versatility. This comes in very handy whenever your storage needs change and you need to rearrange your wall storage configurations (such as during seasonal changes or if you buy new tools).
In addition to slatwall, another practical way to to use your wall space better is to add other garage storage solutions like a wall-mounted hose reel, sturdy shelving, or heavy-duty tire racks for your spares.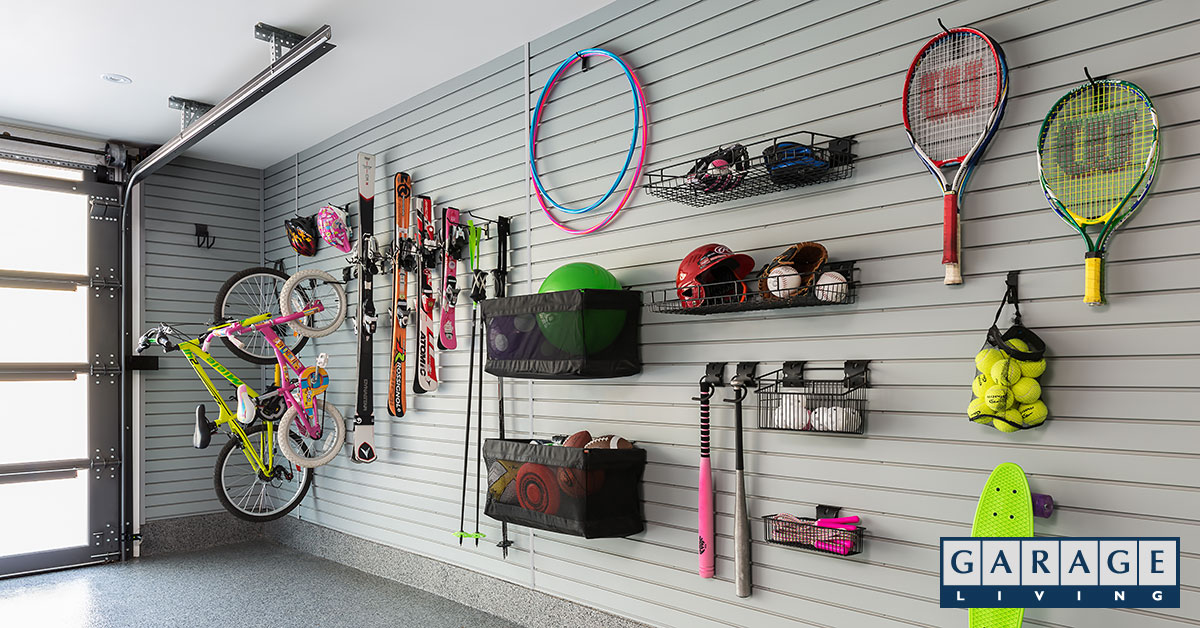 Solution #2: Overhead storage
An even more underutilized garage storage space than its walls might be its ceiling space. Once again, when used properly, you'd be amazed at how much floor space can be freed up when one or more overhead storage racks are added to a garage.
Overhead racks are designed for storing things of all sizes and are particularly useful because they can handle heavier weight capacities and bulkier items like storage bins and seasonal items.
Another benefit of using your garage's ceiling space for storage is that it allows you to store items that are less frequently used. That keeps your easier-to-access lower garage storage space available for things you use more regularly.
In addition to heavy-duty overhead storage racks, that unused garage ceiling space can also be utilized to provide you with more parking space.
Add a car lift that takes advantage of your available vertical space so you can keep one or more extra vehicles parked indoors.
Limit what's stored on your garage floor
Other than your parked vehicles, one of the very few things that deserves storage space on your garage floor is power equipment that's too heavy for hanging. This would include things like a snow blower, power tiller, riding mower, and most push lawn mowers.
We say "most push lawn mowers" because some electric mowers may be light enough for hanging up. Items weighing up to 50 lbs. can be accommodated by some of Garage Living's slatwall accessories. If you are able to take advantage of being able to hang up your mower and reclaim a few more square feet of floor space, by all means do so.
While a small number of gas-powered mowers are designed to be stored vertically, most shouldn't be. The majority of gas-powered mowers, even if they're lighter, are meant to be stored horizontally (otherwise leaking and engine damage can occur).
With the right garage storage solutions in place, even bikes and larger tools like a ladder or wheelbarrow can be stored on a wall to free up floor space.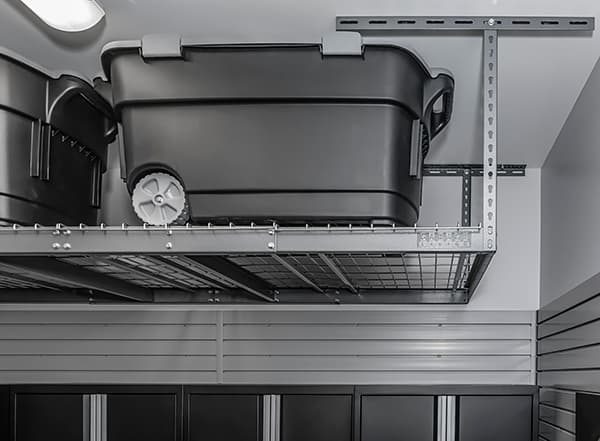 Expand your garage storage options
You can further expand your garage storage options by replacing that old, repurposed kitchen cabinetry or a flimsy, prefabricated standup cabinet with a garage storage cabinet system made from high quality steel.
Yes, garage cabinetry technically takes up floor space, but its efficient usage of vertical storage space still makes it an appealing storage option. With the ability to add locks to protect your pricier tools or keep hazardous chemicals out of harm's way, as well as create the perfect garage workshop area, storage cabinets are well worth a look.
Another reason to consider any of these garage storage solutions is to update your garage's appearance. A mishmash of different storage systems you've added to your garage over the years usually results in a disjointed look that detracts from a garage's aesthetic, even if they're keeping your space organized.
You can see by these photos how the garage storage solutions and the colors and design elements used in the makeovers nicely complement each other, resulting in clean-looking garage spaces with a cohesive, modern, and stylish look.
Update your garage storage systems
Our clients are consistently amazed at what our garage design professionals can do to maximize the storage space in their garages, in addition to radically improving the appearance of their spaces.
Schedule a free design consultation and one of our design consultants can show you the exciting possibilities for your garage and provide a complimentary garage makeover quote.
Please share this post if you found it useful.
See also: