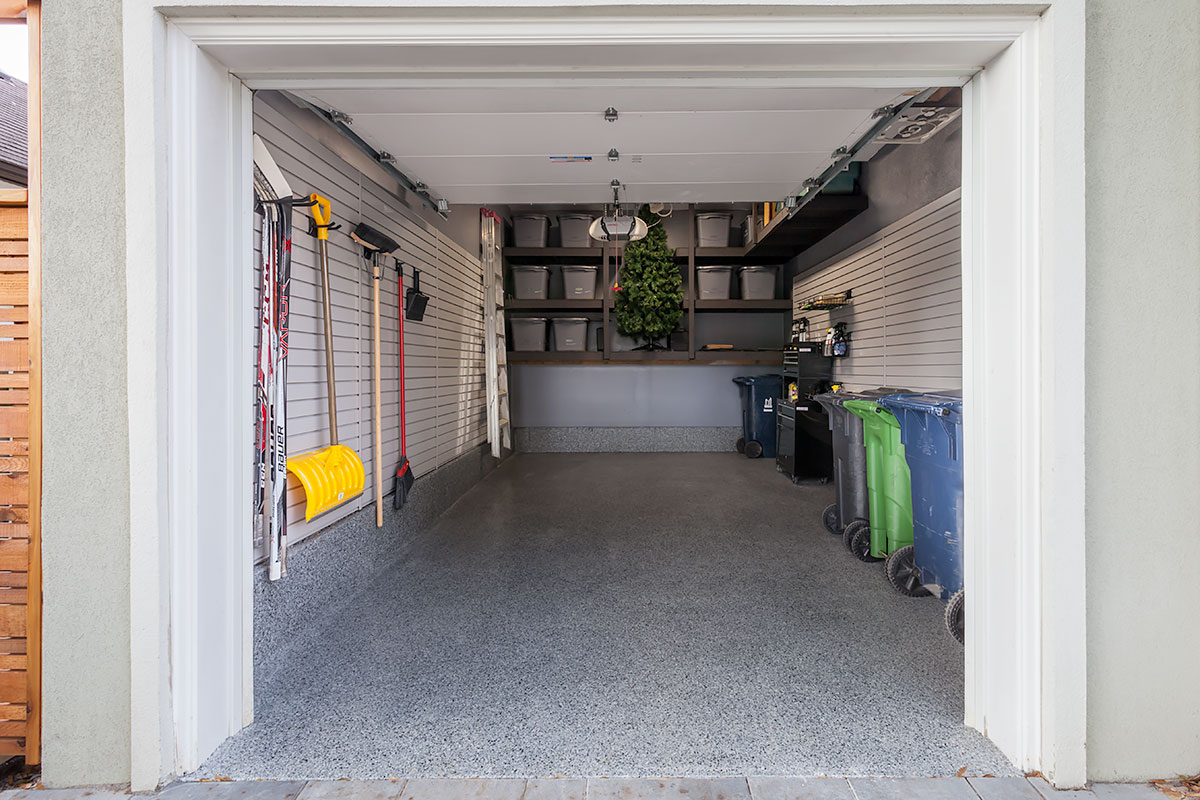 Toronto resident Jay Kerr, recently had a one car garage makeover by Garage Living that left him quite impressed.
This Q & A finds out why Jay needed the one car garage makeover, what he had done, and why he absolutely loves it.
What made you decide to get this one car garage makeover?
For over a year, I kept thinking about how nice it would be to have a clean and organized garage. I was tired of the unfinished look of the garage and the overall lack of organization, which made it difficult to park my car in there. The garage floor needed to be finished. The concrete floor was cracked in a few place and just didn't look very appealing.
Was it difficult keeping your one car garage floor clean?
The garage floor was always dusty and dirty and it wasn't particularly easy to clean. I would often need to sweep it out, which was a messy job. In the springtime, it was especially messy with the dirt and salt that accumulated over the winter.
Were you aware of the high quality garage floor coatings available?
Garage Living's Floortex™ polyaspartic floor coating completely opened my eyes to the fact that a high quality floor coating can add undeniable visual appeal to your garage space, as well as be easy to maintain. I did my homework and learned that polyaspartic garage floor coatings have several advantages over epoxy coatings.
What type of garage organization system were you using?
I had a metal shelving unit from a big box store that was falling apart. That seems to be a common thing with many of their products – they have a very short shelf life, no pun intended. The cheap particle board shelves were warped, sagging, and popping out of place.
Hockey sticks were piled in the corner and I had a few cheap hooks and nails to hang brooms and lighter items. I wanted to get things off the floor and organized onto the wall, something that could support items such as a ladder, garden hose, or a work bench. I'm the type of person that likes to have things neat and organized, but the DIY storage system I had wasn't working.
Tell us about the slatwall garage storage system you had installed
The grey slatwall panel system is a great storage solution. It was installed along the length of the side walls, which I now realize is underutilized storage space in most garages. Now I have a place for everything. The slatwall system allows me to get nearly everything off the garage floor and onto the wall. That gives me space to park my car. It also makes it much easier to clean the floor because the only thing I have to move out are the garage bins.
How about the slatwall accessories you chose?
I'm still figuring out new ways to utilize and arrange the different hooks and shelves that are available. One of my favourite slatwall accessories is the 8″ double hook I use to store my hockey sticks. I also use these hooks to store other items like brooms and shovels. My ladders are now on the wall and the hanging wire bins are perfect for car cleaning products.
What type of Floortex™ floor coating was applied in your one car garage makeover?
There are a bunch of floor coating colors to choose from and I chose the Nightfall color. The new Floortex™ floor coating is a huge improvement compared to my old concrete garage floor and I look forward to enjoying it for many years to come. I had the work done in November and it was convenient that the colder weather wasn't an obstacle to having the Floortex™ floor coating applied.
How much easier is it to clean your garage floor now?
The floor is much, much easier to clean now. I can sweep out the dirt and hose it down to keep everything looking new. Garage Living also has a great squeegee that I can use to make the cleaning process quick and efficient. The Nightfall's dark grey colour also hides the dirt well in between cleanings.
Did your one car garage makeover include anything else?
Yes, one of the biggest improvements was simply upgrading to an LED garage light. I'm sure many homeowners just live with a single light bulb in the garage, as I was doing. It's a simple upgrade but it makes such a huge difference. I can't believe I didn't do it sooner.
Did your one car garage makeover have any challenges to deal with?
I had a few issues with one wall. We renovated the house eight years ago and the contractor left an electrical conduit and a wood post on what used to be the outside of the house, now the inside wall of the garage. I was concerned about the Garage Living installers being able to remove everything but it was gone within an hour. I also had some concerns about the natural gas line on the inside wall. They put the slatwall behind it and everything looked neat and tidy when they were done.
Any challenges with the garage floor?
The front corner of the garage was unfinished and there was a gap between the concrete floor and the drywall. There was also a cinder block in the corner that jutted out a bit. Garage Living suggested two options. They could fill the gap in the floor with cement and finish the drywall in the corner. That would take longer and add more to the cost than I anticipated. A cheaper and easier solution was to box in the awkward corner and seal it with the Floortex™ coating, which is the solution I chose.
The outside wall of the garage had a cinder block foundation that was two blocks high. Garage Living applied their Floortex™ floor coating up and over the cinder block for a finished look that also seals the floor and acts like a baseboard. Now when I hose out the garage to remove the dirt and salt from the winter, I don't have to worry about the water damaging the drywall.
How long did the one car garage makeover take?
The flooring took a full day to clean and prepare. By the end of the day, the floor coating was done and had to dry overnight. I couldn't walk on it for a day. After that, my car and garbage bins were back in the garage. The slatwall and new light was installed in less than a day after that. Everything was completed on time and to my complete satisfaction.
How easy was Garage Living to work with?
Everybody was courteous and happy to answer any questions I had throughout the entire process. I especially appreciated the advice and options that were presented to me in regards to the issues with the garage wall and corner. That's what great customer service is all about.
How satisfied were you and your wife with the garage makeover?
I was extremely happy with the end result. Everything looked brand new and finished and I look forward to keeping the garage much more organized now. My wife was amazed when she saw the final results.
What are your neighbours' impressions of your one car garage makeover?
Many neighbours have come by to look at the end result and everyone has been more than impressed. I think most people aren't used to seeing a clutter-free garage with a finished floor and a car parked inside. One neighbour even said that my garage looked nicer than some of the rooms in his house!
So you find yourself parking your car in the garage more now?
I park my car in the garage all the time now. We have a large maple tree that shades our driveway and the birds love sit on the branches and bomb our cars. My car stays cleaner now and I love that I never have to brush the snow off in the winter. I also have the peace of mind knowing that my car is protected and secure. Our other car was left unlocked in the driveway one night and somebody broke in.
Are you planning on using Garage Living for future garage upgrades?
Yes. My next upgrade will be a better garage door and garage door opener. I'm a tech geek and I love that today's garage door openers have modern features that allow you to control the door from anywhere with a smartphone. I sometimes forget to close the garage door and would like something that does this automatically or that alerts me when it is left open for a long period of time.
Find out more about garage makeovers with your free design consultation
Jay loves what his one car garage makeover has done to improve his garage space. His is just one among the thousands of transformative garage makeovers that Garage Living has done throughout North America, for garages of all sizes.
Schedule your free consultation today with one of our design consultants to discuss your own garage makeover.
See also: