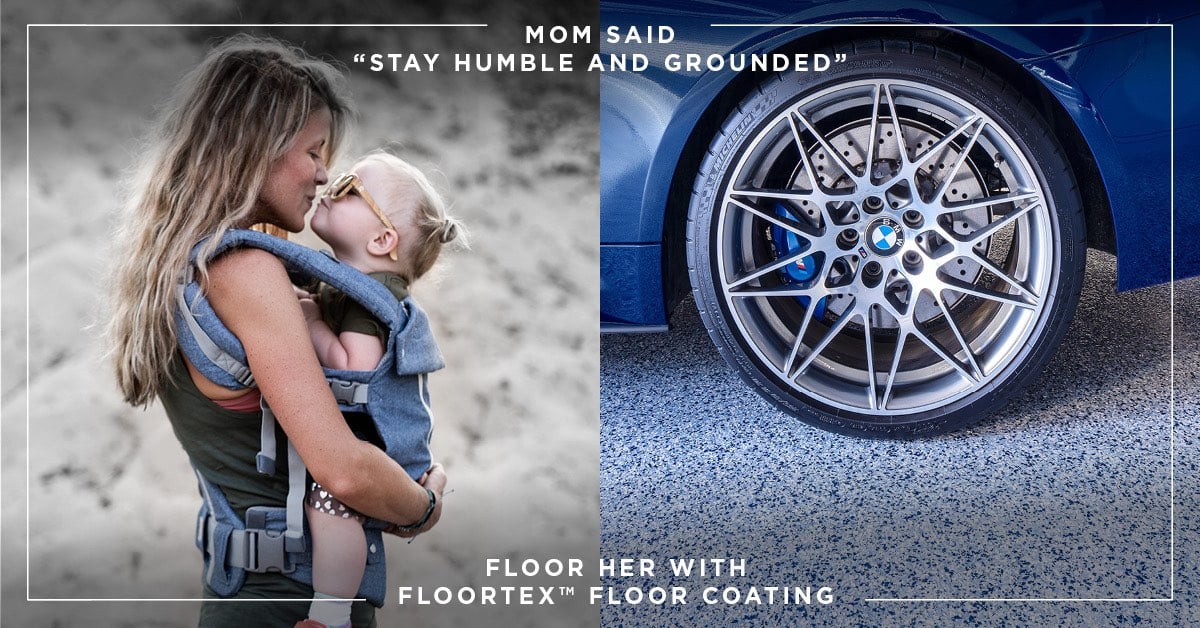 With Mother's Day quickly approaching, coming up with a unique Mother's Day gift idea presents an annual challenge for most of us.
Polls and surveys show that these are the most popular Mother's Day gift ideas:
flowers
a greeting card
dinner at a restaurant
tickets to an event
a weekend or day trip
Taking the time to buy any Mother's Day gift will be appreciated by mom. And while the aforementioned gifts are nice, there's a common theme with all of them – they lack inspiration and originality.
These types of gifts provide short-term enjoyment. Let's be honest – in only a week or two, most of these Mother's Day gifts will be fading from mom's memory.
Going that extra mile and really coming up with a unique and practical Mother's Day gift will certainly leave a long-lasting impression. Mom will feel extra special, just as she deserves to.
A truly memorable Mother's Day gift idea
For a truly memorable Mother's Day gift this year, think outside the box. Here's one idea you probably haven't considered – a mom-friendly garage remodel.
The garage is just as much mom's domain as it is dad's. And if your mom or wife enjoys gardening, sporting activities, or crafts, she might use and appreciate an upgraded garage space even more than dad.
Homeowners are increasingly realizing the importance of transforming garages that are commonly defined by two things – their shabby appearance and lack of storage space.
Any garage, however, can instead be defined by two things you'll actually be proud of – having lots of functionality and becoming a beautiful extension of your living space. Any mother will see the value in that concept.
A mom-friendly custom garage makeover that caters to her needs and interests is a Mother's Day gift that she won't be expecting…or soon forget.
Designing the garage for moms with green thumbs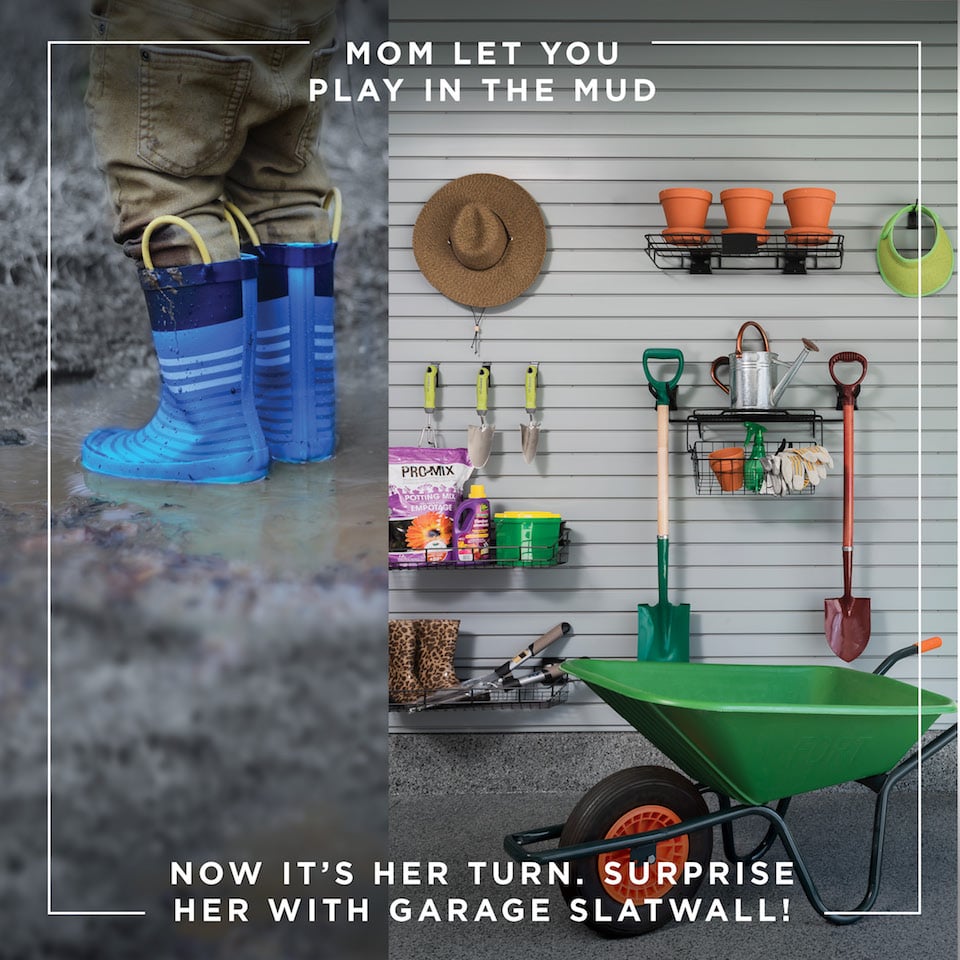 A garage remodel for mom involves making design decisions that specifically accommodate her needs and interests. Does mom have a green thumb? If so, there's several ways a garage can be designed to make her hobby more enjoyable.
Slatwall panels with hanging accessories can be used for mom's larger gardening tools or any number of items she wants to keep out in the open, organized, and easily accessible.
How much would mom love a gardening station? A garage cabinet system can be designed to incorporate a sturdy countertop that makes plenty of space for repotting plants and flowers or for enjoying other crafting activities. A sink can even be added to mom's cabinet system.
Garage cabinets also provide the perfect storage space for the many tools and supplies that a gardening hobby requires, such as potting soils, seed packages, gardening apparel, hand tools, and extra pots. And for good measure, the gardening station could even be set up near a water line that's hooked up to a wall-mounted hose reel.
Along with allowing mom to keep everything organized, hiding the gardening supplies inside cabinet drawers and behind doors minimizes visual clutter. This will help to maintain the space's clean look.
Garage ideas for the fitness-conscious mom
If mom is a fitness buff, tailoring your garage to her workout needs will be hugely convenient for her. A garage gym creates a space that's private, but still in the home.
She won't have to get in the car and drive to the gym, which can be time-consuming. Having to travel in order to work out presents an extra obstacle that may be just enough on some days to hinder mom's motivation to exercise.
Whatever her workout preference is, a dedicated space can be set up in a garage for mom to get her burn on. Her workout equipment (like resistance bands) can be stored on the PVC slatwall panels to keep the garage floor clear and allow for vehicle parking.
If mom's into biking, vertical or horizontal bike hooks hung on the slatwall panels make storage space for hanging bikes for her and the entire family. Everyone's bike accessories can be kept organized with a variety of slatwall hanging accessories.
Maybe mom enjoys getting out on the links or playing tennis. That versatile slatwall system also includes hanging accessories for storing golf bags, tennis rackets, and their accompanying accessories.
Maximize your garage's storage space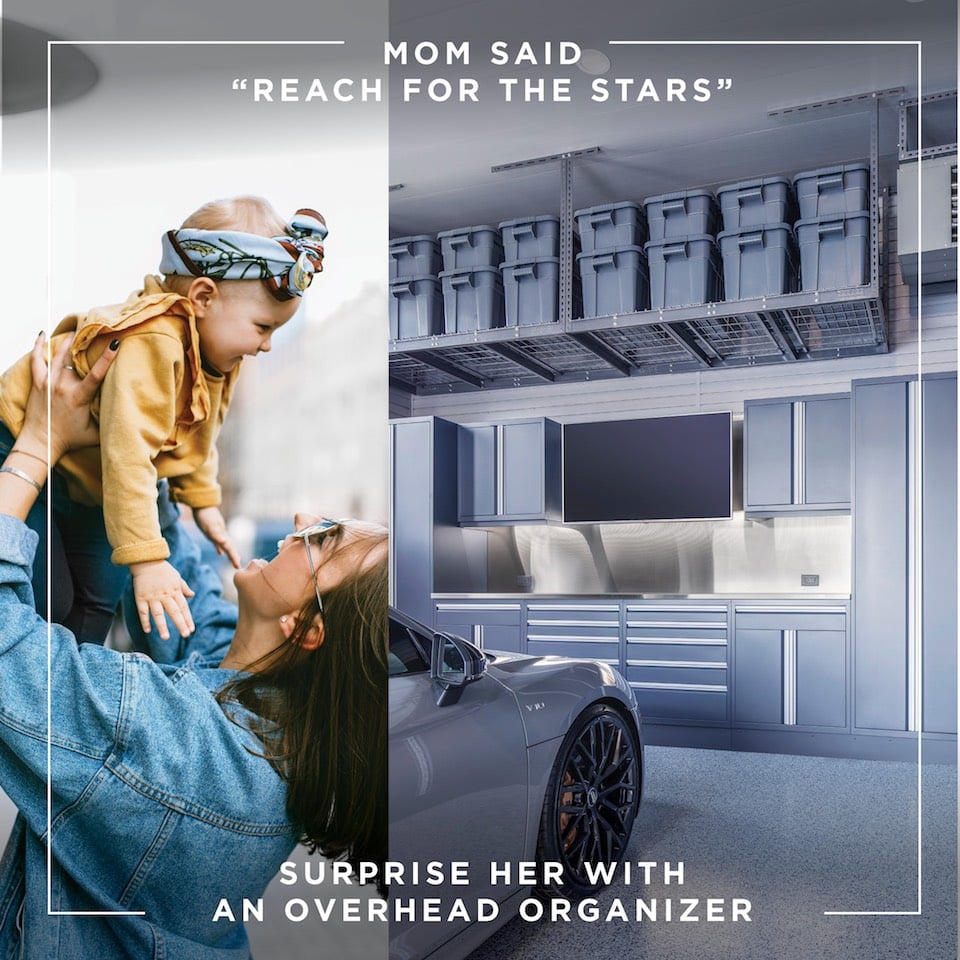 The garage should be one of your home's hardest working spaces. That means using it as a space to park, store, work, and enjoy recreational activities.
Too many garages, however, don't operate to their full storage capabilities. Getting your garage in order with better storage systems enhances the functionality of both this space and the rest of your home.
Adding storage systems like overhead storage racks that put your garage's underutilized ceiling space to work helps you to remove clutter from your garage floor and heated living space.
Our heavy-duty overhead storage racks can safely hold up to 600 lbs and are adjustable. They're perfect for storing seasonal items and bulky items taking up space in your basement or elsewhere in your home.
Mom will definitely appreciate the extra space that this can free up throughout the house.
Make the garage a more comfortable, nicer looking space
If you've been inside a neighbor's, friend's, or family member's garage that has been treated to a high-quality makeover in recent years, you've seen what a difference it can make in the comfort level of the space.
It's been medically proven that the more clutter there is in a home, the higher the stress levels of its occupants. According to a National Organization of Professional Organizers poll, 50% of homeowners surveyed named the garage as the most disorganized area of their house.
Keeping your garage tidy and functioning well as a multi-purpose space is essential to your enjoyment of the room. Any of the garage makeover ideas included in this blog post will help you to achieve this.
Here are a few other ideas to improve mom's comfort level in the garage:
have a beautiful Floortex™ floor coating applied
add slatwall-mounted ball racks and mesh baskets to keep the kids' sports equipment organized
improve visibility with upgraded LED garage lighting
install a modern garage door opener that provides remote access via a smartphone
in tighter garage spaces, add PVC wall bumpers to protect car doors from dents and scratches
Create more parking space for mom with a car lift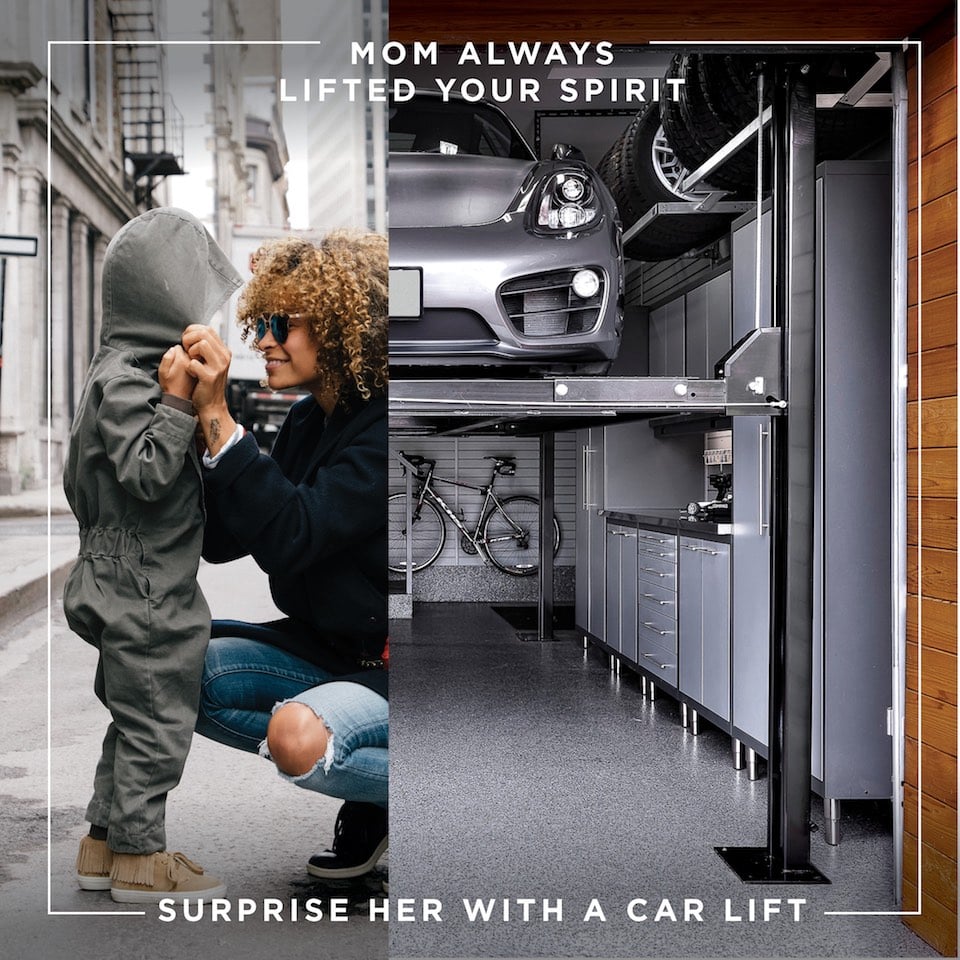 The more disorganized a garage is, the harder it is to park vehicles inside. All of the garage organization ideas included here will make parking indoors easier, but the issue may be more complicated than simply having too much floor clutter that makes garage parking problematic.
Perhaps your garage is too small. Maybe you just have more vehicles being driven in your family than there are garage parking spots.
If mom is frustrated with not being able to park her vehicle inside all the time, the solution isn't to undergo an expensive and messy garage expansion – install a car lift instead.
Car lifts allow a vehicle to be parked above another vehicle in your garage and they're safe and easy to operate.
It's more convenient for mom to have her vehicle parked in the garage instead of the driveway, whether she's coming or going from the home. For example, she'll be protected when the weather is nasty. A car lift also keeps mom's and everyone else's vehicles more secure by being parked inside.
A Mother's Day gift that dad will also appreciate
This Mother's Day gift may have mom in mind, but dad will love the upgrades to his garage space, too.
Parking in the garage will be easier for him and he'll also appreciate what a functional and attractive garage does for his comfort level within the space.
And dad's own garage needs can also be factored into the design, if desired. Just as we did for Bryan Baeumler's home for HGTV's The House of Bryan TV series, a "his and her" garage makeover takes care of both mom's and dad's needs.
Include mom in the design process
Of course, one of the most important aspects of a garage remodel involves aesthetics. A top-to-bottom garage makeover involves a number of important decisions when it comes to choosing colors and making other design choices.
There are slatwall panel colors to consider. For a garage cabinet system design, there's the obvious choice of the cabinet color. And depending on your level of customization, you may also need to choose from a variety of countertops and other specialty options, such as backsplashes and lighting features.
If you're getting a garage floor coating, there's another decision to be made about what color to go with. Does mom really love her car? If so, the garage's color scheme can be tailored to complement her vehicle's color.
To ensure mom is completely satisfied with how the makeover looks, it's a good idea to include her in the design process.
We understand you won't want to ruin the surprise of such a special Mother's Day gift. You could get the garage remodel process started by setting up a design consultation with us, then include mom in some design decisions after the gift has been presented.
A Mother's Day gift with long-term value
Unlike many popular Mother's Day gift ideas, a garage makeover for mom delivers long-term value and benefits.
Long after those Mother's Day flowers have died or those live theatre tickets she's been given have been used, a garage that's been designed with mom in mind provides a daily reminder to her of your thoughtful gift.
And the functionality and aesthetic upgrades of a mom-friendly garage makeover will serve your entire family well for many years to come.
Give the Mother's Day gift she won't soon forget
A garage makeover is the Mother's Day gift mom won't soon forget.
Having your garage designed to cater to mom's needs may sound like an intimidating undertaking. But in the hands of a talented garage design professional, you'll be amazed at the ease with which this transformation will take place.
Schedule your free design consultation with Garage Living today.
See also: