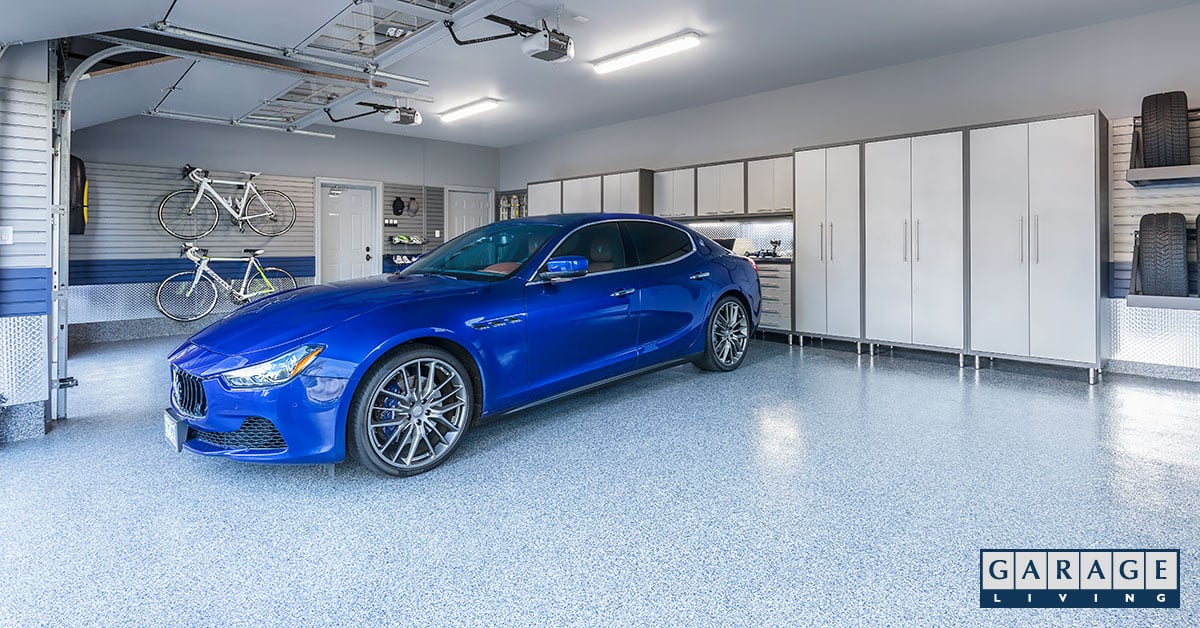 Owning a luxury home means surrounding yourself with the finer things in life.
The latest sophisticated home tech, a wine cellar, home theatre, an opulent kitchen, and a grand entryway are just a few must-have features affluent many homeowners desire.
A lavish home isn't fully living up to its high design and amenities standards if its garage space is lacking, however.
Luxury garages: the natural next home renovation step
The New York Times recently called garage makeovers "the next frontier in remodelling". And years ago, Garage Living recognized the increasing need for serving a high-end clientele who wanted showroom-worthy garage spaces.
Luxury garages are the natural next renovation step to take for owners of expensive homes who want to fully complete their property's upscale appearance.
After all, what better way is there to complement the refined, polished attributes of their luxurious home and premium vehicles than with a swanky garage space?
The Garage Living experience
Any unfinished garage represents an abundance of design potential. It takes a trusted garage professional like Garage Living, however, to truly realize that potential by applying their considerable expertise and inspired creativity towards a makeover project.
The integral components of the "Garage Living experience" that result in beautiful luxury garages includes:
a unique understanding of our upscale clientele's discerning needs
elite products
a proven track record with thousands of completed makeovers
inventive garage designs
professional installation using state-of-the art equipment
superior customer service
High standards are paramount
From the initial design consultation right through to the project installation by skilled professionals, high standards are always paramount at Garage Living.
No project's detail is too small to be obsessed over. Regular communication with the client throughout the makeover process is considered vital. Simply put, creating luxury garages and striving for the highest standards possible go hand in hand.
Garage Living takes a lot of pride in the garages we transform, whether they're makeover projects that are large or small. We believe that's reflected in the impressive finished results of our garage makeovers and the thousands of customers who are glad that they worked with us.
Feel luxury the moment you arrive home
Garage Living has tapped into an increasingly growing viewpoint that garages should no longer be treated as an afterthought when it comes to home design.
The garage is every bit as deserving as bathrooms or kitchens when it comes to creating a home space with premium aesthetics, supreme comfort, and a high level of functionality.
Considering so many homeowners now use the garage as their home's main entry and exit point, its role has never been more appreciated and valued.
Garage Living wants our clientele to truly feel luxury the moment they arrive home in their transformed garage.
High-end storage solutions for luxury garages
A key element in the design of luxury garages is using effective and visually appealing garage organization and storage solutions.
Custom-fit storage cabinetry like the GL Custom Steel and GL NEOS Elite systems give the space a stylish, high-end appearance, in keeping with the rest of a luxury home's clean aesthetic.
Slatwall storage and specialty storage racks also help to preserve a luxury garage's pristine visuals. These storage systems project a thoroughly modern look and make it easier for homeowners to keep their space clean and tidy.
Beautiful garage flooring
Beautiful luxury garages start from the floor up. That's why Garage Living makes sure to only use Floortex™, the best garage floor coating on the market.
A premium Floortex™ polyaspartic floor coating instantly changes the look and feel of any garage. For a garage to truly be described as "luxury", a first-rate flooring surface is an absolute essential.
Understanding our clients' unique needs
Garage Living feels it sets itself apart from its competitors by having a unique understanding of the discerning needs of our upscale clientele. We've worked with famous musicians, actors, architects, and business executives.
The top-to-bottom garage customization projects we undertake can encompass a wide range of unique and challenging requirements from our clients.
A common request from our clientele is for us to create luxury garages that provide the ultimate complement for their luxury cars. Our garage designs can be tailored to complement any car's color scheme and create stunning surroundings that make a high-end vehicle look that much more impressive.
The creative minds at Garage Living are up for any makeover challenge. Here are just a few of the other unique garage projects we've completed:
a high-end residential underground garage makeover
fitness-themed garages
a "his and her" garage that caters to a couple's individual needs
a garage for a well-appointed cottage
Luxury garages befitting of dream homes
Garage Living takes great pride in creating luxury garages that are truly befitting of our clients' dream homes.
Does the idea of completing your home's immaculate look with a luxury garage sound enticing? If so, book a free consultation with one of our design experts to find out what we can do to beautify your garage space.
See also: