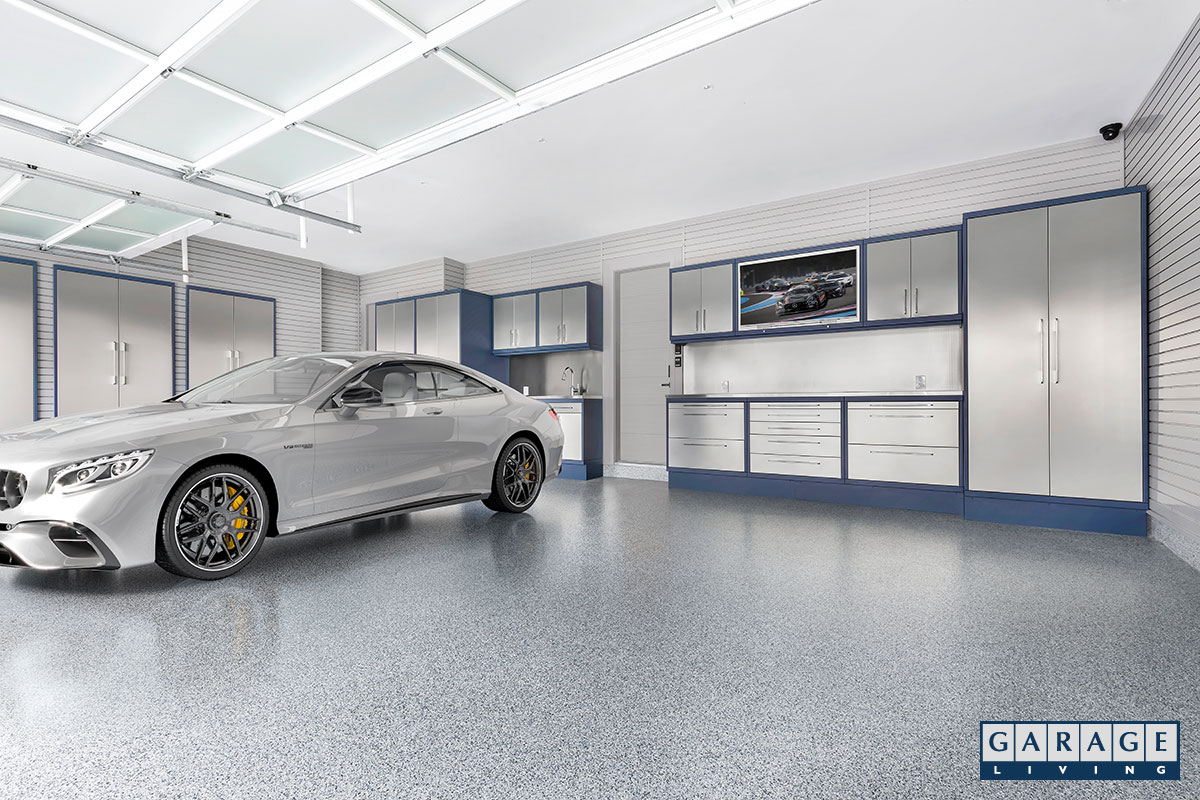 Is your luxury home still lacking that special finishing touch that makes your dream home project feel truly completed?
Chances are that it's your garage that's out of step with the high standards you've strived for with your home's design.
While homeowners' mindsets have begun to change over the past 10-15 years, the garage is commonly the last space in a house to get the makeover treatment.
That really shouldn't be the case, considering how often we use the space. A majority of homeowners now use the garage as the main entry and exit point for their residence.
A luxury garage completes your dream home's look
A beautiful luxury home with a sub-par garage only detracts from the overall visual appeal of the home design you've put so much effort into.
On an exterior level, your curb appeal may be lacking due to your garage doors being outdated or not complementing your home's exterior décor.
The garage's interior could be clashing with the rest of your home's high-end look if it's a disorganized mess. Or perhaps the interior space just needs an update to the look of its floors, walls, and a few other features.
Whether you're looking to finish off an already-constructed luxury home or planning to build one soon, here's why you should pay close attention to how your garage is designed.
Park your luxury vehicles in a befitting high-end space
It only makes sense to keep your expensive luxury vehicles stored in an indoor space that's more secure and protected from the exterior elements.
And just as it's completely logical to complement a luxury home's high-end look with a similarly impressive-looking garage, the same idea holds true for where you park your luxury vehicles.
An expensive vehicle simply looks out of place in a messy garage with poor lighting, unfinished walls, and ugly flooring.
Investing in a luxury garage makeover will create a beautiful space that's more suited to the high-end vehicles being parked within it. That was one reason a Garage Living client gave for doing their garage makeover.
You can even customize your garage's décor to complement the colors of your vehicles!
Organization is important for any garage space
Finding enough space in the garage for parking your luxury vehicles and all of your storage needs can be challenging.
The popularity of larger SUVs, crossovers, and sedans in the U.S. and Canada is one factor. So is the fact that a lot of home clutter tends to end up in the garage.
Even with the larger garages that luxury homes commonly have, proper storage management is important in order to keep the space organized.
You can keep your garage's functionality running at a high level with the right systems that maximize your storage space. Here are a few luxury garage storage ideas:
slatwall panels with hanging accessories (which also gives a garage a more clean, finished look)
high-end garage cabinetry (our GL Custom Steel system is ideal for luxury garages)
wall-mounted and overhead specialty storage racks
Using these effective garage storage systems makes it easier to keep any luxury garage space tidier, thereby maintaining the pristine look of your luxury home.
It's not a luxury garage without beautiful flooring
Nothing makes a garage look worse than too much clutter. A close second, however, might be unsightly garage floors.
The condition and appearance of a garage's floors has a major impact on the space's look. Gray, drab flooring that's cracked, well-worn, and stained simply has no place in any room that aspires to use the word "luxury".
Transforming your garage flooring into a surface that is truly worthy of any high-end showroom requires the right type of floor coating.
The highest quality garage floor coating available on the market is a Floortex™ polyaspartic floor coating.
Floortex™ floor coatings provide your garage flooring with a glossy, high-end look that can be customized with colors to complement your interior décor.
A high quality polyaspartic coating also provides superior, long-lasting floor protection from abrasions, stains from chemicals, and damage from moisture.
Add convenient amenities to a luxury garage
Luxury homes stand out for their looks and feature the highest quality products available. Luxury homeowners also love having all the latest amenities available to make their living space as comfortable as possible.
The garage presents plenty of opportunities to pamper yourself with convenient features that can enhance your comfort level at home. Here are a few examples:
custom garage cabinetry can include space for a TV or stainless steel sink
update your garage door opener so you can control your garage doors remotely with a smartphone
add year-round climate control
create the perfect garage workshop
Another convenient feature to consider for a luxury garage is a car lift. If you own a sports car you only drive part of the year or simply need more space to park all of your family's vehicles inside, a car lift is an effective way to create more garage parking space.
Experience the feeling of luxury the moment you arrive home
Garage Living specializes in performing luxury garage makeovers that will beautifully complement the high-end aesthetic of the rest of your home.
If your house still feels incomplete because your garage is unfinished or lacks a design that stands out, we have plenty of inspired ideas to help complete your dream home vision.
Schedule your free design consultation with Garage Living to get one step closer to experiencing the feeling of luxury the moment you arrive home.
Please share this post if you found it useful.
See also: