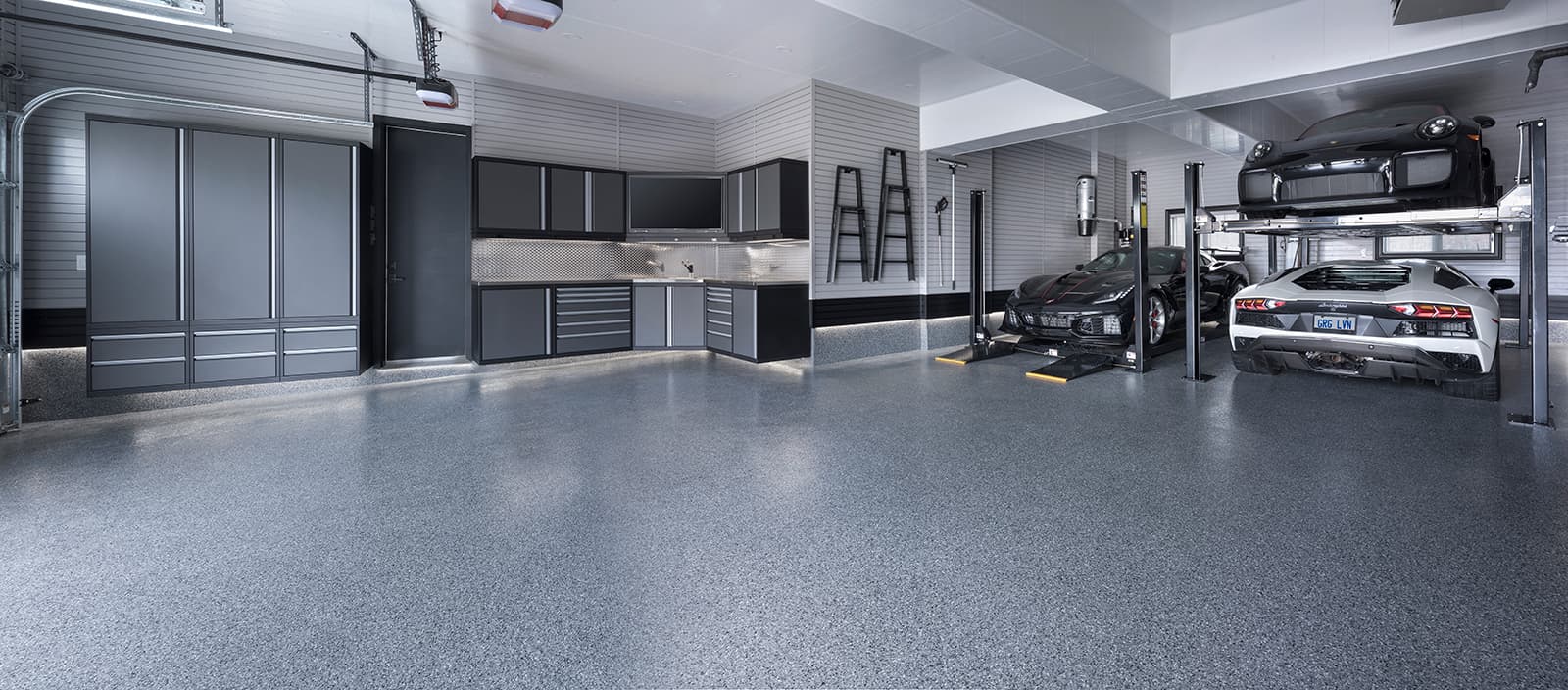 If you own luxury cars, chances are that you live in an upscale home.
The garage tends to be the last area in luxury homes to get remodeled, which makes the room stick out like a sore thumb in two ways.
First, there's the fact that a boring, shabby-looking luxury car garage storage space is the wrong type of setting for parking high-end vehicles.
A Porsche or Lamborghini are works of art and beautiful artwork isn't displayed in a setting that looks cut-rate. Even magnificent cars like those will lose some of their visual "wow factor" when parked in an unfinished garage that lacks any appealing décor.
Second, having an unattractive garage that doesn't match the same high design standards that have been established throughout the rest of your house only detracts from your home's overall visual appeal.
Garage remodel or car storage facility?
Some luxury car owners who keep adding to their collection of vehicles end up turning to luxury car storage facilities when their garage can no longer handle their storage needs.
Creating the perfect luxury car garage storage space right in your own home is easier than you might think.
One of our clients recently discovered this when we remodeled their garage so it would better complement the high-end appearance of their luxury vehicles more and give them more car storage space.
Solutions like installing car lifts, adding some cutting-edge décor, and upgrading the storage systems transformed the garage into a showroom-quality space. We'll get into more details about the remodel below.
Drawbacks to luxury car storage facilities
There are two main drawbacks to using a luxury car storage facility – cost and convenience.
Expensive
Using luxury car storage facilities is expensive and any type of rental arrangement is never a tangible investment that provides any long-term benefits for the renter.
We expect that if you can afford luxury vehicles and have enough of them that offsite storage is being considered in the first place, however, that the extra expense of storing your vehicles isn't an issue. Even still, regardless of how much money is in your bank account, no one likes to waste money.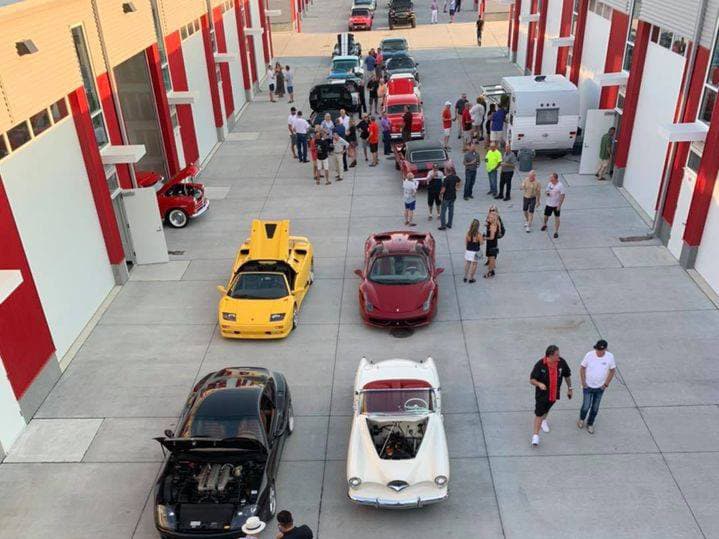 Those security guards, climate control costs, and a more upscale aesthetic compared to a standard car storage facility don't come cheaply. Neither do the extra services many luxury car storage facilities offer, such as valet delivery, monthly vehicle status reports sent to the car owner, car-washing and detailing, and regular vehicle maintenance.
Here are the approximate starting prices for keeping a single car at some luxury vehicle storage facilities in a few select cities:
Dallas: $275 USD
Miami: $380 USD
Detroit: $320 USD
Toronto: $325 CAD
Vancouver: $300 CAD
Inconvenient
Another big negative of not having enough luxury car garage storage space at home and having to use a remote storage facility is the inconvenience.
Even if a car storage facility has vehicle pickup and drop-off services, you need to schedule an appointment. Also, most vehicle owners are uneasy with anyone outside of their family driving their car – especially if it's very expensive!
It's impractical to keep luxury cars parked in a different location where you can't appreciate and admire their beauty.
We're not saying all luxury vehicle storage facilities are bad. They're useful if your garage is small and expanding the size isn't an option or if the maximum number of car lifts are installed in it. And they make sense if you're just a really serious auto enthusiast whose collection has outgrown even a large home garage.
Unless any of the above issues apply to your situation, however, there is no reason you can't have your car collection stored right under your own roof.
Here are five ways to create a stunning garage for your luxury vehicles.
1. Add car lifts to store more luxury vehicles in your garage
Any construction project that involves expanding the size of a garage is going to be expensive, messy, lengthy, inconvenient to your family, and require dealing with local zoning laws.
Adding one or more car lifts to a garage is the best way to increase your home's available parking space.
The ceiling space in most garages goes unused, which car lifts take advantage of (provided the ceiling is a minimum height of about 10 feet).
By allowing a vehicle to be parked on a raised platform above another vehicle, you double each available parking space in the garage with each lift that is added. A 2-car garage effectively becomes a 4-car garage, for example.
The spacious garage featured here is approximately 1,120 square feet and can store six vehicles, so there is a wealth of luxury car garage storage space if the homeowner adds to their auto collection.
A double car lift setup helps keep most of the ample garage floor space open, which makes driving in and out of the garage and parking easier. It also creates more space for other non-traditional garage uses, which we'll get into later.
Car lifts are also ideal for parking vehicles that aren't driven on a regular basis, such as a luxury sports car or classic car owned by someone living in a northern climate who wants to store it for the winter. With a car lift, your lesser-driven vehicles won't take up the garage's prime parking spots.
When you can conveniently keep all of your vehicles right in your own garage, why waste money on luxury car storage fees?
2. Showcase your luxury cars
Car lifts have more functionality than just creating more garage parking space – they're a great tool that allows you to showcase your vehicles, too.
Elevating some of your cars creates a more impressive sight than if you had a collection of, say, four or five cars parked at floor level in a garage. The vehicles parked behind other vehicles are less visible and their true beauty can't be fully admired.
In a way, you could look at car lifts as display platforms that enable high-end car collectors to display the vehicles they cherish to their best effect, especially when surrounded by tasteful upgrades to the garage's interior décor.
A luxury car garage storage space that uses car lifts also stands out because although lifts made for residential use aren't exactly new, they're still fairly uncommon in garages. These impressive devices are a talking point in and of themselves, even without an exotic sports car parked on them!
If your garage is as large as this one, you could even have an extra car lift or two installed during a remodel to accommodate vehicles you're looking to add to your collection.
3. Make your garage interior luxurious
Most homeowners don't associate the word "luxurious" with a garage interior, but that's only because the concept of high-end garage décor is relatively new.
Garages should look as nice as any other part of the home, especially since so many of us primarily enter and exit our main living space through the garage.
Upgrading your garage interior creates a nicer-looking transitional space. It also creates a true extension of your home's living space that makes you feel more comfortable. And when you factor in owning luxury cars, there is even more reason to make your garage look gorgeous!
As seen in the "Before" photo below, this garage had a dull, monochromatic look and needed some decorative flair to upgrade the room's aesthetic.
Garage Living added a Nightfall Floortex™ floor coating with decorative flakes and a glossy finish that adds visual appeal to the room and nicely complements the cars' high-end look. This durable polyaspartic floor coating provides superior protection to an epoxy floor and is easier to maintain.
In addition to providing wall hanging space, the surrounding grey slatwall gives the room a tidy, consistent look. The lower black slatwall strips provide a nice visual contrast and incorporate LED ribbon lighting for extra visual interest.
Here are some more décor-related upgrades that were part of this luxury car garage remodel:
Numerous pot lights replaced the outdated incandescent bulb lighting to brighten the room and showcase the luxury cars in the best light – literally!
A fresh coat of white ceiling paint gives the garage a clean look, makes the room feel more relaxing (one of several benefits of using white paint), and reflects light better.

A Floortex™ baseboard coating around the garage's perimeter creates a more seamless aesthetic between the floor and walls of the room.

A GL Custom Steel cabinet system adds a further infusion of high-end style to the garage's appearance. A pressure washer and its two hoses are kept hidden behind some cabinet doors to preserve the room's tidy look.
New garage doors were installed to upgrade one of the home's most noticeable exterior features and boost curb appeal. The doors have obscure glass panels that provide privacy while allowing natural light in.
To get more examples of what a garage interior is capable of looking like, browse through our Designer Series. It has seven exclusive themes of pre-chosen color palettes and design materials that help simplify the garage design process for you.
4. Keep the garage organized and maximize its storage
A luxury garage won't look so luxurious if it's untidy, so investing in high-quality storage systems is a must.
We offer numerous solutions that allow homeowners to maximize their garage's storage space. Working with garage remodel pros like Garage Living allows you to make the best use of the room's storage space and have it designed accordingly to fit your family's needs.
We've already mentioned how our storage systems contribute to the modern, stylish look of luxury garages. Here's how they maximize your storage space and give garages more functionality.
Garage wall storage
Your garage walls are your biggest asset when it comes to finding more garage storage space. As you can see in these photos, slatwall creates lots of hanging space for bikes and other types of sports equipment, ladders, tools, apparel, and anything else capable of being hung up.
Overhead storage
Just as car lifts get more use out of a garage's underutilized ceiling space, so do overhead storage racks. They're ideal for storing bulky items like storage bins and out-of-season items that you don't want sitting on the garage floor.
Garage cabinets
Garage storage cabinets expand your storage options and provide space for keeping valuables and hazardous materials that you'd prefer to be locked up. This garage's cabinet system is wall-mounted and was customized to include drawers beneath the locker doors.
A stainless steel countertop, sink with a pullout faucet, and a mounted 4K TV gives the garage extra functionality as a workspace.
Multipurpose space
With an organized garage, you can use it for things besides parking vehicles and home storage. Making your garage work harder (and more efficiently) as a storage space opens up opportunities for using the room as a workshop, exercise space, or even as a home relaxation area.
5. Make your garage more secure
It's a wonder that so many luxury cars get parked in driveways instead of the garage. This is usually because there is too much clutter in the garage, an all-too-common issue that causes about 25% of homeowners to park outdoors most of the time.
Not only are cars and trucks left exposed to the elements, but they're also much more vulnerable to theft and vandalism.
Once a garage is organized so you can park indoors, there are numerous other ways to keep your luxury cars safer when they're parked inside:
Install smart wireless security cameras with motion sensors outside your garage doors and inside the room that can be accessed through your smartphone.
Invest in a good garage alarm system.
Keep the garage doors locked (which sounds obvious, but you'd be amazed at how many homeowners fail to do so). A keyless garage entry system is also worth considering.
Upgrade your home's exterior lighting around the garage to provide better lighting coverage that will deter burglars.
Limit the garage interior's visibility from the outside by using opaque treatments on windows or window coverings.
Upgrade your garage door openers to take advantage of convenient features like smart MyQ technology that lets you monitor and control your doors remotely via a smartphone app.
Invest in a sturdier, more secure exterior garage access door.
Create your one-of-a-kind luxury car garage storage space
Garage Living specializes in designing one-of-a-kind luxury car garage storage spaces just like this one.
We can help you get a lot more out of your garage, both in terms of how it looks and functions. And we can accomplish this in less time than you might think.
In as little as 3-5 days, we can complete a full garage remodel. A flooring project can be done in only 1-2 days.
Schedule a free design consultation with us to get your dream garage project started.
Please share this post if you found it useful.
See also:
See more photos from this garage and get more details about what went into the remodel by viewing this gallery. You can also take a highly detailed 360° tour of the garage.