Not everyone needs a private gym in their home, but one active couple found a great way to turn their unused garage space into a year-round fitness room.
For Luc and Stephanie, physical fitness is an important part of their lifestyle. After a busy day at work, Luc likes to unwind by doing a workout. Stephanie also likes to workout and ride her bike.
Together, they have a lot of fitness and sporting equipment such as bicycles, a treadmill, hockey equipment, and free weights.
Car park or home gym?
Instead of lugging all of this equipment into their basement, they took a second look at their single-car garage. It was the perfect size for a fully-functional home gym and they had little desire to use it for parking their car.
The 10′ x 20′ space had high ceilings with lots of potential, but there were also some challenges.
Design challenges in the garage
Because the garage space would be used year-round, it required additional insulation for the winter months. The overhead space would have to be maximized for storing their sporting equipment and increasing the headroom. When the garage door is open, there isn't a lot of room for workouts that required raising your arms above your head.
With limited floor space, every inch would have to be used efficiently. The layout needed to accommodate all of the exercise equipment, yet still feel welcoming. It would have to be easy to clean and secure when they weren't home. Most importantly, the renovation had to be within their budget.
The game plan
Luc and Stephanie took their wish list to Garage Living to get a quote. Once they explained what the garage space would be used for, Alex (their design consultant and a fitness enthusiast) understood what they wanted right away.
Alex addressed all of their challenges and designed a plan that would transform their empty garage into a one-of-a-kind fitness room with plenty of storage space. The floor plan even included where the TV would be placed!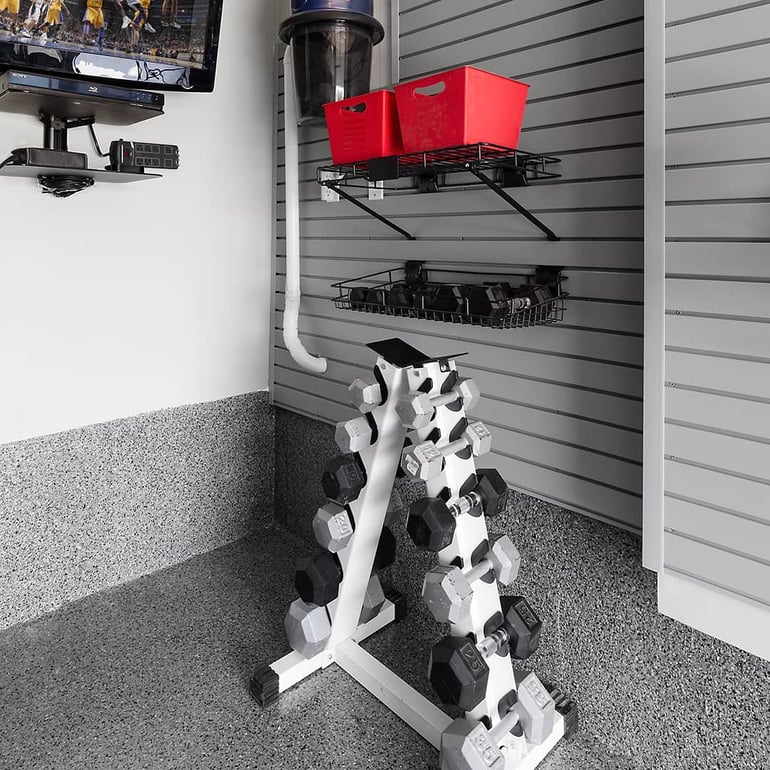 Making the garage more comfortable
The garage walls were already insulated, but the garage door was not. They replaced the old door with an insulated steel garage door.
A garage heater was installed near the garage door to ensure that the garage would be warm during the winter months.
Increased headroom and security
A high lift garage door conversion allowed the garage door to open at a higher level, closer to the ceiling rather than the standard 7 or 8 feet.
This provides plenty of vertical space for overhead workouts like standing shoulder presses, jumping rope, and pull-ups.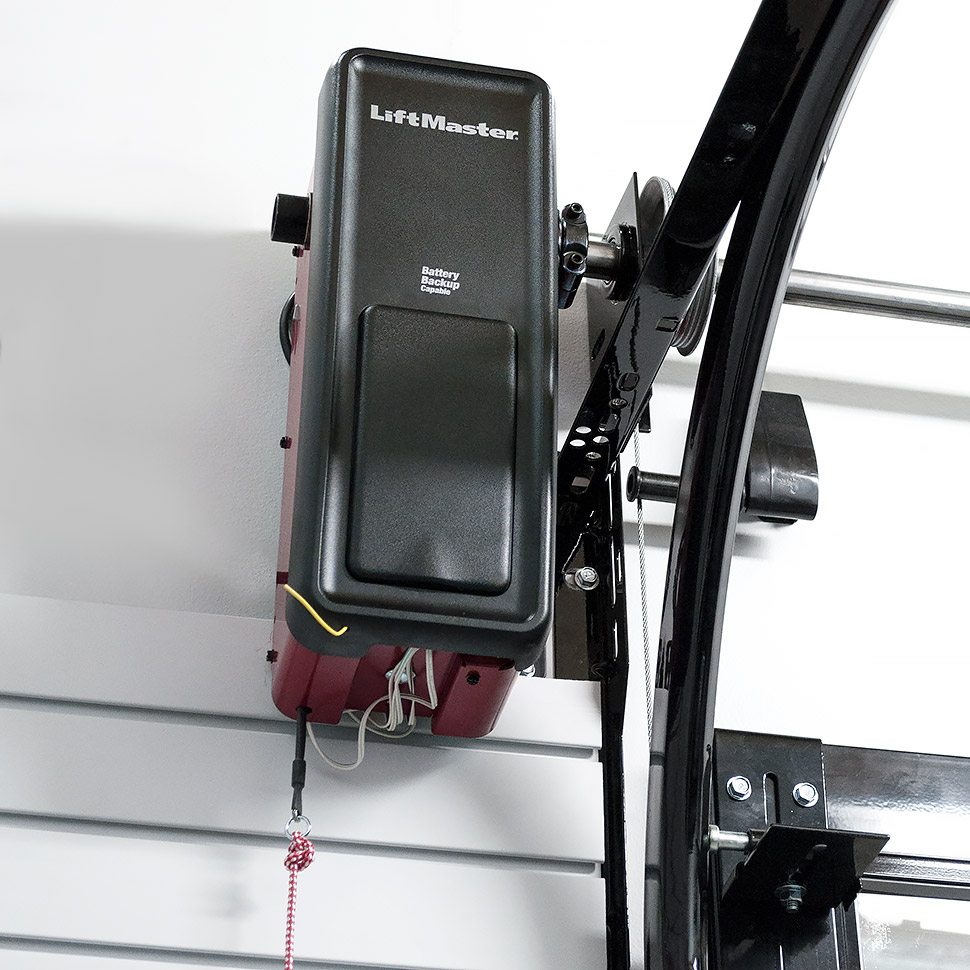 A wall-mounted garage door opener (LiftMaster 8500 Elite Series) was installed for the high lift conversion, providing additional unobstructed ceiling space. This opener comes with excellent security features:
secure monitoring and control of the opener with a smartphone, tablet, or computer
email alerts or push notifications sent to your smartphone indicating the status of the garage door
PosiLock® to keep the door down and monitored against forced opening
battery backup to ensure that the opener will work during a power outage


Garage storage solutions
Alex offered several solutions to maximize floor space and storage.
Slatwall panels maximized the garage's vertical storage space for accessories like baskets and utility bins for small items.
Deep shelves provided storage for workout equipment and hooks were used for hanging everything from bikes to hockey bags.
Strategically placed overhead racks got all the seasonal and seldom-used items up and out of the way. Finding the right balance between overhead storage and open space was important. Too much overhead storage would make the room feel smaller and maybe a little claustrophobic.
Ceiling space was needed for equipment like the treadmill which can fold up into a vertical position when not in use. If the garage wasn't being used as a fitness room, more overhead storage could have been added.
Hard-working, but easy to clean storage cabinetry holds everything from jump ropes and other workout supplies to protein powder and supplements.
Everything can be tucked in behind closed doors when not in use to keep things tidy and organized.
Flooring that looks amazing
A cold concrete floor was not an option for this fitness room. A high-quality Floortex™ floor coating was applied to the concrete floor, which immediately transformed the space from a dusty garage into a professional-looking gym.
Floortex™ has been time-tested to withstand heavy foot traffic and is chemical-resistant. It is easy to clean, attractive, and its durable coating comes in many different colors. The color of the floor in this project is Blue Nightfall.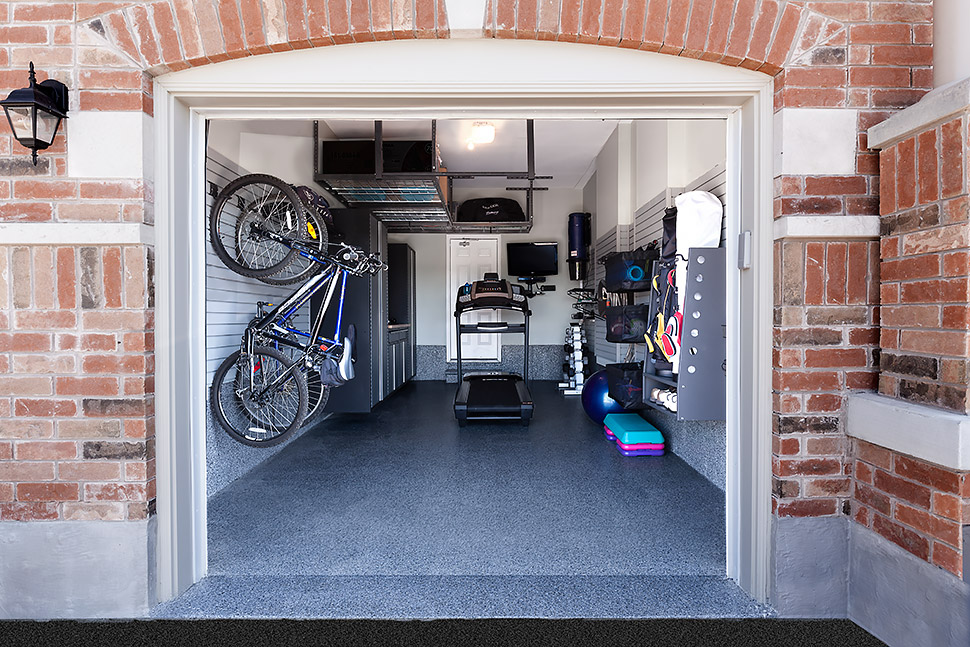 A healthy investment
Now that Luc and Stephanie's garage has been transformed into a fitness room, they can use it every day of the year. They'll save money on gym memberships and never have an excuse (like bad weather) for not working out. It's a great investment in their home and their healthy lifestyle.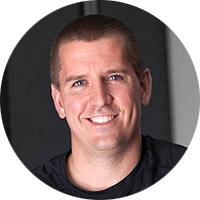 I wanted to thank you and the team for making my ordinary garage look like a stunning place that I want to hang out in. I came home on Monday evening and I was like a kid at Christmas. I opened the garage and I was, like…wow! It looks amazing.
– Luc P.
See more:
To see more photos of fitness garages visit our Fitness Room Garage Gallery page.
If you're thinking about creating a home gym in your garage, we provide free design consultations (virtual and in-home). Talk to us about your plans.
Please share this post if you found it useful.