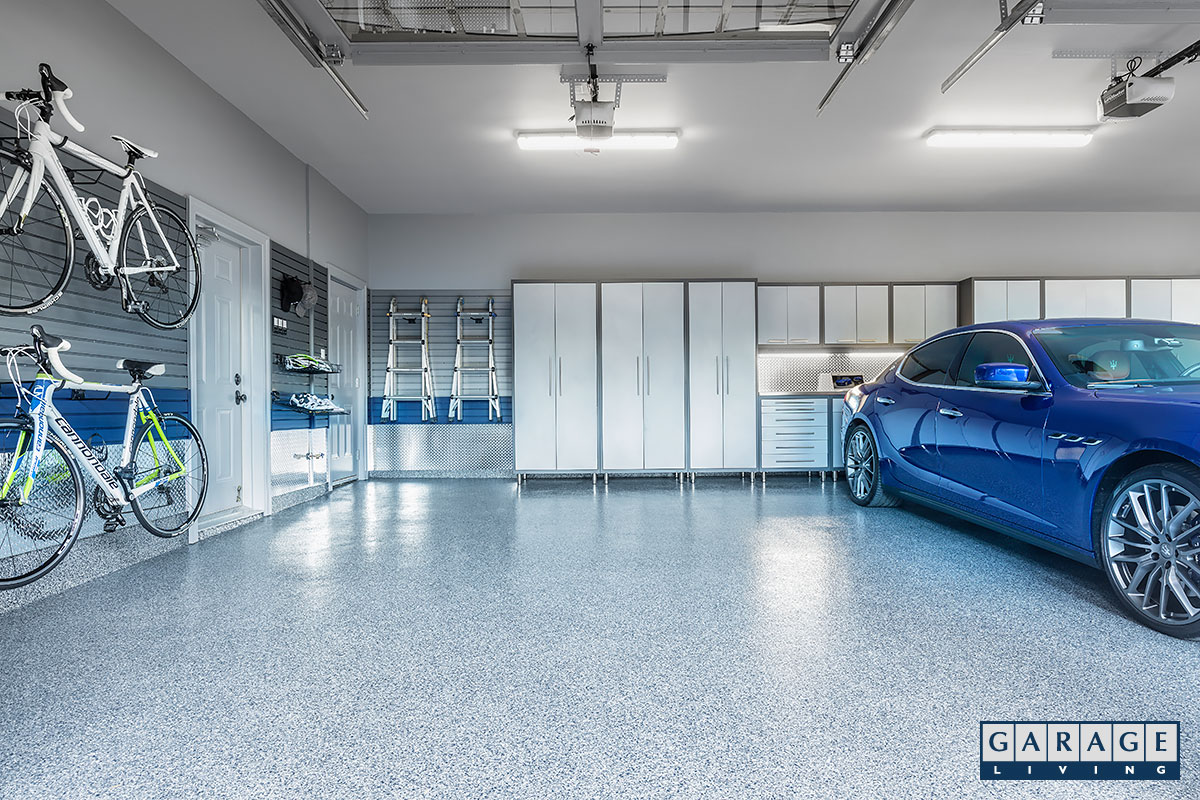 Considering the garage has become the main entry and exit point to the home for an increasing number of people, it's no wonder improved garage spaces have become more coveted.
For this reason, we thought the term "home entryway garage makeovers" seemed rather appropriate.
Stephen, from Oakville, Ontario (located 30 minutes outside of Toronto) and his wife are among the homeowners who saw the benefits of upgrading such a frequently used area of their house.
The couple also wanted to have a more high-class look to complement the stylish aesthetics of their luxury cars.
A look at one client's home entryway garage makeover
The home entryway garage makeover by Garage Living for Stephen included the following upgrades:
Floortex™ polyaspartic floor coating
PVC slatwall panels with hook and bike rack accessories
GL Premium cabinetry with a stainless steel countertop
wall-mounted tire racks and LED garage lighting fixtures
an aluminum wall-mounted hose reel and polyurethane garden hose
Stephen was thrilled with his garage makeover and kindly sat down with us to share his experience working with Garage Living.
Before we get to the interview, take a look at this short time-lapse video that shows the efficient transformation of Stephen's 3-car garage in just a couple of days over the span of a week:
What did your garage look like before the makeover project started? Was it an older garage or just unfinished?
Our house was rebuilt five years ago. It's a big garage that was drywalled and had a raw concrete floor that had some settling cracks.
What was the impetus to get the garage done? Were you just tired of it and had been thinking about getting it done for a long time?
The cracks in the floor were bothering me and I wanted to get that cleaned up. I have a Mercedes and a Maserati, so every time I drove in there it just didn't seem like an appropriate home for them.
How long did it take for you to decide you needed to do something about it and start looking around for a company?
We had a list of priorities. We didn't build the house, we bought it after the gentleman that built it got relocated back to the U.S. There was a lot of work to do on the inside to bring it up to what we wanted. We wanted to get the interior finished first.
Once all that got done, it was time to get the garage taken care of. The garage was on the list, but further down the list. I wanted it to look finished and look like it was a part of the house.
We always drive into the garage and then enter the house about 90% of the time. Every time I drove in, it didn't feel like a completed part of the project.
How much research did you do beforehand to figure out what to do with the garage and who to talk to?
When I first talked to my wife, I had an idea of what I wanted it to look like. I take the cars to Denny's Car Wash down the road. One of the car magazines (Autostrada Forum Magazine) there had a Garage Living ad on the back of it, so I noticed that. That was kind of the impetus to get me to start researching it.
Then I phoned a few other companies, including just concrete restoration companies. I had to decide if I was just going to do the floor or do the whole thing and we decided we were going to do the whole thing.
Based on the various companies that I interviewed and got quotes from, Garage Living by far stood out as the most competent. Just the overall value proposition was strong.
So you initially wanted to do the floor, but it sort of grew into this bigger project?
No, I just wasn't sure which direction I was going to go and if it was worth spending the money on or not. It's kind of like finishing your basement or putting in a pool – do we do it because it'll increase the value of the home? Does it not?
We decided that if we ever did sell the house, it would add significant value to the house for anybody with a nice car who also appreciates something like driving into a nice garage. The garage would seem like an integral part of the home.
So you're looking at it as an investment, too…you're looking long-term as well.
Yes, we're looking at it primarily for us to enjoy the garage and then second, I just figured it would make the house a good overall package.
After that, did you go to the website and do your research?
Yes, I looked at a few different websites, including theirs, and called and got Daniel Albo (one of the Garage Living owners).
I had a few companies come out to give me ideas and I didn't give them any budget. I just wanted to see, with no budget, what would they come up with and what were their ideas and what would they do?
The overall process with Garage Living was by far much more professional. They were more knowledgeable and what Daniel said made a whole lot more sense. With everybody else, I think they were trying to sell it within a certain budget, even though there was no given budget.
Garage Living came up with an excellent design and the way they were treating the garage floor seemed like a much better process. They wanted to come out beyond the garage doors and down the lip. One of the other companies was only coming to the interior of the garage door, which doesn't look right to me.
When you were doing your research and looking at quotes, how did Garage Living's website compare to others you looked at?
The website left you with a very professional impression. There are some nice pictures on there of the products and I just thought it was user-friendly. The website was kind of a "landing spot" and the biggest thing was more the process of the quotation.
That included them being out here, the way they showed the materials, talked about what was going to be done, took the measurements, and got back to us very quickly with regard to initial concepts and designs. It was very professionally managed.
In your online review, you said that the overall design Garage Living came up with was no comparison to the other companies.
I thought that the quality of the materials was far better and the overall design was good. It was more the quality of the materials that were going into it, Garage Living's professionalism, and the context of how Daniel presented the pitch for the project and how he explained the materials. Then we went out to the showroom before making the final decision.
How much of the showroom experience helped you make a decision?
For someone who needs that to make a decision, the showroom is definitely impressive. The decision was made prior to the showroom, basically, just from the content on the website and from the overall impression from interacting with Garage Living, versus the other companies we had quote on the project.
So going into the showroom was more just to look at things like the finishing details and accessories?
We were deciding between the baseline cabinets versus the intermediate or midrange cabinets. We wanted to see them, to decide if it was worth the additional money to go with the midrange, as opposed to the baseline cabinets.
The showroom was nice just to see the tangible quality of the cabinets and the scope of what Garage Living deals with. It just gave you that final touch of confidence in the context of dealing with Daniel and with the company, period.
How did you figure out whether to go with a baseline or a more premium cabinet model?
It was just the quality of them and the look. When we looked at what the difference was between the two as far as the scope of the project was concerned, we decided to go with the midline cabinets (GL Premium).
Was how you were going to use the cabinetry, like as a possible work area, a factor at all?
No, it's more aesthetic. The drawers are still empty in a lot of cases. It doesn't get used that way, it's more just for the overall look whenever we drive in.
So basically looks, minimal storage, and to keep it tidy?
Yes.
Now you have all this garage storage you never had before. How was it managing the garage storage before?
Before, everything was all over the place. There were just metal shelves from Costco being used with everything stacked on them. It was one of those things where when you move in, the garage is the last thing to get organized and cleaned up.
There was a lot of stuff that needed to be purged and gotten rid of. We used the garage to park cars in, but it by no means made you feel good when you drove in.
Your garage makeover also included a couple of tire racks, which I assume is for your winter tires?
That was also one of the reasons I went to the showroom, was just to see what the tire racks like. I called around to get quotes on storing our winter tires. I always just stored them stacked on the garage floor and also on a Canadian Tire wall rack.
We wondered if they were really worth the money to store tires on or should we just store them at the garage where we get them changed over? When I called around, I found that basically, the racks will pay for themselves within a couple of years, in comparison to having the tires stored at the garage itself.
Was price a deciding factor in your decision to choose Garage Living?
Garage Living wasn't the cheapest quote, but I just felt the overall value proposition was better. I felt the project was going to get done properly and in a timely fashion.
It sounds like compared to the other companies, you just had more confidence in Daniel and Garage Living.
Yes. Any questions I asked they were able to answer – and not in a, for lack of a better word, a BS way.
Daniel didn't come across like a sales guy just pushing something. Garage Living came across like they cared about the install, cared about the quality of the materials, and were very knowledgeable and very professional.
Some of the other companies just seemed like they wanted to get in and out with the quickest solution possible and were just trying to push something on you. All one guy did was undermine and knock other companies. To me, he lost before he even started. He just didn't have a professional presentation, either.
Was there anything about the other companies that impressed you or made you consider going with them?
No. I was shopping for the best project overall and something I thought was fairly priced for the quality of the workmanship, materials, etcetera.
Your Google review mentioned that you were impressed with the scheduling and overall professionalism of Garage Living. Did that surprise you?
Yes, it actually did. Coming from the trades and having done countless renovations and construction-related projects, finding good tradespeople is one of the biggest challenges. It's difficult to find people that show up on time and people who, if they're not going to be there on time, will at least call.
It's more you're wasting your time waiting around for people that don't show up and then you call them and all you hear are excuses. Daniel set the tone for that and every person that we interacted with at Garage Living after Daniel followed through and exceeded expectations.
They were here on the very day they said they'd be here and we had booked months in advance. It took exactly a week, which is what Daniel said it would take. And from start to finish, the workers were really polite, respectful, and very professional. They did everything they said they were going to do and beyond.
There's always a lot of stress involved for anyone who's dealt with the trades. That wasn't an issue with your project?
Nothing. It was zero stress. It was a pleasure dealing with people that take pride in what they do, as opposed to it just being piece work and wanting to get in and out as quickly as possible. They moved plugs around…even if it was six inches, they moved it. Garage Living did a very, very good job overall. If I did move, I would call them immediately to do my next garage.
Did you have to make any compromises with what you initially thought the garage would look like and what you had in mind?
We actually spent more than what we were originally planning on spending and are very happy that we did so. We didn't really have a budget in mind. When you start any project, you kind of have a hunch as to what you think it's going to cost or how much you think you're willing to spend, and with this one it was similar.
So it wasn't a big surprise with what the project cost?
No.
What, if anything, could Garage Living have done differently if you had to do this all over again?
I don't think there's one thing that they could have done differently to improve the experience.
As I said, the overall experience exceeded expectations and the design was excellent. Even for the photo shoot, they were very respectful of the property and thankful that we allowed them to do it. We were more than happy to have them spend the day and do the photo shoot and the time-lapse video.
If the makeover process hadn't been such a flawless experience, we would have paid the invoice and that'd be the end of it. But we were happy to have them showcase such a good job and proud that the finished product came out the way it did.
Do you show it off to friends or visitors that come over?
Yes, in fact, I was speaking at a conference the other day and I was showing a few of our customers the pictures of the garage and they were like, "Wow!".
One of them has a Porsche 911, so we were talking about garages and I said, "Oh, I got a new home for my Maserati". They asked if I minded telling them how much it was and I told them and they said, "Oh, that's really reasonable for something like that. I thought it would be more". They were actually surprised, based on the pictures. In fact, I gave her Daniel's contact information.
So overall, you'd say your life's better having the garage completed and you feel better about pulling into the garage now?
Yes, it bugs me right now that the floor is dirty and needs to be cleaned, but you don't want to be getting the hose out and making a skating rink in there, so we kind of brush it off. But as soon as the weather turns good, I'll get the hose out and squeegee it and clean it up.
In the past with your concrete floor, would you just sweep it out in the spring? Do you find this garage floor easier to maintain?
I would shovel the snow out before, whereas now it's much easier to maintain and keep clean. It looks good, it looks finished whenever you drive in. A week or so ago it was one of those mild, slushy days. When I came home, I got the squeegee down that Garage Living left us at the end of the project and squeegeed the floor, which helped to clean it up.
Was there anything else you wanted to add?
I would say if anybody's considering doing anything with their garage, regardless of how big or small, that I would call Garage Living. Have them come out to give you some ideas as to what they can do. I think regardless of whether it's just the floor or a full project like we did, it'll get done right.
Regardless of how much they're wanting to spend, the money they spend with Garage Living is a good investment because it gets done properly. I think of it more now as an extension of the home, as opposed to just a garage that's connected to the house where you park your cars in a space that just didn't seem like a fitting home for the cars.
So your home's main entryway space is just nicer now.
I would say 90% of the time we drive into the garage and come into the home through the garage, so it's an extension of that finished space now.
It feels much better and it's much tidier. Everything's got a place with the way Garage Living designed it and the way things are organized. And it's got that flexibility so if your slatwall storage needs change, you can go back to the showroom and get some ideas as to what other kinds of hooks and accessories you can get.
As we organized things, we found a spot for the hoses on the wall. They're not normally there in the summertime, but in the wintertime, they're just spare hoses that we use for various things on the property. Everything's got its place.
View the Home Entryway Garage gallery to see more photos from Stephen's garage makeover.
See also: