Garage Living is pleased to announce the launch of Harbor Blue, our newest color that adds a unique look to any garage makeover.
Harbor Blue was created by Garage Living and is exclusive to the company. It's available when choosing a color for your garage's cabinetry, floor coating, and slatwall panels.
Why blue is a great color for your garage
Good things come in blue. Blueberries, violets, and cheese. A solid investment is considered blue-chip and of all nature-inspired colors, blue is the truest. That's just a few of the reasons why blue is the best color.
But for your garage? Absolutely! Blue is the essence of inspiration and beauty. It can conjure up images that calm and relax us, or stir our spirit, creating renewed energy.
Blue is where a cloudless sky meets the gently moving water on a warm, summer day. Transfixed watching sunlight dapple on the waves, changing the hue so subtly with every ripple, you can't help but feel balanced and connected to nature.
The inspiration for Harbor Blue
The inspiration for Harbor Blue came from a weekend getaway surrounded by water, docks, and spectacular skies. Blue fit perfectly with the décor requirements of a year-round vacation home that's meant to be a destination for relaxing. That the condo is located within a lakeside resort, the color choice, Harbor Blue makes even more sense.
Harbor Blue is a perfect blend of all those blues, from cool slate to deep indigo and it's the newest color exclusively available for your:
Your garage is an extension of your lifestyle
Our lifestyle is a reflection of who we are from the inside out. Our lifestyle doesn't stop when we leave the house, (just as the color doesn't have to stop at the garage door). Likely, we are constantly going through our garage to our vehicle to get to a destination not paying attention to this transitional space.
It's actually the entryway in and out of our home. Why wouldn't we want it to be as welcoming and stylish as any other part of our home, one that truly reflects our lifestyle?
Bring style to your garage through color
That's what led Garage Living to create luxury garage interiors with style, color, custom detail and function in mind. Think of the interior of your home; it requires furnishings, flooring, lighting, and accessories. Just as we appreciate the luxury of a custom designed home, our garages are worthy of the same treatment.
Incorporating Harbor Blue and décor to elevate your garage
Today, the styles we're incorporating to our interior design is extending to our transition spaces, like garages. The color schemes that apply indoors can be interpreted and carried through beyond the entry.
Kitchen cabinets are starting to embrace a range of colors. We're seeing rich, deep blue tones paired with warm brass or cool metal handles and the result is fresh and beautiful. Why not consider that same for the cabinetry in your garage?
Cabinet doors and drawers in Harbor Blue make an attractive and practical addition to the transition between home and the outdoors.
Countertop options for the kitchen and bath range from wood, to solid surface materials and stainless steel. These options are also available to elevate your garage and the look of your entire home.
A qualified designer can assess, design and optimize the space to suit your needs. Choose from modular or customized cabinet options. Storage for sports, hobbies, vehicles and more are designed for your specific lifestyle. It's like furnishing your home.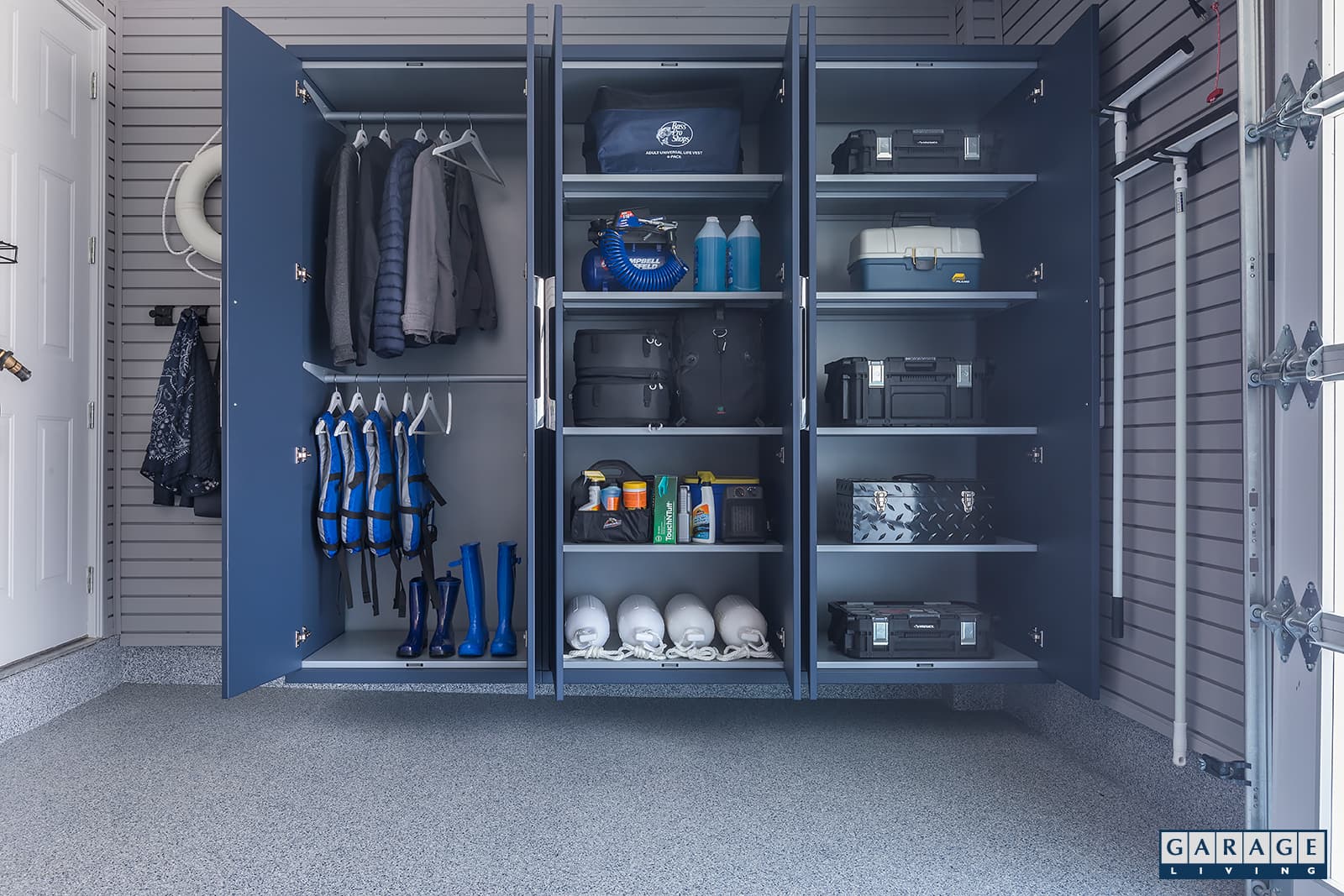 Floortex™ floor coating protects your floor
A concrete garage floor is susceptible to a lot of wear and tear. Like flooring in your home, there is an attractive and practical option to protect it for the long term. Garage Living uses Floortex™ – an impermeable, high-performance floor coating that is superior to common epoxy floors.
Not only is it hard-wearing and easy to clean, aesthetically the flooring is available in a variety of color blends. Harbor Blue features a mix of blue tints and tones, resulting in a beautiful and functional surface for vehicles, people and more.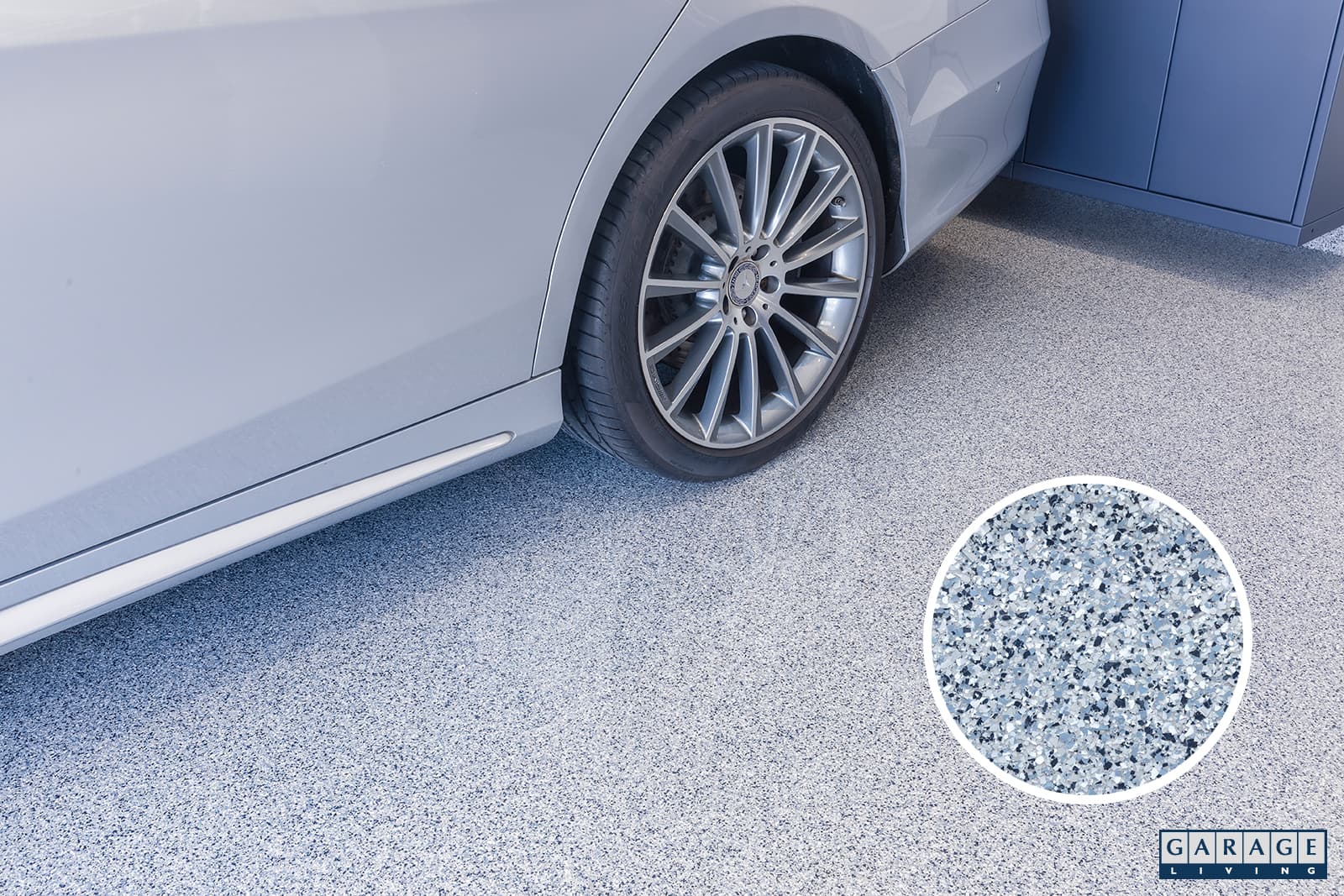 Task lighting
You wouldn't want to read and write in your home office without proper lighting, so add undermount LED task lighting over a work surface in the garage. It adds functional and practical light (and really brings out the blue!).
Walls and accessories — décor for your garage
With the addition of slatwall panels, custom cabinetry and hardware, the garage's curated color palette nicely reflects the beautiful, serene, and comfortable surroundings of home.
Now that you're seeing the garage for what it really is — an opportunity to elevate your style, there's no limit to what you can do. One great way to stylishly show off your organizational skills is with slatwall panels.
Slatwall panels are an excellent option for taking advantage of your vertical space. Garage Living has over 40 accessories to choose from. Whether you need a simple hook to hang framed art or baskets of balls, slatwall panels are designed with style and function.
A welcoming home begins with your garage
Color shouldn't stop at the garage door, make your whole home an inviting, starting at the point of entry. Adding beautiful color to your garage like Harbor Blue is just one more way to elevate your garage.
Please share this post if you found it useful.
See also: